How to stop Windows 10 apps from automatically launching at startup
Is Windows 10 taking too long to start? Maybe you have a lot of apps starting automatically on your PC. In this guide, we show you how to control the apps that launch on startup.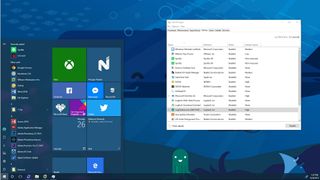 Apps you install on Windows 10 can sometimes configure themselves to run automatically on startup, and they can also configure background services that start every time you boot your computer. While they can come in handy, over time, the list of apps and services running on startup can grow, which can slow your boot time, affect battery life, and impact overall system performance.
Usually, applications include the necessary settings to block them from starting alongside Windows 10, but it's a lot easier to use Task Manager to do so.
In this Windows 10 guide, we walk you through the steps to identify applications that are causing your device to boot slow, consuming system resources unnecessarily, and the steps to improve system performance.
How to manage apps that launch at startup using Task Manager
First, you should open Task Manager. If Task Manager launches in compact mode, click the More details button in the bottom-right corner to get to the advanced options, and then click the Startup tab.
Quick Tip: There are a number of ways to launch the Task Manager, but you can simply right-click the Taskbar and select Task Manager. Alternatively, you can right-click the Start button and select Task Manager, or it's also possible to use the Ctrl + Shift + Esc keyboard shortcut. Or just start typing it in your taskbar search field.
On the Startup tab, you'll find a list of the applications and services configured to start alongside Windows 10 with their names, publisher, status, and performance impact.
The two most important pieces of information in this tab are the Status column, which tells you which items are currently enabled, and the Startup impact column that displays the performance impact of an app or service during startup.
Identifying problematic applications
If you have a long list, it's a good idea to click the Status column to sort the items into Enabled and Disabled to make the list more manageable.
To help you determine which apps you should disable, Task Manager displays an impact measurement for each app. Here's exactly how Windows 10 determines each value:
High — The app utilizes more than 1,000ms of processor time, or it uses more than 3MB of disk I/O.
Medium — The app uses 300ms to 1,000ms of processor time, or 300KB to 3MB of disk I/O.
Low — The app uses less than 300ms of processor time and less than 300KB of disk I/O.
Not measured — This usually means that the app was recently installed and Windows 10 hasn't calculated its impact. It could also happen that when an app has been uninstalled, but the entry still shows up in Task Manager.
While you can control anything listed in the Startup tab, it's also important to understand what you're trying to disable, because sometimes you could block an app or service that is required to run the OS or application correctly.
You can find out more information about an app by right-clicking the item and clicking Search online. This will perform an online search in your web browser with the name of the app and exact file name. For example, if I was trying to learn more about "Microsoft OneDrive," the online search query would include "OneDrive.exe Microsoft OneDrive."
Disabling startup applications
Once you understand the application and decide you want to stop it from launching at startup, simply right-click it, and select Disable to prevent from starting automatically.
Alternatively, you can select the item, and click the Disable button in the bottom-right corner.
Wrapping up
After completing the steps, depending on the items you disabled, you should notice an improvement in the overall performance of Windows 10. However, you must restart your computer for the changes to take effect, because these steps won't close an application that is currently running.
It should be noted that you can only control traditional desktop (win32) apps on startup. On Windows 10, apps you download from the Windows Store (excluding converted apps) are not allowed to run automatically on startup.
While this guide focuses on Windows 10, you can use the same instructions to manage applications on Windows 8.x.
More Windows 10 resources
For more helpful articles, coverage, and answers to common questions about Windows 10, visit the following resources:
Windows 10 help, tips, and tricks
Mauro Huculak is technical writer for WindowsCentral.com. His primary focus is to write comprehensive how-tos to help users get the most out of Windows 10 and its many related technologies. He has an IT background with professional certifications from Microsoft, Cisco, and CompTIA, and he's a recognized member of the Microsoft MVP community.
Good old school days trick!!😊

format c: then install windows 8.1

Can UWP apps do this? Or is there a need for them too (being that they can run notification processes in the background as part of the platform). I've always wondered if there was some sort of downside or shortcoming of Win32 Apps from becoming UWP because they need to run at startup or something similar. e.g. I'd love to be able to run Slack or Skype at startup but the Windows Store versions of the App don't have that option.

The new Spotify (converted) app does this. It's very annoying.

Oh yeah I see it in the Screenshots of this article... ah well at least I know its possible now. But it kind of speaks against Microsoft's Windows 10 S initiative. Having a ton of startup apps could also affect the speed of your machine at boot and while actively running.
Lot of mixed messaging going on with that special version.

There's also another useful, advanced, and free tool by Microsoft called Sysinternals Autoruns that gives you a more complete look at all of the things that run at startup.

Startup is slow though I have as few apps as possible set to launch. Oh well. I'd just like to know why Live Tile isn't working for the News, Sports and Money apps even though it's enabled. The only solution I've seen recommended at a few websites is to uninstall then reinstall them.

Wonder if Win32 applications converted to UWP can be automatically started with administrative privileges... System enhancing Win32 applications like AutoHotkey and Autosizer need admin right to access the windows/text boxes of other applications. With UAC being forced to stay enabled, they also can't be auto started the regular way, I instead use a windows script file to start them up with Admin privileges.

CCleaner can be used for that also in a much easier way. :)

Ccleaner works for Win32 apps but not for Centennial apps, I started experiencing this problem with Spotify from appstore, it always autostarts, and now you need to follow the article guide to have it disabled, algthough I prefer Ccleaner approach since it not just disables the app from starting, it removes it from registry so even after a Windows update it won't be enabled again.

You can make UWP Apps (and pretty much anything) autostart by dropping a shortcut into the "Start Menu > Programs > Startup" folder. It still exists somewhere if you can find it. I know it works cause I dropped some shortcuts to UWP apps there before the 1511 build came out, unfortunately I can't find that folder any more, but the Apps still auto load every time windows does.
Windows Central Newsletter
Thank you for signing up to Windows Central. You will receive a verification email shortly.
There was a problem. Please refresh the page and try again.