How to view emails from multiple accounts using Linked Inbox on Outlook Mail for Windows 10 Mobile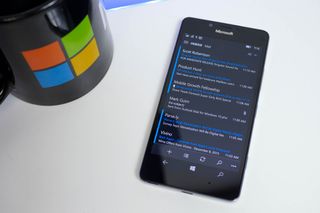 A linked inbox lets you view messages from multiple email accounts in one inbox. This feature was added a few weeks ago to Outlook Mail on Windows 10 Mobile, and then removed, and then added back for users enrolled in the Windows Insiders program. We imagine this feature will be available again to everyone soon. We'll show you how to set it up.
Some people like linked inboxes, and some people don't. Fans of linked inboxes like it because it's fewer taps on the screen. They don't have to tap the hamburger menu and then tap an account to switch views. Those who receive a lot of emails might be overwhelmed having emails from multiple accounts in one page. The good news is that you're not forced to use Linked Inboxes. The feature is off by default. Those who want linked inboxes can enable it. Here's how:
Open Outlook Mail and tap the three dots on the lower right corner
Tap Manage accounts
Tap Link inboxes
Choose the accounts to link and you can optionally give the new linked inbox a name
That's it! All emails from those accounts show up in one inbox. When replying to messages, the sender will be the same account the original email was sent to.
We're very happy to see Linked Inbox now as an option on Outlook Mail for Windows 10 Mobile. How long do you think we have to wait until Microsoft adds Focused Inbox? It's a very handy and interesting feature that's already available on Outlook for iOS and Android. It automatically detects important emails and show them in your Focused Inbox, while the rest remain easily accessible in another tab — but out of the way. If you move email in or out of your Focused Inbox, Outlook learns this about you and gets even more tailored to your priorities.
How do you feel about Linked Inbox on Outlook Mail? Will you be using this feature? Let us know in the comments!
Another "issue" that came with using the 950XL checked off my list after yesterday's Insider update!

Wondering what has happened with the insider update. It won't find anything, even though my 950XL is enrolled and ready to go :(

how to unlink inboxes? i dont like it the way it is linked when i syncronised from my old phone to new phone... on my old phone it wasnt linked but when i bought new phone it automatically linked together. my outlook mail doesnt show its linked or not linked it doesnt show "link inboxes" button i want my mails to be like on my old phone that has 2 tile on my startscreen 1 for personal and 1 for other things

Waiting for Focused inbox. It should be in pipe line.

I recall so many people saying wait for W10M for Windows to get parity for MS apps with their ios/android versions, Windows 10 is now here and crickets....

Focused Inbox would be fine if it ever actually detected anything important instead of just newsletter spam.

This. The first thing I did was turn it off

This. On my iPhone it wasn't very good at sorting my emails. On the fence about putting my 950XL into the preview program, hopefully the next public update that brings the linked inbox isn't far off.

My main email doesn't show up even though it's my Microsoft account

Same. Have to get them through my Gmail.

You probably have yo change your sync settings in the outlook app. Go to settings, manage accounts. Go to the affected one and go under sync setting to toggle email on. Some are off by default. Hope this helps.

Linked Inboxes are absolutely key for email triage, especially since it gives you the ability to have different icons for different linked inboxes. For example, my phone has 4 email accounts. 1 for my day job, 1 for personal email and 2 for an organization I help run. Work always gets priority, and during certain times of the year, the linked inbox with 2 accounts gets priority over my personal email. With the different icons, I can very quickly tell which emails are the most important from the glance screen.

What do you mean different icons? I get colored stripes...

I can't send emails from my Lumia 950XL at all. I only receive them, but live tile won't show them. They should fix these issues before worrying about linked inbox.

I guess you should try a hard/soft reset because I have not seen ppl complaining about this

Any date for the official launch of Windows 10 mobile? :)

I like keeping personal and work email boxes separate, personally. This is still possible in Windows 10 but I'm not longer able to have separate lockscreen notifications for each one. Windows 8.1 was better in this regard, because i could pick up my phone and see X new personal emails and Y new work emails. Now they are just lumped together into a single count.

It is possible to see separate email accounts on lock screen in w10. I have one notification icon for Hotmail, one for gmail, one for outlook, and my work email doesnt show up at all. Just have to set them up that way under the notifications/lock screen setting. The Hotmail & outlook icons look the same though, so you have to remember the order they are in.

Exactly! Although it took some fussing with settings, I do NOT link my mailboxes, but rather have tiles and notifications for each. Fantastic feature for me. And works well on both the 1520 and the 950XL. W10M has made huge leaps over the last 90 days. Those coders catch a lot of grief around here but their steady work\progress is right before my eyes. (and fingertips) I'm a huge believer in Windows 10 and where it appears to be taking me.

Different notification sounds per (linked) inbox is one of the features taken away, not possible in W10M.

We need MS to bring back separate notification sounds for mailboxes. For example, I want to know if there's work email coming in when I'm on call or if I'm expecting an important email from some other mailbox.

Thats the great thing - we have options on what gets pinned. I have a single IMAP account with several alias address. Mail to each address gets filtered into separate "inboxes". I can pin each folder to start with WP as though its a separate mail account.

Actually you can have two notification icons (and I do just as I did in WP8.1). What I can no longer figure out how to do is have two different icons and two different notification sounds like I always had in WP8.1. Unless I'm missing something, this is just another in a LONG line of features taken away starting in WP7.5. Basically one step up, two steps back. In WP8.1, your Exchange account automatically got an icon with "E" on it and your Outlook.com mail got an icon with an "O" on it. Very nice! I also really liked two different notification sounds. If someone can tell us how to do these that would be great.

I liked having a mailbox live tile for my personal email and a separate tile with an e on it for my work account. How can I go back to that? I don't like having just one tile for all of my mail accounts.

When in your inbox, tap the hamburger menu. The dropdown shows a list of your accounts, so just long press and "select pin to start" for each account you want and you'll get a separate live tile for each.

It's really confusing to see Grey and Black menus for settings in different apps. Black looks awesome. Why is there grey?

I was wondering the same thing haha

Anyone else having trouble downloading mytube! (80004005)

My main email doesn't show up even though it's my Microsoft account. I'm using Lumia 640 xl

Interesting. Just had this problem on my sons 640. Had to add the account manually. Use pop3.Hotmail.com for incoming server and SMTP.Hotmail.Com for outgoing. Check all security boxes.

that's really helpful, thanks a lot

one problem with that I noticed is that it doesn't download multimedia content from HTML emails. you have to open the email in the browser...

Ever since updating... Mail and messaging crashes occasionally. Thankfully drafts are automatic

Not an option yet on my L950 XL

You have to be in the Insider program and then there is an update which adds linked inboxes. You won't get it if you aren't enrolled into Insider.

Just updated my 920 to the insider preview and when I opened my inbox all 3 of my accounts were already linked? Can it be cause I already have them linked on my w10 tablet?

Off topic , but they fixed images loading on 950xl non-insider!

There was no update for non-insiders so it's probably just a coincidence

So how do I change the arrangement of the mailboxes in the Hamburger Menu? I want Linked Inbox to be on top and the others below.

Having the option is always good. But I am having issue, sometime I see icon in lock screen and live tile and if I go to the email I see I've already read them. And even if I check with unread email, I don't see either. But lock screen and live tiles still show the unread icons. It happens sometime not always, bit annoying. Anybody has any suggestions?

I love it. Switching accounts is a pain. I'm just waiting for it to come to the PC version.

Is there any option to delete groups of emails not one by one ?

Yes, choose the list icon. Then you can check the emails you want and delete, move or flag them.

I use it and love it so much.

I'll absolutely use it. I've used that feature since it was introduced several OS versions ago and missed it during its brief hiatus.

All that is left now is to bring back separate ringtones for separate accounts as we have had in WP8.1

Would like to noted that the THREE dots can be termed as Ellipsis. FYI.

So Insider only for now? This option isn't on my 950 and I'm not an insider.

The smarter way is to use outlook.com and configure any email addresses you want linked to go into the same Inbox there. I have a couple of addresses configured that way and I also have a couple of others configured to come into that one Microsoft account but into separate folders. When I configure my Windows device the Mail app all I have to do is tell it my main Microsoft account and email is already sync'd exactly how I want it. I never have to do anything special on the device. THAT is much more efficient.

Works if all accounts are Outlook accounts, but two of mine are Verizon POP3 accounts, so your idea is not ideal for me. Note that I use Outlook 2016 as my main email client on my Windows 10 desktop, with separate inboxes there.

I've got a non-Microsoft account merging nicely in my main Inbox and I have a non-Microsoft account going to a separate folder in my Microsoft account. It works just fine.

That's a great tip. Thank you

Linked inboxes on desktop please.

Already have it and use it as an insider.

I'd like to have customizable colored dots in front of an email to indicate the source account of each email

i cannot add my microsoft account in outlook mail, calendar and people apps

I don't need more than one email account, thanks... O.o

I had a couple of "legacy" accounts that I still get the occasional email from. Rather than track them individually I have them coming directly into my Microsoft account Inbox via the outlook.com settings.

Linked and Focused not needed. My preference is non important emails go to their own folder, which I then favourite. Also, I prefer the accounts separate - just open email and it shows how many in each account. For important accounts I have a Live Tile and Notification on lock screen. Sounds complicated writing it but it's easy to use and be notified.

It would be nice if the unified inbox could also include social media messages like what blackberry used to do.

When separate do the live tiles update separately? It wasn't working before.

A flaw with W10 mail app is that if you have other email addresses configured to come in to your Microsoft account (setting them up via Outlook.com options) but into different folders (not going directly into the primary Inbox) your pinned tiles are "linked" anyway. I frequently see ALL notifications on separate live tiles disappear if I read emails in ANY of the email folders that are pinned. This does NOT happen on WP8.1.

Cancel that, found under setting's!

Do exchange shared mailboxes work yet?

I prefer not to have mine linked and have seperate live tiles for work and personal accounts. However, that isn't working correctly either. If I go into my personal email, then go over to my work account tile, it shows my personal email so I have to go into the accounts and switch it to the right account (and vice versa) . This worked fine on 8.1.

how to unlink inboxes? i dont like it the way it is linked when i syncronised from my old phone to new phone... on my old phone it wasnt linked but when i bought new phone it automatically linked together

Mug..... Where to get it? Must have.... Now!

Awesome I love this. Outlook is pretty good. I only have one mail icon, personal linked inbox(s) with 4 accounta and two unlinked business email accounts... I just select out of the 3 I want to view. Much batter than the old method of 3 different mail icons on my start screen. Windows 10 on my 640 is really, really starting to exceeds my expectations... In the past, it Waa a buggy mess... Now it is finally my daily driver. Well done Microsoft, I was very worried. Keep it up, can't wait for my surface phone :D

Outlook mail on Windows 10 mobile is crap. Check Android and iOS versions and see what this same MS published as outlook app while we get this ugly looking email reader here. I have loved Windows Phone from the beginning but I can't just continue pretending that things are well. MS is either too lazy or they don't care.

So glad they added the feature and hope it hits the desktop soon

Nice one, thanks for the tip. ☺

i dont see manage account edit: i skipped over the begining where it clearly says insider program...ol

Open your personal email and in settings you have "pin to start"
Same with your work email.
When you pin them you have individual tiles for every account
Windows Central Newsletter
Thank you for signing up to Windows Central. You will receive a verification email shortly.
There was a problem. Please refresh the page and try again.