How to make older desktop apps run again on Windows 10
By Mauro Huculak published
If you have an older desktop application that isn't running on Windows 10, use this guide to configure the appropriate compatibility mode settings.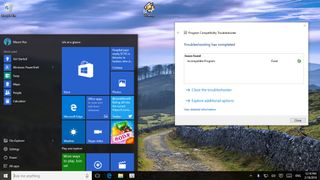 Although, Windows 10 is not very different from previous versions regarding handling desktop applications, sometimes older apps designed for earlier versions (e.g., Windows XP or Windows 7) may not run as expected or they won't even start. However, in most cases, you can try to use the compatibility mode feature built into the operating system to resolve this issue.
In this Windows 10 guide, we'll walk you through the easy steps to let the operating system automatically fix the compatibility issue and how you can set the compatibility mode options manually to get older apps running again on your desktop.
Before diving into this guide, it's important that you take the time to check to see if there is any new update available for the application that might fix the problem and may save you from having to go through all the steps below.
How to use the Program Compatibility Troubleshooter
If you have an application designed for Windows XP or Windows 7 that refuses to run on Windows 10, you should try running the Program Compatibility Troubleshooter utility to let the operating system automatically find the best possible compatibility mode.
On the Start menu, do a search for Run programs made for previous versions of the operating system, and press Enter.
Click the Advanced link on the Program Compatibility Troubleshooter.
Click Run as administrator.
Click Next.
The troubleshooter will scan the PC for possible solutions. If your desktop application isn't listed, select the Not Listed option, and click Next.
Click the Browse button and locate the application. Usually, you will find your desktop applications installed under the C:\Programs Files (x86) or C:\Program Files folder.
Make sure to select the file that runs the application and click Open. (Usually, the app file looks like this: YourAppName.exe.)
Click Next.
Click the Try recommended settings option to apply the new compatibility settings.
Click Test the program to see if the application works properly.
Click Next.
Click Yes, save these settings for this program option to complete the process.
Click Close to complete the process.
How to change Compatibility mode options manually
If you want to change the compatibility settings manually, you can use the following instructions.
Open the Start menu, do a search for the application you wish to troubleshoot, right-click and select Open file location.
The file location will open highlighting the executable file that runs the app. Right-click the app you want and click Properties.
Click the Compatibility tab.
Check the Run this program in compatibility mode option, and select the version of Windows you remember worked for the application.
In the Settings section, you can also change a number of options that may help to fix the problem, including the ability to run the programs as an administrator, change high DPI and resolution settings. Choose the options that apply your application.
Click Apply.
Click OK to complete the process.
Note: Keep in mind that changes you configure on the Compatibility tab only applies to your account. If you want to apply the settings to all users in your computer, you must click the Change settings for all users button, and make the set the options in the "Compatibility for all users" tab.
Once you apply the new settings try to run the desktop application, if it's still not working, go back to the Compatibility tab, and try configuring a different version of the operating system until you find a setting that works for that particular application.
It's worth pointing out that you shouldn't apply compatibility mode settings to applications bundled with the operating system, hard drive utilities, and on antivirus and firewall software, as they may open up security risks or cause data loss.
More on Windows 10
For more tips and tricks on Windows 10, and get the latest news, you can visit the following resources:
Windows 10 help, tips, and tricks
Do you still depend on older desktop apps on Windows 10? Let us know in the comments below.
Mauro Huculak is technical writer for WindowsCentral.com. His primary focus is to write comprehensive how-tos to help users get the most out of Windows 10 and its many related technologies. He has an IT background with professional certifications from Microsoft, Cisco, and CompTIA, and he's a recognized member of the Microsoft MVP community.
I am not fan of the title. For the average consumer, this would sound that it is the norm and they would think that their software (office and such) will not run on windows 10. The actual fact is that the opposite is true. 99.999 (just an illustration, no study conducted) of the software that runs on windows 7, vista, and 8.1 will run on W10. Very misleading.

Well no... This is obviously a hypothetical situation article...

Except for 16bit & below usually due to the missing APIs with dvm

Would sure be nice if it was 99.999. Not even close. If Microsoft would fix the flaw that makes Macromedia's copy protection on CDs a death knell for older games (Age of Empires, etc.), they might take a desirable step towards a better percentage.

Not only I am not supporting the title, but the other fact is misleading as hell. There is a difference between app and software/program/desktop application. App is something nimble, small and which doesn't require much resources alas anything you use on the phone or buy from the store is an app. The game you run on one's mobile is a game app. The app launched with the help of an executable is called a program or desktop application at worst. Despite that, article describes how to solve application (full-fledged program) compatibility issues if any.

(Sony) Movie Studio Platinum 12.0 hasn's run on Windows 10 since Windows 10. I have tried everything.

Anyone know how to get a 16 bit program running on 64 bit w10?

A friend of mine recently had to install Windows 7 for that so I guess it's not possible

I think that's not possible. I have an 16 bit application that doesn't run on my 64 bit Windows 10 but run on 32bit W10 with just a short initial tweak.

Pretty rare to be able to run old software on a 64bit system. Usually if you run them on 32bit 7,8,10 it will work.

No backwards compatibility compatibility for 16 bit programs in 64 bit

There isn't a direct way to do it as the 16 bit subsystem was removed in the 64 bit editions, the 32 bit editions still have it available. If you must run a 16 bit application then the only way you have available in 64bit Windows is to use a virtual machine, either Hyper-V if you have Pro and the right chips or Virtual Box. You can grab 32 bit VMs from here https://dev.windows.com/en-us/microsoft-edge/tools/vms/windows/ that timeout but they will work and get your 16bit application back up and running. I had use a VM for some of my Mathematics course software that was written in a ancient dialect of VB with 16 bit DLLs. Worked like a charm!

I had 32-bit XP on VirtualBox VM (lets not talk if it was activated by "internet key" ;) ) on old machine - in order to not clutter normal Windows with Java SDKs and different eclipse versions and WAMP and whatnot. Copied that to 64-bit W10 to be able to open drawings with 16-bit Micrografx Designer 4 :D I wish I had known these VMs :)

how to get DOS games to work on W10?

Lol sure there's dosbox but for those protected apps/games youll have to have a full copy of msdos you can install them inside a vm but you'll need these https://blogs.msdn.microsoft.com/virtual_pc_guy/2007/10/31/installing-do... to get decent functionality

DosBox. I have been playing Transport Tycoon on my SP3.

for older windows apps that DO NOT work using this method, a "shim" would need to be made, which can get complicated. https://technet.microsoft.com/en-us/library/dd837644(v=ws.10).aspx haven't made them in years, so i don't remember the process.

Really informative and helpful article many of us not try to upgrade their OS because of their favorite programs compatibility issues

I'm surprised my super old sound editing program I got for win 95 still works perfectly on win 10 with no compatibility tweaking. Good job windows

Can someone get the metro version of IE to work on windows 10? I miss it dearly on my hpstream7.

Any chance this could be used so Win10 OneDrive could be replaced with the Win8.1 OneDrive to get placeholders back?

I had a very old app and the only solution was DOS BOX

I have a problem running Rome Total War Gold Edition. Can anyone help?

I upgraded to Win 10 from 8.1 on my tab and reverted back after exactly 11 minutes. Your article makes no sense to me. Win 10 is crap. Windows 10 mobile is awsome though. Looking forward to upgrading my Luma 520,720 and 735..

(Sony) Movie Studio Platinum 12.0 hasn's run on Windows 10 since Windows 10. I have tried everything. I wwas expecting this article to help me do more, not tell me what I have already tried. :(

thank you for this information
you can find all of <a href="http://windowskeyproduct.blogspot.com" target="_blank">windows product key</a> from here
<a href="http://windowskeyproduct.blogspot.com/2016/03/windows-8-product-key-free... target="_blank">Windows 8 Product Key Free - working 100%</a>
<a href="http://windowskeyproduct.blogspot.com/2016/03/windows-81-product-key-fre... target="_blank">Windows 8.1 Product Key Free for You - working 100%</a>
<a href="http://windowskeyproduct.blogspot.com/2016/03/windows-10-product-key-fre... target="_blank">Windows 10 Product Key Free for You - working 100%</a>
<a href="http://windowskeyproduct.blogspot.com/2016/03/windows-7-product-key-free... target="_blank">Windows 7 Product Key Free for You - working 100%</a>
<a href="http://windowskeyproduct.blogspot.com/2016/03/windows-7-home-premium-pro... target="_blank">Windows 7 Home Premium Product Key Free for You - working 100%</a>

I already knew about this "advice" after fruitlessly trying to make Skyrim and other Steam games work with the compatibility settings. Turns out, Windows 10 wants to have a native-only game system that won't play nice with Steam, UbiSoft, or other game vending systems. So no thank you. I was happy to go back to the factory settings on my Win8.1 computers (desktop and laptop) and will never make the same mistake again. What mistake was that? Upgrading to Windows 10.

All old games I had installed on my laptop working before, were moved to an IE link (removed app) . Haven't tried reinstalling since.....but looking forward to trying this compatibility fix ......hitman blood money, hitman contracts, need for speed here I come.....(hope it works)!!

I really like your post with boost of information, But I have a windows 8.1 professional product key, Purchased from ODosta Store
I just installed windows 8.1 professional at my laptop, But not know how to activate using the key code.
Can I upgrade it to Windows 10 to get more features. Thanks in advance

Buy all type of windows pro keys 2016 from www.hafizlab.com at suitable price with life time warranty...

http://www.Windows10KeySale.com I don't believe you can simply activate your Windows 10 Pro Product Key without a product key. If you go to the Microsoft official site and have an elaborative reading of the Windows 10 Pro Product Key OS specifications, you will find that a product key is necessary and required to activate the system. But you don't need to buy the product from the Microsoft while you can just order one from the partner site http://www.Windows10KeySale.com . The email will be sent to you with the genuine product key and some relevant instructions. http://www.Windows10KeySale.com

I've installed windows 8.1 pro on my laptop after buying license from ODosta Store at: http://products.odosta.com
I want to activate it to get free upgrade from windows 8.1 professional to windows 10 home.
I'm now confused, How to activate and upgrade to windows 10.
Please mention within details.
Windows Central Newsletter
Get the best of Windows Central in in your inbox, every day!
Thank you for signing up to Windows Central. You will receive a verification email shortly.
There was a problem. Please refresh the page and try again.