How to move files from Dropbox to OneDrive
Got a lot of files in Dropbox you want to move over to Microsoft's OneDrive? We'll show you how to get it done.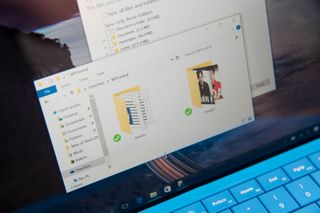 (Image credit: Windows Central)
Both Dropbox and OneDrive are well-supported cloud services on Windows 10, and there are pros and cons to each of them. But, with OneDrive being baked into an Office 365 subscription (opens in new tab) presenting 1TB of storage, it potentially represents much better value. As such you might be looking to make the switch.
If you have amassed a large number of files in your Dropbox account over the years and you need to move them over, there are a number of ways to do it. We've highlighted three below that'll get you where you need to be.
The old, slow, drag and drop way
If you have the Dropbox desktop client installed already then you could just make sure it's all synced to your PC and drag it into the OneDrive folder. But this isn't particularly efficient and requires uploading everything again. You should only consider doing this if you already have everything you want to move synced locally on your computer.
Otherwise, ignore this and check out the options below.
Mover.io
This online service costs from $20 to use, which makes it a great way to do a mass migration of files from Dropbox to OneDrive. All you need to do is add your accounts to mover.io using OAuth for proper, secure authentication, and it will do the rest. For each GB over 20GB of data to move, you'll pay another dollar.
It isn't just a tool for moving from Dropbox, either. There are a whole host of cloud services supported, so it's one to bear in mind if you have stuff spread about all over the cloud. You can either do an instant transfer or schedule one for a date and time of your choosing. The beauty to this method is that it doesn't use any of your own bandwidth and you don't have to worry about losing connection or anything.
Mover.io will do everything on the web so you don't have to. If you don't plan on using it again, once you've finished you can simply revoke access to your OneDrive and Dropbox accounts and carry on your merry way.
Move your Dropbox to OneDrive with mover.io
IFTTT
IFTTT (If This Then That) is an online tool that allows you to connect many different services to each other when no direct link is already established. Once you've signed up you have the ability to get creative with a whole host of different services.
OneDrive isn't available as a source for IFTTT recipes, but Dropbox is and OneDrive is available as a destination. As such you can link the two together and sync your Dropbox files to a designated location on OneDrive.
IFTTT is also the best choice should you want to keep using Dropbox as well as OneDrive for whatever reason, keeping your OneDrive account updated with any new files added to Dropbox.
Sync Dropbox to OneDrive with IFTTT
Those are just three ways to move your files across, but importantly all of them are free and easy to use. Some are more efficient than others, but all will move your Dropbox content over to OneDrive without much of a struggle! If you need to get started with an Office 365 subscription, hit the link below.
See at Microsoft (opens in new tab)
Richard Devine is an Editor at Windows Central. A former Project Manager and long-term tech addict, he joined Mobile Nations in 2011 and has been found on Android Central and iMore as well as Windows Central. Currently you'll find him covering all manner of PC hardware and gaming, and you can follow him on Twitter and Instagram.
I wonder how they handle filenames. Since Dropbox allows # & %, but OneDrive does not, how will those services transfer a filename like: 123 Main Street #200 Rate 20%.docx

Want to try it out and let us know?

Excellent question! I have exactly the same one. This is the biggest reason I never switched to Onedrive in the first place. The file name restrictions when moving from Dropbox became unmanageable.

Is this still an issue? No sale for me until fixed. Will stick with Dropbox for now as it works 100% of the time for all file names.

I might have to do the reverse. OneDrive is crashing even when I do a power cycle.

Windows 10 (tablet) and Android user and has never crashed for me, storing photos and videos hasn't been an issue, what kind of files are you storing in cloud drive? perhaps you're using very large files and your internet service might be the issue.

Never crashed here, using on about 10 PCs, 5 WPs, 5 Androids, 2 iphone7, one ipad

Strange I did a search on answers.microsoft.com. Others have experienced it crashing. Ive done basic trouble shooting. No luck yet the more it crashes the better more error reports. Im sure they will fix it with the next update.

As an Office 365 subscriber for 2 years now, and I haven't needed to get more than 1TB of cloud storage so for now I cancelled my Dropbox account and I'm only using OneDrive as my unique cloud storage solution. My favorite feature of OneDrive is the Photos app of Windows 10 on my 7" tablet, it automatically copies my Android's smartphone photos into the cloud and then I see them on my tablet on a large screen when I'm in a family or friends reunion, its much better to show photos on 7" than a 5" of a smartphone IMO

OneDrive....hmmmm. Wish there was an automated way to sync folders from PC to OneDrive. This both ways crap is counter-productive for saving space.

Mover.io isn't free. It's $20 per transfer.

It was free before. They changed it on August 15th, 2016. Now all usage of Mover will require payment. I used it to transfer my Copy files to Yandex before they shutdown. :)
Windows Central Newsletter
Get the best of Windows Central in in your inbox, every day!
Thank you for signing up to Windows Central. You will receive a verification email shortly.
There was a problem. Please refresh the page and try again.