How to move from Wunderlist to Todoist
If you've become disheartened with Wunderlist and feel like a change, it's really easy to move to Todoist.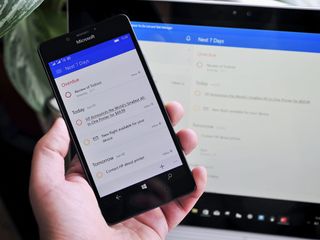 Microsoft acquired Wunderlist a while ago but (perhaps as expected) not a lot has happened with the service since. Microsoft's new To-Do is likely the reason behind the purchase, but it'd be understandable to be a little disheartened by the lack of development if you're a long time user.
The future for Wunderlist isn't exactly clear, and if you're not that interested in moving to Microsoft To-Do and looking for a change, Todoist might be a solid option.
Todoist is one of the most powerful and popular cross-platform task managers around, and its development team has made it super easy to move across from Wunderlist. Here's what you need to do.
Open Todoist.com.
Click the Log in button in the top right corner.If you do not yet have a Todoist account, you will need to sign up first.
Enter your username and password (or log in with your Google or Facebook account, if you've connected them to your Todoist account).
Click Log in.
Open the Wunderlist Importer in your browser.
Click start import.
Log in to your Wunderlist account.
Click authorize to begin the data transfer.
This will begin the migration process from your Wunderlist account to your Todoist account. Once complete, all Wunderlist tasks will be found under the Wunderlist import project. All your projects, tasks, files and such will retain their original structure as sub-projects underneath the main Wunderlist import.
From here you can move about and re-organize any of the Wunderlist data just as you would any regular Todoist projects and tasks. It's a really nice tool to have if you're thinking of switching and ridiculously easy to use.
Download Todoist from the Windows Store (opens in new tab)
Windows Central Newsletter
Get the best of Windows Central in in your inbox, every day!
Managing Editor - Tech, Reviews
Richard Devine is a Managing Editor at Windows Central with over a decade of experience. A former Project Manager and long-term tech addict, he joined Mobile Nations in 2011 and has been found on Android Central and iMore as well as Windows Central. Currently, you'll find him steering the site's coverage of all manner of PC hardware and reviews. Find him on Mastodon at mstdn.social/@richdevine
Will Cortana work with todoist yet? Like, when I say "Add milk to my shopping list"?

Then I'm waiting. That is a feature I refuse to give up if I don't have to.

But you know what does work with todoist in this way? Amazon Alexa.

Sorry, I have a premium account with Wunderlist, but if MSFT is taking this seriously, then To-do is the way to go. Todoist is just another blind alley.

I just hate that name "Todoist." Is it some kind of play on words? It's an ugly sounding word.

I see three different apps in the store.. Which one is authentic?

Use the download link in the article bro

Maybe you're saying it wrong. It doesn't rhyme with moist.

Too-DOO-ist doesn't really sound like anything though either. It's just such an odd name. I suppose one who "todos" would be a todoist. If that was a verb... Maybe I need to be more accepting of made-up words, but not today.

Way to undermine Microsoft ToDo. It's articles like this that build confidence and support for the Microsoft Windows ecosystem. ;-)

To-Do is honestly not close to as good as it needs to be. Beta or not, for people that value productivity, you have to look elsewhere till it's actually a good product.

I know ToDo needs improvements, but ToDo also has a few features that Wunderlist does not, like My Day for example. I'm a Wunderlist user, so I get it. However, Microsoft was very clear in the ToDo announcement that the future of Wunderlist is Microsoft ToDo. They should mention that here.

For a company that's productivity focused, to purchase a task management company for some $200 million and produce that as a first effort...think about it, for sheer productivity, I would argue Apple Reminders is better than ToDo is today...and I think Apple Reminders doesn't cut it either. I could start a blog on task/project managers. I use them all just for perspective. Any.do, Asana, Producteev, Todoist, Wunderlist, Trello, MeisterTask are ALL installed on my phone...ToDo is as well, but Microsoft should really be ashamed. It falls flat if you value productivity to almost any available online option right now. I don't care if it's a beta. Some people DO NOT want to stick around on a dead platform. While I like Producteev as an example, there is no development. It sucks. ToDo isn't going to cut anyone's professional needs today as a platform. If you have no expectations or are massively intimidated by features, ToDo is simply not a good option right now.

And yet I am happily using To-Do to manage my tasks and projects. I am Todoist premium user but I can see that I will be fully switching to To-Do soon. Your argument is just your own personal opinion.

Ummm, it's rated less than 2.5 stars on the app stores with more 1 star ratings than 4 and 5 combine in 156 reviews. I'm not going to call out your workflow because you can only work on what you work on, but something tells me you don't collaborate with anyone or work on projects with other folks. If you're going to switch from Todoist premium to ToDo, that's like going from a Honda Accord to a pogo stick for your commute. You don't need location based reminders, sub tasks, collaboration, projects, natural language parsing...I could go on. This is what people expect out of an task manager. This is minor league stuff. There are better task managers made by indie devs on the App Store and Google play store. I'm sorry. I love Microsoft but ToDo is a joke.

Re: Kyle LeBron,
Kyle seems like the person that should write an article about this topic. I have been looking for an in depth article that compares the various solutions and explains the features.
.
Specifically I've been looking for a serious task management solution that can handle large numbers of projects each with large numbers of tasks and subtasks. Ideally it would connect with Outlook (calendar, contacts, and maybe Tasks too).
Also, if I'm not asking too much, it needs to have tools/features to interactively manage changing priorities to help surface what task (s) come next.
.
Does anyone know if anything like this exists? I've tried Wonderlist but it seems like it is just for simple tasks. I feel like I would be forced to spend more time on Wonderlist than actually accomplishing my projects' tasks. ToDo seems even less sophisticated.
.
Thoughts? All comments welcome.
Best Wishes

I think Microsoft Todo might be your best bet initially. It's still an early release. I tried it and it lacked many of the features of my mature apps. I think especially with your requirement of Outlook integration that it will be worth looking for eventually.

Well in your use case then sure ToDo is a joke to you. But in my case it has all I need (and I believe some of the features that you mentioned about will be on their roadmap). Btw, the star ratings are carried over when it's still project Cheshire. People download it but cannot open it. Then they go to the store and rate it1-2 stars for that. I don't think it's fair for the app.

Those features better be on the radar...they've already messed up Acompli and Sunrises work...this is going for the Trifecta with what they released. I was shocked considering all the hype this got from several outlets (including this one). Kevin, as far as what you're looking for...that's a tall task. I've been working with Microsoft Teams a lot; I am getting away from the whole email/contacts/tasks in Outlook. I believe there is email fatigue, but most people are generally okay with chat and smaller status updates. For projects, I've been using Producteev because that is what my boss uses (and it's nice, but it hasn't been updated since 2014), but I keep a Zapier zap to move it to Asana. So I can keep projects in a service that is actually getting updated. Overall, the biggest thing you will need to do individually is look at your task managerment process and compare it to other apps and their functionality set. I believe 95% of users do not use Outlook to it's potential. Most agents I work with do not have rules set up, they don't categorize anything, they don't use email templates to save time on email writing. They don't even know how to set up folders to organize email (having a list of 90 folders or none versus like 3 or 4). They don't block off time for admin work on their calendar. Most don't even know Microsoft Flow exists to automate work. It's sad. As far as what apps to look into for you, you'll probably want Todoist if you want it to integrate with Outlook as well. It works well enough. There isn't anything that fully syncs/works like Outlook desktop app unfortunately. Whatever you sync with will require more than one solution. That is why Outlook is awesome. Even on Win10, everything is in separate applications. With that in mind, I have more closely adapted my workflow to having multiple instances of Outlook open so it feels like I'm working in more than one app. One for Calendar, Mail and flagged tasks and so on. For my personal task management, I use 2Do on iPhone and Mac. I can add items very easily and add tags. I can put in checklists, single items or project tasks. You can categorize...honestly, it's the most flexible task manager application I've worked with. I feel like it gives me the most options for my personal tasks. Wunderlist is a great starter option, but as things get more complex...I just never felt you could get more out of Wunderlist. It was task management beginners with some nice features here and there. Todo is FAR less than that. It makes Wunderlist look like the most comprehensive option out there! lol.

Re: Kyle,
Thank you for your comments.
Best Wishes

You're right I'm probably not using outlook to its potential. Will look into it more. Many thanks.

My shared list are no longer shared. I can't use this as a replacement until subtask, and sharing is available

The To-Do team is really quick to respond and more features are coming. The day they released To-Do to the public, I reported a bug and was contacted within 4 minutes! Within 2 hours, the issue was corrected.

Another happy To-Do user here. Suits my personal needs fine, anything else gets OneNote. Excited to see it progress, though. Tried Todoist a few times, never really liked it. Used Remember the Milk for years until we had Cortana, still often use Cortana for reminders, but it's not as useful without my Band. I can log in online to To-Do (or Wunderlist) to use at work, but can't use any of these for Work. That gets the full OneNote treatment, bay-bee!

Still trying to figure out why this was necessary.

I love all the doom and gloom. I doubt Wunderlist is going anywhere until Microsoft To-do is a lot farther along. MS has been responsive with feedback I have sent in on the new app and there looks to be a healthy community already helping to improve it. Right now I'm sticking with Wunderlist for my day to day and shared lists, and using To-Do for some personal projects at work to test it out.

Anyone know when sharing and adding to Outlook or Google calendar is coming?

Cannot share with the new app!!!! Microsoft is becoming as stupid as apple....
Windows Central Newsletter
Thank you for signing up to Windows Central. You will receive a verification email shortly.
There was a problem. Please refresh the page and try again.