How to remove 'Edit with Photos' and 'Edit with Paint 3D' from Windows 10's context menu
If you don't use Photos or Paint 3D to edit image files, you can remove those options from the right-click context menu using these steps on Windows 10.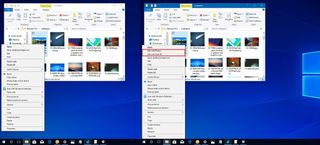 On Windows 10, the context menu that appears when you right-click an item gives you quick access to many different actions you can perform on a particular file or folder.
While these options can be useful, you may never use many of them, such as the "Edit with Photos" and "Edit with Paint 3D" options. If you don't use them, they just clutter the menu.
Although Windows 10 doesn't include a feature to decide which items appear in the right-click menu, it's possible to remove many of them using the Registry.
In this Windows 10 guide, we' walk you through the steps to remove the Photos and Paint 3D options from the context menu.
How to remove 'Edit with Photos' from context menu
If you don't use the built-in Photos apps to view and edit images, there are at least two ways to remove the option from the context menu.
Removing the Photos context menu option using Settings
Open Settings
Click on Apps
Click on Default apps
Click the app currently set for Photos
Select another app you want to use as default to view images
After you complete these steps, right-clicking an image file will no longer display the "Edit with Photos" option.
Removing the Photos context menu option using Registry
Alternatively, if you want to use Photos as your default app, you can still remove the option from the right-click context menu by editing the Registry.
Warning: Editing the registry is risky, and it can cause irreversible damage to your installation if you don't do it correctly. We recommend making a full backup of your PC before proceeding.
Use the Windows key + R keyboard shortcut to open the Run command
Type regedit, and click OK to open the Registry
Browse the following path:HKEY_CLASSES_ROOT\AppX43hnxtbyyps62jhe9sqpdzxn1790zetc\Shell\ShellEditQuick Tip: On the Windows 10 Creators Update and later, you can copy and paste the path into the new Registry's address bar to quickly jump to the key destination
Right-click the ShellEdit (folder) key, select New, and click on String Value
Name the key ProgrammaticAccessOnly and press Enter
Once you complete these steps, similar to using the Settings app, accessing the context menu will no longer show an option to edit the image with the Photos app.
How to remove 'Edit with Paint 3D' from context menu
In the case you rarely use Paint 3D, it's also possible to remove the option to edit images using the modern version of Paint via the Registry.
Use the Windows key + R keyboard shortcut to open the Run command
Type regedit, and click OK to open the Registry.
Browse the following path:HKEY_LOCAL_MACHINE\SOFTWARE\Classes\SystemFileAssociations\.jpg\Shell
Right-click the 3D Edit (folder) key and click Delete.Important: If you think you might change your mind in the future, make sure to right-click 3D Edit and select Export to make a backup of the key before deleting it. Later on, you can simply double-click the .reg file to add the entry back to the context menu.
Click Yes to confirm the deletion.
After completing these steps, right-clicking a .jpg image file should no longer display the option to edit with Paint 3D in the context menu.
If you want to remove the option for other image formats supported by Paint 3D, repeat the same steps, but on step No. 3, replace .jpg in the Registry path with .bmp, .jpeg, .jpe, and .png, and then delete the 3D Edit key.
It's worth noting that we're only removing the context menu option for the most common image formats. If you find another format that displays "Edit with Paint 3D," you can use the same steps, but on
HKEY_LOCAL_MACHINE\SOFTWARE\Classes\SystemFileAssociations\
expand the extension key, and inside the Shell key, right-click the 3D Edit key and click Delete.
More Windows 10 resources
For more helpful articles, coverage, and answers to common questions about Windows 10, visit the following resources:
Windows 10 help, tips, and tricks
Mauro Huculak is technical writer for WindowsCentral.com. His primary focus is to write comprehensive how-tos to help users get the most out of Windows 10 and its many related technologies. He has an IT background with professional certifications from Microsoft, Cisco, and CompTIA, and he's a recognized member of the Microsoft MVP community.
Not saying there's anything wrong with this article per se, but I have no idea why people care to go through the trouble to remove those apps. I've tried Paint 3D and it's not half bad actually. Also the Photos app is VERY handy-- there's literally nothing wrong with it as an image viewer. I guess people are just really hellbent to get rid of UWP apps, huh?

I concur. Sometimes it feels like there is some folks (authors) around here with a hidden agenda to (indirectly) bash / damage MS products and/or twist it in such a way that you can always say something negative about MS. The other recent article was about removing Windows defender. Translate this to other areas.... "Well here's the BMW fansite. In this article we will teach you how to remove that marvelous V6 and put in the mediocre 4 stroke engine from your Opel/Kia"... let the downvoting begin :-)

Because there are real photo editing/viewing apps. Like Photoshop, Lightroom. Or even ACDSee or Irfanview (free) which crap on all Microsoft apps. If you know anything about photography, you would know that that every Microsoft viewer or editor is junk. They couldn't even implement a decent resizing algorithm for preview or resize. They use bilinear which absolutely sucks.

Even MS' old photoviewer is more convenient for quick printing. You still cannot impose multiple images on one sheet, choose the colour mode and opt for advanced printer properties in the new Photos app. If you right-click an image (or multiple) and choose to print, Windows will prompt you with printing options from the old photoviewer instead of the Photos app. 'Why?'

Not everyone is a serious photographer or needs a "real" photo editing/viewing application. It is a basic photo viewer/editer, that's it. It's not trying to compete with photoshop or lightroom.

Actually I have an Adobe CC monthly subscription and 2 separate licenses for Adobe LR on stand-alone devices so I am aware of alternatives.However my comment is on this windows Central attitude to alwyas finds matters to be negative about when it comes to MS. You hardly see these articles on iOS forums where they advice you how to remove Pages/Keynote/Numbers etc. despite the fact they are mediocre products too. that was my point.

Because tour context menu gets super bloated when you have other apps installed for same file types. PaintShop Pro has a context menu there, for example. Why would I care about Paint or Paint 3D when I have PaintShop pro? The menus can get to long for people with healthy amounts of apps integrating into the shell. Image editors. Archive applications. Media players. Security software. Encryption or secure delete software. These built in apps aren't of much use. If Photos was like Apple Photos and integrated third party applications, it would be a no brainer. Also, managing the context menus and which apps show up in various share/open with screen is fairly trivial on macOS and Linux (at least KDE). This is only a hassle on Windows. People le do it because they're an eyesore, can be mistakenly selected/clicked, and make already bloated context menus even more so. Welcome to the real world.

Thanks for article. I was searching for this and here are its.

People who are annoyed by these kind of trivial things like what shows up in a context-menu should have to take a real long hard look in the mirror :D

People who judge others for making perfectly logical and defensible choices with their own property should have to drink cyanide.