How to remove update KB4103721 from Windows 10 April 2018 Update
If your PC can't boot after installing update KB4103721, you can try this workaround to get Windows 10 up and running again.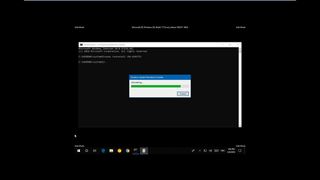 On May 8, Microsoft started rolling out its first cumulative update to fix some of the problems with the Windows 10 April 2018 Update (version 1803). However, as it turns out, the update described as KB4103721 is causing issues for some users.
At the Microsoft's Answers forums (opens in new tab) some users have been complaining that after installing update KB4103721, their computers are not able to boot. Although it may appear that not everyone is experiencing the same problem, there's a number of users complaining about the same problem.
If you're among the few that have been affected, you can remove the update until a new version of the update releases fixing the problem.
In this Windows 10 guide, we'll walk you through the steps to uninstall and block KB4103721 from your computer after installing the April 2018 Update.
How to remove update KB4103721 from Windows 10
If you're not able to boot into Windows 10, you'll need to access the automatic repair environment to remove the problematic update. Here's how to trigger the automatic repair tool in Windows 10:
Turn on your PC.
As soon as the Windows logo appears on your screen, press the power button. This will immediately interrupt the boot process.
Repeat steps 2 and 3 two more times. After the third interruption, Windows will open into the Advanced Startup Menu
Once inside the Advanced Startup Menu, you can then use System Restore or Safe Mode to remove the update.
Important: We've tested the steps below, and they work to remove update KB4103721, but you should use these instructions at your own risk.
Removing update using System Restore
The easiest way to uninstall the May 8 Patch Tuesday is to use System Restore available in the Windows 10 Advanced options.
Click the See advanced repair options button.
Click on Troubleshoot.
Click on Advanced options.
Click on System Restore.
Click on your account name.
Type your account password, and click the Continue button.
Click the Next button.
Select the restore point created before the update was installed.
Click the Next button.
Click the Finish button.
Once you've completed the steps, the update KB4103721 will be removed, and your computer should start normally again.
Removing update using Safe mode
If you don't see a restore point, you can boot your device is Safe Mode to remove update KB4103721 manually using Command Prompt.
Click the See advanced repair options button.
Click on Troubleshoot.
Click on Advanced options.
Click the Startup settings option.
Click the Restart button.
Upon restart, select Safe Mode with Networking, which you can select hitting F5.
Open Start.
Search for Command Prompt, right-click the top result, and select Run as administrator.
Type the following command to remove the update and press Enter:wusa /uninstall /kb:4103721
Click the Yes button.
Click the Restart button to reboot and exit from Safe Mode.
After completing the steps, update KB4103721 will be removed, and your device should once again start normally.
Blocking update KB4103721 from installing again
The last thing left to do is to prevent Windows 10 from installing the same update again using these steps:
Download the Show or hide updates troubleshooter from Microsoft support

(opens in new tab)

.
Double-click the .diagcab file to launch the tool.
Click Next.
Click Hide updates to continue.
The tool will check online and list the available updates currently not installed on your PC. Select the KB4103721 update, and click Next.
Click the Close button.
After uninstalling and hiding update KB4103721, your Windows 10 device won't try to download and reinstall it again until there is a new update that replaces the old version.
At any time, you can always show the update again using the same instructions mentioned above, but on step 4, you have to use the Show hidden updates option. Then use Windows Update to download the patch again.
More Windows 10 resources
For more helpful articles, coverage, and answers to common questions about Windows 10, visit the following resources:
Windows 10 help, tips, and tricks
Mauro Huculak is technical writer for WindowsCentral.com. His primary focus is to write comprehensive how-tos to help users get the most out of Windows 10 and its many related technologies. He has an IT background with professional certifications from Microsoft, Cisco, and CompTIA, and he's a recognized member of the Microsoft MVP community.
I had to reboot 5 times from catastrophic failures after the update. But it finally worked and with the update fully installed. I came so close to going to safe mode to remove the update but I gave it "one more try" and it worked.

I was a Windows Insider and this update made it possible to talk to Dona Sarker directly. It saved my life and my house!

Edit, I used this solution and safely installed the other 3 side updates only and not the bricking KB4103721. I am all good now.

I thought I was the only one. But the problem for me is that even the April update won't install, as It just hangs on the Asus logo after first restarting (when it's 30% done). Then I'm forced to shut down the pc two times, to get it to restore to the previous version. So annoying.

I didn't have the problem mentioned

Many need to make sure System Restore is turned on for their OS drives.
Seen some HP shipped with it turned off.

Thank you for this. I had the issue and it took me at least two hours to get my Surface Pro 3 to turn back on. I quickly did a system restore from before the update was installed, but didn't know you could "hide" the update from downloading again and trying to reinstall. But now it's not showing up in the tool to hide it-- I guess because it re-downloaded and partially installed automatically when Windows Update ran. So I guess I have to go through all of this again (it won't let me restart my computer or shut it down without completely installing the update). Things like this really do boggle the mind. I mean, it's one of Microsoft's devices and they pushed out this update with such a huge issue.

These kinds of things raise the questions about the 'actual usefulness' for all those level of insider programme at the consumer level. Windows update MUST MUST be bug free for all.

The only usefulness was to cut costs down by laying off dedicated experienced QA Teams..that was the only valid reason the guinea pig insider program was created.Nutella does not give a damn *** about the mediocre quality in this junk OS.

It can never be bug free. The reality is that users install applications that hack around with Windows. And when that happens the applications break Windows, causing parts of it (like update) to not be able to operate. The Windows Store is one path Microsoft is using to try and limit what applications can do. If users only ever ran Store apps they'd be fine, but instead they run tools like 'System Helpers' that cause issues. And while there are a lot of Insiders helping test new OS updates (Slow/Fast rings) there are less in the Release Preview ring testing minor updates like this.... and those are the more useful for users generally. Bottom line is there are an infinite set of PC configurations out there. Microsoft cannot test every one. But they are learning and improving the process each time something like this occurs.

One of the updates (2 or 3 mos ago) bricked my Surface Pro 4 keyboard. I thought it went bad and already decided to replace the keyboard after several dock/undock, clean contacts did not fix it. Then a new update came along it got suddenly fixed. MSFT QA is bad even to their own h/w.

it can never be bug free. brand, device, type, drivers not reacting to updated properly, update transfer to devices, human un-noticed mistakes etc. all play a part in why it can never be bug free ever.

I was able to restore my system with this guide and a Windows 10 CD to be able to start safe mode. Thanks a lot!

:))) PATHETIC! Those MS idiots can't get anything right. What a junk update...congrats insiders on a job well done :)))

but they got a cool new kitty cat logo and learned a neat ninja pose? doesn't that squash bugs?

:))) Well, that's better than nothing I guess

This is not a fix or workaround. This is a step back and not applying the update.

where in this article did it say how to install the update? this article is made to PREVENT people getting bricked devices and to provide solutions to get things undone. READ beyond headline please.

Thank goodness for this advise. Thought I was going crazy and starting to get suicidal! After several hours managed to recover my PC thanks to having an image to restore from (Macrium). Download the "wushowhide" tool to block KB4103721 and after making sure other updates had installed OK, and as a belt & braces measure, switched off WU for 35 days using the advance option feature in WU. Hopefull the MS team will resolve this sooner rather than later. Ther must be millions out there less savvy who rely on their PC or laptop for work who are now watching that black screen with the rotating dots........... shame on you MS!

I found one cause of the problem on some website: "Iobit Advanced System Care" is messing with the update... So I just uninstalled it, and windows updated without any problems :)

oh well.. it indeed worked. if u look inside IObits ASC files. the so called ''boost'' part is most likely the cause of the update not installing right.

It would be awesome to know if any Windows 10 S devices are affected. If it comes from Windows core, or some third-party stuff.

Had similar problems with this update, rebooting several times lead to a BSOD each time. Windows automatically went to the recovery options after a few goes and just entering the OS normally got it to take the update and boot correctly to the desktop. Not had any issues since, though it's still the first blue screen my custom desktop has had.

Great article. A useful succinct description of how to handle update issues.

Should remove that update

When I finally reboot into the recovery screen my mouse and my keyboard are not working. They turn on at first and then they turn off again. I'm unable to make any selection.

I thought that the Windows Insider program would help Microsoft to better test their updates. But it turns out that it is completely the other way around, big updates are always coming with some sort of catastrophic problem in many computers. And updates that supposed to fix those problems causes more problems.
Seriously Microsoft is just getting worse and worse.

I don't have the same enthusiasm as I had before on installing these updates as soon as I can. I'm glad that I decided to wait before installing these.

wusa /uninstall /kb:4103721 didn't work for me, it starts again in a blue screen with other options that don't allow me either to start normally.

I'm kinda panicking right now because after installing that stupid update I'm on an endless loop and I'm hoping my files are still there. I already tried restoring but it's a no go.
The update never made a restore point and for some weird reason when I try to go to other restore points, it shows as none are available. Not sure what to do right now. Tried going into safe mode but it takes me back to the blue options screen. Any help guys?

Windows Keeps trying to install the update even after hiding it.. and when i hide it i still get the Update and Restart and Update and Shutdown options. Also the Restart Now in the Windows Update settings.. its frustrating cause ive Refreshed and Restored 3 times so far in 2 weeks. I have uses the wushowhide and command prompt to hide and uninstall the update and it still tries to install it.

wushowhide seems to only hide the updatee for 48 hours. windows resets update and it installs it again.
Windows Central Newsletter
Get the best of Windows Central in in your inbox, every day!
Thank you for signing up to Windows Central. You will receive a verification email shortly.
There was a problem. Please refresh the page and try again.