How to use 'Windows Store Apps' troubleshooter to fix apps on Windows 10
When apps or the Store on Windows 10 aren't working, use this guide to get the "Windows Store Apps" troubleshooter to fix any issue automatically.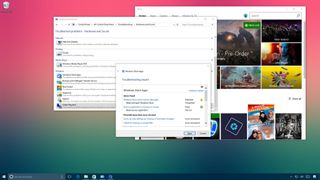 On Windows 10, at one point, you may come across problems trying to use Windows Store apps. It could happen that apps won't open after upgrading to a new version of the operating system. You may encounter errors, or the Store may stop updating or prevent you from downloading new apps.
While there are a number of ways to fix problems with apps, Windows 10 includes the "Windows Store Apps" troubleshooter, which is an application that automatically scans and fixes any issues that may prevent apps you acquired in the Store from working properly.
In this Windows 10 guide, we'll walk you through the steps to use the Windows Store Apps troubleshooter to fix any issue that may be blocking apps from working as expected.
How to use the Windows Store Apps troubleshooter
To quickly fix apps (or Store) on Windows 10 automatically using the troubleshooter, do the following:
Open Control Panel.
Click on System and Security.
Under "Security and Maintenance," click the Troubleshoot common computer problems link.
Click on Hardware and Sound.
Click on Windows Start Apps to launch the troubleshooter.
Click the Advanced link and make sure Apply repair automatically is selected.
Click Next to run the troubleshooter.
If the troubleshooter finds any issues, it'll be listed in the result with additional instructions you may need to follow. However, in most cases, the troubleshooter will find and apply fixes automatically.
Click Close.
Whatever the result, you can always click the "View detailed information" link to see a report with all the issues the troubleshooter tried to fix, including security settings, missing or corrupt files, problems with BITS (Background Intelligent Transfer Service), Windows Store cache, and more.
Once you completed the steps, the troubleshooter should be able to apply the fix to get apps working again and resolve any other issues, including those from the Windows Store.
In the case, you can't find or run the troubleshooter using Control Panel; you can quickly download the "Windows Store App" troubleshooter from the Microsoft's support website (opens in new tab).
More Windows 10 resources
For more help articles, coverage, and answers to common questions about Windows 10, visit the following resources:
Windows 10 help, tips, and tricks
Mauro Huculak is technical writer for WindowsCentral.com. His primary focus is to write comprehensive how-tos to help users get the most out of Windows 10 and its many related technologies. He has an IT background with professional certifications from Microsoft, Cisco, and CompTIA, and he's a recognized member of the Microsoft MVP community.
Not to rain down on anyone's parade, but my experience over time has been that, although these auto-fix options appear to repair problems, in many cases, the results are nil and in-effective. I've had issues with store apps and despite this option and various other options found on the net, including Microsoft's forums, none seemed to be able to repair the problems, leaving only a complete re-install as the solution.

Agreed, the only thing that worked for me, was full format, clean reinstall.
I tried every troubleshooter, powershell, etc. I'm on the fast ring, and doing full install from the iso, was of no help.
Therefore a full reinstall, wipe the partition, to fix the store.
The store has a long way to go!!!!

It's funny but I woke up this morning and store updates were failing. Naturally I remembered this article and ran this. It claims to have fixed things but store updates are failing. It is so random that windows 10 will just create a problem. The only thing I can think of is that I used Disk Cleanup and cleaned up the regular files that were recommended. Didn't touch System files or anything else. So if Disk Cleanup causes these issues MS should really look into how all their software interacts. Either way now I have to spend all this time trying to fix an issue that should have never happened. Most people would just remember this stuff and next time purchase a chromebook/macOS solution. Even techies have problems with all this stuff, can't imagine a regular consumer.

I've tried to use this method and it works well though. But the most effective way for me is reinstalling the app.

I have an issue on my desktop that the apps need to be open three times. They flash the splash screen then close. On the third time they open every time. If I refresh the PC it is fine for a day or two, but always goes right back. Any ideas?

Shame this isn't an option for Mobile. I've not been able to get Groove to install for the last three insider builds. All I get is a message saying error. The usual fix when you don't know what else to do, turn it off and on, doesn't he. Neither does a soft reset.

Why is the Apps troubleshooter listed under Hardware and Sound? It neither belongs to hardware not to sound.

Lol, was just about to post the exact same thing.

It's just temporary, the Windows 10 Creators Update puts all the troubleshooters in the Settings app. Thanks,

Should be a link on the opening screen for the store.

The result for me was "cash corrupted can't fix"
Unable to download neither update any app ☹
Any workarounds for this, it drives me insane!!!

Does this do anything that 'wsreset' doesn't do?

Okay, so I'm being that guy again but that gradient in the background looks really nice, could you share it?

Just do a search for "simple wallpapers" on Google images, and it should be one of the results. Thanks, Mauro

this is another joke.
you can run it and it will say its fixed. run it again and it still says its damaged.
Dont waste your time!

Recently had my first run-in with a totally uncooperative Store app (People app) and after trying every sort of built-in troubleshooting means, it did come down to full uninstall and re-install from the Store. At this very moment, can't remember exactly how I did that, I think it was through PowerShell? But it worked perfectly, as others are noting.

Why is this option hidden under "Hardware and Sound"? I would have looked under "Programs" instead. Some of these new control panel options does not make sense to me.

Is there any way to reinstall just the store app to correct this problem?

The Store issue of updating apps is the worst, where you need to kill the explorer.exe process to update apps (and if the store app needs to update, start explorer.exe from a non admin command prompt and then kill it again, from an admin command prompt to continue updating) and if they still don't update use the Disk Clean-up (cleanmgr.exe) and tell it to remove Delivery Optimization Files (caused by missing hash file), then do the explorer.exe process kill etc... very annoying!
Windows Central Newsletter
Thank you for signing up to Windows Central. You will receive a verification email shortly.
There was a problem. Please refresh the page and try again.