How to reset your password after you're locked out of your Windows 10 account
Did you get locked out of your Microsoft Account on Windows 10? Use this guide to reset your password.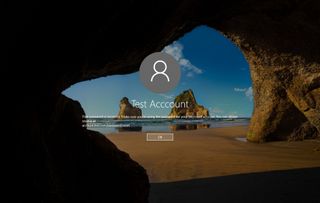 It's just a matter of time until you get in front of your PC, try to sign in but, after several attempts, realize you forgot your password, and are now locked out of the system.
If you a prudent user, though, you probably use a Microsoft Account to sign in to Windows 10, because that is the default account type the operating system prompts you to create upon setting up your computer. And it's what you use to access all Microsoft services, including OneDrive, Outlook.com, and the Windows Store. And if you can't sign in to your PC, a Microsoft Account also makes it super easy to reset your account password to regain access to Windows 10.
If you forgot your password and you're locked out of your account, in this Windows 10 guide, we'll walk you through the easy steps to reset the password associated with your Microsoft Account.
How to reset your Windows 10 account password
Once you're entered your incorrect password, you'll noticed a warning message, which also provides a specific link. Using another computer or your smartphone, use that link that will direct you to the Microsoft Account password reset page.
Select the I forgot my password option.
Click Next.
Enter your Microsoft Account information, which can be either the primary email address or phone number, followed by the captcha challenge to prove that you're a not a robot.
Click Next.
Pick how you want to receive the security code: email or text message. In either case, you'll need to provide part of the alternative email address or phone number associated with your account.
Click Send code.
Enter the security code you have received.
Click Next.
Enter your new password (must be 8-characters in length on more).
Click Next.
You'll get a message that letting you know that your account has been recovered. Click Next to complete the task.
Go back to your computer and try to sign in again, but this time use the new password.
Remember that for you to be able to sign in to your account your computer must be connected to the internet. If everything worked as expected, you'll once again be back in your account.
As you can see, it's very simple to reset your password on Windows 10, which is yet another good reason to use a Microsoft Account over a local one. However, because anyone can come across this issue, it's important that you periodically check your account settings making sure you have the most up-to-date security settings, including a valid alternative email address and phone number that you can use for recovery.
Finally, it's important to note that resetting your Microsoft Account password will not only change the password on Windows 10, but also on all Microsoft services associated with the account.
More Windows 10 resources
For more help articles, coverage, and answers on Windows 10, you can visit the following resources:
Windows 10 help, tips, and tricks
Windows Central Newsletter
Get the best of Windows Central in in your inbox, every day!
Mauro Huculak is technical writer for WindowsCentral.com. His primary focus is to write comprehensive how-tos to help users get the most out of Windows 10 and its many related technologies. He has an IT background with professional certifications from Microsoft, Cisco, and CompTIA, and he's a recognized member of the Microsoft MVP community.
ok its off topic but I have to ask it.
I have 2 PINS for my sim's(640 XL DS) if I press cancel in each sim my phone works.I cant make calls or send messages but the mobile unlocks.Anyone can see my messages,contacs even my photos.Its amobile problem or an OS?

The sim pins are only so you can't use the sims (cell and data) it doesn't have to do with the os you have to setup a pin on the os so people can't get into your phone.

The sim pins are only so you can't use the sims (cell and data) it doesn't have to do with the os you have to setup a pin on the os so people can't get into your phone.

so if I remove the pins from my sims and set-up a pin for my phone it will lock? Posted from my NoteBook.
Keep Calm Because P.A.O.K. you are...

can you tell me how can I do it? Posted from my NoteBook.
Keep Calm Because P.A.O.K. you are...

Are you in Windows phone 8.1 or Windows 10 mobile? In either case, you can find the option to set the phone password/pin under "lock screen" option You don't need to disable the sim pins for setting the phone pin. But then, you will have to enter three pins every time you start the phone. Next time you have a generic question, please post it in the forums and you will surely get an answer. If you post it in the news section, don't expect to get an answer. Posted from Windows Central app in Lumia 640xl dual sim running stable version of Windows 10 mobile.

Is that typo in the latest build? Oy vey . . . #acccount

I use uukeys windows password recovery tool, haven tried with 10 and it works great with local user and admin accounts on all windows versions. Here is the guide: p://www.uukeys.com/reset-windows-10-password.html

I love these type of articles. Even power users need to refresh their knowledge of simpler tasks from time to time.

Reseting Microsost account is much different than reseting windows 10 password. I could be using a Microsoft account on Adriod/iOS/Windows 8.1. If I'm using systems other than Windows 10, reseting Microsoft account doesn't do anything with Windows 10. Second, if I use local account to log into device and forget password, reseting Microsoft account doesn't unlock Windows 10. The more appropriate title should be how to reset Microsoft Account.

I forgot my password and started trying all my stand bys. Well now I'm locked out of the machine. I was trying to reset my password through my phone, but the new android soon as you switch to a different tab and go back to the last tab it reloads the screen and you're screwed and have to start ALL over. ONLY TO REPEAT THIS!! the other way takes up to 24 hours.... So I can't do anything on this machine until Monday, and this is Wednesday, unless I can get my wife to bring me over to this machine. I truely wish I didn't have to use windows... But I do, because a certain company won't release a Linux version.

Did any one had this problem..plz tell me the solution...my phone got locked...i said" the phone is locked for security reasons.please connect to a power source for two hours and try restart"... But following the above steps does not solve the problem...my Lumia 950 is locked...sent from Lumia 720

I've changed my phone number about one year ago and it's impossible to receive the code. So I am completely lose access to my Microsoft account. Eventually I get bypass the Microsoft account login with PCUnlocker Live CD and I can now regain access to my system.

I used iSeePassword to reset my windows 10 password, works fine. http://www.iseepassword.com/reset-windows-10-password.html you need to create a USB reset disk on another computer.
Windows Central Newsletter
Thank you for signing up to Windows Central. You will receive a verification email shortly.
There was a problem. Please refresh the page and try again.