How to run a Sleep Study on your Surface Pro 4 or Surface Book
Are you experiencing odd battery drains on your Surface Pro 3, Surface Pro 4, or Surface Book? You will want to run Sleep Study to see if Connected Standby is really working. Here is how.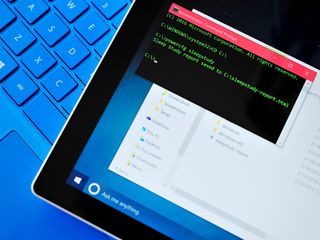 Microsoft recently patched the Surface Pro 4 and Surface Book to fix ongoing issues with the Skylake chipset and Connected Standby (low power state).
Today, we are going to revisit Connected Standby and how to test your Surface Pro 4 or Surface Book (or any laptop that supports InstantGo/Connected Standby) using the built-in Sleep Study feature.
What is InstantGo aka Connected Standby?
Going back to our original article on Connected Standby from 2013:
Connected Standby is the name of the power state, but the name of the feature is Always-On/Always-Connected (AOAC). AOAC and Connected Standby grew out of the SideShow project during Windows Vista. If you remember some laptops with a second, mini-display that showed email and other updates, that was a precursor to Connected Standby.
The idea behind AOAC and Connected Standby is simple: when your laptop or tablet has its lid closed or display powered off, things should still be able to update, like email, weather, Skype, notifications, etc. If that sounds a lot like how your Windows Phone works, you are correct as that is Microsoft's goal. You can think of Connected Standby/InstantGo as a 'Cloud-scale wake-on-LAN' since the feature is reliant on Microsoft's notification service to wake the device for important things e.g. an incoming Skype call. Every time you install a Modern app in Windows 8.1, and it asks to be run as a background task, it is asking to deliver notifications when in this low idle state. Apple has a similar feature with a cutesy named dubbed 'Power Nap' for its OSX.
The experience for the end user is that you never power down your Surface, you just turn it off like a tablet. Also, when in this low-power stage, things like email and weather will be updated so that when you turn it back on, everything is up to date (instead of force syncing everything at once). A user will even hear the email notifications come when the device is 'off'. Interestingly, a Connected Standby device will periodically wake up to renew its IP address and keep the Ethernet NIC connected, albeit in a low-powered mode.
The one caveat here is only Modern apps with the API enabled can partake in Connected Standby. Desktop apps can't. Microsoft did this to have battery drain between 1-4% per hour and so that the Live Tiles will be up to date when you go to use the device, giving the user a more seamless experience.
What is a Sleep Study?
Quoting from the Kevin Chin from the Windows Experience Blog:
That was from back in 2014, but the same feature exists in Windows 10 as well.
The bottom line is you can use a Sleep Study – in combination with a Battery Report – to get an excellent idea of what is going on with your Surface or Connected Standby enabled PC.
How to run a Sleep Study?
Right-click on the Start menu to bring up the menu
Command PromptChoose Command Prompt (Admin) from the menu. Note that this must be the Admin version and not a regular command prompt.
Yes to UAC promptA prompt will appear to which you need to give permission
Change directory and run commandFirst type in CD C: to change to the root C: directory. This step makes finding the HTML report easier instead of having it buried in C:\WINDOWS\System32. Alternatively, you can, of course, output the file anywhere you wish using the CD command.Next up type in powercfg sleepstudy to generate the Sleep Study report. That's it!
Find the reportAssuming you changed the directory to C:\ you should be able to find sleepstudy-report.html listed there. Simply double-click to open it in your default browser.
AnalysisReading the report can be a little tricky, so you will want to go through it a few times and likely run it the report over a few days to collect a good amount of data. Things you will want to keep an eye out for include the 'Transition graph' and chart that shows start time, duration, energy change, change rate and percent of lower power state time.
By using these tools (and our forums), you should be able to start to see some patterns and any offenders that may be causing some battery drainage on your device.
Do you have some tips or insights about the Sleep Study? Let us know in comments.
More Resources
Remember that we have many other articles on Windows 10, if you need help you always check these other resources:
Daniel Rubino is the Editor-in-chief of Windows Central, head reviewer, podcast co-host, and analyst. He has been here covering Microsoft since 2007 when this site was called WMExperts (and later Windows Phone Central). His interests include Windows, Microsoft Surface, laptops, next-gen computing, and for some reason, watches. Before all this tech stuff, he worked on a Ph.D. in linguistics and ran the projectors at movie theaters, which has done absolutely nothing for his career.
Man I thought this would be about actual sleeping. I have sleep apnea so it would have been really interesting.

That's because you are someone who doesn't know anyone at Microsoft or Intel and who base their reality on what they want to believe instead of actual information. Do me a favor: Talk to someone at HP, Dell, Lenovo, Acer, Microsoft or Intel and get them off the record to talk about Skylake and the severe problems with the chipset and the come back to me with your findings. Hint: see how many new Skylake PCs not from Microsoft come with CS enabled. Otherwise, stop pretending that you know anything about what is really going on behind the scenes - because you don't, which is why you are commenting on an article and not writing them. .

@wpkevin As much as i find Rabino to be very harsh and often rude in his responses to commenters, I do not agree that this site is the least respected in any way. I often see references from other sites to windows central or to Rabino directly regarding Microsoft's mobile matters. You're a frequent commenter, what keeps you coming back. I keep coming back because I'm a msft fan and the site keeps me up to date to the degree that i want.

Kevin, that's a huge leap to state that my question implies that my default position is to give up and walk away when I disagree with someone. I merely asked what keeps you coming back. I stated that i find Rubino often harsh and rude but I keep coming back because in spite of that, the site still works for me. I wanted to understand your reasoning as I stated mine. Additionally, I disagreed with your statement about the WC site being among the least respected. I didn't ignore and walk away. I was asking a genuine question about what keeps you coming back.

what build is this, how did you get white context menu?

Man that Sleep Report is crazy complex. My SP4 dropped 25% this morning with the lid closed (after installing yesterday's update too). From 100% to 75% in less than an hour. Looking at the report, CPU C0 Time and CPU C0 Time.Non-attributed Time both show 84% and 81% Active Time respectively. Unfortunately it doesn't tell you what app or process, if any triggered them.

You can tap on some of the menu areas to expand them revealing more information...not sure if you tried that too.

Yeah I tried that. Unfortunately the CPU C0 entries don't have any submenus, really. I'd love to know what triggered that battery drain. I will do more tests.

I changed everything to hibernate after hearing all the issues people were having. To benefit from connected standby I should have it set to sleep when idle and when the lid closes, correct?

Thanks Mr. Rubino! Now I see why my tablet's driving power. I got a cheapo tablet tho, will get surface

Thanks for this Daniel. I installed the update, set my SP4 i7 back to sleep when lid closed, but I have noticed each morning around 5:00 (the crazy time I wake up) that my plugged in and supposedly sleeping Surface is running its fans at a moderate speed. The sleep study reports that the device is entering something called "maintenance phase". I don't know what that is but wonder if it runs because the Surface is on AC and might not on battery. I'll have to give that a try.

S0 Low Power Idle is not supported on this machine. Cannot run tool. - error message

Got the same thing...Figure it out??