How to set up Emby DVR
If Emby is your choice of media center, here's how to record your live TV.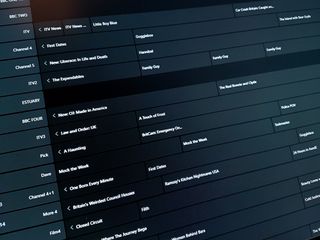 There are of course a couple of pre-requisites here. The first is that you have the necessary hardware and software to get live TV into your Emby server in the first place. The second is that you're an Emby Premiere subscriber in order to be able to use it.
Getting live TV set up is itself a fairly involved process, but once you're there you can use your Emby server as a DVR to record your favorite shows. Setting up the DVR is a fairly simple process, just follow the steps below.
Before you do anything inside Emby server, get yourself a dedicated folder set up on whatever hard drive you're going to use to store the recorded content. Make it easy to find when you're setting Emby to point at it.
Open up your Emby server dashboard.
In the sidebar, click on live TV.
Click on settings.
Find default recording path.
Click the magnifying glass to choose your DVR storage folder.
Click save.
That's all you have to do to get the basic DVR up and running. When you go into your Emby TV guide you'll now see options to record a show or the entire series of that show.
Of course, there are some other settings you can and probably should tweak. For example, you can set Emby to convert the recordings to a more mobile friendly MP4 format, or you can keep them as MKV files. And if you're looking for the best quality recordings, you can enable the option to preserve the original video quality.
One option you really should enable is at the bottom of the settings page. Here you can tell Emby to start recording a certain number of minutes before the start of a show, and finish a certain amount after the end. This is particularly useful if you're going to be recording a live event, since you can tailor it to cater for any additional runtime, like extra time in a sports game.
So, that's how to set up your Emby DVR. Once your shows have saved to your drive you'll be able to access them through the recordings tab in the Emby apps on any of the supported platforms.
Download Emby Theater from the Windows Store (opens in new tab)
Richard Devine is an Editor at Windows Central. A former Project Manager and long-term tech addict, he joined Mobile Nations in 2011 and has been found on Android Central and iMore as well as Windows Central. Currently you'll find him covering all manner of PC hardware and gaming, and you can follow him on Twitter and Instagram.
Anyone using emby? The Windows UWP Plex app is an utter mess and the dev they have on it is just dropping the ball big time. Think of making the switch. Anyone that has used both have any thoughts?

Emby is much better than plex.

Use Emby for Kodi. That combo is awesome.

how is the syncing to mobile devices, laptops, tablets, etc?

Yes...enquiries about Mobile syncing most definitely should be down-voted. Lol.

Syncing works well to devices (phone/surface), even remotely. Choose the quality and it just happens automatically including syncing new episodes. Streams well too if you have enough upload bandwidth from the server.

Yep, i take my Fire stick with me travelling - plug it in to the hotel tv and steam my collection, liveTV, recordings etc whether i am.

If you have Emby, why would you want to effectively reskin it with Kodi? What is kodi adding to the party? (genuinely interested)

I use Emby as the server and Kodi as the client on my raspberry pi2.
On Windows 10 Mobile / Xbox ONE, I use Ember for Emby. It's lacking in features but it gets the job done.
I do not have the other platforms that have apps, but for me it works.

Have used it daily for years. On phone, Surface and it runs the TV in the lounge on top of windows media center using their plug in. Fyi, Media Center can still be made to work in W10 CU.

407 page forum post, but most of what you need to know is on page 1 :-) https://forums.mydigitallife.info/threads/discussion-patch-wmc-to-run-on... you need to be logged in to see links. V8.8.1 seems to work well with W10CU

Do a Google search (or search here) - there is a walk through and it's pretty quick and easy to get WMC running.

Been using Emby with WMC, then over time with native apps (W10, W10M and Droid), Web and FireTVs for around 10 years as it's evolved from MediaBrowser. Definitely recommend it - it's still the closest replacement for WMC available. We're now finally able to do everything from Live & recorded TV, media libraries and music to standard firetv/Netflix etc. from a single remote control/device (firetv). However, interested to test Plex again now they are implementing liveTV (though no built-in DVR? Is that right?). Re: Comments about UWP app - there are some minor glitches, but a good app and works fine. Design is very nice.

Does it do Cablecards ? (still the only way to get premium channels on a PC). Still using WIndows Media Center on Windows 7 (the 10 version has issues with updates). Sigh, nothing else worthy to replace WMC...Still a great app tho.
Windows Central Newsletter
Thank you for signing up to Windows Central. You will receive a verification email shortly.
There was a problem. Please refresh the page and try again.