How to set up a smart home using Windows 10 and Amazon Echo
Smart home apps are mostly MIA from Windows 10, but that doesn't mean you can't join in the fun.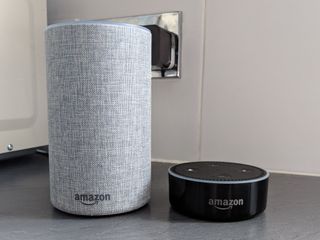 (Image credit: Windows Central)
Even if you don't use Android or iOS, you can set up a full-featured smart home and feel like you're living in the future. It requires only one word: Alexa.
Amazon's artificial intelligence platform that's baked into the Echo (opens in new tab) and other products is all you really need. With an Amazon Echo and your Windows 10 PC, you have all the infrastructure that's required to get going.
Why the Amazon Echo and Alexa?
To be clear, this isn't a complete workaround, and there will be products you just can't set up to work with Alexa without using an iPhone or an Android device. But the benefit Alexa has over something such as Apple's HomeKit is that you don't need a mobile device to interact with it.
HomeKit still requires an app, but Alexa does not. You just talk to it (or "her," if you prefer). And honestly, it's a much better way to interact with your connected home than tapping on a screen. And $49 for an Echo Dot is a much better investment than a new phone or tablet, especially if you're just looking to get in on the fun of a smart home.
See at Amazon (opens in new tab)
How to set up Amazon Echo with Windows 10
You don't need a phone to set up Alexa and the Amazon Echo, you just need a web browser. Amazon may not support Windows 10 Mobile with an app, but it recognizes that not everyone uses an iPhone or an Android phone.
The setup process is incredibly straightforward. Hit the link below, and we'll walk you through it step-by-step.
How to set up an Amazon Echo on Windows 10
How to add support to Alexa
Supported hardware interacts with Alexa and the Amazon Echo through "Skills." You add these to the same web app that you used (as directed above) to set up the Echo on your PC.
In the sidebar, you'll see two useful options to get your smart home going: Skills and smart home. The former is where everything that can hook into Alexa lives, while the latter is more targeted towards the products we're looking at here.
Some of them, such as Hue lights, if already set up will be found automatically and allow you to start interacting. Others require a dedicated skill to be enabled.
The key here is that you know what you're buying works with Alexa. Manufacturers are pretty upfront about declaring this support in product descriptions. If it's supported, it'll work in one of the two methods mentioned above.
What you can use with Alexa
In short, a lot of products work with Alexa. Well-known products such as Nest and Philips Hue both have Alexa integration, so you can tell your Echo to change the temperature or turn off the lights. Even this is basic, and you can get much more involved.
Here are just some of the Alexa-supported smart home gadgetry:
Naturally, Amazon is the best place to check out what supports Alexa, and you'll find every single product that's available for sale in its catalog.
Check out the full list of Amazon Alexa supported products (opens in new tab)
Alexa on Windows 10 PCs
Announced at CES 2018, Amazon is bringing Alexa to Windows 10 PCs in partnership initially with companies like ASUS, Acer, and HP. In theory, this could negate the need for an Amazon Echo, indeed, Alexa as a platform is starting to branch out far beyond just Amazon's hardware.
In practice right now, you'll still have the very best experience with Alexa on an Amazon Echo. And of course, a PC, even a laptop, isn't as convenient as a small speaker in any room in your home. But it expands the reach and makes Alexa even more convenient to integrate into your lives, and your home.
There's currently no specific timeframe for the first of these PCs to appear, but it's an exciting new expansion to what your smart home will be able to do with Windows 10.
That covers the basics. The fact that Alexa is not tied to a mobile platform is a bonus for Windows users, and it gives you an opportunity to get involved. Some products still require an app to get going, so you might have to find access to a supported phone, but the best ones, such as Nest, also let you use a browser.
If you have tips for using Amazon Alexa with Windows, be sure to drop them into the comments.
See at Amazon (opens in new tab)
Updated January 15, 2018: Added information about the forthcoming Alexa integration with some Windows 10 PCs.
Windows Central Newsletter
Get the best of Windows Central in your inbox, every day!
Managing Editor - Tech, Reviews
Richard Devine is a Managing Editor at Windows Central with over a decade of experience. A former Project Manager and long-term tech addict, he joined Mobile Nations in 2011 and has been found on Android Central and iMore as well as Windows Central. Currently, you'll find him steering the site's coverage of all manner of PC hardware and reviews. Find him on Mastodon at mstdn.social/@richdevine
Holds true for Linux as well - or any device with a web browser. .

True, it's also not specific to Windows 10 in the Windows family, but good for any system. Still, it's a good reminder that we aren't left out of everything.

Not really true. Today you can invoke Alexa only using the Echo devices and she is not even available in iOS and Android. When Alexa is available in Windows 10 ARM PCs this will be one of the many unique advantages available to Windows 10 ARM PCs and hoefully for the Andromeda device, unless Amazon brings Alexa to iOS and Android by that time.

I use Alexa with my iris setup. Works pretty good for basic stuff: thermostats, lights, stereo on/off etc...

I also use Home Remote app w/SmartThings. Great app for this sort of thing.

And here lies the reason why so many things still rely on mobile support. It's all about apps. While you can get it up using a browser, you still need a supported mobile OS to do majority of the stuff.

This is the main reason why I chose Vera for home automation. It's not tied to a mobile device. I can easily log in and control/monitor from any browser.

And their official app is good on W10M :-)

The Alexa App as it is presently constituted is just a HTML Wrapper. Everything you can do in the app you can do in a browser. The App may change from being a Wrapper with upcoming Video and Voice call support, however.

So basically the Harmon kardon invoke is pointless and another DOA product in the Microsoft / Cortana ecosystem?

Well, no. If they had done this a year ago, and it cost $50 like the dot, and had the capabilities the echo has, I'd have it instead of Echo Dots. Oh wait, yea, I guess it is.

Don't tell me that. I'm using the Harman Kardon Invoke with Smartthings to control my home.

Nope. It will have better audio quality and cortana is synced with skype and xbox, so you can ask her to play an imagine dragons music video on the xbox or make a skype call. Remember, skype is the 6th most installed app ever, and if they adver tiixe this as a "skype speaker" it might be as sucsessfull as te surface pros. Also remember that amazan echo and google home isnt avalible in all markets, something microsoft can take an advantege of.

Alexa is about to get phone calls. I'm sure Google home won't be far behind. Isn't Cortana only in limited markets as well?

Ilovenutella well, she is atleast in india and the uk, which google home and amazon echo are not in. india will have more citizens than china pretty soon, and its a huge market that LOVES microsoft. A large chunk of the insiders are it pros from india. And even if echo gets phone calls, they don't have xbox or skype, the 6th most installed app in the world. Belive it or not, There are less phones with google assistant that there are xboxes and PC's with Cortana.

I've got Cortana since day one.
I also use a Lumia 950, However, I use Cortana very rarely, if at all. A speech-enabled narrow-AI box where you do not have to press any bloody microphone button or click somewhere on the screen is what is needed to get the market going. Microsoft could have been first to market. Easily.
However, they did not care. People in India love Microsoft, but they also love Android.
Or whatever benefits them and is cool. Not sure whether Harman-Kardon is really a good fit for the Indian market. It will be good, but it also will be expensive. Maybe too expensive - we do not have any price tag for "Invoke" yet as far as I am aware.
The average consumer will not outfit more than one room with a fine Harman-Kardon product. Microsoft probably will have to have an additional product tailored to the Indian market, I gather. Guess Microsoft goes the Surface-route:
First, introduce a very expensive marquee luxary device
and then let others pick up the ball from there
and let them make cheaper products and variants. That however takes time.
Time they might not really have. .

well, she is atleast in india and the uk, which google home and amazon echo are not in. india will have more citizens than china pretty soon, and its a huge market that LOVES microsoft. A large chunk of the insiders are it pros from india. And even if echo gets phone calls, they don't have xbox or skype, the 6th most installed app in the world. Belive it or not, There are less phones with google assistant that there are xboxes and PC's with Cortana.

Who cares for voice assisted narrow AIs
when you first have to manually activate them.
Cumbersome. An Echo gadget is always "on" and is invoked by a spoken keyword ("Alexa"). .


That's why "hey Cortana" exists. You can set it up to not require anything but voice to activate.

not on android. Don't think on iPhone either.

I think it's gonna be a long time before I'm ready to turn my home into a smart home.

It's unbelievable:
Microsoft was very early with Cortana.
However, they did not do too much with it. Microsoft even allowed Amazon to become a serious threat to their Skype endeavour. Unbelievable. Microsoft had a huge headway to get going with Cortana - alas they did not use it and probably did not even take Amazon Echo too serious. Let's see what kind of news BUILD 2017 produces.
Maybe they pull a joker form their sleeves. But whenever I hoped that would or could happen in a Microsoft-context, it did not materialize. .

So true, Microsoft is excellent with ideas and software, yet always lack proper follow through. As much as i am a fan I have already invested in Amazon and SmartThings. I cannot see MS doing anything beyond what is already accomplished by others because they are once again late to the party. I also don't see anyone paying out a premium price for this because it's Harmon branded. Personally i didn't (as I'm sure many others did as well) pay out for a full size Echo when paying $40 for a Dot and pairing it to virtually any type of Bluetooth speaker will be more than enough for average users needs.

Im in the UK and bought into the Hive infrastructure. Yes, it's not as integrated into Alexa as Nest as you need to use a Skill, but that just adds 3 words to activate/control Hive: "Alexa, tell Hive to..." and has a fairly comprehensive skill-set.
I was going to start off by saying that Hive has excellent WinPho/WinMo support, but yesterday I received an email giving me notice that they were pulling support and replacing with a web-app. In fairness, the web-app works really well and they appear to have worked hard to make it play nicely with Edge.
Finally, with the exception of XBox, MS doesn't see itself as a consumer company really IMO so I'm not surprised that they don't have a thought through solution and Alexa in the UK is a shadow of it's US incarnation. Finally, doesn't Alexa use Bing???

If you are looking for more serious home automation than what Alexa can provide (which isn't a lot, to be honest), then look at HomeSeer, OpenHAB or Domoticz. I'm a HomeSeer user and automated everything I can. HomeSeer can also use Alexa, but I wouldn't recommend having Alexa as the "brain" of the house.

HueDynamic is bloody amazing for Philips Hue, N10 is great for Nest, both with fantastic Cortana integration. Phonos for Sonos...again with Cortana...

I am not going to Alexa and waiting for MS to announce the Home Hub hardware (tablet? with mic array, similar to the one in the Studio, to call Cortana from across the room). Imagine a tablet on the kitchen wall with Hello camera, Mic Array, etc... Finger crossed for the hardware event, hoping that what's next is some sort of family hub / IoT related hardware... Home hub is supposed to connect with IoT including Smartthings (which I am particularly interested in since Smartthings stop supporting Windows 10 Mobile, so using home remote for now). The only problem with this is that: May 2017 - Announcement
Fall 2017 - Launch/pre-order in the US only with RS3
2019 - maybe some launch in a limited of countries in the rest of the world. As always, the rest of the world won't have access to this before a good 2 years in between!!! (I am still waiting for the surface dial to be launched in the UK!!!).

I was given the Echo Dot, and I have to say it's pretty useless without smart home appliances. We've asked Alexa some pretty basic questions and get no response. I can't wait to find out more about Invoke. Cortana is much more robust than Alexa.

This Windows Central article totally ignores Insteon home automation and Cortana with the Invoke integration! Not even a mention.
Sad day.
Insteon is duel channel and the devices form a mesh network talking and repeating commands to each other. This makes the system very robust. Insteon also makes its wall devices in many many colors so you have choices and can match the color of the other wall devices in your home or office.
Take a look.

I gave up on Insteon a long time ago. Their support is horrible. However, Smartthings integrates with Cortana and my Invoke perfectly.