How to share folders in OneDrive from Windows 10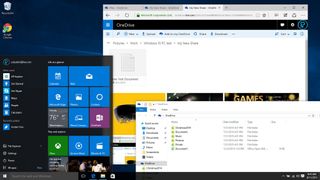 Microsoft is rolling out Windows 10 with the goal of having one billion devices running the new operating system within the next 2-3 years. The new version of Windows packs a ton of new features and changes that makes it a special release. Among all the new changes, OneDrive is one of the features Microsoft hopes users will rely on, to store their files in the cloud.
In Windows 8.x, OneDrive was integrated into the operating system through an app that you couldn't uninstall, and settings were easily accessible from PC settings. Through the modern app, users were able to upload easily their files and folders, and even share them with other people without having to use the web interface of OneDrive.
In Windows 10, the software giant is removing the app and the ability to configure the cloud storage service from the Settings app. This is in favor of a deeper OneDrive integration inside the operating system with a user interface that is very similar to the desktop version of the app. However, in its current state, sharing a folder or file has become a task somewhat harder to accomplish, as such in this new Windows 10 tutorial, we'll go through the steps to successfully share a OneDrive folder and files with other people.
Sharing a folder in OneDrive
While inside Windows 10, sharing a folder using OneDrive can be done in a number of ways. If you simply need to share files, such pictures, videos, and documents, you can simply create a folder in the root directory, or on any location inside OneDrive. Then, right-click folder, and select Share a OneDrive link.
This process will automatically share the folder in question with a default view permission and the unique link to access the folder will get copied to the clipboard.
The link is a standard secure URL. This means that when you share it via email or by other means, the shared folder will open in the web interface of OneDrive using the web browser.
You'll note which folder is shared because a blue icon will appear in the bottom-left corner. Now, it's worth pointing out that sharing a folder using this method will allow anyone with the link to access the folder and its content.
If you want to control who can access a OneDrive folder, you can right-click the shared folder and click the More OneDrive sharing options (refer to previous image). Once you click this option, your default web browser will open OneDrive to the sharing options of the particular shared folder.
From the Share options, you'll notice that you have the option to Invite people. On the right, you can invite one or more people to access the shared folder and its content.
Then there is the Recipients can only view link. Clicking the link will unveil additional sharing options that you can set. The options are self-explanatory, for example, you can choose Recipients can only view or Recipients can edit. Also, you can restrict if you want to allow recipients to access files with or without a Microsoft account.
Once you have you have selected the setting you want, click the Share button.
It's worth pointing out that if you try to share a folder from inside Windows 10 with the Share a OneDrive link, even though you configured specific share permissions to a folder with one or multiple people, the folder will continue to be accessible as "view only" to anyone that obtains the share link. If you only want specific people to access the folder and its content, you have to make sure you navigate to the Shared with, in the Share options, click Anyone with this view link, and click the Remove link. As you can see in the image below.
A few things you need to know about sharing folders with OneDrive
Additionally, if you set the sharing permission to edit, the other person can also re-share the same folder with other people, which can be a security concern for some users. However, you can always go back to the Share settings to remove anyone you do not want to access the shared folder.
It would be nice if folder owners could get a notification when someone else shares a folder they don't technically own, but it's not the case. However, recently Microsoft started rolling out a new feature that notifies owners that a shared file has been changed. On mobile devices, the OneDrive app shows real-time notification, plus those who shared a folder will also get a daily summary email with details on who and when files were edited.
Another thing I have noticed is that when you share a folder, you are also sharing the folder path, as such be careful you don't reveal unnecessary information in the path. So, for example, avoid creating a folder called "People I don't like" and inside of that folder creating another folder called "Work files", because once you share the folder it will look like Files > People I don't like > Work files.
One nifty feature when you share a folder is the ability for the recipient to click Add to my OneDrive to make the folder available on any device. This means that the folder and its content can be accessed not only on the web but also using File Explorer in Windows and recipients can also make the folder available offline. (Keep in mind that this feature only works when you set the edit permission, not with view only permission.)
It's important to remember that sharing a folder in OneDrive is not the same as creating a local share in Windows. Once you share a folder it won't be available in the network, it will only be available through OneDrive.
Furthermore, if you ever want to stop sharing a folder, deleting the folder will not stop the share. To stop a share, go to OneDrive online, right-click the folder in question, select Share, under Shared with, select a person and from the settings, click Stop sharing. Then do the same for the other members of the folder. Once you have removed everyone and links shared, you can safely delete the folder.
Sharing directly from the web
Of course, you can always sign into your OneDrive account and share a new folder from the web interface. You'll simply need to right-click the folder and select Share, then you'll have access to all the share options.
Wrapping things up
As we look today sharing folders and files is not a very hard task. The main thing is that you need to know where to look to set the right permissions.
OneDrive without a doubt is the best cloud storage service anyone can get on a computer running Windows 10 and any device that connects to a Windows machine, like smartphones and tablets. It's secure, easy to configure, and very flexible, but only on the web. The cloud storage service still needs work inside Windows 10. We should be able to configure shared folders and other options within Windows and not having to jump to the web interface, something that was possible to do in Windows 8.x.
Do you use OneDrive to share files with other people or you use simple email attachments? Let us know your experience in the comments below.
Windows Central Newsletter
Get the best of Windows Central in in your inbox, every day!
Mauro Huculak is technical writer for WindowsCentral.com. His primary focus is to write comprehensive how-tos to help users get the most out of Windows 10 and its many related technologies. He has an IT background with professional certifications from Microsoft, Cisco, and CompTIA, and he's a recognized member of the Microsoft MVP community.
Mostly prefer to share a link by shorten it . Great info BTW

I can't set SD Card as my OneDrive storage directory. anyone knows how to? Posted via the Windows Central App for Android

You have to configure your SD card as a VHD (Virtual Hard Drive). By default a SD card is treated as a removable drive, not as a fixed drive (because it is). Onedrive needs a fixed drive inorder to sync files in Windows 10 due to the deep integration into the OS.

I got around it by mounting my SD card as a folder in C:. Created a folder on C:, used Disk Management to get rid of the drive letter for the SD card, then mounted it to the folder... Works great. The VHD option should work too... But I went with the mount method.

Just flip the switch in settings under One Drive to save to sd card. Oh wait you can't do that anymore because the myopic Windows 7 users like to do this the more complicated way. You can follow what JinjaHats and layer8pro posted since this works for all versions of windows. Just keep in mind that everything you sync will now download to where you save it instead of getting a header file. This means if you have a terabyte of data on your One Drive, you will need a terabyte of space available on all of your Windows PCs (except for windows 8x PCs). Of course you have the option to not sync certain files but no option to set it as online mode or offline mode since that option no longer exists.

I use onedrive often for business file sharing.. It works well both in Windows Phone and Browser.. But in Desktop, it needs more features.. Viewing and Accessing shared folders from others is not possible yet in Desktop Windows 10.. I still need to open browser to access shared files/folders from others..

As long as you have been given view/edit privileges on the share, right click and add to one drive. Then you see the share on all devices - including desktop file explorer in Windows 10.

This was uncessary in windows 8x. It would just show up automatically

If you share a folder with someone and they add it to their OneDrive, and then you remove their permission to the folder do the files get removed from all of their OneDrive devices that they synced to?

I tested, and yes indeed after a little while the folder, and files, do get removed...

Meh. Bring back smart files! I'm really disappointed in how it is now an all of nothing way of managing OneDrive. What is more disappointing is the fact that Microsoft keeps closing the UserVoice threads even though they are getting 10,000+ votes.

Seriously. OneDrive is so much worse now. Typical Microsoft.

They already confirmed they would bring back placeholders in a later update. First they are going to fix shared folders and consolidate the sync engines. Then they will add in a new version of placeholders that doesn't break apps that try to open them.

That is wonderful! Do you have a link to their blog post or press on this?

It's another empty promise from Microsoft. If it does show up it will still be buggy or nothing like the previously better version.

not having to go to Onedrive web to do it is a really really nice thing, just like being able to access your files anywhere (don't use it much but it's useful). and it's nice to know that on Windows 10 you can take advantage of the folder "add to my onedrive" thing. I really like onedrive on windows 10, the only thing it needs is being able to sync only one file but I don't mind downloading a whole folder either. in the end i will download the whole folders eventually.

In windows 8x, I never had to use the web version of Onenote, in fact I never knew there was a web versio of Onenote until I stupidly "upgraded to Windows 10"

the Onedrive integration on 8.1 seemed much better than that on 10.
i could even view folders i didn't synchronise. i could sync individial files. stop syncing folders, while still seeing their contents.
much better way to manage files. the current windows 10 and OS X Onedrive systems are disappointing.

It's not only disapointing, it's inherently broken and crippled. The absence of place holders is ultimately dumbfounding. If I wanted the iOS or Android version of Microsoft's apps, I would get those products but I expect the better version would be availble on the a company's own operating system.

Mauro/Daniel, Can you guys start deep diving on the next-gen sync app thats due in Q3/4 - these changes and backpeddling by them is really making it difficult to get excited about the product in its current form. 8.1 did so many things brilliantly, like the 'smart files/thumbnails' feature...Between the removal of that feature + the view limit limitation in SharePoint Online/OneDrive for Business on Office 365 of 5,000/20,000 respectively, its really making it hard to go fully to the cloud. I've sold and implemented hundreds of Office 365 subs to businesses and the platform is great. The best imho...but in order to get so many of these small/medium sized businesses away from their on-premise file servers, these things need to change asap! Some dont want to go fully cloud, and I'm OK with that, but you'd be surprised how many are willing and excited to go all out.

It's still not usable without this being in the base OS UI. All this bouncing between Web Apps and Explorer is too much work. Going to continue to use iCloud Drive, instead, though Dropbox (and probably Box) also works better for those who prefer that.

In Windows, Onedrive works as well or better than Box or Dropbox. However, for other OS where Onedrive isn't as integrated, those other services might be better. Last I heard, iCloud was lacking in management tools, has that improved? Onedrive has definitely taken a couple steps back in some features, but is moving forward in other ways and features will be added to make management easier from within Windows. It is disappointing right now though, compared to how well it works in 8.

Yes, I'm disappointed too with the removal of 8.1 placeholders and instant view, now replaced with bouncing around folders and the web. Also, get messages from the folder that file names are duplicated and I need to delete the file on the PC or OneDrive or rename one. This is highly confusing as the file on the PC was not used by me and in properties there is nothing in it. Please Microsoft bring back the 8.1 version!

iCloud has better integration in OS X than OneDrive in Windows or OS X, and Photo Sharing is superior on Windows to any equivalent function Microsoft provides on their own platforms. stop hearing about things and use them yourself. its not hard. what your 'heard' is irrelevant.

I had a huge issue with one drive this morning on Windows 10. After upgrading from 8.1, Windows 10 had them as cloud files, although they were first natively in created on the PC and then simply uploaded for backup. Since this was causing too much lag and having to close files and reopen them for them to refresh (I work with several linked spreadsheets) I decided to download it from the cloud, as I did when upgrading to Windows 8.1. My files downloaded in a .rar file, which is fine. But once I opened it, half of my excel files where converted to notepad files, which when opened just stated that there was an error downloading the file. In the meantime, Windows 10 decided to delete the one drive folder that I downloaded, which meant that by the time that I went back to my it on the web, It had already deleted everything. The text that came with the notepad files gave me a link, but I could no longer access it as the files where deleted automatically right after download.

I don't understand why everything in Windows 8x was revamped in order to integrate desktop for the mildly inteligent Windows 7 hold outs. I can't help feel that they threw out the Windows 8 ui and just ported windows phone's ui over Windows 7 and see no advantage in upgrading my other Windows 8.1 pcs.

Bring back start screen and app syncing Microsoft removed in Win10. https://windows.uservoice.com/forums/265757-windows-feature-suggestions/...

It'a obvious that Microsft could care less about those who embraced Windows 8x. It's not surprising that they are just following where the money is and that is the desktop hold outs who unfortunately were the louder groups bitching about how they don't want to learn a new UI on there operating system. Windows 8x user had nothing to complain about so they're protests are now being unheard.

Windows 10 One Drive and One Note has become unexplicably crippled compared to what Windows 8x offered. The focus to appease the antiquated desktop users has left the Windows 8x users feeling royally screwed. As a Windows 8x user, I feel that Windows 10 a definite downgrade and there is no advantage to move up to this train wreck. Sadly the Windows 7 hold outs will never know what they missed and how they set Windows back 20 years!!

Anyone looking forward to having the "online only" files visible in the One Drive folder in Explorer? It would be great if for each folder I could select in between 3 options: 1. Not visible 2. Online-only (save space on my machine but still able to see the files and open them when connected to the web) 3. Offline sync

Aside from the annoyances listed so far, I'll add one more. On 8.1, we had that very convenient default setting option to have new documents "Save to OneDrive". Of course, it's been removed. Since OneDrive became my main file storage with 8.1, all my files live there. Now, a new document has to be manually saved to or moved to OneDrive to be accessible on all my devices!

I am trying to share some folders on OneDrive but the whole menu section "Share a OndeDrive Link" to "Choose OneDrive Folders to syn" is missing from my options. Any suggestions please?
Windows Central Newsletter
Thank you for signing up to Windows Central. You will receive a verification email shortly.
There was a problem. Please refresh the page and try again.