How to share an internet connection using a wireless hotspot on Windows 10
When you need to share an internet connection with other devices, use this guide to quickly create a wireless hotspot on Windows 10.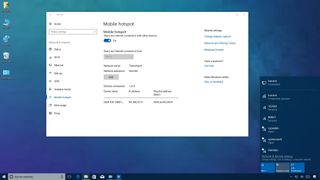 On Windows 10, it's possible to share an internet connection with other devices by turning your computer into a wireless hotspot without extra software or advanced commands.
The feature is called "mobile hotspot" and can come in handy in a number of situations, but typically you'll find it useful when you only have a wired connection, and you must get others connected to the internet. Or you're meeting with other people at a coffee shop that doesn't offer free Wi-Fi, in which case, you can share your cellular data to get everyone connected.
A Wi-Fi hotspot is nothing new on Windows 10 — the feature's been available for a number of years, but you had to use command-lines to configure Hosted Network. Windows 10 now makes it super easy to quickly create a hotspot using the Settings app.
In this Windows 10 guide, we'll walk you through the steps to share an internet connection using the mobile hotspot feature included in the OS.
How to use mobile hotspot on Windows 10
Windows 10 allows you to share an Ethernet, Wi-Fi, or cellular data using mobile hotspot, but your computer must have at least one wireless adapter to make it all work.
To create a wireless hotspot on Windows 10, do the following:
Open Settings.
Click on Network & Internet.
Click on Mobile hotspot.
Under "Share my Internet connection from" drop-down menu, select the network adapter connected to the internet that you want to share.
Click the Edit button.
Type a descriptive name for the shared connection that others will use to identify the network.
Type a new password that other users will use to connect to the hotspot.
Click the Save button.
Turn on the Share my Internet connection with other devices toggle switch.
Once you have completed the steps, up to 8 devices can connect to the internet using the hotspot, and there are not complex configurations, users can simply connect as they would normally do to access to a Wi-Fi network.
Quick Tip: After configuring mobile hotspot, you can quickly turn the feature on or off using the Network flyout in the taskbar.
If you don't want to keep mobile hotspot enabled at all times, it's also possible to turn on the remote option that appears before enabling the feature. However, for this feature to work, devices must be paired using Bluetooth.
More Windows 10 resources
For more help articles, coverage, and answers to common questions about Windows 10, visit the following resources:
Windows 10 help, tips, and tricks
Mauro Huculak is technical writer for WindowsCentral.com. His primary focus is to write comprehensive how-tos to help users get the most out of Windows 10 and its many related technologies. He has an IT background with professional certifications from Microsoft, Cisco, and CompTIA, and he's a recognized member of the Microsoft MVP community.
This assuming you have one of the few devices with LTE connectivity

You can do share a Wi-Fi, Ethernet, or Cellular connection with this feature. Thanks,

Yes, the whole article was written with the idea that you have an internet connection to share which is why the name of the article is "How to share an internet connection..."

I added a second WLAN adapter and broadcast an additional SSID after finding that only 5Ghz adapters could connect to my phone hotspot.

I am so glad it makes it easy to share either means of accessing the Internet. I volunteer to run the computers for an auction fund raiser and the building's wi-fi doesn't reach the rooms we use. So I have been taking a PC to connect to the building's wi-fi and pass it along through a network cable. On the other end of the cable is a basic router of mine and everybody working the auction connects to that router (and the web server I have set up for managing all of the transactions). I need the Internet connection for running credit cards, which definitely increased the amount people are willing to spend ;)

In my laptop network flyout is not available before or after enabling mobile hotspot :( Turn on hotspot remotely never works. Also I'm trying to figure out a way to keep the hotspot always on but can't seem to find any :( It turns off automatically if no device connected for few minutes.

Turn on hotspot remotely does work, but the remote device also needs to support this. So, my TomTom Go 520 can turn on the WiFi hotspot in my Lumia 950XL for example. My Lumia 820 on W8.1 cannot do this as either client or server though.

Both my Laptop (HP Probook 440 G2) & Lumia 730 DS (Latest windows 10 mobile production build) support this feature, but it never works. :(

Can't do this on AT&T if you have the old grandfathered unlimited data plan.

One of the good thing I like about that is that u can turn the same wifi network ur computer is use to a hotspot the ur computer or that other devices can connect

Hi - Add me to the group that would like to be able to make the hotspot stay activated. I can link my 950XL to my desktop, but the connect only stays active when i am using the phone. If the phone lock screen comes on, the hotspot on the computer turns off. Not sure of the exact timing, but the hotspot does continue to turn it self off.

"also possible to turn on the remote option that appears before enabling the feature. However, for this feature to work, devices must be paired using Bluetooth." That seems to be the most undocumented feature ever...can't find anything about what factors make this possible/impossible. I posted about this in the forums, I would love if my car would automatically toggle the Hotspot on my Lumia 950XL when it connects to Bluetooth so that a secondary mobile device (iPod touch, which is always connected to car via USB) can connect to the Hotspot and play Spotify music. I guess this is too much to ask for...hehe

Great.. I tried this on my PC and found out that my Lumia 650 doesn't support 5 GHz wifi. Any way around this? Can I share my wifi connection using bluetooth?

Remotely turn on never works and the most annoying problem is that the hotspot gets automatically turned off if no device is transfering any data for a few minutes.

I don't get the quick toggle in the Network flyout on my Surface Pro 2. Is that only available after the creator's update? Also, are you able to create an AdHoc network using it? If so, think it might be time to uninstall Connectify Hotspot Max... Eitherway, glad part of Windows 7's simple network shearing GUI is back (in a modernized fashion), and somewhat improved in a cool way as I can re-share my Surface Pro 2's WiFi connection through the WiFi card (over the 5 GHz network band), just like MyWi was been offering on my jailbroken iPhone 4s 🙂 Whereas Windows 7 only allowed shearing internet from a wired network, over the wireless card (as far as I know).