How to sign up for Disney Plus with a subscription card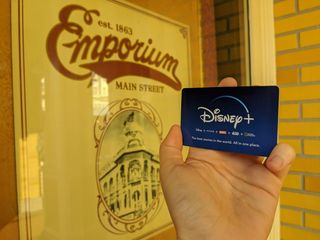 (Image credit: Ara Wagoner / Windows Central)
After the long wait, Disney Plus (Disney+) is finally here. If you haven't had a chance to sign up yet, or you're looking to give somebody the magical gift of Disney streaming, there's an easy way to do it, especially if you live near a Disney run establishment. You can now purchase 12-month subscription cards. If you have one or want to get one, we can help you use it so you can start streaming as soon as possible.
Before you buy or redeem
Before you try to redeem your subscription card, here are a few things you should take note of. You can't redeem a subscription code if you already have an account. The only way to successfully redeem a subscription card is to be a new subscriber. If you already purchased a card, you can gift it (opens in new tab) to someone who doesn't have the service. Otherwise, you have to wait until your current subscription is up so you can cancel and register with a new email address.
How to sign up for Disney Plus with a subscription card
If you haven't been gifted a card and you want to buy one yourself, you can find Disney+ subscription cards in Disney Stores or the Disney World or Disneyland parks. Once you've got it in hand, follow the steps below to get streaming.
Flip over your card for the subscription code. Once you've used the code, you can't reuse it.
Follow the instructions on the back by going to the website DisneyPlus.com/redeemcard

(opens in new tab)

.
Enter in your code and click Redeem.
After your code is redeemed, enter in your email. If you had an account previously, be sure to use a new email account.
Select if you want to receive offers and updates, read the terms of services, and select Agree & Continue.
Create your Disney+ account password.
You've done it! Now you can relax and enjoy all the magical programming Disney+ has to offer.
After a few small steps, you can now stream Disney+ on any compatible device. Enjoy the MCU, Star Wars, National Geographic, and the best Disney movie library out there. With classics like The Little Mermaid and awesome new programming like the Mandalorian, Disney+ has a lot to offer for anyone who needs a little extra streaming magic.
Our top equipment picks
If you don't want to go through the hassle of buying a subscription card in person, or you don't happen to live near a Disney Store or any of the parks, you can still grab a Disney+ subscription online. Plus, if you don't want to commit to the entire year, you can pay monthly or test out the service with a seven-day free trial. Just keep in mind, if you do sign up and you receive a subscription card, you won't be able to use it if you already have an account.
I've got the magic
Disney magic for your viewing pleasure

Perfect to any fan, Disney+ is a streaming service with a lot to offer from the Wonderful World of Disney. With classics like The Mask of Zorro to new originals like the Mandalorian, it's a magical service worth sharing with friends and family.
Sara is the Freelance Coordinator and an editor at Windows Central. She's a video game enthusiast with an eye for fun and crazy games and is always excited to try out something new on Game Pass.
Windows Central Newsletter
Thank you for signing up to Windows Central. You will receive a verification email shortly.
There was a problem. Please refresh the page and try again.