How to sync your Dropbox folders to Windows 10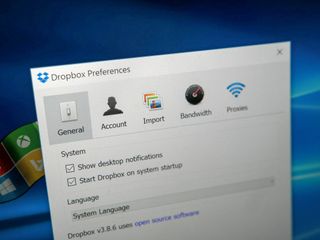 While OneDrive is built into Windows 10 one of the other most widely used cloud storage solutions is Dropbox. We have a pretty good app for Windows 10 allowing you to access your files, but it doesn't allow you to sync them to your PC.
For Dropbox syncing you'll need to install the desktop sync app first. Once you have that and you're set up you'll have something that resembles OneDrive. Here's what you need to do.
1. Go to Dropbox.com and click on "Download the app" on the homepage.
The installer will then download to your PC. Run the Dropbox Installer and follow all necessary instructions.
2. File Explorer.
Once you've installed the Dropbox sync app you'll be able to access your folders from the sidebar in File Explorer, just like any other folders on your PC, and OneDrive. To check everything went well it's worth checking that it's there.
3. Access Dropbox preferences
To select which folders to sync click the Dropbox icon on the taskbar located on the lower right corner. If you don't see it, you'll need to tap or click the up arrow to show more icons.
Then click the settings cog in the top right hand corner and select "Preferences."
4. Choose which folders to sync
Under the "Account" tab you'll see an option for "Selective Sync." Click it. The complete list of your Dropbox folders will now be in front of you. Check the box next to the ones you want and they will sync to your computer.
To access your Dropbox folders now simply open up File Explorer and you'll see it in the side bar on the left. You'll only see folders and files you've chosen to sync, so don't be alarmed if it looks a little empty. But, you'll also have offline access to these files.
For PC users this is probably the better way to access Dropbox on your computer. Since tablets and smartphones don't have the storage capacity that a Windows PC will have, the Store app is a much better way to go on those devices for accessing files. Once you've got Dropbox all set up following these easy steps, you don't have to worry about it. Just move things around across your devices and let the background sync take care of the rest.
For more Windows 10 tips be sure to visit our dedicated page here
Richard Devine is an Editor at Windows Central. A former Project Manager and long-term tech addict, he joined Mobile Nations in 2011 and has been found on Android Central and iMore as well as Windows Central. Currently you'll find him covering all manner of PC hardware and gaming, and you can follow him on Twitter and Instagram.
Since I've updated to windows 10 my OneDrive stopped working ok. Does not finish synchronization. I'm leaving OneDrive for Copy

I used to have that problem on 8.1 Windows 10 fixed it.

Does it support smart files/ placeholders?
Placeholders was the only reason for me to move from google drive to onedrive.... Now is there something that onedrive has and dropbox/ google drive don't?

More space? Two men enter, one man leaves.

So... Just like how you would sync on Windows 8.1, 8, and 7? xD

I really thought i was going to read something peculiar about dropbox instead of an installation tutorial

So it's just like how OneDrive works now, and how all the other cloud storage providers work, which of course makes it mostly useless. I switched to OneDrive specifically to avoid this unintuitive, unproductive synching method, but MS broke it and made its product just as crappy as competitors' products. Having to use the browser for dynamic file access, or worse, needing to completely reorganize my cloud file system to make this synching method almost work sucks. I've moved back to using USB drives until MS fixes OneDrive.

MS has developed a habit of removing best features of their products...earlier they ruined xbox music+video hub, games hub and pictures hub (from wp8) and now they did this.
I have no hopes that they are going to fix this!

Btw you switched to usb...me worse..switched to optical media .

Why does Windows Central keep releasing how to's on things making it seem like its Windows 10 specific when its been the same in Windows 8.1 and even Windows 7 for most of them?

You read my mind. Next how to is how to turn on your pc...

To get into Google results, that's why.

my dropbox app dont start with windows login. may be the onedrive isue???? does enyone else have the admin rights problem in win10???

I solved that by: 1) Installing sandboxie http://www.sandboxie.com/index.php?DownloadSandboxie 2) running dropbox desktop in sandboxed mode (right click -> run sandboxed) 3) done for more help to install & using sandboxie: http://www.howtogeek.com/howto/5219/run-apps-in-sandboxie-to-keep-your-system-secure/ enjoy it

Ughh. So glad I left dropbox behind. That settings window has apple icons. Reality have to hand it to MS and google about aggressive pricing for cloud storage. Bye bye dropbox

Do we really need tutorials for such trival things. I mean its not like something changed in this, its same process from windows seven time.

I realy need tutorial, how to instal dropbox client in ussual domain acount in Windows 10. If I try install dropbox, OS will ask me for domain administrator privileges. If I use them, instalation will not go on (no dislogue window, no OS answer). This problem does not exist with OS Windows 7 or eny else (LINUX, OS X), only with Windows 10. Have you any idea?
Windows Central Newsletter
Thank you for signing up to Windows Central. You will receive a verification email shortly.
There was a problem. Please refresh the page and try again.