How to take a screenshot on the Surface 3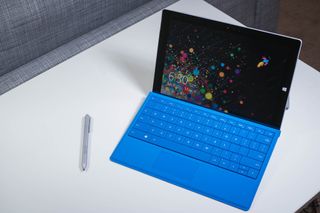 Taking screenshots is one of the most common tasks I need to know when using new devices. It's useful for how-to guides, troubleshooting, or sharing fun images with friends. Taking screenshots is very similar among Windows 8.1 devices. I've just received the Surface 3 and use six methods to take a screenshot.
Method 1: The easiest way to take a screenshot on the Surface 3 is by pressing and holding the Windows button and then pressing the volume down button. The screen dims for a second and the image is saved in the Screenshots folder of the Pictures library.
Method 2: Using the Surface 3 Type Cover, press and hold the Windows key, then press the PrtScn key. The screen also dims for a second and saves the image in the Screenshots folder.
Method 3: Using the Surface 3 Type Cover, you can also just press the PrtScn button. The screen does not dim briefly with this method or saves the screenshot in the Pictures library. It just copies the whole screen to your clipboard. You can then paste it to another application like Paint or Photoshop.
Method 4: Press and hold the Alt key then press PrtScn to copy just the active window instead of the whole screen. This method also does not dim the screen or saves the image your library. Instead, the screenshot is copied to your clipboard which you can paste to another application.
Method 5: Using the Surface Pen, double-click the top button. Select what you want to capture in the screenshot by dragging the tip of the pen from one corner to the opposite corner. When you lift the pen tip, your selection appears in a new page in OneNote. You can then add more notes or drawing to the image.
Method 6: In desktop mode of the Surface 3, there's a handy built-in app called Snipping Tool. Tap or click the arrow next to the New button, choose the kind of snip you want, and then pick the area of your screen that you want to capture. The screenshot is automatically copied to the Snipping Tool window, which you can save.
What is your favorite method of taking screenshots on Windows 8.1? Do you use something else that isn't listed here? Let us know in the comments!
Windows Central Newsletter
Get the best of Windows Central in in your inbox, every day!
Don't know if this works the same on the new Surface, but on the SurfacePro2, I hit the right-hand [ALT] + [FN] and then hit [SPACE] and a screenshot is copied to the clipboard.

Or on the Surface Pro 3 Cover and Touch Cover 2 (since the Surface 3 Cover seems to have a different layout) you can do Fn + Win Key + Spacebar and have it go directly to screenshots. Many methods available!

4 keys? Wow. Better to use OneNote's windows + N option.

3, and it's the one I use since I have the built in Windows button disabled. :P

Wow! I never knew this! Thank you!!! I hated having screenshot files made. I just wanted to copy it to the clipboard.

Or you can directly use this free screenshot tool, it works fine on Surface Pro 2 or even the new Surface, plus, it can help to edit screenshot or even share images online. Anyway, there are many options available, you can take your pick.

Great tip! I didn't know about the Windows + Print Screen combo which automatically saves the screenshot. Much quicker than opening the Snipping Tool or having to paste a screenshot and then save it.

I didn't know about windows button + volume down combo too. Thought it was volume up

It is now Feb 2017 and screen print for surface 3 (windows button+volume down(-) next to impossible to activate/use.

I wish I could use a hybrid of alt+winKey+PrntScreen to just take a screen shot of the active window and save it automatically. =)

This, this so much. You'd think they'd let you do that.

Err Isn't that basically Method 4?

No it's not, as he stated in his comment.

You can make a screen shot auto save that captures all your monitores or copy the selected monitor to the clip board. But there isnt a way to auto save just the captured monitor as a picture =).

Method 4: Download greenshot free to replace the awful snipping tool

Thanks! Omg I need this feature! "...you can even capture complete (scrolling) web pages from Internet Explorer"

Checkout the desktop version of VLC, you can live stream and capture with it. Pretty handy for Tutorials.

thanks, can you stream a section or has to be the screen?

$800 for 3 or $1000 for a pro tuff call

Save your money for the Pro 4. That's what I am doing. I was sold on the Surface 3 until I realized the price difference to a Pro would make it a shame not to get a Pro. Which I can't afford either at the time. And then I thought about Windows 10 and decided I want to incest on that instead cause there WILL be a new Surface coming with it, with new hardware (Windows Hello) and everything.

Yeah the 4gb of ram is the deal breaker for me, that wont cut it with two monitors chrome tfs SQL studio

If you're trying to run Visual Studio on a Surface 3, you're gonna have a bad time.

I think you mean invest, not incest

Lol. Arent you implying by saying "dont judge" my judgement is wrong, there by judging my judgement? =) ... Don't judge.

No, smartass, there's no implication at all in saying "don't judge" cause you can't know if I agree with you or not. Go open a book or something.

Obviously, you're smart enough to tell the difference. So no need for me to correct it.

Make it pro man !!!
It's worth it for just 200$

Thanks, I didn't know the same screenshot method on phone works on surface! (pro 3 here) Also the double click top button I never knew... but not sure I want it in a one note. The Snipping Tool is my main tool.

Great tips, but I use TechSmith Snagit for full prof clips control. Wish they supported Win Phone like they do IOS & Android.

Lightshot is a really nice software

Is there a way to take a screenshot of the active monitor (where the mouse is) in a multi-monitor setup? Taking screenshots using the methods I know just results on getting every monitor in frame. If not, I'll go ask for it in the Windows 10 feedback app.

In windows 8.1 and 10 > win + print
In windows 7 > snipping tool

Yay! first comment from window central app

Oh Windows Central you are so fantastic, every article on here is pure gold! I take it all back, we DO need a thousand articles about Surface 3 which could easily be combined into one... Loads of articles about one device, that's what we need! Yay!

You don't Internet much, do you? ;-)

Anyway to change the default save folder?

i need something quick and easy similar to method 5 on an SP2

Charms -> Share -> Screenshot

And then you can also share to an app such as "Screenmask" for immediate editing.


Nice, cool looking app...will have to do a follow up to this article.

<sarcasm> Why does Microsoft only limit us to 6 ways of taking a screenshot! </sarcasm> lol

I have always loved the Snipping Tool since it's release. I leave it on the task bar.

method 4 is a cleaner way of doing it

Fn+Space Bar is my favorite method of taking screenshots.

Windows Key + N, S is my second favorite method.

Double clicking the pen is by far the most brilliant thing on a computer since....I don't know....since the desktop. I use it every damned day.

I tried it a few times today and can't make it work. I'm browsing the web, I see something I want to capture, I double click the top button (the top of the two down by the tip, not the one where a pencil's eraser sits) and then what, touch the screen? Nothing happens. Not sure what I'm missing.

Never mind, just watched a youtube video showing it. I was using the wrong buttong. It's the purple button.

I do have to say OSX has better screenshot options. Microsoft should beef up the snipping tools app and shortcuts.

I got my onenote snippingtool in my taskbar..

i want this wallpaper lock screen? any pls give me the wallpaper

Another one for store apps: From the Share charm, right under the word Share, you can set the drop-down to "Screenshot" and Share a screenshot (Share with OneNote or email it to who you want to share it with).

Well this rasises a good question. On the Surface Pro 3, there is no prtScrn button. Also, do any of these short cut, key combinations work when docked? Side Note: The pen with OneNote does work well...

swipe from right, hit share, then select screenshot

I have taken countless unintentional screenshots on my phone from powert button + volume down. Especially while jogging.

I use the snipping tool all the time for Windows 7 at work. Not bad. Posted via the Windows Central App for Android

I've tried method one several times and it never works. it just lowers the volume. I also tried vol. up and the power button, to no avail. I'm wondering if a system update hosed it.

It is Feb 2017 and microsoft has not yet created a simple way to make screen print (one step action) when using Surface 3 without attachment. See my comment on Joe Rodax's Post below (way below)
Windows Central Newsletter
Thank you for signing up to Windows Central. You will receive a verification email shortly.
There was a problem. Please refresh the page and try again.