How to add a custom background to your Xbox One dashboard
You can customize your Xbox One dashboard with any image you like, but it's not completely obvious how to do that.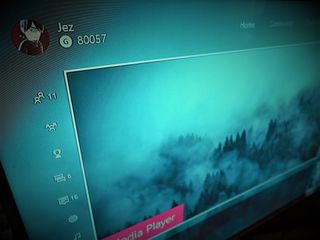 In this brief and handy guide, we're looking at the easiest ways to customize your Xbox One background via a home network, a great UWP app, and even a USB stick.
1. Theme My Xbox app
The easiest way to customize your Xbox One is by using the app Theme My Xbox. The free app is available in the Xbox Store simply by navigating to the right, selecting "browse apps," near the bottom, then by searching for "Theme my Xbox."
Once you have downloaded the app, launch it from Games & Apps under the Apps tab.
Theme My Xbox features dozens of wallpapers and themes, and you can navigate using the joystick and the shoulder bumper buttons.
Once you have found a wallpaper you like, Press A to set it as your background.
You can also enable rotating backgrounds with the Menu button, this cycles through any backgrounds you have set as a favorite by pressing the View key.
2. Use a USB storage device
You can also attach images to your Xbox dashboard using a USB stick or an external USB hard drive.
Place the image you want to use on your Xbox One onto any USB storage device. Note: Backgrounds have to be under 3 MB.
Plug the USB storage device into one of the Xbox One's USB ports.
Open the Media Player app from Games & Apps.
Select your USB device.
Browse, and select the image using the menu button.
Select Set as background.
3. Use a networked Windows PC
You can use this method to access videos and music files stored on an external PC as well, but it works for background images just the same.
First, you need to open the Media Player app, accessed via the Games and Apps section.
From here you can browse PC folders set up to share content over your home network.
To set up a Windows PC for media sharing, type "Media Streaming Options" into your Windows Start Menu.
Find your Xbox One in the list, then tick allow access.
From here you can customize which Windows libraries you want to share, such as Documents, Pictures, Music and Videos.
When you're done, hit next and follow the extra steps to create a Windows HomeGroup. Your folders should now be accessible via the Xbox One media player app.
Return to the Media Player app on your Xbox One.
Select the PC you wish to browse.
Browse your shared folders, find the image using the menu button. Note: Backgrounds have to be under 3 MB.
Select Set as background.
4. Use a screenshot or a piece of achievement art
Another simple way to get a custom background on your Xbox One is by using a piece of achievement art or a screenshot. You take screenshots in-game by double-tapping the Xbox button and hitting Y, and achievement artwork is saved every time you unlock one in-game. Here's how you can use them to spruce up your dash.
Double tap the Xbox button on your controller, then move the joystick down to the cogwheel.
Select All settings.
Select Personalization.
Select My Color & Background.
You now have the option of using Achievement art, a Custom image using a networked drive, a Screenshot or even a solid color from a selection to the right.
When you have found the image you wish to use, select it with the A button, then press Set as background.
Thanks for reading!
Are you using custom Xbox backgrounds? Is there another method you use beyond these? Let us know in the comments!
More Xbox Help
Jez Corden is the Managing Editor for Windows Central, focusing primarily on all things Xbox and gaming. Jez is known for breaking exclusive news and analysis as relates to the Microsoft ecosystem while being powered by caffeine. Follow on Twitter @JezCorden and listen to his Xbox Two podcast, all about, you guessed it, Xbox!
Nice! Now it's Windows Phone's turn!

Win... Windows Phone already has this... (WP8.1)

You can already do it. What the Xbox One needs is Transparent tiles. Posted via the Windows Phone Central App for Android

Fan of Chipotle?!? I created a background to spice up your Xbox One!!
http://imgur.com/a/Rrte8

That Jurassic Background is pretty awesome.

They should take the WP route and give us transparent tiles to show off our backgrounds. Also, custom backgrounds for Avatar pictures (or gamerpics in general) would be cool.

I think there is too much content on those tiles. They're mostly images, not text like on the phone.

Better late than never I suppose, specially when there's always people down here who didn't or don't know it

It is definitely NOT intuitive, that's for sure. And lets not forget, it's not like when your Xbox updates, it tells you/shows you how to do all of these cool new tricks.

There's always a what's new tile, it shows you how to do all things new. ;)

Sometimes there'll be a tile on the Home Page on the right with something relevant, otherwise those of us who are in the preview program have that awesome dashboard with all the goods =P

Hope windows 10 for mobile could allow us to change the background, not just black and white. :D

The 8.1 update already does that.

Y u no sync with desktop xbone?

Does this color sync across Windows Phone and Windows 8?

This would have been very useful the other day when I was looking and had no clue, lol.

Seriously, it's pretty buried in those menus, not easy at all imo.

Doesn't help that I'm a complete Xbox newb either. One I still can't get to come up after I found it once is, games for gold.

Hope they add OneDrive as a source for backgrounds in a future update.

Agreed. That's a crazy oversight.

Right, that's stupid that they didn't...smh!

agreed. Hopefully will be added in an update

Just like my Windows Phone, my PCs and my tablet, I'll stick with nice, clean solid colors. Much more attractive and easy to see.

"Using a solid color or achievement art as background gets transferred to other Xbox One consoles you sign in with your account, but it is not currently possible with custom images." This statement is not true at all. I own two Xbox ones and my custom backgrounds that I uploaded through DLNA do in fact roam to my second Xbox.

Agreed and fixed, thanks.

So there is a OneDrive app for Xbox One but you can't use a picture from there for background. Why would they come up with a convoluted process between USB and some Media Player app when they could use OneDrive. Just when you think Microsoft is starting to address the inconsistencies of user experience across Windows they do odd things like this.

what I would like it for my XBOX One to just sync to the same background that my Windows 8.1 systems use.

I have been trying for days to get this to work and get "Something went wrong" error 0x87c40011

Transparent tiles on Xbox one and Windows 8/10 would be sweet.

Can I upload custom images from phone?

If you use custom art it also has to meet the requirement of being under 3MB

It's cool and all... but I'm really surprised I don't have the option of selecting the image off of OneDrive. A USB flash drive? I gave those up when I embraced cloud storage. :)

There are a few restrictions I don't understand: 1 - You can't use OneDrive to set a background. I mean...really, Microsoft? 2 - You can't use a photo from, say, a Nokia 1020. If the photos are too "heavy" the Xbox simply won't allow you to set them as a background. Which is infuriating because if you have a big screen, you'll have to use a less good photo as the background. 4K? Forget it. 3 - DNLA, no matter how quick your internet is, is a nightmare to use. It's a hit and miss with that one. I really hope they address this in the next update. They make no sense there to begin with.

I need yahoo messenger on windows phone

And also need GTA on windows phone too

I need some awesome themes :)

...And 5 years later, still can't change my Xbox One background with OneDrive.
Windows Central Newsletter
Thank you for signing up to Windows Central. You will receive a verification email shortly.
There was a problem. Please refresh the page and try again.