How to download offline maps in Windows 10 Mobile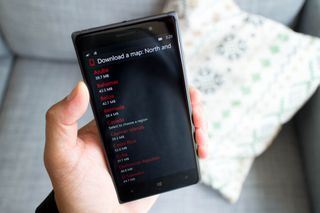 When visiting a new country, you might not always have internet connection right away. Fortunately, Windows 10 Mobile (and Windows Phone 8.1) lets you pre-download maps if you need directions even when you're offline. It's really simple. Watch our how-to video on a Lumia 830 running Windows 10 Mobile Insider Preview.
Go to Settings and select System
Tap Offline maps at the bottom
Tap Download a map
Select the map(s) you want to download
That's it! You don't need an internet connection to use Maps in the region(s) you've selected above. This can be very handy if you're traveling to a new place without a local SIM card or if you want to save money on data.
Offline maps can also get updates. You can check for map updates under the same section in the settings. Tap the check now button to manually update or toggle on the option to automatically update maps. The phone will automatically update maps only when your device is plugged in and you're not on a metered connection.
While Google is bringing full offline access to Google Maps later this year, you can already do it now on the Maps application for Windows 10 mobile and Windows Phone 8.1. Is this an important feature for you? Let us know in the comments!
Finally automatic updates.

Yes its a very important feature...i will be travelling to Leh next month and I know I will be relying on maps more than anything..since there is no network coverage in the mountains..

Just be careful and buy a physical map too. Mapped roads aren't too reliable when it comes to Leh, but you can use them for knowing the general direction and layout of the area where you want to go. :)

That's excellent advice. Here maps isn't too accurate around the streets of London either, and, as I found out yesterday in Oxford! It knew the Ashmoleon, but the surrounding streets... Nope! Two turnings that don't exist. I guess it just needs updating.
What I also want to know is where is the sd card saving feature? I know there was an app (Lumia storage beta, have it on my 1520) but that seems to have gone and I'm stick with the anemic storage of my 640. I took the 1520 instead but that thing now has a touch sensitivity issue... Android here installed to sd without any issue (tried it on a gs5 and note 4) so can't understand why we're denied that feature.

The SD storage functionality for maps was inadvertently removed when MS unpublished the Lumia storage beta. Maybe they'll include it in the W10M vanilla app. Maybe.

Wish they had save to microSD card feature....

If you have a Lumia you can try this: http://www.windowscentral.com/how-move-offline-map-data-your-sd-card-win...

That app was removed a month or two ago, and it's still gone :(

Yes.. I would like to save them to the SD card.. I hate having to reinstall them after a reset, or new device... I hate that $hizzzz.
.......
Also, they need to be able to install in the background... WTH❓❓❓

+1520 DownloadManager for WP please.

Exactly❗❗❗❗❗ This is what I've been saying... We should be able to choose where files download to prior to them downloading... Just like with PC.. It's a no brainer...
.......
This also goes along with my idea of having a device with two SD card slots...
.......
Basically the file manager would be able to be brought up... Just like in PC,, if I want to download an image from search I would be given the option to Save, or Save As.... With other files,, Open, Save, and Save As.. This would be super familiar with the average consumer.

I can't believe that MS did this - especially with all of the 8 GB devices that have been released lately. I just returned a BLU Win HD LTE (that I really liked) to Microsoft due to this, back to my 920 for now.

Because of storage space❓ Is that what you're saying❓

Sorry, I wasn't clear on that. Yes, I also made the mistake of reformatting my 1320 so no maps to the SD card on that phone either, fortunately the 920 has 32 GB native. I'm thinking MS will correct this - eventually - but so far I haven't been able to find anything on the web indicating that. Travel enough (and in remote areas) that the maps are probably important to me than to others. Need to get a new battery for the 920 though, even when the phone was new the battery life was never good on it (especially compared to the BLU and the 1320).

Jesus.. How many phones do you have❓❓

Just a couple others, a 635, 521, and a 520, keep these in the cars as backups - all were pretty inexpensive when I bought them. My wife (Icon user) thinks I have a sickness - she has a keen insight on these things...she is probably correct.

We used to have it but its now a forgotten feature. We need uservoice for this and on Feedback app. This is more important than full-screen button on Start menu/screen.

Mark, where is saving maps into microsd card feature?

Well thats simple just download pictures of maps and save to sd card

What Google should have had from the beginning.... Good job MS

There are dozens of features in Google that MS should have had from the beginning.

Finally Google's playing catching up..there are some other UI things which Google is copying from MS..

No offline maps for Japan though :-(

Damn! Was hoping W10 mobile has an actual map of Japan. Had to resort to iPhone and google maps when I was there recently.

You know many great third party google maps app available for Windows phones too.

2 years and still no maps for pakistan

Sorry pal, your country is a mess. I wouldn't send my staff there just to get maps.

Wth Egypt is a mess and they have maps up to date there. Quit ur nonsense. Pakistan is fine. I'm Canadian who's parents are from Egypt btw before you bash Pakistan or their people more

I recently traveled from the USA to England and successfully used offilne maps without any cellular service. This is one of my favorite things about Windows Phone. Even offline, with no data at all, you still get your GPS location on a downloaded offline map to find your way around and can even use navigation.

You can do that with google maps for free on android and iOS.

Do you mean the GPS thing? I meant more about being able to download entire countries/regions/states to use offline. At the moment I think Google Maps only offers 50Km by 50Km offline downloads. Please correct me if I'm wrong (for real, no sarcasm). On another point, technically you can download Here Maps for Android right now (which offers the same offline maps) and have all of the same functionality offered by Here Maps on Windows Phone. I've just been using it on Windows Phone for years before they released that for Android. I think it's safe to say that all the mobile OSs are meeting in the middle.

That's some map if it got you from the US to the UK. Did you sail? ;¬)

One of the better features on windows Phone :)

So does the windows 10 maps on mobile use bing maps or here maps?

The settings screenshots in this article credit Here....

Just been using this to navigate from Seville to Mérida in Spain

Why is there no Syria map??

I defended the previous guy about Pakistan not showing but... Syria is completely destroyed man :'( in many areas... It sucks rlly badly too. I feel so bad for you guys. You're in my prayers

Nice. By the off topic Windows Phone store is becoming plague by fake apps. Like for example if you were type search how old in the store 3 apps pops one from Microsoft and 2 from other two people. Now in terms of copyright the other two app use similar or the same Microsoft logo. Microsoft should not allow this to happen cause then people said well I install this app and it was not even the official app and then people complain for the lack of apps on windows store.

There was an article yesterday addressing this..
®®®®®®®®®
http://www.windowscentral.com/microsoft-wants-you-stop-seeing-double-pro...

Good ole Nokia Maps...I mean Maps on Ovi...wait....Ovi Maps...I mean Maps....uhhh...Nokia Maps....Oh no, Nokia Drive...no....Here Drive...um, HERE.....well Maps.... Whatever, it has been an awesome journey for about a decade. I am so glad this piece of awesome Symbian born software moved over to Windows Phone and now iOS and Android as well.

Can you move the maps to a MicroSD? This feature is missing from 8.1.

The downloadable maps feature is perfect for me. But, they need to go to a microSD card!

Google maps > Bing Maps :( Bing maps in Lebanon is too Old .

Useless if it can't download to the microSD card. Come on Microsoft, give us a bit of help!

I prefered how they worked in sd or phone in previous settings of storage. I don't get why the moved here, and why removing the option to the sd, they should add this ASAP. With phones of only 8gb and sd, this is a must, and they should give it high priority to this feature.

Best Lumia feature in combination with the "Here" suite of apps. Especially useful for PoI search abroad: Hotels, restaurants, sightseeing destinations

Too bad I've already rolled back to 8.1. Good reference for the future however

Why do people from war torn countries ask about availability of maps? Once you decide which of your fictional prophets is the best and stop altering the geography of your respective provinces with bombs, shelling and no-go areas you may get enough stability to enable accurate mapping.

Okay there self-entitled idiot. First of all be informed. No one is fighting about which prophet is the best. Muslims think all of them are respectable and loved and cherished. Second of all, those that do any sort of harm to a population are not even considered Muslims. They're as much Muslims as were the Crusaders Christians. So shut up and learn to not be a bigot. Be a human and sympathize for the rough conditions people go through all over the world.

Rough conditions brought upon by themselves me thinks. All religion is bollocks, sunshine and is responsible for a massive majority of the upset in the world. Regardless, maps are not available in those countries for exactly the reasons I stated, which you seem to have overlooked in your religiously tolerant utopic ranting. Also, learn to have a sense of humour.

Half-knowledge can be deadly, my friend. Learn to get your facts straight before you start judging others. No one wants to burn down their own homes just to win an argument.

However, if maps are not available, like Japan, don't go there. Currently, Bing maps are available online compared to lousy Here maps offline

Gawd, that UI is truly awful!!
Hopefully Microsoft will reverse the incessant march towards looking like Android!

Is Win10 preview stable enough to use on my daily driver now? I tried it when it was first released and rolled back right away. I wanna know if its stable enough to use now?

I'm using it on my 830 as a daily driver. Do a hard reset after the update and start from scratch. It smooths a lot of things out.

I can attest to the hard reset after update to Windows 10 idea. My 822 works great now.

I think ill try that for my 830 during the next update! I rlly want the most stable :/ my 830 lagged so hard before

Unless they include offline satellite maps. Meh.

Comes in handy in rural Kentucky.

Like moonshine? And shoes? Lol

Hey Mark,I wonder how you got the Windows 10 mobile without any error in this video, It looks neat and fast.

I did a hard reset after I update my 1020, however it went on an error and restarted and got onto a loop and never came back , how can I solve it?

Mostly windows 10 are demonstrated with Lumia 830....

Can any one tell me how to download speech in win 10 phone

Yep, very important feature since 2010 when I started to need "navigator" and decided to use phones own mapping feature. HERE maps and its offline navigation has helped me in many places/countries with out worrying roaming costs.

I am using it already very handy and easy....

Off-topic : Google make they move with android M too , google maps can also work offline completely like Here map and in my country people like here map than google map cuz it can work offline but google map way more detail than here so what google did last night will make future of here map in my country very dark :( I hope they will offer more to our country like support here transit , live traffic etc ...... I love here map

More important than download Offline-Maps, is to download to the storagecard! Greets

For the cost of some data rates it saved us a lot and worked flawlessly across Europe.

I literally cannot imagine my life without these..

yes, very important. It's probably one of the major arguments to sticking with windows and windows phone. My experience is that global quality of mobile internet is still not good enough for a smooth and errorfree navigation experience with maps over mobile internet connection. And the area's I need the maps the most to navigate are trhe most rural ones, that where mobile internet coverage is worst. It's simply lovely to know you have all the maps you needs with you in your pocket of offline/"offgrid" use.

It's great because my family have metered mobile data plus we live in the countryside where mobile internet is often poor.

So heres a real world example of how good it is. I live in the UK, and took a 4 week trip to North America inclusing 2 car hires, Just back. Before I went, I downloaded the maps of Ontario, Quebec, BC, NY State and Washington State to my 830 phone. I searched for and added to favourites all the places I knew I was going to - hotels, airport carpark, rental car returns I turned data off, so I knew I wouldnt get traffic updates but data is expensive. I took a car cigaretter lighter to phone adapter. The whole experience was flawless. Picked up a car at Toronto Pearson, put my first destination in, it took a minute or so to find where I was from GPS, Spot on. Accurate in car navigation with Here Drive, excellent city mapping for walking about with Here Maps for the whole trip. It found most destinations OK from its database and for really specific addresses I found them when on wifi in hotel or coffee shop. Now, here a thing. If I had purchased a low end windows phone, say a 530, used it just as a satnav and then thrown it away at the end it would cost less than adding a satnav to my car hire. Plus I could use it walking about not just in car. Plu sthe maps are always up to date unlike many car fitted sat navs. That is real value and a real plus for Windows phones. In fact, one of the main reasons I chose windows in the first place. (the whole thing worked perfectly with WP 8 and my 620 last year, so its not a new 8.1/10 feature)

Will there be the map of Pakistan??

Here Map Creator has maps for some cities of Pakistan.

What's the point can't get directions with Windows 10 mobile

Downloading offline maps in W10 preview is slow as hell at the moment

The best thing i like is we dont need to keep the download page open for the download to continue even if it is minimized we'll get download

Microsoft again shoot themselves in the foot by removing the ability to move often large map data files to SD storage. Thankfully the Here+ suite of apps will shortly be available offline on Android so no need to bother with Windows Phone anymore because I bet WP10 or whatever will omit this and any other useful, requested features. Still should give us more Toys R Us style tiles...

And Microsoft stays quiet about this. I cannot find a single comment of an official MS representative about this issue!! What's going on here. Is it the fact that here maps is on sale ? MS please respond to this issue since it used to be indeed a good selling point that Here Maps / Drive maps were downloadable to a sd card on my Lumia !!! How is it that a strong feature of a phone gets so little care!

I can not help speaking highly of the editor, this artcle is really helpful to me . Thank you!!!

I downloaded maps for my testbed Windows 10 Tech Preview 10130 (not got 10147 yet) on my desktop and found when using one of the tools in 10 that thre were 30GB of pbf files stored! I only Selected US UK and France but I wonder if the large size is due to it including satellite view and the (fascinating) Cities 3D views? If so is it possible to avoid this and only download road maps since my 64GB tablet would not be happy using 30GB just for that feature .... I've not done much exploring on it but can one uninstall the downloaded maps if one decides that they will not be needed, say on a short local trip?

Tried to get offline maps for Japan. Where are they?
Windows Central Newsletter
Thank you for signing up to Windows Central. You will receive a verification email shortly.
There was a problem. Please refresh the page and try again.