How to pin settings to the Start screen with Windows 10 Preview build 10041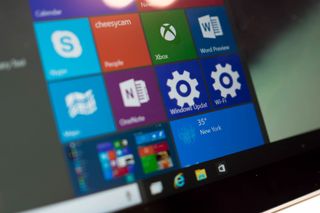 The latest build of Windows 10 Preview, 10041, lets you pin settings to the Start screen. It's quite simple, and it reminds us of a new feature on Windows Phone 8.1 Update 2, which also lets you pin individual settings to the Start screen. Whenever you are in a settings page like System, Network, or Time & language, take a look at the top right corner. You should see a pin icon. Tapping it creates a shortcut on your Start Screen. Need visual aid? Watch our quick how-to video.
You can go to settings by swiping from the right edge of the screen and tapping 'All Settings.' Tap any of the individual settings until you see the pin icon on the top right corner. If the setting is already pinned to the Start screen, it becomes an unpin icon. Tapping it removes the setting from the Start screen.
There's more to discover with Windows 10 Preview build 10041. Have you installed it on your machine? What setting will you pin to the Start screen? Let us know in the comments!
Thanks for the tip, Michael S.!
You can do that in W10tp phone? Really?

yup. check out the video here

Hey Mark! R u ok? You sound a lil bit dull in this video.. Is it so?

Whoa, cant believe u noticed. Have guests over and they were sleeping. Tried to keep my voice down

I follow every video of urs..so i know ur VOICE ACCENT. :)

This is useless i think...

I wouldn't say it's useless. It isn't cool but handy for some.

It's not synced with the Start menu. If you unpin it from the Start menu, the icon in Settings will still be an unpin icon.

Yep. A lot of things still need fixing, but it disappears from start screen when you tap the unpin icon from settings.

Can't get the damn update to install on my Dell Venue 8 pro, keeps giving errors, and I'm not even close to being the only one having this problem. They are all over the Windows support forums

I feel ya, I'm getting 0x80070057 error and after a few command prompt fixes still nothing. Installing from the ISO will probably be the best option

Hope they release the ISO soon..

http://answers.microsoft.com/en-us/insider/forum/insider_wintp-insider_i...

C'mon, give us the WP 10 preview for more devices.

https://twitter.com/GabeAul/status/578364775584784384

#xueziOnline is an a**hole

Only tap on individual settings.... Come on everyone don't have touch PCs

You need me to translate? Click.

This build of windows 10 is super laggy

The only bug I found is I can't update anything after installing it

cant install.. It is showing error 0x8024a10c. please help out with this error

Nothing regarding W10 phone is shown on the video Mark. -_-

Linked to it in first paragraph of this article. Here it is just in case.

Well that's in 640 & 640XL mate. It's not there on the W10tp for phones. FYI: I use a 830 running 10tp as my daily driver.

Maybe you should update the article. Misleading info there.

Thanks for the correction. Edited

Anytime. Keep up the great work. :)

They seem to have screwed up the EnableXamlStartMenu registry hack to give the 8.1 style start screen back to us users who prefer it. It worked fine in the last preview build.

I should've left it on my Icon but was so damn problematic and a battery drain.

I hope to get W10 by late September (or early October) for NL1520

How about how to add a background and transparency to tablet mode interface

Can you pin setting in taskbar?

I can't even use W10TP since the last update. Been getting the bsod about the Intel driving using LAN. Still haven't been fixed. Posted via the Windows Central App for Android

Any sign of the official ISO from Microsoft?

pinning settings sections to the start screen is one of the experiences that works quick and well, even with touch and in tablet mode. One of the things I can would very much like to compliment microsoft with. This feature somehow makes sense. Things I think that needs an update here: 1. The font of the settings title needs to be smaller. Many of the tile titles don't fit in the tile dimensions. Its not readable. 2. I miss more live tile sizes with the settings tile. Normal is not enough. I would also like the small tile option. 3. I miss the advanced functionalities of the settings live tiles. I think the settings experience would be more complete and immersive if the settings live tile was only a link icon. For some settings such as powermanagement and memory, it would be nice if for tablets and tablet mode the tiles could show information on the medium and large tiles, such as battery status, file sizes, memory usage, top 3 most intensive power consuming apps, screen resoution and brightness, map update tile message, etc. (Tiles are more than just icons, they are a pinnacle windows experience!)

I really like this feature, two thumbs up!

Ugly....
At least not same icon for all kinds of setting....

Really ugly large sized icons. Hope that gets fixed.

I'm using it for Windows Update so far. I'm sure, as time passes I will find a lot of more things to pin there. Especiialy when i get a touch device one day. What an awesome feature :D! I acually found this today just before seeing the news here :)

i think the following update is laggier. installed 10049 and it is next to useless. none of the apps work properly and keep disappearing. shame really.

Windows 10 will be suck's as windows 9 .. we can imagine that
Windows Central Newsletter
Thank you for signing up to Windows Central. You will receive a verification email shortly.
There was a problem. Please refresh the page and try again.