How to transfer a Windows 10 license to a new PC or hard drive
By Mauro Huculak published
It might be possible to transfer a Windows 10 license to a new PC, and in this guide, we'll show you how.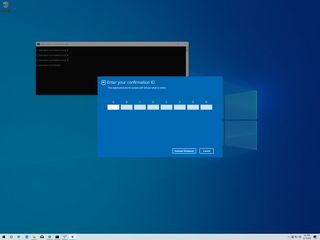 (Image credit: Windows Central)
Although many manufacturers still ship new computers with an activated copy of Windows 10, it's not the case for custom-build systems. If you decide to get the parts to put together a new system yourself, you will need a new license of Windows 10, which could be expensive depending on the edition. However, if you are building a new system that will replace another computer, you may be able to transfer the Windows 10 product key to save money.
The ability to transfer an existing license has benefits beyond saving you money. For example, it comes in handy when you plan to sell the device and retain the product key or want to reuse a license to activate a virtual machine.
Whatever your reason might be, under the Microsoft rules, you are entitled to transfer a Windows license. But, it all depends on how you obtained the original product key.
In this Windows 10 guide, we'll walk you through the steps to transfer a product license key to a new computer.
How to determine whether you can transfer a product key on Windows 10
Microsoft uses different channels to distribute Windows 10 licenses, but consumers can only obtain a license through two channels, including Retail and Original Equipment Manufacturer (OEM).
If you purchased a Retail license of Windows 10 (opens in new tab), you are entitled to transfer the product key to another computer. If you plan to upgrade to Windows 10 from Windows 8.1 or Windows 7 with a retail copy, you can also move the product key to another device.
Generally speaking, you do not have a limit on the number of times you can transfer a license as long as you deactivate the previous installation, so you're not using the same product key on more than one system. The only problem is that sometimes, you may still encounter activation errors, which you may not resolve until you contact Microsoft support directly and explain the situation.
If you have a computer pre-installed with Windows 10, such as a Surface Laptop 4 or a Dell XPS 13, you are dealing with an "OEM" license. In this case, the product key is not transferable, and you are not allowed to use it to activate another device. Also, if you upgraded to Windows 10 Pro from Windows 10 Home purchasing the upgrade through the Microsoft Store, you can transfer the license to a new computer because the product key will be converted into a digital license linked to your Microsoft account.
How to transfer a product key to a new PC on Windows 10
On a computer with a retail license of Windows 10, you can transfer the product key to a new device. You only have to remove the license from the system, and then you can apply the same key on the new computer.
Deactivate old Windows 10 computer
To remove the product key on Windows 10, use these steps:
Open Start.
Search for Command Prompt, right-click the top result, and select the Run as administrator option.
Type the following command to remove the current product key and press Enter:slmgr /upkQuick tip: If you don't see the "Uninstalled product key successfully" message, you may need to run the command multiple times until the message shows up.
Type the following command to clear the license from the Registry and press Enter:slmgr /cpky
Once you complete the steps, you are ready to use the product key to activate the same edition of Windows 10 on a new system.
While the instructions outlined above will uninstall the product key, the process won't remove the activation from the Microsoft servers. Instead, the process will prevent the detection of the same product key being used in multiple devices, allowing you to reactivate another computer.
If the computer is no longer in service or connected to the internet, it's not necessary to use these steps since you should be able to use the product key on the new system without issues.
Activate new Windows 10 computer
After deactivating the previous installation, you can use the product key to activate a new installation manually. Or you can contact Microsoft support for assistance if the manual process isn't working.
Install license using Command Prompt
To activate Windows 10 with a previous product key, use these steps:
Open Start.
Search for Command Prompt, right-click the top result, and select the Run as administrator option.
Type the following command to reactivate Windows 10 and press Enter:slmgr /ipk xxxxx-xxxxx-xxxxx-xxxxx-xxxxxQuick note: In the command, replace "xxxxx-xxxxx-xxxxx-xxxxx-xxxxx" with the product key you want to use to activate Windows 10.
Type the following command to verify the activation and press Enter:slmgr /dlv
Confirm under the "License Status" section that the status reads "Licensed" to verify that Windows 10 is fully activated.
Once you complete thsee steps, Windows 10 should activate successfully on the new installation. If the status is set to "Notification," restart the computer and recheck the status with the command (see step 4), or you can also check on Settings > Update & Security > Activation.
Install license using Microsoft support
Alternatively, you may need to contact the Microsoft support line to complete the activation by providing the installation ID using the
slui 4
command. However, there has been reports about the command not working. If this is your case, you may need to contact Microsoft directly and explain the situation to activate the installation.
To activate a copy of Windows 10 with support assistance, use these steps:
Open Start.
Search for Command Prompt, right-click the top result, and select the Run as administrator option.
Type the following command to activate the copy of Windows 10 and press Enter:slui 4
Select your region from the activation wizard.
Click the Next button.
Use the toll-free number to call Microsoft.Quick tip: In addition to making a direct call to the support line, you may also be able to use the "Get Help" app to activate the installation. In the app, share the details about the problem and send the "Installation ID" as provided in the wizard. Then the virtual assistant should give you a "Confirmation ID" to activate Windows 10.
Confirm the Installation ID number.
Click the Enter confirmation ID button.
Type the "confirmation ID" provided by Microsoft support.
Click the Activate Windows button.
After you complete these steps, Windows 10 should activate without major problems.
If you plan to transfer an existing product key to another computer, make sure to match the edition the license activates. For example, if you remove a Windows 10 Pro product key, you can only use it to activate another Windows 10 Pro installation. You can't use a Pro license to activate a machine running the Home edition and vice versa.
We are focusing this guide on the consumer version of Windows 10, but there are many other licensing channels governed by different rules.
More Windows resources
For more helpful articles, coverage, and answers to common questions about Windows 10 and Windows 11, visit the following resources:
Windows 11 help, tips, and tricks
Mauro Huculak is technical writer for WindowsCentral.com. His primary focus is to write comprehensive how-tos to help users get the most out of Windows 10 and its many related technologies. He has an IT background with professional certifications from Microsoft, Cisco, and CompTIA, and he's a recognized member of the Microsoft MVP community.
In windows 10 if you use your Microsoft account to sign into a computer and you activate a license of 10 saved to your MSA so all u have to do is sign in with your MSA and you'll have a licensed copy. Here's the WC article that explains it: https://m.windowscentral.com/how-link-your-windows-10-product-key-micros...

Was about to say the same thing

Anullator,
So, this is my scenario: I've used a Windows 8.1 license key to upgrade to Windows 10. I'm using my Microsoft Account in my PC and linked the license to it.
Doubt: Only if I change just my hard drive that it will activate again? Or I can change the entire computer, deactivate the old PC, using the first step of this guide and just log in with my user account on the new PC?

That is fine if you have a MS account

No. OEM/DSP licenses including Digital license in Windows 10 are not transferable between devices. Microsoft account is a method to activate a valid license.

SLUI 4 doesn't work on digital licences, I've tried it many times. Only when MS gave me a new product key was I able to use telephone activation. Retail licences are transferable to new hardware, even ones upgraded from a retail copy of Windows 7 or 8, it even says this in the EULA

I purchased a new laptop for my niece last year. The hard drive is going and the computer is no longer under warranty. Since the laptop came preinstalled with Win 10 can I reinstall it on the new hard drive or will I have to purchase a new copy of Win 10? Will cloning the hard drive with Acronis, or another cloning product work? Problem with taking that route is we don't know what is causing the hard drive failure so if it is malware that isn't being detected by anti-virus programs it will just be transferred to a new hard drive. She is a college student who uses the laptop in a lot of public places, (library, coffee shop, laundromat, etc.) like most college kids do. Any suggestions anyone can offer will be much appreciated. Thanks.

Just changing the HDD/SSD drive, or swapping from HDD to SSD Windows 10 will activate again on the new drive, as long as you install the same edition of Windows (Home or Pro). I did it quite a few times replacing failed drives in friends PCs. In some cases you might have to fetch drivers from the PC OEM if Windows can't find some drivers. but it's usually not an issue.

Thanks Martin, but how would I do that? Since there won't be a recovery drive on a new hard drive (it will be on the one I am taking out, not that I should use that since it could be compromised) how will it install onto a new drive? Forgive me, but I am not too literate in this stuff.

On another working windows computer go to: https://www.windowscentral.com/e?link=https%3A%2F%2Fclick.linksynergy.co... and download the Windows 10 Media Creation tool. Once downloaded run the program and it will make you a bootable USB stick. You will need to provide a blank stick with at least 8gb. You can also burn Windows 10 to a DVD if you have a DVD drive on both computers. After you replace the hard drive most likely the laptop will automatically boot off the usb stick or disc since there isn't an OS on the new hard drive. Just follow the steps and Windows 10 will install. If the computer came with 10 then it will automatically pick the correct edition and it will be activated automatically. If you want to do this on a computer that came with an older version of Windows that you previously upgraded to 10, you have to select the edition of windows you had previously (Home vs Pro) and then install without a key. Once you are online windows will activate automatically.

Thank you so much for this information.

there's wifi at laundromat these days? intriguing

That will be fine, there used to be certain things you could not change, like the main board and CPU, but hard drives, memory, graphics card is fine, that is if you have a desktop. So yes you can change the hard drive. I doubt very much if malware is what is causing the hard drive to fail, maybe best to have a peak using a disk checker and also smart to see if it is a hardware problem.
Use malwarebytes to check the drive for malware. How old is the laptop? Hard drives last for years unless they have been banged.

I was able to activate Windows 10 on a new machine by using an OEM Windows 7 key from an old laptop.. I'm trying to remember exactly how I did it though.. I think I had to install Windows 7 first, and then when I tried to use the OEM key it failed of course, but the error gives you the option to do it by phone. There was a loophole that allowed you to call that automated microsoft phone number, give them the key, and then my Windows 7 install became validated. After that I burned a Windows 10 iso, and upgraded the system.. Apparently there was another loophole with Windows 10's activation servers that allowed me to upgrade from windows 7 even though the free offer ended.. But I was surprised as I sat there looking at my fully legally installed and activated Windows 10. I started with an old useless Windows 7 OEM sticker, and ended with an activated Windows 10 upgrade.. Maybe I'm missing some detail, but I'm pretty sure it only worked because of the automated phone call forcing windows to accept the oem key. And then because Windows 10's activation servers are still accepting upgrades (at least they were a few months ago).

Windows 10 Windows 7 key codes are all glitched out you can use the same key code on multiple computers you're not supposed to it's a violation of the terms and services but you can steal window 10 without asolutely no problem to be honest I've tested the limits had 10 computers running on the same key code all activated try to reporting this bug to Windows but they don't seem to give a flying f***

ATM I have two laptops running up the same Windows 7 Pro code with Windows 10 even count as two different registrations by duplicating and creating a new code I have tons of codes connected to my Microsoft account

If you read the terms and services it's a violation and can get you in deep s***everybody knows it's possible only because it's a mistake made by windows

I wonder how much trouble you guys can get in for teaching people how to hack windows

they said that it's allowed so idk

Tried doing this not realizing my product id would disappear from Windows 10. I don't have it written down anywhere. I'm guessing I'm out of luck? If so, would be wise for this article to warn others the key is gone once you execute this command

I think they do not warn you, because they assume you have got the retail packaging. But yeah, it would be nice to know. I've got mine recorded in OneNote - just in worst case scenario :)

This is illegal for majority of users who use OS provided with the system by OEM. Only Retail (as in boxed copy of windows purchased independently of hardware) and Volume (typically used in enterprise to activate thousands of customized system images by the IT departments) licenses are eligible for license migration like this. You guys should seriously stop posting articles about things you don't really know much about. Recent hardware articles and recommendations have been nothing but embarrassing. Stick to your strengths - news and editorials - and leave hardware and system guides to people who know the topic.

Not *illegal* in that the police will come and arrest you. It is in breach of the EULA but if it activates, that's Microsoft problem not the user.

The article clearly states this before the steps to transfer are outlined.

did you even read the article? they literally said that you can only use it on retail licences. read the article before making comments.

A retail license is transferable. OEM license is not transferable. That's all. To activate a license, there are some methods. Input a product key, call Microsoft, login with Microsoft account.

Microsoft has different types of product keys such as; MSDN, OEM, FPP retail license, Where MSDN release for students, OEM release for original equipment manufacture, comes into the hardware with pre-installed OS and fpp is retail version, comes with full package, Its costly but can be transfer from one PC to another without any issue but I know a site from which you can buy cheap, genuine and legit retail license from ODosta Store
It can be easily activate and then you may be able to get lifetime updates from Microsoft server.

There is a way to know how much licenses i got linked on my account? i leave desktop pc like 10 years ago... been using just laptops with win 7, 8.1, free update to 10 and another new laptops with win 10 home and pro, 2 weeks ago bought a desktop from scratch, install win 10 pro and voila, i got a digital license of win 10 pro linked to my MS account

My windows ten pro key is from a upgrade of Windows 8 Pro, which is an upgrade of Windows 7 Pro, my Windows 7 was retail.
When I first updated from my AMD FX based machine to this Ryzen, I was using Windows 8, I did install Windows 10 for a while just to get the key activated for Windows 10 as at that time I did not know that this free update thing would still work in the future. When Windows 8 did not work as it should on this Ryzen machine, I change to Windows 10, but I could nto get it activated, all I did was use the MS manual activation thing by phone, it worked then and no problem since.

Use a Microsoft Account and on the new computer install Windows 10 without a key then run the Activation Troubleshooter. Choose the option that you BBC Ave rebuilt your machine. Select the old computer from the list and then Windows will be activated. I have used this way many times to transfer keys from one computer to another. It works from physical to virtual machines and also if you want to build a Gen 2 VM and the old VM is Gen 1. I have switched machines from Windows 10 to Server 2019 and using the Windows 10 key on another physical machine. When I rebuilt my Windows 10 machine with Windows Server 2019 I moved the key to my Macbook Pro Windows 10 boot amp instance. I have about half a dozen legitimate Windows 10 Pro keys that I move around different machines whilst I am testing things out.
Windows Central Newsletter
Get the best of Windows Central in in your inbox, every day!
Thank you for signing up to Windows Central. You will receive a verification email shortly.
There was a problem. Please refresh the page and try again.