How to use Cortana to find and ring your phone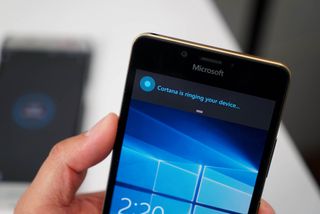 What's great about participating in the Windows Insider Program is that you can preview new Windows 10 features before they're available to the public. While you can find or ring your phone from the web browser using Microsoft's Device Manager (opens in new tab), Insiders can also find their phone with the help of Cortana. Not only will Cortana find your Windows Phone, but she can also hunt down an Android phone if it has Cortana installed.
How to find your phone with Cortana
You'll need to have Cortana on your phone for Cortana on your PC to find the phone. This also works on Android if you installed Cortana from the Google Play Store

(opens in new tab)

.
On your PC, start typing "Find my phone" in Cortana's text field and select the result under "I can help with this." Alternatively, you can tap the mic icon and say "Find my phone."
That's all! It may take a minute or two, but once Cortana finds your phone, a map pops up in Action Center with the location of your phone. Tapping or clicking the map opens the Windows Maps application for a bigger view. Your phones also get a notification that Cortana is looking for the devices.
There are two options available when the notification shows up on your PC. Pressing "Got it" dismisses the notification, while pressing "Ring it" sounds off an alert even when the phone is on Silent mode. You should have enough time to listen for the alert and find the phone. If you don't need a map for your phone, you can skip the steps above and ask Cortana, "Ring my phone."
This feature is a quick way find your phone if you often misplace it at home. As a reminder, it is currently available in the Preview Build for Windows Insiders, and might not work as expected. For example, Cortana was able to find our phones in Build 14328, but have difficulties in Build 14332. Give it a try and share your experience in the comments!
feels like Cortana is a real lady! ringing into our device! remotely :-O ~DheeraJ~
Lumia 640xl 10586.164

What's happened to Cortana's voice from Halo? Seems she has every accent but the correct one, what's with that, the Halo version rocks, all the others are crap, why not just make her accent standard?
MS never learn, Siri is Siri everywhere on the planet, Apple never chop and change like MS does with everything all the time. Big Macs are the same everywhere on the planet, Stability and continuity with your products MS, FFS ! :(

Which cortana? Still not available in the netherlands... MS is loosing it

You ain't missing anything. On Windows 10 Mobile it should be renamed Crashtona.

Cortana isn't that bad for me

Maybe it is different in other countries or on other devices but on my 950 in Canada Cortana works amazingly well. Even on my desktop Cortana works well.

On my 950XL in the US she crashes 1 out of 3 times.

Tell that to the people that down bored me. I have the same experience as you.

"down bored"? I think you meant "Down VOTED" but that's what you get when you try to use the Swype keyboard these days I guess. No doubt another thing that you'd swear is all working well! Get real and be honest with yourself - Microsoft has sadly lost it. Maybe they shouldn't have sacked all those coders - or maybe all the smart guys simply want to work elsewhere. Whatever the reasons behind the mess that is WM I can't wait to jump ship to android next month when my contract expires and I get a new phone. I'm literally counting the days!

Any constructive criticism will get u down "voted" here, no mater how much of a supporter u are.
U gotta agree with all things no matter how bad things are to avoid that.

About 50% crash rate on my 950. I've started copying my searches before pressing enter so I can paste them directly into edge after Cortana crashes. Probably should just give up and start there. I'm an optimist I guess, keep assuming they will fix it (yes I have given MS direct feedback).

I still just get a web search (I'm clicking the correct icon with the phone) but it's done this since the feature came to Insider builds. Find my Phone and Ring my Phone work from the website fine. Is this restricted to US only for now, or does it require anything else setting up? Tried it from a few PC's and gave it another go now when i saw the article

Is your pc also on fast ring?

Fast Ring on both PCs (Surface Pro 3 and Desktop) and Fast Ring on my 950 too.

Same here. It just launches a web search and nothing else.

Cortana's notebook in Brazil has like 6 items, while in US it has about 17. many of these extra features do not work here. I've already accepted that the full Cortana experience will be forever US only, like anything Microsoft. It can't even tell me the time, always bing search.

Anyone else facing issues with the Store? (Windows 10)

I am running fast preview on my PC, not my phone and I do not have this option...

Let me check... Oh, still no Cortana in Poland, for over two years. How much functionality is lost on both PC and Mobile because of that? Maybe I'll make a list someday.

She can ring the phone even when the phone is silenced? ~Sent from Bikini bottom via my ShellPhone 735 W10M Slow Ring

To have sound too, of course. ~Sent from Bikini bottom via my ShellPhone 735 W10M Slow Ring

I have Cortana installed on My S5 Andriod, but this does not work for me just opens edge with bing results for find my phone

cortana/search crashed sometimes right after pressing enter or after the request. Its kind of annoying

The madness just goes on ... And on

In the case that we lost the phone, before in WP days we could change the passcode or block it and do a remote wipe from the webpage. Are those options still available today?

yes its still available today.

Yes mine just returns web results on the latest Redstone. Totally broken... Posted from Windows Central for Windows 10

Just tried it....worked fine....no need to 'type' also....it worked with voice command also. I tried with " hey cortana"......given command, 'find my phone'.....cortana opened google page ( my cortana default search engine is google) n showed where my android phone is.....

Didn't work for me, both on the latest fast ring, SP4 and 950XL. If say find my phone it comes up with a search result, ring my phone says it cannot call from this device. If I type it in I get an 'app' appearing for both but they execute the same thing as voice.

My Cortana doesn't work at all. It simply stopped working a couple updates ago.

Neat feature. I will have to try it out. Although, the only issues I've had with Cortana is when I don't have a good cellular or WiFi signal. It doesn't search anything and I have to do it again. I'm using the 1520 with the current build. Let's hope that many of these issues will be dealt with in coming updates, since MS is on a bug squashing quest with future updates, per an article I read earlier this week.

What if I have more than one phone? Will she ask which one to ring?

More useful would be for the microsoft band to have a button that uses bluetooth to "RING MY PHONE" in one click.

What if I have two phones? Can I fine my laptop/PC from my phone?
Windows Central Newsletter
Get the best of Windows Central in in your inbox, every day!
Thank you for signing up to Windows Central. You will receive a verification email shortly.
There was a problem. Please refresh the page and try again.