How to use night light in Windows 10 Creators Update
How do I use the new night light in Windows 10?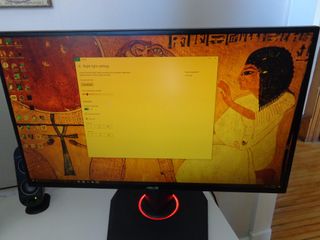 The Creators Update for Windows 10 has brought a ton of new features, one of which is the night light. It is a welcome addition that cuts down on blue light coming from your screen. Why does this matter? Excessive blue light can cause damage to your eyes and can disrupt your natural sleep pattern.
Let's take a look at how exactly night light works and how to program it to your needs.
How to enable night light
First, we need to enable night light in Windows 10 settings.
Right-click the Start button.
Click Settings.
Click System.
Click Display.
Click the switch beneath Night light so that it turns On.
Night light is now enabled but it might not be on due to scheduling settings based on your location.
How to manually turn on night light
Instead of setting a schedule for night light, you can simply turn it on manually.
Right-click the Start button.
Click Settings.
Click System.
Click Display.
Click Night light settings.
Click Turn on now.
There is also a new Action Center button that lets you manually turn on night light.
Click the Action Center button in the bottom-right corner of your screen.
Click Night light.
To turn it off from the Action Center, simply click the night light button again.
How to schedule night light
If you'd rather not turn night light on and off manually, you can set a schedule. For the automatic schedule, location services must be enabled on your PC. Don't want to enable location services? You can set your own schedule.
Right-click the Start button.
Click Settings.
Click System.
Click Display.
Click Night light settings.
Click the switch below Schedule night light so that it turns On. By default, night light will be scheduled to turn on between the times relevant to your location. Continue these steps to set custom hours.
Click Set hours.
Click the field below Turn on.
Set a time to turn on.
Click the checkmark when you're satisfied with a time.
Click the field below Turn off.
Set a time to turn off.
Click the checkmark when you're satisfied with a time.
How to change the color temperature of night light
If you find that the color isn't quite right when night light is enabled, you can change the temperature.
Right-click the Start button.
Click Settings.
Click System.
Click Display.
Click Night light settings.
Click and drag the bar on the slider below Color temperature at night.
More information about the Windows 10 Creators Update
If you're wondering exactly what the Creators Update is all about, be sure to check out Zac Bowden's amazing review.
Windows Central Newsletter
Get the best of Windows Central in in your inbox, every day!
Senior Editor, Laptop Reviews
Cale Hunt is formerly a Senior Editor at Windows Central. He focuses mainly on laptop reviews, news, and accessory coverage. He's been reviewing laptops and accessories full-time since 2016, with hundreds of reviews published for Windows Central. He is an avid PC gamer and multi-platform user, and spends most of his time either tinkering with or writing about tech.
Please bring this feature to mobile

Weird, when I installed rs2 on my surface3 last week, they put night light in my quick actions already, it's how I discovered it

Yes, that's a feature addition for action centre.

The problem is how to position the selector to 3400K.

Is this going to come to mobile?? It would be a distinctive feature...

Not really. It's been on iOS for a while. Not sure about Android

Can anyone confim if this is on android as well?

I have the feature on my LG V20 Android phone

Not sure if it is or not, based on recent updates on my wife's phone. However, there may be an app for it.

There are apps for this feature in Android. Not sure if it's baked into the OS yet, though. I'm still using Marshmallow or older.

It's in Android but you have to enable the extra settings or whatever so it's not really official yet it seems and it's a bit buggy.

I use the Twilight app, and really like it. Pretty full featured, including the ability to automatically pause it for certain apps (such as photo apps).

Certain ASUS Zenfone phones have this feature.

This is probably more important on mobile, yet it's not there. What a computer failure on MS's part.

I use it on my tablet and laptop so I don't think it's a failure.

Why? I use computers way more than mobile at work and at home. Maybe a failure to you?

Cant you just be a realist? Most people use their phones more often than their PCs. It's why it's cslled a mobile phone. Because you can have it with you all the time. If you really say use your PC more than your phone, you're either part of the very small minority or you are just lying. Either way, you're not the case anyone is waiting for.

I spend more time on my pc, surface than on my phone. I'm sure everyone has different use patterns, as do you.✌

Like I said, you're in the minority of the people worldwide. What you are is called "power user". Most people on this website probably are powerusers, doesn't make them a majority though.

Computer screens are much bigger than smartphone screens. (they take up more of your field of vision) A feature like this makes more sense on a PC than a phone.
Also, people can work or play non-stop for 8 hours or more on a PC (hundreds of millions of people do this everyday as their everyday job)
Yet, I never, and I mean never, seen someone work or play on a phone non-stop for 8 or more hours.

I cant believe its not on mobile 😐 but it is handy on computer 💻 📱

It's still buggy, going on and off

I like it. Now all we need is a true dark mode that extends to the File Explorer and application windows. Windows 7 and even 8 had some decent themes for this but sadly Windows 10 has been slow.

I played with this setting a little last night. I'm curious if there is any sort of guide on recommended color temperature setting. Is there a balance between an effective removal of blue light and everything looking too orange? Or, will this setting effectively reduce the effects of blue light at night time as long as it is enabled? In the latter case, does the appearance caused by the adjustment of the slider depend on user preference rather than effectiveness of the feature?

That's why I just stick with the default. I'm assuming it's the default for a reason, and I don't trust myself to improve on it.

I had already moved the slider just to see what effect it would have. I was going to change it back to default, but there is no option to reset the default level. The only option seems to be to turn the feature off and on, or find a temperature level to my liking. What prompted my question is that now I don't even know if there the feature is actual useful at the new level I have it set.

Good point. That's why I never messed with it, because it didn't look like there was any way to get it back to the default. It should have a default button or at least a numerical reference. But it's new, and I would expect it to get some improvements over time, so hopefully that will happen at some point. In the meantime, there may be a registry setting that you can delete, to get it to reset, if you're up to investigating such a thing.

Hopefully they put the actual color temperatures on the slider at some point. I like to calibrate f.lux to my apartment lighting, that's hard to do with the windows version at this point

Nice to finally see this; so useful for tablet users!

Uhhhh. I installed creators and I don't see it.... SP4

I used The upgrade feature of Media Creation Tool and I'm still on 14393. I even turned on release preview. Restarted a ton of times. No CU for me. Why......

You might be using the old MCT. I downloaded the new MCT from Microsoft the moment it was available and I'm currently on CU now.

I want it always on - disabled schedule but it turns off when I restart/relogin, even it shows that it is on - such a simple feature and still buggy! UNBELIEVABLE !

...and yet, MS touts its "10 million Insiders"...what a miss.

I had this on the other day without realizing it and it irked me. Whites were all wrong, etc.. Took a bit of hunting to find it. Saw it in the Action Center.. Her Dee Der

I've been using high contrast mode to protect my eyes. This is good.
Windows Central Newsletter
Thank you for signing up to Windows Central. You will receive a verification email shortly.
There was a problem. Please refresh the page and try again.