How to use the Sticky Notes app in Windows 10 to remind you all the things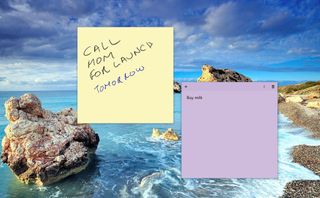 There's a little app built into Windows 10 that you might not know is there, or have just skipped over without more than a passing glance: Sticky Notes. But, this simple app can be a powerful reminder tool to help you plan your day.
Imagine your monitor filled with Post-It notes and you're about understanding Sticky Notes.
Here's what you need to know.
Related: How to back up Sticky Notes on Windows 10
Using the app on a regular PC
If you're on a regular Windows 10 PC, then the steps below will detail your Sticky Notes experience. If your PC supports digital inking, there's another section further down dedicated to this.
1. Launching the app
The first part of using Sticky Notes is knowing where to find it. The quickest way to do this is to use Cortana and just type "Sticky Notes" into the search box or to use voice commands to launch it by saying "Hey Cortana, launch Sticky Notes."
If you want to find it in the Start Menu, it no longer lives in the accessories folder. It's now a standalone app updated through the Store and you'll find it listed under S.
2. Adding new notes
When you launch the app for the first time it'll present you with a square resembling the popular sticky notes. These aren't designed for detailed note taking, you're better off with something like OneNote for that still. These are quick reminders you need throughout out the day, so keep them concise.
Once you've left one note, adding another is easy. Hit the small "+" in the top left and another square will appear. Just keep repeating until you've got enough. Or you can right click on the icon in the taskbar and then "add note," or use the keyboard shortcut "Ctrl + N."
You need to keep the app open for your notes to remain on the screen.
3. Placement
As with traditional sticky notes you can put these little guys all over the place. You can pick them up and move them around the full expanse of your display. Just drag, and drop. Click on the slightly darker yellow strip and the top and go sticking them wherever you want them.
4. Customize
Click the three-dots menu icon on any of your notes and you can change the color to a variety of presets. This is particularly handy if you want to make certain notes stand out or just group like topics by color.
5. Cleaning up the mess
Once you're done with a note, getting rid of it is easy. You can either just click the small trash can icon or use the keyboard shortcut "Ctrl + D." You'll get a dialog message to check you're sure you want to delete, but otherwise, your screen will start to empty.
Windows Ink
With the arrival of Windows Ink, Sticky Notes became a super useful app for folks using devices with digital pens like the Surface Pro. The app is mostly the same in this scenario, but how you interact with it is a little different.
Fortunately, we have a complete guide to doing just that.
How to use Sticky Notes with Windows Ink
How to use Sticky Notes for reminders
A neat extra feature with Windows Ink and Sticky Notes is writing reminders with dates that Windows automatically recognizes. It'll then add a reminder to Cortana with a screen grab of the note you wrote!
Check out the link below for more.
How to create a reminder in Sticky Notes on Windows 10
Sticky Notes is a very simple application that is easily overlooked. But if you just want to keep a quick reminder close at hand, why not give it a try.
Download Sticky Notes from the Microsoft Store (opens in new tab)
Updated May 3, 2018: We've refreshed this guide to ensure it reflects the latest April 2018 Update to Windows 10.
Richard Devine is an Editor at Windows Central. A former Project Manager and long-term tech addict, he joined Mobile Nations in 2011 and has been found on Android Central and iMore as well as Windows Central. Currently you'll find him covering all manner of PC hardware and gaming, and you can follow him on Twitter and Instagram.
Ohh the good old sticky notes

First ever Article on sticky note... :)

Now you can use sticky notes to invite mom to L"A"UNCH.

The same good old sticky notes

I remember pasting off documents and the web only to find it copies the font. Any way to clear formatting when pasting onto the sticky notes?

Paste into notepad first, then copy and paste to sticky notes. Tedious but it will strip the formatting...

That kind of defeats the purpose of it being simple to use. I use another free desktop app called Paste Text Like. It allows you to use WinKey+V instead of Control+V, and gives options when pasting, like "Plain Text, UPPER CASE, lower case, Proper Case", along with several other useful options on removal of formatting. Very easy to use. Just let it run on Windows Startup, and you'll have options that should have been built into Windows to start with.

It seriously needs 'Paste as text' in the context-menu or just automatically removes the formatting when it is pasted to Sticky Notes. It defeats the purpose of being simple and easy to use when it requires additional steps.

Stick to just one task management tool....reduce inboxes in your life if you want to be efficient....ASANA is my personal favourite

It also allows you to draw your notes if you have a touch screen!

I have touch screen but not active pen wacom, so how?

Isn't it the same of Windows 7?

Nah, its only in the magical Windows 10!!!!!

Jep. But nobody used it. So its nice that they show off that Handy tool

I used it in 7 all the time. Missed it in 8. Now I've learned to live without it.

Been around since Vista and never went away.

the were available on Vista, 7, 8, 8.1 and now on 10 too!

It was in Windows 8, I used it a fair bit in 8, strangely enough I never use it in 10, I looked at it, just to see what it was like and that was it.

Won't use it. That's what Cortana is for. Ms should tie Cortana reminders in with the sticky notes for a visual feature.

Cortana is region locked (except on Android). Sticky notes for the rest of the world!

This is so Windows 7 I feel embarassed for MS.

I don't think you were able to draw in them in 7. In any case, Microsoft didn't advertise it as a new feature. And if they had had removed it saying it's obsolete, judgment day will come, pigs will fly, and everybody will hate on Microsoft even though most people don't know it exists. So, they left it be.

It should at least be tied to Cortana or OneNote to be relevant.

Nah. If you've ever seen a vista sticky note you wouldn't recognize them

Nothing embarrassing about sticky notes. Now if they'd brought back clippy I'd be right there with ya.

It would be nice to "stick" reminders from my calendar to my desktop--integrate Sticky Notes and Calendar.

Windows Feedback app is your friend.

I know and I agree. I am sharing my thoughts here. Thanks!

You can do this with Outlook, but only the desktop version AFAIK.

The desktop wallpaper behind please

And odd article isn't it? Telling us about something that's been in windows since vista . . .

On the other hand it was missing from 8 so I had no idea it was back in 10. I appreciate the article.

It was not missing in Windows 8. http://www.ricksdailytips.com/sticky-notes-win-8-1/

Sorry Off-topic: How to make WiFi Hotspot on Windows 10(native option like W10 Mobile). I want to internet connection on my PC with clean installed Windows 10 with my mobile, i have used Connectify before but its showing problem now, might be not supported W10 drivers untill. Is there a native way of sharing internet in PC as present in Windows 10 Mobile as both share same core now. PS: i don't wanna use the cmd-netsh method & want a user friendly way so others can use it also. I Have Already tried the forums thats why asking here.

I think you need to use 3rd party software for that like connectify or virtual router(free).

You may also open Sticky Notes by pressing [Win] + [R] to open Run and typing "StikyNot" without the quotation marks. I would also like to mention that these notes are not like normal applications. If you sign out and sign back in again, the Sticky Notes will open again, so you don't lose your notes. They'll also do the same if you restart. That was a massive oversight by Richard I think (it makes Sticky Notes way more useful), so I thought I'd mention it.

To remind you OF all the things

It's long gone, Windows 10 is about going forward. To me this article is a bit irrelevant, as it explains a minor legacy feature that hasn't changed in the two previous editions of Windows. Your mileage might vary and you're entitled to your opinion, this is mine.

It needs OneDrive integration!

Should also mention where their stored \Microsoft\Sticky Notes

*they're Posted via the Windows Central App for Android

Cool stuff! I wish OneNote has some kind of quick note feature that could be pinned to the desktop, like a tiny task bar or something.

Exactly! Replace this dated sticky notes with mini OneNotes on the desktop with relevant interface and OneNote/Cortana/OneDrive/Calendar/Email integration. I even post it in UserVoice and no1 cared..

I want Wunderlist, OneNote quick notes, Outlook Notes and StickyNotes to converge somehow. All are useful in their own way but it's silly to have 4 different options out there that essentially do the same thing. Frankly the Outlook version can be deprecated entirely, no harm there. Wunderlist is great on mobile, but not really on a desktop. OneNote is generally awesome but I've never gotten the quick note functionality to work anything close to seamlessly.

If Sticky Notes had contextual clues it would be great. For example "remind me to..." copies it to Cortana. "To Do..." sends it to Wunderlist or To-Do, and "schedule..." sends it to Outlook/calendar.

Time for a Sticky Notes shortcuts article! Ctrl+N New note (mentioned)
Ctrl+D Delete note (mentioned)
Ctrl+A Select all
Ctrl+Z/X/C/V Undo/Cut/Copy/Paste
Ctrl+B/I/U/+/= Toggle Bold/Italic/Underline/Superscript/Subscript
Ctrl+</> Increase/Decrease font size
Ctrl+1/2/5 Single-space/Double-space/1.5-line space
Ctrl+L/R Left-justify/Right-justify I did manage to change to a non-script font at one point, but can't figure out what I typed to trigger that.

These are basic Windows keyboard commands, not just Sticky Notes. These have been in existence since before Mice were invented. Thanks for the reminder, though.

I've always had this on my MacBook Air, but glad Windows 10 has this too.

Vista, Windows 7 and 8 had it as well.

Never knew sticky notes existed. But now that we are there, can we have Wunderlist integration pls? :)

I feel this could have turned into a sticky note universal app

Nice. I forgot that I have it on Windows 8 as well. I think that i am going to start using it. Too many bells and whistles to track.

I use Sticky Notes all the time, I've even sent feedback asking that they update them w/ cloud syncing to OneDrive so they can be consistent across desktops

i wish it was surface pen enabled

But It does! I'm using my stylus on my Pro 3 now for my daily reminders on sticky notes. I've de-cluttered my desktop and now use the space for my shortlist of daily tasks. 3 finger swipe on the touchpad and they are so easy to access. No need any more for a daily sheet of paper on my desk with the top jobs to be done today. At last Sticky Notes does what it is best for, and I can write simple task notes freehand with the Surface stylus. Brilliant

I like the fact that every writer at windowscentral is now deleting my comments from all posts. This shows the respect and power of truth. Truth wins. Yeii

Should be sync'd to OneDrive/OneNote!

I like to change the default font - I'm sure there's an easier way, but this is how I do it. Nice and Clean

Wasn't there a vulnerability with those on windows 7 that never got patched?

I love the sticky notes application. I'm glad that they brought it back.

I really like sticky notes, but where is the mobile version? Notes, of all things, are something you'd want to access on the go.

Unfortunately, Microsoft broke it in Windows 10. At least on my computer which was upgraded from W8.1, the notes forget their locations on reboot, and several of them wind up on top of each other.

WIN10 now on a second desktop, not main one. Kind of defeats intent. HOW DO I GET MY (CURRENTLY ONE NOTE) ON MAIN DESKTOP (NOT A SECOND ONE)? Thanks!

Icannot get different colored notes or close down using the cross at top right. Corrupted app files?Where can I download another copy of the App from without having to download Win 10 again ?

Used this on win 7+ 8.1 with no hassle. Now we changed to windows 10.
There is a bunch of keyboard shortcuts for the app im used to
Ctrl + Z (undo) is not working, neither is CTRL + T (strike through), every other shortcut works fine.
Anyone else can confirm these 2 are not working?

Mine also does not work anymore. It did work up until recently. I think the anniversary update killed the undo and strikethrough. Any one have any answers? I found another place that suggest screen resolution at 125% was the problem, but mine is at 100%, so that is not the problem.

Both CTRL + Z and CTRL + T work perfectly fine on Windows 10, at least now. Version of the sticky notes app: 1.8.0.0

I had recently resetted my pc with windows 10 with all documents intact option and installed the the anniversary update too. After both of this the Sticky notes is not working as earlier and also not present in the Windows Accessories folder too. It is shown as a different app. Kindly help

I am having the same problem

Need to be able to sync these so they open on other machines

Yes... and send them to other users too. It would be nice if my assistant could send a sticky note to my desktop rather than have them sticking all around my desk.

If you want to make and send Notes (optionally combined with for example other office files like Word, Excel or PDF) then Google for Treegonizer. Note taking, documents, office files, email and multimedia all combined and merged into a single desktop app.

I agree, not only on Windows but for Mac and Linux users as well.

I still cannot believe we can't remove the sticky note icon from the taskbar and still keep it open, that's horrible, I hate that thing there, taking up space, it's really annoying.

We have an army of people at work that cannot remember their own log in passwords, but use sticky notes religiously.... which surprises me.

I will repeat myself: Sticky Notes must be integrated into OneNote! Come on Microsoft!

These features of Sticky Notes are only available in the US and UK region and language I think. I don't have them.

I can't find the Timeline at all on Czech Home edition. Looks like it's one of those Anglo-world-only features. Grrrr....

I wish I had this on my Note 8, and that it would sync with my Windows 10 computer. It would be the ultimate productivity tool. I hate real life sticky notes in my office, I have banned them as my assistant used to put them everywhere, but electronically it's gold.

Sticky note reminders only works with English and a few other languages. doesn't work for Dutch, which means reminders don't work in all regions unfortunately. There is no news if microsoft will improve region and language support in the forseeable future.
Windows Central Newsletter
Thank you for signing up to Windows Central. You will receive a verification email shortly.
There was a problem. Please refresh the page and try again.