How to use the Windows RT 8.1 Start menu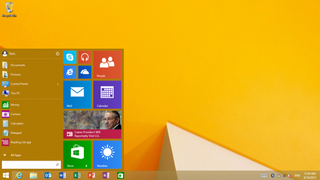 On September 15, Microsoft quietly began rolling out the third and last major update for its Windows RT operating system. As we have been expecting, Windows RT 8.1 Update 3 brings the new Start menu and a few other improvements to the now retired OS.
The update KB3033055 is available now (opens in new tab) through Windows Update for every Windows RT devices, which mainly will include Surface RT, Surface 2, and the Nokia Lumia 2520.
The new Start menu was designed to replace the Start screen and still be able to access all your Windows RT 8.1 apps.
The Windows RT Start menu looks similar, but it's not identical to the Start menu you will find on Windows 10. As you can see in the images, the menu looks more like the one in Windows 7.
If you look closely, you will notice that the Start menu actually looks pretty similar to the menu Microsoft showed off at the Build conference in 2014 when we were expecting to see the new Start menu follow the Windows 8.1 Update. It never happened and it looks identical to the Start menu design that appeared on early builds of Windows 10 Insider Preview.
There is a good reason Windows RT is getting this version of the Start menu. The Start menu we see today on Windows 10 was written on XAML and it uses new API's which are not found in Windows 8.
Let's see more details and how to set up the new menu:
Getting the new Start menu
Getting the new Start menu involves making sure you install update KB3033055. If you don't see the update, make sure to check the Optional update section, install the update, and you are good to go.
Enabling and disabling the Windows RT Start menu
Microsoft isn't replacing the Start screen by default, as such once you have installed Windows RT 8.1 Update 3:
Right-click on the Taskbar and click Properties.
Navigate to the Start menu tab.
Make sure you check the option Use the Start menu instead of the Start screen. If you want to go back to the Start screen, you will need to reverse this step by clearing the Use the Start menu instead of the Start screen check box.
Click OK to save the changes.
Finally, you'll be prompted to sign out and sign back in to complete the process. Go ahead and sign out and in again to enable the Start menu.
Understanding the sections of the Start menu
Once you have disabled the Start screen, clicking the Start button will reveal the new Start menu. The new menu for Windows RT 8.1 includes six main sections:
Image credit Microsoft
Header (1): Here's where you'll see your profile picture and name, and you'll have access to the Power button options.
Pinned List (2): Like in Windows 7, this area is where you'll see all your pinned applications (traditional and modern apps) with Jump List support.
Most Frequently Used Applications lists (3): As you use applications, the once you use the most will be listed here.
All Apps (4): Similar to Windows 10, this button will get you access to all the applications installed in your system.
Search text box (5): While Windows RT 8.1 Update 3 doesn't bring Cortana to the operating system, you will get a traditional search box to look for files, folders, applications, and settings just like in Windows 7.
App grid (6): The App grid is your Windows 8 tiles section. In this area, you can easily pin Windows RT and supported traditional apps.
Managing apps on either side of the menu
Managing the Start menu on Windows RT is as easy and familiar like in Windows 7 or Windows 10:
To pin or unpin apps to the App grid:
Find the app that you want to pin to the App grid in the "All apps" list, do a search, or select and app from the "Most Frequently Used" list.
Press and hold (or right-click with your mouse) the apps and simply select Pin to Start.
Unpinning is as easy, simply press and hold or right-click the app with the mouse, and select Unpin from Start.
To pin or unpin apps to the Pinned List:
Find the app that you want to pin to the App grid in the "All apps" list, do a search, or select and app from the "Most Frequently Used" list.
You can drag your apps directly to the Pinned List, or you can hold down the Shift key, press and hold (or right-click with your mouse), and select Pin to Start list.
Unpinning is as easy, simply press and hold or right-click the app with the mouse from the Pinned List, and select Remove from this list.
App pinning to the "Most Frequently Used" list happens automatically as you use apps in Windows RT 8.1, but if there is ever app you don't want to see listed, simply press and hold, or right-click, the apps and select Remove from this list.
Remember that you're not upgrading to a new operating system, you're still running Windows RT 8.1. As such, the app tiles that you pin to the "App grid" also support different sizes, which means that you can press and hold a tile and choose one of the supported sizes (small, medium, wide, and large).
The Start menu included with Windows RT 8.1 Update 3 also allows you to rearrange apps on the App grid, Pinned List, and Most Frequently Used list. Simply find the app you want to relocate and drag it to the location you want. Also, you can drag apps between these areas.
Here're a few things worth noting
In case the apps you pin exceed the viewing area, the Start menu will provide a scroll bar to access all the apps. Also, any apps that are pinned to the Taskbar, Pinned List, or App grid won't appear in the Most Frequently Used list. Any apps you removed from this list will no longer appear.
As you know, Windows 8.x comes with two versions of Internet Explorer (desktop and modern). Now that Microsoft is changing how things work on Windows RT, it's important to know that depending from where you're launching the web browser you'll get a different version.
If you pin Internet Explorer to the Taskbar, Most Frequently Used list, or Pinned List, then the desktop version of the IE will open. Now, if you pinned the browser to the "App grid" and you click this tile, and then you will open the modern version of Internet Explorer.
Also, Windows Store apps that need to open a web page in the browser will use the modern version of Internet Explorer.
If you want to change this behavior, head over Control Panel, open Internet Options, navigate to the Programs tab, and change the settings under Opening Internet Explorer area.
Wrapping things up
Without a doubt, this is a welcome addition to the operating system and more now that Microsoft has announced that devices running Windows RT won't upgrade to Windows 10 or Windows 10 Mobile. The downside is that unlike Continuum for Windows 10, you're required to sign out and sign back in to switch between the Start menu and the Start screen, which could be a little problematic when removing the keyboard from the tablet. You'll be forced to close all running applications.
While the new Start menu doesn't have the same design as the menu in Windows 10, it's still a great design, and in many cases users will feel even more comfortable using this menu.
Do you own a Windows RT device? Are planning to switch to the new Start menu? Tell us what you think in the comments below.
Images credit @teroalhonen
Mauro Huculak is technical writer for WindowsCentral.com. His primary focus is to write comprehensive how-tos to help users get the most out of Windows 10 and its many related technologies. He has an IT background with professional certifications from Microsoft, Cisco, and CompTIA, and he's a recognized member of the Microsoft MVP community.
Yes, but without Universal Apps, what is the point.

I don't get their thinking on this one. It brings nothing and must have wasted developers,tester time

I enabled the Start Menu, but for the Surface, the Start Screen makes more sense. This update is a joke, but at least it is an update. If Microsoft would spend the time to update to Windows 10 Mobile, there would be less complaints. All the Surface really needed were apps.

Exactly. A waste of time. I would've rather they used that effort to deliver Windows 10 mobile as an RT replacement, or at least bring a useful upgrade in backporting Cortana and Edge. They've done it with IE in past Windows versions. The worst part is that they quietly backported the ugly round profile picture in this update. Albeit a simple, but very unwelcome change.
Oh yeah, and the new Start menu doesn't sync, just like in Windows 10. And if you turn the Start screen back on, most of your live tiles will be disabled and have to be individually turned back on. This whole update is incomplete and poorly tested. They shouldn't have even bothered. I've already been disenfranchised due to them dropping support for RT anyway. It's not like this update was going to reverse my plans to replace my Windows phone and tablet with an iPhone and Mac. Bye Microsoft!

While I agree this update is dumb, replacing your Windows devices with iPhone and iPad is equally dumb. IPhone, fine, no big deal. But ipad is a waste of time and money. Go with a surface 3 or surface pro 3 and carry one device instead of two.

My only problem with the iPad is that its a Surface RT class device selling for Surface Pro prices. If the iPad "Pro" was $450 like RT, I would consider it.

But modern software is written for the iPad and not available in the Windows Store. Who wants a desktop experience on a tablet? It defeats the purpose of a tablet, to be a simple and easy to use device that is very mobile. The Surface Pro is not simple or easy to use and apps just aren't available. You end up having to hunt and peck on websites instead of having a true touch interface. Posted via the Windows Central App for Android

I don't understand your logic. The fact that you have the option to use the Surface3/Surface Pro as both a tablet and desktop is a good thing. Why create the need for having to using multiple devices? This takes be back to the pre-smartphone days when people didn't see the need for them. They convinced themselves that carrying a separate phone, camera and mp3 player was the only way to go.

Point is, Surface Pro is bad as a tablet...and Surface 3 is bad as a laptop.

Yes and even the Surface RT / 2 and Lumia 2520 are bad as a tablet. They never had a lot of apps (Windows 10 doesn't have them yet either) and of course Windows Update on them is a joke. Just did a reset on a Surface RT 32GB recently. It was already on Windows RT 8.1 yet I had to install hundreds of Updates with multiple restarts. I bet Windows RT has more System Updates than Windows Store Apps. The free storage was slightly over 20GB before and less than 7GB after that update nightmare. Not because of Apps or other content, just caused by all those Updates

it's the best choice he can make.either android or ios. if you have enough money to throw at Microsoft each time they release and ditch a new device, fine, but not all of us are eager to do that!! WP7.8, Windows RT..rings a bell?? not all of us want to invest in devices from a company that does not respect it's users!!

Agree. People forget how expensive the Surface RT, for example, was on release. Here in Germany you had to pay 579€ for the 32GB version + 129€ for the Type Cover...

After WASTING $500 on the absolutely USELESS Surface rt you're suggesting that people give More money to this joke of a company? Moron.

Anyone that QQ's about a rounded profile avatar is wasting keystrokes and loses credability.

And RT is mainly for touch devices, so the old start screen makes perfect sense there. This is pointless.

It's a token offering, nothing more. Waste of effort. They could have put Windows 10 mobile and that at least would have been meaningful. This is dumb.

Glad it's optional. Absolutely no plans to use it.

Agreed. On a little touch screen, I prefer the start screen...even with the keyboard connected.

Yeah but it is pretty nice, took some tweaking and put the taskbar on the right side, my start menu is pretty much full screen has all my main apps. The surface RT feels much more productive now. Also I love how the apps can idle on the taskbar and when it is mouse connected I can use the minimize and close buttons on the top. When you get some time to be patient I think you should give it a go.

I wish Windows 10 had pin to start list. That would be very useful.

Wow, this should be available for Windows 8.1 Pro also. At least as an option.

Makes much more sense there, should have done that to mitigate all the "hate" for Windows 8, but its all about the "saviour" Windows 10 now....

Start menu on WinRT looks not that promising rather than on Windows 10. But in terms in of productivity it will work just like on Windows 10. Nokia Lumia 2520 heard that name after a long time. Nokia Lumia sounds so perfect and top of the line. #MissingNokia

Nokia has not gone anywhere. While being network giant they are also making some inroads into the devices like with Ozo and designing mobile devices like N1. With phones/tablets its most likely going to be design & lisence operation for time being but new devices also made by Nokia like Ozo shows that good new stuff is brewing.

I would have been a bit less useless if there would be some sort of continuum. So when the keyboard is attached the desktop and start would show while on tablet mode the old 8.1 start would show automatically..

That's not Continuum. That tablet mode and Desktop mode. Completely different, actually. Posted via the Windows Central App for Android

I remembered that it was called continuum on the desktop but I might be wrong. I know that on the phone means a different thing..

You are right. Continuum is changing between desktop and startmenu on PC's and on phones it is the feature that allows you to hook it up to a screen and keyboard/mouse and have it work like a desktop.

I no longer own any RT devices, but this update is as underwhelming as Windows Phone 7.8 was and I wouldn't have used this did I still own one.

It's even worse than 7.8. They couldn't even give us anything useful like the Action Center or Edge. Posted via the Windows Central App for Android

Yeah I was sold on the whole "WP 8, W8, and RT all have the same Kernel. The windows store is the future...blah blah blah." RT was killed off and majority of WP8 phones are looking to not get the W10 update.

Same embarassing situation Microsoft got users to. Release "beta" products, use customers to test, then ditch them. And they expect someone to trust them??? Imagine a huge company to have bought Surface 2 RT devices, hundres of them...how would that feel now when RT is dead?? can that company trust MS again?? on devices?? I do not think so...

Not sure how this is a "welcome addition", there are limited desktop apps that justify staying in desktop mode and having to logoff and back on again to switch means most people probably wont bother.

On RT there are no desktop apps at all save Office, so even more odd to add it to RT devices.

On the desktop side RT was shipped with Outllook in addition to Office Home. And of course all the little desktop apps like Paint, Calculator etc. plus of course Power Shell, Internet Explorer and File Explorer.

Actually it didn't ship with Outlook, just Word, Excel, PowerPoint and OneNote. Outlook came in an update.

Do you own a windows rt device? Yes.
Are you planning to switch to the new start menu?
No, I'm planning to switch to iPad. At least they update their older devices.

This. Haha Microsoft just abandoned the few people who were actually keeping Windows on mobile alive. That market share will be dropping to 0.0% (from 3% or whatever minimal percentage) by next year.

Poorly worded comment. I'm not even exactly sure what you're trying to say. OP's comment was about RT, then you start talking about WM like the two are related.

Did you miss how many RT devices they sold? Or lack thereof...

The Surface RT/2 tablets were the best selling Windows 8 tablets.

Just because america can't implement wp, doesn't mean other countries are not striving! India,uk, europe does well

Well unless you have one of the first gen iPads/iPhones. So iPad isn't a safe bet too. Best bet is to get an Intel based Surface (Pro) if lifetime updates is your thing.

oo yes...with the "great" tablet experience from windows 10...sure why NOT!

A start menu for a RT device? Lol
No sense

it makes more sense to get Windows Phone 10 (or is it 10 phone? 10 mobile? lack of sleep screws with my brain) to RT devices, but oh well...

I have that update installed but I don't see the new Start menu?

It's optional, and turned off by default. The article tells you how to enable it.

Yeah, I couldn't see it till the tablet restarted a couple of times. The tablet was off for so long that it was behind on some updates. I guess some previous update had to be effective before this option started working.

Last ever time that Windows RT user guide will be featured on this site. Shame. RT is great it deserved better. I'll probably try the new menu just to see what it's like for about 2 minutes then go back to the full screen start; exactly what I did with Windows 10 on my desktop PC.

Do not need this shit on winrt. Rather then invent this lame and lamb menu MS better to correct bug which they put with march update, so its often we have to reboot Surface after up to five minutes waking it up vainly

I don't have any problems with my RT and haver all updates installed. I like the update. More convenient to use effectively. Plus, I don't have to curse to make a point.

Using the new start screen, love it. Not sure why people are so against it..those are the same people that are impossible to please, no doubt. It's a lot more user friendly to have the desktop view. I can access everything i need to much faster now.

It's not that anyone is for sure 'against' this, just questioning it's usefulness. Although I am one of those people wondering the point I'm happy to hear someone finds use for the update. Posted via the Windows Central App for Android

Everyone was complaining when they thought RT WASN'T getting the new start menu. It's great, no more switching between the metro view and desktop anymore. If only for the the "Desktop" menu on the taskbar which gives me a menu to everything on the tablet, and also onedrive, is useful enough. Even though that has always been an option, i never used it since i was mostly on the metro view. This new update merges the two, finally.

Genuinely curious of what the difference is between the start menu having a link for let's say 'windows explorer' or the start screen having the same link. In w8 I had all sorts of desktop links on my start screen. On my rt device the same although other than os/cpanel tiles there's really only office that's desktop. Posted via the Windows Central App for Android

What's the point of being on the desktop when there are no desktop programs to use?