HP Elite x3 with Desk Dock pre-orders begin at Microsoft Store U.S. and Canada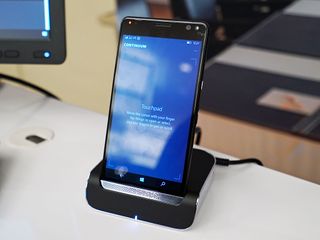 The Microsoft Store sites in the U.S. and Canada have started taking pre-orders for the HP Elite x3 smartphone. The business-themed device with Windows 10 Mobile is being sold with its Desk Dock accessory for $799 in the U.S. (opens in new tab) and $999 in Canada (opens in new tab).
The unlocked 5.96-inch smartphone is scheduled to start shipping from both sites on September 12 (via Neowin). The HP Elite x3 is currently supposed to begin shipping to some European countries sometime this coming week. HP's U.S. site won't begin taking orders for the phone until Sept. 5. Keep in mind that some features for the HP Elite x3, such as its fingerprint scanner and its support of HP Workspace for running legacy Windows apps, won't be available until sometime later this year via software updates.
Need more? Don't miss our other coverage of the Elite x3 including:
Windows Central Newsletter
Get the best of Windows Central in your inbox, every day!
it looks like an htc phone more than anything but definitely give a look!

Except HTC phones are made out of actual metal, not faux metal. $799 for a faux metal phone! What are they thinking? Posted via the Windows Central App for Android

People are so hung up on the price without understanding that's not what the intended market will pay. This phone also does a TON more than what HTC does. Also, look at the rumors of the iPhone 7, no metal at all and it'll likely be more than $1000 USD without accessories.

There isn't much this phone does that an HTC can't. The difference is, HTC actually has a market and will sell OK. This has no market, especially at this price. HP may be able to sell a handful to their enterprise accounts, but that is going to be minimal. If Windows phone were actually good for business, they would be using them by now. Their is no way the ability to run a gimped Windows RT through your phone is going to be a business feature. It just isn't realistic today. Posted via the Windows Central App for Android

Desktop Virtualization isn't available on HTC as far as I know, nor is a equivilent to Continuum. HTC is also well known for their failure to support their hardware, over and over again. So I'm not sure what market you speak of, same with the lack of market for HP which has a huge enterprise market. You again mention price, which means you ignore the fact that enterprise accounts won't be paying that price. You're also false on comparing this to "a gimped version of Windows RT" I don't think you know what Desktop Virtualization is, you should probably look it up before you make a false analogy.

Actually, virtualization has been available on Android for years, and it has it today, not maybe in a couple months. Remote desktop, keyboard, mouse and external display is also supported on Android and you can buy laptop docks as well. This phone isn't special, especially not $800 special. HP should have priced it properly instead of relying on "discounts". Even if they priced this thing at $250 it would be a flop. Enterprise isn't interested in Windows phones, else they would be using them already. They certainly are not going to adopt them to run a gimped Windows RT, which is exactly what Continuum is. Virtualization doesn't change that. Posted via the Windows Central App for Android

virtualization has been available on Android for years? how? it is conntinum like ?? which? android dock was a kick start that was unsuccessful, project's funding goal was not reached on January 25, 2015 . project was closed. and that cannot run x86 app.

https://www.windowscentral.com/e?link=https2F2F... VMWare for Android. https://www.kickstarter.com/projects/andromium/the-superbook-turn-your-s... Android laptop dock that raised over $3M. You would have a few ways to run x86 apps with this. Virtualization and Remote Desktop are two ways. I still think it is pointless when you could just carry a Surface or laptop. Really, why hassle with anything else?

https://www.kickstarter.com/projects/andromium/andromium-the-next-evolut... VMWare for Android can act like conntium? can you connect you phone to PC run app on the screen??

You could connect it to a monitor, keyboard and mouse to run the apps. Nothing special there. Posted via the Windows Central App for Android

'@Byu1 What the hell are you talking about? https://www.kickstarter.com/projects/andromium/the-superbook-turn-your-smartphone-into-a-laptop-f

https://www.kickstarter.com/projects/andromium/andromium-the-next-evolut...

250$? Youre out of your mind.

Even at $250 this won't sell. No demand means it is overpriced for what it offers. The sum of its parts doesn't really factor in. Windows Mobile makes the hardware a hard sell. Posted via the Windows Central App for Android

Its not supposed to "sell" it is not for consumers.

HP still expects it to sell to businesses. They would not have made it otherwise. You don't make a product not expecting it to sell, unless it was a requirement to get some discounts on Windows licenses for their PCs. That is also plausible.

You don't have any clue as to the demand of this product. You comments are completely irrational. You say it's overpriced, how? It is comparable with other flagship phones in terms of price with the specs it offers. Will it flop? perhaps,but we we won't know if that is the case until the end of the year. There's also a chance it will be a hit in enterprise sector. We'll have to wait and see.

It is obvious this has no demand. No other Windows phone has ever had demand and this has been available for preorder for a little while now. If pre-orders were going well at all, you know Microsoft and HP would be letting us know. Again, specs don't set pricing, and even if they do, you can find a higher spec device for half the price. Demand sets pricing and demand for this wouldn't be strong until you get well below $200. This phone is massively over-priced. HP is delusional. It will most certainly flop, especially in enterprise.

this has been available for preorder for a little while now?? when did it start? you can find a higher spec device for half the price?? which? name and model. this is over-priced but which phone with those spec sell for $200?? can you list some? name and model.

It has been available for preorder from some retailers for almost 3 weeks. The Axon 7 is much better specced and only $399. There is one spec though that really brings down the value of the Elite x3. Running Window Mobile really hurts it s specs. They need to severely cut the price if they want to sell any. My guess they are just not interested in selling them. They only made the phone to get some sort of kickback from Microsoft. They will likely abandon it soon after release. Posted via the Windows Central App for Android

Running Window Mobile really hurts it s specs?? why? There is something wrong with windows mobile? what is it ? They will likely abandon it soon after release???? why would a company abandon a product after release it?

The biggest reason is Windows Mobile hasn't proven to not sell. People don't want it. The reasons for that can be debated, but must be a combination of missing apps, disliking the UI and Live Tiles, poor branding, lack of customization and lack of features. Not to mention Microsoft's lack of stability when it comes to mobile, which brings us to your second question... Microsoft specifically has a reputation for abandoning devices and platforms even immediately after launch. You have no guarantee they won't do it again, I don't need to list the examples, we all know then. Same with HP, why would they continue to support a device if no one buys it? Same issue all the Windows phone manufacturers run into. They don't sell many phones so they don't bother supporting them for very long. Posted via the Windows Central App for Android

Nothing is obvious. Nothing that you said has any logic behind it. Face it, you simply don't know, you're just claiming your opinion as fact. You may end up being correct, but there is no data at all that backs you up. You're the only one that is delusional.

Well, of course demand sets pricing. It's why tickets to Hamilton shot up from $300 a seat to $1000 inside of six months. (Luckily I got a pair at $500 last year).

Are you saying the price should low or high? The law of demand states that, if all other factors remain equal, the higher the price of a good, the less people will demand that good. In other words, the higher the price, the lower the quantity demanded. The amount of a good that buyers purchase at a higher price is less because as the price of a good goes up, so does the opportunity cost of buying that good. As a result, people will naturally avoid buying a product that will force them to forgo the consumption of something else they value more.


Even at the full retail price it's actually right in line with other flagship phones. The Iphone 6S plus is 750-900$, the HP Elite X3 is $800 with a dock. The Galaxy Note 7 is $800-$900. So the argument that's it's too expensive is ridiculous, when it's actually less expensive than the competition.

Those devices are able to justify their price through sales numbers. You can even make the argument they are under priced since they sell so well. This device has no demand, that tells you it is overpriced. Even at $250 this device would have minimal demand. Well priced items sell, overpriced items don't. It is really simple.

why would this device has no demand??? Even at $250 this device would have minimal demand?? Did HP tell you?

Windows RT? lol. This doesn't have RT. This has Windows 10 Mobile. BTW it does a hell lot of things your htc can't do. And everything you said in this comment is actually stupid. I am sorry but it is.
1. htc has no market... it's market share is well under 2%
2. you have no idea how much influence hp has on enterprise market and if they sell it to handful, they'll achieve what they are aiming for.. they are not here to compete with apple or samsung. the objetive itself is to just sell it handful enterprise.
3. Again, this is the first business centric windows mobile device in modern windows era. I don't know why you are saying "if windows phone were actually good for busines....." man, this is the first time they are trying enterprise market, I don't know how you reached that conclusion..
4. And it has no Windows RT. The speciality is that it is supposed to run Win32 apps which controls the enterprise market from top to bottom.
So, clearly you have no idea what you are talking about.


There isn't much technical difference between RT and W10M. They are both ARM based operating systems...and thus can only run W32 apps via virtualisation.

Don't kid yourself. Continuum is a gimped Windows RT. It can only run ARM apps and doesn't even have an actual desktop with free form Windows. The ability to possibly virtualize apps in the future doesn't change that. They will be competing with Samsung and Apple in the enterprise, they just know they can't do it successfully so they make that claim. They may be able to convince a handful of their customers to try this, but it won't be successful. Regular employees are not looking for Continuum and will be confused why they wouldn't just use an actual laptop. Microsoft has no future with W10M, we need to stop cheerleading them into oblivion.

So can I plug a ios or android device to a hub and run office on a SEPARATE screen with mouse and keyboard controls? Can I send/receive calls and texts on the phone's screen while doing a presentation on the continuum screen?

iOS doesn't have mouse support. Android can do all that though. Still question why you would ever want to do that though. Maybe a nice fanboy feature, but normal people just want to get their work done and a laptop/phone combo does a better job with less hassle. This is a feature no one is asking for.

ios and android does not work with conntinum. I think main purpose to use conntinum is to look at phone screen that some things are not avaiable on laptop, send/receive calls and texts on the phone's screen while doing a presentation on the continuum screen, sync conntent with PC only avaiable on windows phone, not avaiable on ios and android. if you think conntimum for windows phone is useless then same for android.

That stuffs doesn't matter! You're really going to be answering calls and texting WHILE giving a presentation? If I was in the audience I would think you are hella rude. Again, most people will just be like, why not use a laptop for presentations? Who has computer monitors and keyboards floating around without a laptop or PC attached? No one!! Continuum is a nice idea, but i dont see any real uses. I have never even had a need to use my free continuum dock ever! Continuum could be useful if the phone had a built in projector or a flexible LED screen you could extend up. But if you need a separate monitor/keyboard, why bother.. just use the PC that is already attached to that monitor! lol...

Every building my company owns has areas with monitors keyboard and mouse set up. It's a great way for those with laptops to be not productive when traveling between buildings. Also there's are plenty of times when an important email can come through

@erasure25 If you're not using your continuum dock, would you mind giving it to me? I could really use it to avoid the slight lag from wirelessly using continuum

Yeah, phone also crashes like every 5 min :D :D :D

Do you already have this HP phone?

SMH...you still stuck on HP phone not being metal. Since many have already have had this conversation with you, I won't even try to argue the point. But I hope somebody buys you a Galaxy S6, iPhone 6s, or some other shiny little computer so you can be finally happy with your metal phone because it's been obvious for some time now that it's not going to be HP.

It is Ok to not have metal if they are using another nice material. Faux metal is not nice though. It especially doesn't fit on a $800 phone. There is no justification.

Not a soccer mom's phone, so who cares... No other phone has ever had anything like continuum... What Android and Apple have had is not even remotely the same. Using Citrix with this device you will actually be able to run true programs on it using the phones resources, such as Autocad, or Revit or any other x86 programs. Thus the app gap as far as number of apps available disappears and flips to the other way around. Show me an android or ape running full versions of software... Posted via the Windows Central App for Android.. But waiting for the HP Elite so I can get rid of this junkie Galaxy S5...

https://www.windowscentral.com/e?link=https2F2F...

that is software virtualization, and you need to be a citrix client to use that.

If it had been black in color, you'd be here complaining that it's not metal.

Yeah, I would expect an $800 phone to be made of premium materials. A really nice polycarbonate maybe Ok though.

Define really nice polycarbonate. I swear you have no clue what you're even talking about, you're just spewing stuff from opinion articles that you read elsewhere.

The old Lumias had some Ok plastics and the rubbery stuff on my Nexus 5 is nice in the hand. I think at $800 I would definitely be looking for better materials though. Magnesium like my SP3 would be nice or I used to love the Nexus 4 with the glass back. It was fragile, but made the device feel really good. Aluminum is a safe bet as well. Anytime I have seen faux metal though, it has been terrible like the old Samsung phones. It isn't durable and looks and feels cheap. Posted via the Windows Central App for Android

its funny how microsoft talks about thinking beyond the curve and still the products that are released do not have feature parity with features already there in the market. eg fingerprint scanner. Cmon microsoft, I am holding onto my aging lumia 1520 believing in your vision. Get your act together so that I can invest in another windows phone. *sigh*

MS has apparently influenced HP with their "available soon" business model. Ha ha
;) Posted via the Windows Central App for Android

Thr Iris scanner is a rare feature in phones -- and the fingerprint sanner will be operational, what over OEM offers two different Biometric login as well as picture password?

samsung note 7 has iris scanner which from the reviews looks fast and accurate as well as fingerprint sensor. I dont know about picture password

The 950 xl one is fast and accurate, it just wasn't when it came out and reviews were done. Now it's pretty much 1 sec.

It will have a fingerprint scanner on the back of the phone along with an iris scanner.

Seems like by saying "we will continue our support to windows mobile" they just want to clear the struck stock of Lumia's and after that they may say "Good bye mobile business" just to minimize the loss.

MS did not design or build this phone. Complain to HP if you must

no hard feelings buddy, but hp is waiting for microsoft to include the software support :)

Hp will learn the art of waiting.

Any one know if it's being sold by any Canadian carriers? Would really like to get this phone, but $1000 is way too much for me.

I spoke with Telus and Rogers, both said No. Rather disappointed especialy as it's the business units I spoke to. Posted via the Windows Central App for Android.. But waiting for the HP Elite so I can get rid of this junkie Galaxy S5...

Many won't care about that. Give it a couple of months and the novelty will wear off. They are a top bit of kit in the market they were designed for. As I have said before, I've played with one, and I'll keep my 950xl thanks. Id rather wait and see what 'surfaces' in Q1/2 2017. Gives me a better idea of where things are going, plus the elite may have had a price cut by then!

Student pricing? Update: $719.10 with student discount.

This phone must succeed, At last Android and iOS got some competition from W10M in corporate world 2016! Good luck!

Without advertisement, it won't and I haven't seen anything outside of the internet ads posted on WP, not one official commercial on TV! They're starting off the wrong already with this self selling mentality.

With their vast enterprise infrastructure, and consequent contacts within that environment, they don't need to advertise. Ads on TV are 99% for consumers. This isn't a consumer focused product. You can guarantee that anyone with a relationship with HP are aware of this device. Seminars are where its at for HP. I got to go to one in UK, and play with alsorts, including the elite. Business device - great. Consumer device - meh...in consumer space it is just another W10M device. A very good one, but just another device.

Seems you are likely hp insider ;-) yes I agree with your points. This is not general consumer focused "device" but enterprise. Plus IMHO this device is not yet ready to be advertised due to some reasons like OS, certfications, hp workspace rediness,etc. If hp makes same "phone" for general users with less bulk, like 5" screen size and 125g weight, I will buy one.

Why all the downvotes? He's right. No carrier will carry it, it doesn't matter! Just like the Xiomi phones.....no-one cares, and they lost a ton of money last year, because of this and no advertising. Who will buy it?

They don't have to carry it, just plug in a GSM sim and go. Now if you say Verizon doesn't carry it, or most likely won't, then that is a legitimate concern. I took my unlocked dual sim 950XL, moved to Consumer Cellular (ATT), then gave the finger to verizon. When I travel outside the country, I can buy a GSM sim from any carrier, plug it in and go. I used my 950XL all over Italy in June.

it looks like a small version of my tablet HP 608 G1

Are they not selling the one without the extras?

Where is it selling without dock?

I thought the fingerprint scanner support came with the anniversary update?? Why wouldn't it work now???

Too dam expensive. I'm holding on to my 1520.

I loved my 1520 but being a 2013 phone i just had to move on. The 950XL imo is superiror in every way. After the 950 though, i do not know.

I guess HP j had chosen not to advertise the device on television; I guess people will have to learn about this on the internet..... Sad, just like all of the other none advertised products while Samsung and Apple are great at commercials!

TV ads are for consumer devices, most of the time. HP are advertising their infrastructure on TV, but even that is aimed at enterprise, with no devices shown. They also ad a laptop, but again, that is a 'dual' purpose device for both markets. I guess they may appear once they are available, but we will see.

The thing is though, the Apple and Samsung devices are primarily consumer focused, with enterprise dealt with, but rarely shown, as they are using 30seconds to sell you a life style.

Just pre-ordered. After student discount it was $769 with tax.

student discount? you need show a student id ?

I did not. I just selected the school our daughter goes to.

As with other readers, I thought they were waiting to release the hp until the anniversary update, which would make the fingerprint scanner work. And now we find out that support isn't coming until "later this year"? Someone really dropped the ball on this one, and I can't imagine how upset the business clients are about the situation. Not only that, but hp workspace is not ready yet either?? Yikes

Microsoft doesn't really care about phones this year. Maybe next year they will put some effort into it. Maybe. Posted via the Windows Central App for Android

Business clients won't be upset as there wont be any. Would they buy super expensive beta phone knowing how lacking it is?

Yes, yes they will because it is not lacking. Business don't care about snapchat or any of those other soccer mom apps... Posted via the Windows Central App for Android.. But waiting for the HP Elite so I can get rid of this junkie Galaxy S5...

Why would a business user want a phone with no software?

Users might not like useless device but lazy IT departments would welcome device that does nothing, easy to 'support'.

But they would care about local banks or services, travel apps or other business apps that might come out in the future. Choose Windows means the chance they are available is small. The app gap is a big deal when you are trying to get work done and you don't have the required software. Posted via the Windows Central App for Android

No business don't care about those apps either. Apps are small programs that are basically gimpy.. Travel apps, use the Web site, bank apps, use the Web site... Posted via the Windows Central App for Android.. But waiting for the HP Elite so I can get rid of this junkie Galaxy S5...

What carriers can use it though? Posted via the Windows Central App for Android

Asking the real questions.

This phone comatible with most GSM carriers worldwide.

It seems like things have gone awry since they have promoted it as a business model.

why are the 2 links for the HP Elite x3 sending me to iTunes? looks like apple is hacking the sites again? lol

I tapped on a link in my OneDrive today, looking at my photos, I tapped a link to share a single photo, it took me to iTunes?

"its fingerprint scanner and its support of HP Workspace for running legacy Windows apps, won't be available until sometime later this year " why? is it ready or is it not? later this year what does that even mean?

It means... Later this year. Posted via the Windows Central App for Android

Exactly!! Terrible idea to do that

I almost pulled the trigger through our corporate site, but it's hard to want to come back with my investment in Android ecosystem. The legacy adaption is what is really pulling me towards this phone, but I want to wait for the Surface Phone, if one, to see what it's even about, if any. Hopefully they have one at the MS store here Austin for me to go look at. Posted via the Windows Central App for Android

I'm glad that this has opened up! Really looking forward to Windows Central having time with this.

They should know what always happens when a device is released with hardware features not supported until later.... Always a debacle. I want it to be great at release I'd wait until the OS is really ready

"its fingerprint scanner and its support of HP Workspace for running legacy Windows apps, won't be available until sometime later this year " oh yes I can imagine Samsung saying " here its the new Galaxy note 7 but the pen its not supported yet ....but maybe later this year"
or Apple "here its the new IPhone 7 but the camera isn't supported until later this year"

I think this type of thing is more common than you think.

Does anyone happen to know what type video this phone will shoot? I can't find it anywhere I've looked. Just curious is all.

Review from clove says the phone does have 4k video recording.

Android has 85% of the market and more businesses/companies are moving away from this OS . Google is investing money in Android whereas MS is halting investing . The longer they wait the harder it would be to convience businesses/consumers to switch back. Time to say bye . I am holding to my 1520 until next Nexus phone hit the market and also went back to 8.1 A very sad story

How can android used for business? android app can only work on phones. would business people work on things with tiny screen phone? microsoft UWP work on phone and PC, that is an advantage over android.

I just ordered mine, so don't blame me for the Windows mobile situation. And at that price I've also bought the right to beat up stupid Nadella for creating this mess. Here we go... :) They recently announced they won't make a billion users on Windows 10, and say its because phone sales are collapsing. Are you blanking kidding me? How dumb can someone be, really? Nadella actually counted on phones sales to meet his 1 billion goal? He cut funding, laid off teams, cancelled phones, demoed the "iPhone pro" while ignoring Windows mobile at all his big events, released Android and iOS exclusives with no plans to support Windows, he did no Windows mobile marketing, no hype, and expressed so little commitment that everyone is just waiting and expecting the "Microsoft ends support for Windows Mobile" headline. Yet, he still counted on phone sales to help meet the biggest goal he had as CEO? He's either crazy or stupid, maybe both. Whew, it's good to get that out...

You ordered the one with dock for $800? at microsoft store? Good choice. Its up to microsft to decide future of WP. As long as mirosoft has not make any official statement cancel/discontinue WP or support for hardware and system, WP is alive and working. People should stop waste time discussing those negative things about WP.

its an unlocked device. I wonder how many carriers it will support for WiFi calling

Microsoft really needs to reconsider its product images feature on the Microsoft Store, tiny pictures you can't expand or zoom into. Feels offtopic, sorry, but visiting the pre-order listing made me realize this. In terms of the phone, I really hope that it takes off in the corporate sector.

Where can I get one without the desk dock? My 950xl dock is just fine.

According to the exchange rate , Canadian price is cheapest

when the Elite x3 is available in NL I will definitely get one. Finally a new top WM10 phone. My choice is also made on screen size. 950XL is little too small for my taste coming from the 1520.

Man you guys are delusional in here. To the person who said "demand for Microsoft phones is an opinion, not a fact" .. no it is a fact. They hold like 5% or less of the entire marketshare of phones. It is a fact. Demand is very low. To the next point, yes a brand new Galaxy Note 7 is the same price. Yes Apple phones are ridiculously expensive. You know what I can do with those phones though? I CAN GET THEM EITHER AT A HIGHLY DISCOUNTED RATE through my phone company with a new contract OR at the very least I can make monthly zero interest payments for it. Where can I do that for this phone? Who the HELL is going to just walk up and drop $800 on a new phone?! Only people who truly need this for business will even consider that. This thing will be a massive fail even though it seems like a pretty good product.

We would deny given data windows phone is at low markets share is fact, maket damand is at low, but we would not conclude demand for microsoft phone is a fact. This is due to various reasons. At same boring stock android UI, educational UI for ios, windows phone has better fuctionality and better UI for productivity while iphone and android users buy phones for gaming and social netwoking only ond only. Consumers simply avoid windows phone because of other people's opinions without actual use them, and no actual proven reasons. What about ubuntu, blackberry? those may have even lower market share lower than windows phone. Tizen? samsung released tizen powered Z2 today. With low spec and price. would people shout out to samsung this phone will not sell?