HP Elite x3 gets a mobile barcode scanner for retail users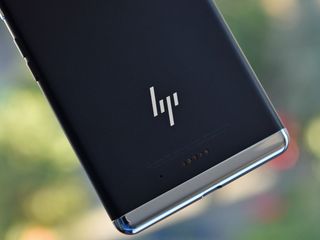 It looks like HP is taking its business focus with the Elite x3 seriously by branching out with a new mobile barcode scanner option for the handset. The setup can be seen on HP's "Mobile Solutions" site for retail customers (opens in new tab), appearing under the 6-inch Mobile Solution category.
HP describes what it simply labels that "HP Elite x3 Mobile Retail Solution" as follows:
Clicking through simply leads to a quick overview (opens in new tab) of the Elite x3's specs and features. Diving into the sheet, we can see that the barcode scanner takes advantage of the device's Pogo pins over full USB speeds through a dedicated "jacket."
The HP Elite x3 is already a solid business device thanks to its high-end specs, Continuum support, and desktop app virtualization through the HP Workspace software. With all of that, adding in a way for retail customers to further take advantage of the Elite x3 seems like a no-brainer. And given that the x3's Pogo pins could open up a whole world of attachments, it'll be interesting to see what kinds of other add-ons we see cropping up in the future.
Thanks to @Dan12R for the tip!
See the HP Elite x3 at the Microsoft Store (opens in new tab)
Dan Thorp-Lancaster is the former Editor-in-Chief of Windows Central. He began working with Windows Central, Android Central, and iMore as a news writer in 2014 and is obsessed with tech of all sorts. You can follow Dan on Twitter @DthorpL and Instagram @heyitsdtl.
Can't wait to see one at the store.

I will open a store now just to use this.

A dedicated scanner is always best. My boss needed to scan a lot of things into inventory and was using his phone which worked ok, but not great. Then we plugged an old usb bar scanner from like 10 years ago into a computer and it just instantly worked with excel (it works on a chromebook too if anyone HAS to use that =( ). The device made scanning things with a phone a joke and the "laser light" it has made scanning the bar code you wanted to scan much easier. All that to say, this turns your phone into a really useful device now. Excellent business all-in-one phone in the works imo :).

Maybe better for floor walkers.

Is that the same as street walkers?

A blood sugar tester?
Alcohol?
other...?

Guitar effect attachment like on iOS devices. Diabetes blood sugar testing. Lots of other options...

My compliments for HP, still committed to windows mobile even though MS is not.

Anybody know if a second-gen HP Elite phone will be coming to MWC? I'd like one that is smaller (size of Lumia 950) with Tap-To-Pay. Basically a L950 but with a hella better processor.

Windows 10 Mobile has USB compatibility with most PC accessory drivers so you can do the same thing with a USB dongle on any Windows 10 Mobile phone that supports USB OTG. Sure, it isn't as awesome as HP's solution but you can get the same results for a fraction of the cost and utilize existing USB barcode scanners if you own one already. I love scanning barcodes into Excel spreadsheets for inventory at work using my Lumia 950XL, USB dongle and a handheld barcode scanner. Universal Windows drivers for the win!

This is good to know, most people don't realize they can do this.

What software do you use with the barcode scanner though?

The barcode scanner scans the text into any text field. I use Excel, simply because we have made inventory spreadsheets but you can scan the barcode numbers into any program such as Edge, Messenger or more. By itself, a barcode scanner just copies and pastes the numbers from a barcode but it is up to the company or users to have a program that does something with that info, otherwise the barcode scanner simply saves time by keeping the user from having to write down or type numbers and also eliminates human error. What would take days to do can be done in minutes.

Corporate infrastructure is Verizon.
Love to get rid of all the apples... Can't change 200 Users.... ATT is challenging in the SOUTHWEST. ☹

Good to see. Anyone got any idea how many of these phones HP are actually selling? Would love it to be a success.

So would I. Sadly, the phone satisfies a niche of a niche. I'd love one the size of my 950xl. Shove an 835 Snapdragon in their and borrow the 950xl camera, you have got me. Come December I will probably be looking at Android, with a view to next years models/this years discounted ones. I suspect I will end up with a Samsung, as long as they do a non-Edge version.

https://www.thurrott.com/mobile/windows-phone/83821/windows-device-stats... It wasn't doing too good at launch. I would be surprised if they are hitting triple digits now.

Stock sold out twice so far and manufacturing is ongoing, so I'd say it might be a lot more than triple digits.

I am sure it has hit quadruple digits total, but now they are probably only selling a few hundred a quarter. They are only sold on HP's website and some Microsoft stores. They can't be moving that many $800 phones.

They are sold in bulk to corporations. This isn't a consumer device.
Not sure I'll get public numbers, but I can ask the product manager tomorrow to maybe get some ballpark numbers.

Just an other day where HP is showing Microsoft how supporting your mobile platform is done.

They can't kill HP, they need phones to be like laptop tablets desktops etc, other oem building stuff, their 5xx was actually a bad thing, pushing away budget oems like blu... They made decent budget phone but everyone wanted Lumia so they were cannibalizing their own vendors and left no room for them to grow with the limited Windows mobile users.
Even me, I wanted Lumia, tempted by htc at one point but went Lumia because it was better, but that alienated HTC and they're gone..
I want to buy a non Microsoft Phone next but my 950xl is still too good to really want to go x3 or idol4s.
Too bad it was too late to retrench and many oem gave up already

While i do prefer the x3 to the 950xl (lucky enough to own both), I don't think i could ever recommend the cost of upgrading from the latter to the former, especially since a lot of the appeal of the x3 is in the accessories. i've heard good things about the idol4s but i unfortunately have not had any hands on with one.

Wow, for me the x3 is worth every penny over the 950xl.

I just meant it you already own a Lumia 950XL, unless you can get a good resale value (unlikely), I don't think it's worth it. If you don't own either, the extra cost on the x3 may be worth it.

Wow, nice. Also, remember when we could natively scan QR codes with our trusty Windows 8.1 Lumias? Those were the days. Luckily they deleted a lot of things that "people weren't using".

there's nothing wrong with allowing developers to fill that niche. there are plenty of quality qr scanning capable apps out there. even google eventually off-loaded it to third-party. so its not like you still couldn't do that. the barcode scanner attachment is easier to use than a camera though. its much more forgiving with angles and faster. so its not like you couldn't do barcode scanning without it, it just wouldn't be as fast. but sure, if you'd rather them focus their coding capabilities on qr codes instead of actually improving the OS as a whole, i guess that is technically a valid opinion.

I hope this will continue to help the windows platform, I love the system.

Solid!!! Could this be the next Blackberry?

I actually took the plunge about a month ago and got one. Waffled a bit between this and the Alcatel 4S and 95XL... Chose this since it seemed more solid for my usage. Had to lose my big red coverage, but that's ok for now. I have a workaround planned. Definitely solid phone mostly. Think the quirk's are more WIN10 related.

as an owner of both the 950xl and the x3, you definitely made the right choice choosing the x3 over the 950xl (unless cameras are a deal breaker as the 950xl has a better camera, but honestly, not by much unless you're an actual photographer or something...).

No one ever talks about the Acer Jade Primo. Is it a bad phone

i don't think its bad, i just don't think it spectacularly beats the 950, 950xl, x3, or the idol4s in any area.

http://m.gsmarena.com/theres_no_windows_10_anniversary_update_for_acer_j...

Yeah that's awful of Acer really. Can't believe at one stage i was considering one for my wife. I gave her my 950xl in the end when i got the x3.

It's the kind of thing my UWP app needs and will help sell it. Glad they understand their customer base.
Windows Central Newsletter
Thank you for signing up to Windows Central. You will receive a verification email shortly.
There was a problem. Please refresh the page and try again.