HP video guides show how to use Continuum on the Elite x3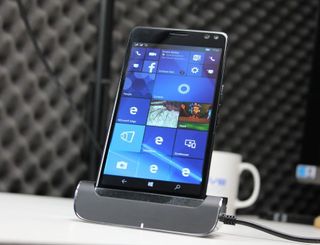 New videos have been posted showing how the upcoming HP Elite x3 with Windows 10 Mobile can be hooked up to a large monitor so it can be used like a PC with Continuum.
The videos, as posted on the HP Computing Support YouTube page (via Aggiornamentilumia.it) showcase how owners of the 6-inch phone can connect to a large monitor via a wired or wireless connection. They also demonstrate how the phone can connect to the optional Desk Dock which can also connect it to a large display, along with a keyboard and mouse.
Shipments for the HP Elite x3 have yet to officially start, although some retailers have begun to take pre-orders for the phone. HP's U.S. website will start taking orders for the phone on September 5 for $699, or for $799 when bundled with the Desk Dock.
Need more? Don't miss our other coverage of the Elite x3 including:
So wish this fell into the shops near the end of my phone contract. One thing Apple do exceptionally well is release an upgraded version which handily coincides with the end of a contract. Their upgrade cycle patterns are one of the reasons people keep coming back.

Well, not enough, because Android is dominating for quit a while already. Other fruit devices are long due for a refresh.

Well exactly enough. Every Android maker, except Samsung, would swap Apple's position for their own. Anecdotally, Samsung appear to be closer to Apple in terms of their upgrade cycles. Their top end stuff has a similar loyalty to Apple. I know loads of Samsung Galaxy owners that routinely keep going back at the end of each contract, and Samsung happily oblige by building yearly updates with a regular pattern. After 12 months the benefit of an upgrade is negligable, but every 24 months the latest one is a true upgrade that performs better. Which is exactly what Apple excel at. Every 24 months they have a worthy upgrade, whether it be to the standard, or the S model.

I disagree. I don't think Apple plans it that way at all. Apple releases a phone every year, you're bound to be up on your contract near the time of the release of either the latest, or the next iPhone.

They upgrade every year, but every mayor upgrade is every 2 years. IPhone 4, 4s, 5, etc.
So at the end of a contract you can either get one or another. There are people who have a one year contract btw...
Apple does plan ahead this way and they do it well.

I would imagine that the 'release' dates for these 'fruity' or 'robot' devices are at some point discussed with carriers. Not necessarily when your contract ends, but I would suggest it's near when a large amount of contracts are due for renewal. Some carriers even run a contract where you pay for your device separate from your contract. I have a family member work for one of these carriers, and these were introduced so you could pay what you owe on the device, and get a new one. Great idea in practice, but in reality its difficult to raise the £500 you still owe, so due to peer pressure on your kids at school, you end up taking another contract, and so on. I know a parent who's son my taxi firm takes to school, has 7 contracts, just so the kids can have an iPhone and not be picked on at school! What a mug

There is very little to discuss, I suspect. The 24 month worthy upgrade cycle is perfect for carriers. Apple nailed this bit. As for your comment about the multiple contracts, I know that what you say is spot on. My oldest child is in secondary school. They all want an iPhone, because they have to keep up. My daughter has a 6s, that thing gets way hotter than my 950xl. I held it the other day whilst she showed me something, I always assumed they ran so cool. Quite shocked.

None of the YouTube links work for me on the WC 8.1 app. FYI.

They're not supporting the old app anymore, I don't think

The link sort-of works for me on Windows 10. Loads MyTube but doesn't lead to any actual video.

All links worked fine for me. Although, the video that is 2:57 long is kind of silly.

Got hands on with one of these last week at an HP tech conference. Very nice piece of kit but it left me miffed. Whilst it has Continuum etc, could I justify the expense for a worse camera? I got my 950xl next to it and after tinkering and playing around opening loads of apps, switching between etc, I saw, visually, very little difference in terms of smoothness and operation. I'm sure if you antutu things you'll see a difference, but numbers don't sway me. Call me mad, cuss me, call me a kn*b, I dont care. I'll stick with my 950xl. A quarter of the price and almost as much phone. The one thing that did cross my mind. As a consumer buying an enterprise device, how do you tell your fashionista buddies that you've got an HP without them commenting about printers and the like? If we get enough grief now for having windows phones.......... Anyway, I liked it, but not enough to warrant the price, especially when the honeymoon period subsides and you are left with just another W10M device. Stick to your 950xl and hang on until / if the surface comes along. If surface doesn't come along, then go for the HP. They'll either be cheaper or collectors items ;-)

Mad, were you able to take any photos with the device? If so, how were they? That's the only piece of the phone stopping me from getting one.

I did. I still have my 950xl. I know we were inside but they weren't as 'warm' as the 950. Quite grainy in some instances. They aren't bad, in fact, they are acceptable, just not Lumia quality.

Whether the camera is quality or not the thing is you really want to keep your Lumia 950 because of camera only? I don't care about the camera I just want the power,speed and efficiency from the Ram,battery,display and be able to use continuum.You can't expect business people running around taking selfies lol

1/4 the price? I thought retail of a 950XL was $599 at launch, $100 cheaper than this device. Excluding docks, free or not as not everyone got one.

950Xl was $649 on microsoft store online, at launch.

I'm pretty envious, I'd like a play with one. But my 950xl takes lovely pictures. Id be happy if they did a 950xl s, and just upgraded the screen and processor. Love the rest of the phone.

Trying to get my hp rep to let us demo some x3s.

I wish I had seen one at my last trip to the local Microsoft Store to compare build quality. They did have the Acer Jade Primo, and I must say that the Acer was really lacking for build quality compared to Lumia 950/XL. The screen gap is noticeably horrendous on the Acer.

How is $449 one quarter of $699?! Is that "new math", LOL? Posted via the Windows Central App for Android

Math from a guy worried about what his buddies think of his phone.

If the Surface phone doesn't come along just get out of W10M. I think you've guys have had enough failed releases and reboots by now. Long live the L1020 and McLaren. Or I would suggest using W10M in conjunction with another OS as I'm considering doing with a Lumia 640 unless the 650 video issues have been resolved. One picture at a time -- LG V10

How was the fake metal construction, paint likely to peel off?

It's the only way Posted via the Windows Central App for Android

Note to self: Edit and respond are very different actions...

Instructional video. Because even HP knows that supposedly computer literate people still don't know how to plug in a power cable.

"But I thought my phone would power the monitor as well!"

Duh, everyone knows that.

So I used the Elite X3 last night at my distributors annual show..this phone is simply amazing, this is Extremely fast very high quality. The dock is also very high quality heavy base so the device doesn't fall over. Continuum worked flawless and smooth. I will have my devices August 12th and it will come packed with the dock. The Notebook accessory is again also very high quality. Again it worked seamless.

I said in my post in the forums that the dock was nice, and better than the MS one, which you can knock flying. I dont sell phones, but as I said, they are nice bits of kit, as you say, well made. As for trouncing the 950 for speed, I honestly didn't think they were far enough apart to warrant the treble the price. Continuum works well on my device, although a similar dock would be nice. Of course, my opinions are just that. I'll hang on to my 950xl and reassess in a few months time. If no surface, then HP. If surface then.....obvious really. I hope you knock a few out and get the w10m devices out in the wild.

The only reason for the Switching to the Elite x3 from the 950XL is the HP virtualization to run x86 programs. And the Notebook accessory.

It is a business model. Probably developed to be sturdier or easy to be opened up and repaired. Look at those business model laptops, they are actually more expensive. Their lifespans are also expected to be 2 to 3 times more than a consumer centric phone.

Great to hear, so when using it in continuum it was much faster than the lumia 950 Xl? If so this could really be a game changer.

Now that is a great question... Looking forward to hearing from the guys in the know.

I have not run the 950XL in Continuum mode. I would think the they would be equal, the only thing I could see why there would be a speed difference would be if they were running different versions of the OS.

Do you have a website where the phone can be preordered? Also, did you try out the camera?

Finally Microsoft releases imo app

imo is not from Microsoft.

Going to an actual Microsoft store tomorrow I just found and not just a little kiosk. I hope they have one on display. Can't wait. An actual Microsoft store.:D One picture at a time -- LG V10

WhatsApp "how-to" videos for this phone coming soon

When is the "I bought the crap and want to return it" video being released? Should be soon....i'm guessing 1 or 2 of the 12 people that bought one are going to return it.

The video is too short. It did not show how to use Continuum on the Elite x3, it only showed plug into the dock, did now show what happen after plug into the dock.

Why are people still wasting their time with the WP, WP is irrelevant, it's DEAD, put a fork in it. Posted via the Windows Central App for Android

WP is not dead. people not wasting their time. if you think you are wasting time discussing WP stuff, then stay away from this site.
Windows Central Newsletter
Get the best of Windows Central in in your inbox, every day!
Thank you for signing up to Windows Central. You will receive a verification email shortly.
There was a problem. Please refresh the page and try again.