HP pushes out July firmware for Elite x3 with latest Windows 10 OS update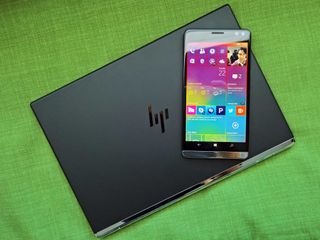 (Image credit: Windows Central)
HP appears to be still tidying up the Elite x3. The company's Windows 10 Mobile device that can simulate a desktop or laptop PC hasn't seen an update since late winter, but it looks like that is coming to an end.
Firmware 0002.0000.0037.0001 is now available, which is a jump from the previous 0002.0000.0026.0118 released in February.
Today's update is the sixth firmware update from HP since the Elite x3's release nearly one year ago.
we're doing some enterprise focused work with HP right now so we aren't moving more branches.we're doing some enterprise focused work with HP right now so we aren't moving more branches.— Dona @ #MSInspire (@donasarkar) May 1, 2017May 1, 2017
Microsoft and HP had reportedly been working on improvements with the Elite x3 for more enterprise features that the company has requested.
Update July 21st 2017: HP has provided the following changelog:
Fix cam/scanner not working in Threema app (using a non-standard camera resolution of 864x400 which is not supported on Elite x3).
HP Device Hub update [v2.2.2.0] supporting Raven accessory upgrade and removed publisher cache dependency.
Add HP DiagTool Service [v1.0.1.0].
HP Mobile Hardware Diagnostics [v1.4.1] integration.
Improve Double Tap performance for in hand use case (HP-patch).
Fingerprint solution [4.0.0.20] Memory corruption from fingerprint subsystem is fixed.
Enable caller ID for all carriers.
Enable CB channel 919 for Chile LAT-Alert local alerts.
APN database update and COSA customization changes.
Update APN configurations for India carriers.
Enable call forwarding on ATT via win10 settings UI, or via **21*xxxxxxxxxx#
Fix power off issue when CDMA SIM is inserted as 2nd SIM.
HP has also provided a list of known issues:
Outlook app cannot be launched from Continuum external display with HP Laptop dock.
Device prompt 'About removing SD card' when suspend device with SD card inserted.
Black lock screen and cannot unlock device after put device on HP flip cover then close/open the cover for several times.
Thanks, @GoodThings2Life, for the tip!
Daniel Rubino is the Executive Editor of Windows Central, head reviewer, podcast co-host, and analyst. He has been covering Microsoft here since 2007, back when this site was called WMExperts (and later Windows Phone Central). His interests include Windows, Microsoft Surface, laptops, next-gen computing, and arguing with people on the internet.
The device feels more responsive... Although who knows if that's reality yet. But I'm not noticing certain lag points when using it right now, so that's good.

It's great they are still updating it. I didn't realise MS had said they were doing some enterprise focussed work, it's good but at the same time I don't think I could recommend W10M as something to standardise on in Enterprise if a client asked about it. You can achieve the same workflow with iPhone, Elite X3 has great things like POGO Pins but there are non-phone devices out there with the same. It's very, very niche where W10M would apply right now

It was mentioned a while back that they were doing some 'enterprise work' for mobile.

No disagreement. In fact, the only reason I have the HP is because of a warranty replacement offer from MSFT Store when my 950XL battery died, and they couldn't produce one for it. That said, aside from the camera being mediocre, it is an AMAZING phone, especially paired with the Lap Dock for Continuum. I use it a lot when I'm just relaxing.

did you have a warranty plan or just the regular one year warranty. Also how did you manage to exchange it for the hp where the values of the phone the same? Thank you

I love it too although I don't find the camera too bad.

I have the HP Spectre 13 Laptop (not x360) and the lapdock has a very similar look to it. Some.HP Hardware in the last couple years is stunning and the X3 is no exception. I never really thought it was overpriced either. Hope they don't feel burned by W10M and decide to stop making phones or phone-like devices running Windows in the future

Anyone had a problem with Apps not updating on their Elite x3? If so try deleting the Office 365 Admin app - it does the trick. Been bugging me for months and even HP didn't know how to fix it. Found the solution on the Feedback Hub!

@Daniel R - This needs to be a front page article. Tihs guy is a genious. My phone has not been updating ANY store apps for about 4 months through various OS updates. Uninstall Office 365 Admin and it magically starts installing updates. @Fred, you are a star and made my day!

32 apps rolling in. And this is on a 950xl, so issue is not limited to x3.

Lol 😁 - thanks! I'd love to make front page on Windows Central 😉

It was me that reported this in the Feedback Hub. I was convinced it was an app, but didn't know which one. Had to uninstall each one when I knew there was an update to test. It took me months!

Yah! It's always great to find the source of our joy! Thank you so much for helping us all!!!

Hay... Us Windows Mobile users have to stick together! Considering there isn't many of us left!

Still waiting on the X3 refresh.

Me too, although loving the x3 right now.

HP is the only one who care it seems.

Is this the best option for someone whose 950 is dying at a rapidly increasing pace? Multiple reboots a day :(

Reboots are caused by an aging battery, if you buy a new one you will see the difference. It's a know issue with 950 and 950XL.

Yea I'm on my second battery ... Not wanting to drop more on a third.

Not only the battery causes reboot issues. I also suffered the problem and thought that my problem was the battery. I changed it for a new one, and things were fine por about a month, and then it started failing at an increasingly higher rate (up to three to four times a day). I almost gave up Windows 10 because of that. The problem in my case turned out to be Windows Hello (my phone always crashed just when I tried to log in). I disabled it, and my phone hasn´t restarted once in four months. My experience with Win10 has changed dramatically since then (even if I miss Win Hello). Now it is completely stable. Not a single stability problem since then, so, no reason to give up the platform (I have the apps I need and love the integration with my Surface, Laptop and Desktop). Try that, just in case... (and report back, please...).

Reboots are caused by bad battery contact. Fit a paper on one edge and battery will work again!

I concur. Had the exact same issues and changing battery solved my random reboot.

I tried it, it slowed the restarts, though they still happen once every few months.

Absolutely. I had the same issue with my XL. Got the X3 from MS store that came with the dock and haven't looked back. I use continuum to wirelessly cast you tube to smart tvs by pressing one button, extendable storage and it's easily compatible with my surface. Haven't used the dock yet but plan to later on. I recommend an incipio esquire case -style points and a screen protector.

Not seeing it yet. Wonder if this has any impact on the SD card issues people have been having. (I turned off NFC, which many said seemed to help. I don't use it so I don't miss it.)

Looks like the 10 phones got their update!

As opposed to the 1 million average crappy phones that Android has and the boring iToys.

I would like some improvements to the camera sw, on average pictures are just barely acceptable. Bit of a letdown after having used a 1520 for years. Again, don't get this phone without proper insurance, break the screen and HP will make you buy a new phone for 400 euro. So I currently use a six month old X3 that looks like crap since I don't want to pay this kind of money to get a screen fixed on a phone that runs on a soon to be discontinued OS..

You don't have insurance? I have insurance connected to my home and contents for in the house and out and about. Love the X3, best buy ever.

Way to go HP. Alcatel 4s has never seen a firmware update since release, 10 month's ago. Shame for them

Way to go HP. Alcatel 4s has never seen a firmware update since release, 10 month's ago. Shame for them

Hopefully will fix my multiple daily SD card disconnects

I really should have invested in this phone...I got the unlock version of the Idol 4s and...Lets just say I'm not impressed with the stability of the device...plus support won't return my emails because the speaker shorted during a soft boot....idk

That has happened to me on two seperate IDOL 4s phones. The phone is a piece of work...their support is in the hole too. I have the Elite X3 too. But like the size of the IDOL 4s...

It's a dead OS guys, just give it up already. I don't get the people who just keep banging their heads against the wall. It's over, done, kaput.

Over what? Oh, yes I agree it's over Apple and Android bullshit. I am writing this with continuum on my HP Elite x3 with my Surface keyboard connected. Oh yes, it's dead. Sure, and the moon is made from cheese. Bon Appetit!

Groove music update is too bad now it is showing theme colour instead of black which is bad for battery and not looking good, shame on you Microsoft

Shame on them for giving it some color? Lol Most say it looks better. Certainly runs better!

Are you drunk or something?

I don't think so, it is not looking good and eating more battery on my AMOLED display of 950 XL

this firmware is not available for your Lumia 950XL. What are you doing???

Did I asked you? And who the hell are you to say me what are you doing bloody fool Indian

Pretty sad remark, considering you are referring to his ethnic origin, as opposed to his name and this in 2017. Also, not debating the fact he is Indian, but the way you have worded your sentence it would appear that it may not agree with rules of engagement at Windows Central.

Have something against people from India? Geez...

The Names Rohan and Ron are pretty common in The Netherlands, Nepal, and Taiwan

Regardless where the names originate from. As respectable human beings, we simply shouldn't degrade someone based on their ethnic origin, name, creed, color, culture, sexual orientations, beliefs, religion and etc. If, in 2017, we cannot respect good human beings for what they are, then we are the lowest of life forms.

Eating more battery? This firmware isn't for your 950XL. If you meant to comment on the OS update then go there maybe? I find i tend to use my phone more with app updates and see what's new right after an OS update and so do most people...usage=battery drain. Maybe your battery needs replaced as well.

Idiot I am talking about app update not about OS

Idiot!?!? Lol hardly. What app update? Because this is a thread about a firmware update for the Elite x3 ...not the 950XL

Give us VOLTE on Lumia 950XL MICROSOFT

already available in Canada and UK.

One thing I noticed is that my Elite x3 now uses the international 4G idicator for connection type instead of LTE. Perhaps it is related to the fact one of my SIM's is US and the other is not, but in the past it would always indicate LTE/LTE+ for LTE/LTA-Advanced connections and 4G for HSPA/HSPA+ connections, as is typically for US phones. Internationally however phones use the 4G/4G+ indicator for LTE/LTA-Advanced connections and H/H+ for HSPA/HSPA+, which is also more in line with official naming. In the US the term 4G was poluted for markting purposes, so they had to use LTE to indicate to their users that is really was using it.

So just to be clear: it is still connected using LTE - that has not changed - but now showing the 4G symbol even for my American SIM, which is uncommon for American phones. Also it is now showing H and H+ when I fall back, as is normal for non-US models. I don't care, but I"m sure this will confuse some Americans in thinking they lost LTE. :-)

Most things confuse Americans!!! LOL ;)

Hardly I've been using unlocked phones for years and I have a UK version of a LG V10 that uses those icons I've gotten use to them.

The Elite x3 I had use to crash at least 2 to 3 time every single day. Since an update (1703) a couple of day ago it hasn't any more. Thank you MS/ HP. Thank you.

Mine has never crashed - 7 months...touch wood.

Writing this in my lounge room with my Surface keyboard connected to my TV through continuum that is all controlled from my HP Elite X3. This thing is awesome - streaming music with Groove, surfing the web, using Instagram, writing using Word and checking out my latest photos - all as smooth as!!! Love Windows and love what HP has done here. It's a very bright future for MS, HP, and all Windows related OEM's :) By the way, the X3 is my mouse right now and it works amazingly. Ha! Suck that Apple and Android *******.

As if you couldn't do all that with Android or iOS?

On Android Dex and Continuum perhaps. IOS? Please tell more with regards to desktop experience with an iphone? I may have been living under a rock.

I am not familiar with iPhone, but I think you can do this with the Apple TV. You can certainly do this with any Android and a Chromecast. The question is why? PC hardware is dirt cheap, why bother with one of these poor mobile experiences? Continuum isn't a desktop experience. It is a slightly better scaled mobile experience.

Perhaps, it doesn't suit your needs and that's fair, perhaps it suits other peoples needs and that's fair too. There is so many products on the market, not every bit of technology will suit everyone's needs. I am a bit confused by your statement though, you state and I quote "As if you couldn't do all that with android and ios?" unquote. But then you make a statement that you're not familiar with iPhone but you think that it can be done with apple TV? Does apple TV run IOS? Or OS based on IOS called TVOS. The thing is, the guy above mentions he can hook up his phone via continuum to a screen via a display adapter, he can write documents etc without having to turn on his pc or laptop. If he leaves home, he doesn't have to carry his screen with him. It definitely suits his needs I reckon. Surely, you cannot carry 🍎 TV around everywhere. All he needs is his phone and a display adapter, beats carrying an 🍎 TV around everywhere. Then you say you can certainly do this with Android and Chromecast, true, you can also do this with Windows and Miracast, that is true too. The thing is, continuum is a version of desktop environment. I have used it, I use it all the time. Just because some people will not use it, does not make it less appealing to others. But in my opinion IOS is not capable right now to do what Dex and Continuum can do. But knowing 🍎, it will come at a later date, that's my guess.

My Pc connects both to my monitor and TV through an hdmi switch. I have a little bluetooth keyboard with built in touchpad and my xbox controller for gaming. Continuum is just bad. I ran it for a few months on my 950xl. It was my main pc and my gaming pc was dedicated to gaming on the tv. I couldn't do it had to create my current solution. Samsung Dex is definitely a better solution when I tried it out in store. It still is not there either though ahead of MS.

I am so proud of HP for continuing to support the Elite X3. The phone is great in many ways but obviously updates are needed for any phone. It is great to see that they have not forgot about us Windows mobile fans who spent our hard earned dollars on this phone :)

The Elite x3 has been a terrific mobile device for me. The update went fine and for me the phone seems to run with a little more gas. I've never had any of the restart or shut down issues that others have stated here.
The 1520 does have a great camera but with a little work you can coax good photos out of the X3.
If Microsoft built a phone with X3 specs with a "Surface like" appearance, a top notch camera, and tight Windows integration I'd be in line for one. I have to say that unfortunately a great many consumers won't look to Windows because of the dreaded "app" issue. It's a shame.

No firmware changelog yet?
Windows Central Newsletter
Get the best of Windows Central in in your inbox, every day!
Thank you for signing up to Windows Central. You will receive a verification email shortly.
There was a problem. Please refresh the page and try again.