HP Omen 15 (2020) review: A generational refresh turns this gaming laptop into one of the best values around
The Omen 15 grows up with its 2020 refresh, bringing a new design and one of the best 4K AMOLED displays we've seen.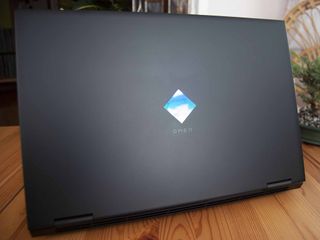 (Image credit: Windows Central)
Previous generations of the HP Omen 15 had an eye for flair, with tribal logo, brushed aluminum and grooved chassis, centered hinges, and angled lines. It was clearly a gaming laptop inside and out. With the 2020 refresh, the Omen 15's design was toned down for a much more mature look, similar to what Lenovo did with its Legion lineup a couple of years ago. The result is a laptop that can fit comfortably into more environments without sacrificing gaming performance. I've been using a high-end configuration of the 2020 Omen 15 for about a week to see how it has changed, how it performs, and whether or not it's worth your money.
(opens in new tab)
Bottom line: The HP Omen 15, refreshed for 2020, is one of the best values in gaming hardware today. The mature design fits better into casual and professional settings, robust thermals keep the laptop cool under load, and the 4K display option is one of the best we've ever seen. If you're looking to maximize the return on your investment, the Omen 15 should be seriously considered.
For
Near-perfect AMOLED 4K display with HDR
Value pricing
Unthrottled gaming performance
Lots of ports
Good camera and speakers
Against
Keyboard might be dividing
On the chunky side
Still waiting for NVIDIA RTX 30-series GPUs
HP Omen 15 at a glance
HP supplied Windows Central with an Omen 15 complete with 10th Gen Intel Core i7-10750H processor (CPU), NVIDIA GeForce RTX 2070 Super Max-Q graphics card (GPU), 16GB DDR4 dual-channel RAM, 1TB M.2 PCIe solid-state drive (SSD), and a 15.6-inch display with 3840x2160 (4K) resolution. There are two slots easily accessible for RAM upgrades after purchase, and there are likewise two M.2 SSD slots you can use to upgrade storage.
NVIDIA's next-gen RTX 30-series mobile GPUs are expected to be coming soon to the HP Omen 15, but for now this is the top configuration available in terms of graphics. This exact review configuration is available for about $1,450 (opens in new tab) at Best Buy.
HP's website doesn't currently offer the 4K display in any configurations, but you can otherwise find plenty of options with a wide range in price. A configuration with 10th Gen Intel Core i5-10300H CPU, NVIDIA GTX 1650 GPU, 8GB of RAM, 256GB M.2 PCIe SSD, and FHD display with 250 nits brightness starts at about $850 (opens in new tab).
Here are the exact specs as found in my review unit.
Category
Spec
OS
Windows 10 Home
Processor
10th Gen Intel
Core i7-10750H
6 cores, 12 threads
Up to 5.0GHz
RAM
16GB DDR4-1933MHz
Dual channel
Graphics
NVIDIA RTX 2070 Super Max-Q
8GB GDDR6 VRAM
Storage
1TB M.2 PCIe NVMe SSD
Samsung PM981a
Two M.2 slots
Display
15.6 inches
3840x2160 (UHD)
AMOLED
Anti-reflection, HDR
60Hz refresh rate
Ports
Thunderbolt 3
Three USB-A 3.2
HDMI 2.0
Mini DisplayPort 1.4
Ethernet
SD card reader
3.5mm audio
Audio
Dual stereo speakers
Bang & Olufsen tuning
DTS:X Ultra
Connectivity
Intel Wi-Fi 6 AX201 (2x2)
Bluetooth 5
Camera
Front-facing 720p
Keyboard
Per-key RGB lighting
Anti-ghosting
Touchpad
Precision
Battery
70.9Wh
200W AC adapter
Dimensions
14.09 x 9.44 x 0.89 inches
(357.9mm x 239.8mm x 22.6mm)
Weight
5.2 pounds (2.35kg)
Color
Black
Plastic and aluminum
HP Omen 15 design and features
The Omen 15's redesigned look moves it somewhere between a stylized gaming laptop and an Ultrabook. It's primarily made of plastic, no doubt to keep the price and weight down, so there is some flex in the lid. Nothing concerning. The main chassis is much more rigid, and it seems like HP has used aluminum for the keyboard deck and palmrests. The old Omen tribal logo has been replaced with an iridescent diamond on the lid, offsetting the flat black finish nicely. There is a tendency to pick up fingerprints and smudges, but they wipe off rather easily.
Instead of hinges clustered to the middle of the lid, they're now spaced more to the outside for better stability and a more mature look. The hinges feel great with just enough grab to keep the lid firmly in place, but not enough that you can't open the lid with one hand.
Below the hinges is an exhaust vent that runs along the entirety of the laptop's back edge. Whereas some gaming laptops are using this space to house ports for easier cable management, HP's formidable cooling system requires the room to expel hot air. As we'll see, it pays off. The right side of the laptop has a smaller exhaust vent tucked in between some ports. For intake, there's a large raised section on the bottom of the laptop that prevents fans from being choked off if the laptop is sitting on a soft surface. You'll often see a small cutout for each fan, but here the cutout below the grille runs along the entirety of the heat pipes for extra cooling.
The Omen 15 is on the heavier and thicker side of the average gaming laptop, weighing in at 5.2 pounds (2.35kg) and measuring 0.89 inches (22.6mm). It can't compete with something like the Razer Blade in terms of dimensions, but it's still going to tuck into a 15-inch backpack or laptop bag easily. Configurations with FHD display and lesser performance hardware will likely weigh less.
Image 1 of 2
HP makes good use of space on the chassis, adding two USB-A, Thunderbolt 3, and Mini DisplayPort on the right side, as well as HDMI, USB-A, RJ45 Ethernet, 3.5mm audio, and an SD card reader on the left side. You shouldn't have any issue connecting the best PC gaming accessories if you're setting up a more permanent gaming area.
Sitting open, the laptop's minimalist look is fetching. The palm rest and touchpad are raised just slightly above the keyboard deck, and there's a stylized grille above the keys. I thought at first it would pump out some top-firing audio, but it seems like it's just for looks. Speakers reside instead along the angled edges at the front of the laptop. With the laptop sitting flat, they remain unmuffled. The sound is loud and full if only lacking a bit of bass. Still, if you're working without a gaming headset, the speakers are going to easily drown out the fans.
Image 1 of 2
The front-facing 720p camera above the display is surprisingly good, even in low-light situations. I wouldn't be shy to use it as a main camera for video conferencing and meetings. If you're going to use the laptop for streaming, however, you'll probably still want something from our collection of best webcams for Twitch.
Overall, I love the changes HP has made to the Omen line. The laptop's straight lines, understated logos, and flat black finish all contribute to a look that can fit into a gamer's station or an office setting. Space has been used intelligently to maximize thermal cooling, and there's a solid collection of ports for hooking up accessories.
Clean layout
HP Omen 15 keyboard and touchpad
HP made the best of available space when planning the keyboard layout. Keys stretch from side to side with just a bit of room on either side. Arrow keys sit alone and aren't doubled up with other functions, and there's a cluster above for the standard Insert, Home, Pg Up, etc. There are also dedicated keys for the Omen Gaming Hub and calculator. The power button resides next to the F12 key to keep it in line with the rest of the look.
The review unit came with per-key RGB customizable through the Omen software, though you can go with four-zone RGB or a standard white backlight if you're not really one who goes out for the extra lighting. The Fn key is programmed out of the box to highlight the top two rows of keys when pressed; little features like this are a nice touch.
Overall, typing is just OK. Keys are on the small side and are spaced out a bit more than I'm used to. As someone who uses Ctrl to crouch in games, the small size had me bashing the Fn key more often than not. However, I was still able to type at a speed close to where I'm usually at. There's decent travel, but the overall feel is soft. Anti-ghosting helps with gaming performance, but note that this is not a keyboard designed specifically for gaming with special switches.
Again HP makes good use of space for the laptop's Precision touchpad. It's large enough to promote better productivity, and it tracks without error. There's no rattle or hollow feel when clicking, and I'd put it on the same level as some high-end Ultrabooks.
Just about perfect
HP Omen 15 display
The Omen 15's 4K AMOLED display is simply stunning. Even without HDR enabled, color and contrast are spot on. And it only gets better with compatible HDR content. I've seen a lot of laptop displays, and this one still gave me pause when I first booted the machine. It checks most of the boxes we look for, including an anti-reflective finish and plenty of brightness. This way, you still get the premium glossy look without nearly as much glare interfering with the picture.
The bezel has been slimmed down, and while there's still a significant chin below the display due to the 16:9 aspect ratio, the display is large enough and brilliant enough that it's not too noticeable. Measuring color accuracy with my SpyderX Pro colorimeter (opens in new tab), I saw some excellent results. The display hit 100% sRGB, 95% AdobeRGB, and 100% DCI-P3 color reproduction, with 534 nits brightness at the top. Whereas it's common for displays to have a high reproduction percentage in one or two of the color gamuts we test, this one pushes all three to the top.
Considering it seems like you can only nab the 4K display option with the RTX 2070 Super Max-Q GPU, HP likely wanted to orient this config to those who game and deal with specialized design and development work. The display is more than up to the task.
HP also offers three FHD display options, which are no doubt better cut out for people who want to enjoy demanding AAA games with maxed-out in-game settings. You can opt for a 144Hz or 300Hz refresh rate at 300 nits brightness. There's also a standard FHD display without refresh rate listed, which should probably be avoided if you're a gamer who takes FPS seriously.
Listed in some documentation is another 4K option that omits the AMOLED panel and instead shoots for a 120Hz refresh rate. As I'll cover in the next section, this is likely overkill for the available performance hardware.
Cool and quiet
HP Omen 15 gaming