Lenovo Legion 7i 15 review: A high-end gaming laptop that competes with the best on the market
The premium Legion 7i 15 adds extra features and hardware options the Legion 5i lacks, making it the go-to choice for anyone with a bigger budget.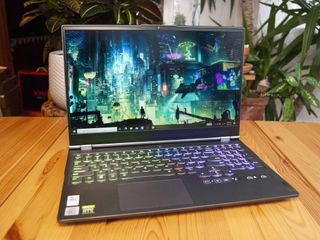 (Image credit: Windows Central)
Lenovo's reimagining of the Legion Y540 and Y740 gaming laptops mid-2020 wasn't a huge move from the established design. Considering how much I loved the look and layout of the old Y540 and Y740, this was a good thing. I got my hands first on the new Legion 5i 15, a mid-range option that kept prices affordable while still offering modern performance (have a look at my Lenovo Legion 5i 15 review for more information). In my hands, here is the high-end Legion 7i 15, an Intel-based gaming laptop that comes with some stellar specs and features. Let's take a deep dive into the laptop to see what it's all about and, ultimately, whether or not it's worth a buy.
Bottom line: The Legion 7i 15's well-built aluminum chassis is packed with premium features, and there are many customization options available. The keyboard and touchpad could be better for something this price. The battery isn't going to wow you while gaming, but overall the Legion lineup shows its maturity in the space with high-caliber performance and supporting software.
For
High-end FHD displays
Tons of customization options
Keyboard and body RGB lighting
Great webcam with shutter
Top-tier performance
Against
No 2K or 4K display options
Keyboard and touchpad are average
Wimpy battery
Stacked
Lenovo Legion 7i 15 at a glance
Lenovo supplied Windows Central with a review unit of the 15-inch Legion 7i. This gaming laptop is packing a 10th Gen Intel Core i7-10750H processor (CPU), NVIDIA RTX 2080 Super Max-Q graphics card (GPU), 16GB of DDR4 RAM, and 2TB of M.2 PCIe NVMe solid-state drive (SSD) storage. Configured with a 240Hz FHD display with NVIDIA G-Sync and Dolby Vision HDR400, this model costs about $2,750 at Lenovo before any of its frequent sales and rebates.
As usual, Lenovo has plenty of customization options available, ranging from Core i5 to Core i9 CPUs, as well as NVIDIA GTX 1660 Ti to NVIDIA RTX 2080 Super Max-Q GPUs. Not all models are as terribly expensive as the review model I have here, and you should be able to find something with less storage and RAM and upgrade later if necessary. A model with Core i7 CPU, NVIDIA RTX 2070 Max-Q, 16GB of RAM, 512GB SSD, and the high-end 240Hz display with G-Sync is available for about $1,659 at Amazon.
Unlike the Legion 5 series, there doesn't seem to be an AMD-configured option for the Legion 7 series.
Following are the exact specs found in the review unit I've been testing.
Swipe to scroll horizontally
Category
Spec
OS
Windows 10 Home
Processor
10th Gen Intel
Core i7-10750H
Six cores
Up to 5.0GHz
RAM
16GB DDR4-2933MHz
Dual-channel
Graphics
NVIDIA RTX 2080 Super Max-Q
8GB GDDR6 VRAM
Storage
2TB M.2 PCIe SSD
Display
15.6 inches
1920x1080 (FHD)
IPS, 500 nits
240Hz refresh rate
Dolby Vision HDR400
NVIDIA G-Sync
100% sRGB
Anti-glare
Ports
USB-A 3.2 (Gen 1)
Two USB-A 3.2 (Gen 2)
HDMI 2.0
RJ45 Ethernet
Thunderbolt 3
USB-C 3.2
3.5mm audio
Audio
Dual 2W speakers
Dolby Atmos
Connectivity
Intel Wi-Fi 6 802.11ax (2x2)
Bluetooth 5.0
Camera
Front-facing 720p
Keyboard
Corsair iCUE RGB
Touchpad
Precision
Mylar surface
Security
Kensington lock slot
Webcam shutter
Battery
80Wh
Dimensions
14.1 x 10 x 0.8 inches
(360mm x 255m x 20mm)
Weight
From 4.6 pounds (2.1kg)
Color
Slate Grey
Sticking with a good thing
Lenovo Legion 7i 15 design and features
The higher-end Legion 7i employs an aluminum chassis and aluminum lid, eschewing the PC/ABS plastic blend used in the more affordable Legion 5 series. The body is rigid, and the "anodizing sandblasting" finish seems to do an OK job of hiding fingerprints and smudges. It's not too flashy, instead relying on a lit Legion logo on the lid, underglow RGB strip around the front edge, side port lighting, rear exhaust RGB lighting, and Corsair iCUE keyboard backlight to show off. The understated design likely won't appeal to those who want people to know they're dealing with a gaming laptop. Still, it will probably make sense for anyone who's splitting time between more professional settings like school or work.
The lid's hinge sits forward on the chassis, leaving room behind for the now-familiar rear port collection. Nestled between two wide exhaust vents are the AC input, two USB-A, HDMI, and Ethernet. This allows you to keep power, display, Ethernet, and two USB accessories connected without cluttering your desk with cables. It's a smart design, and I'm glad to see other gaming laptop makers are following suit. The right side of the laptop has a single USB-A port (ideal for one of our best PC gaming mice picks), while the left side has Thunderbolt 3, USB-C, and a 3.5mm headset jack. Compared to the Legion 5i 15, you lose one of the USB-A ports but gain a Thunderbolt 3 port. If you're using the laptop for productivity, adding one of the best Thunderbolt 3 docks makes a lot of sense.
Image 1 of 3
A power button sits in the middle of the PC above the keyboard, surrounded by a speaker grille that complements the two speakers on the bottom of the device. Otherwise, most of the inside space is taken up by the full-size keyboard and Precision touchpad. There's an embedded Lenovo logo in the bottom-right corner. With all the RGB lit up at once, the laptop definitely has a lot of flair despite the otherwise plain design.
If an Ethernet connection isn't available, Wi-Fi 6 is standing by for fast, reliable wireless connectivity. Also included is Bluetooth 5.0 for connecting wireless accessories. Those who want to stream or video chat can take advantage of the 720p webcam, complete with a tiny privacy shutter. It's surprisingly clear, and I wouldn't feel the need to add a third-party webcam unless I was getting into serious streaming.
Audio is above average. As mentioned, a speaker grille sits above the keyboard for unmuffled audio when the laptop is in your lap. Two speakers also reside on either side of the bottom of the laptop, altogether delivering loud, clear audio. Listening to music is enjoyable, as is gaming without a headset. The only thing to keep in mind is that headsets are still better for competitive play. Check out our pick for best PC gaming headset if you really want to get serious about sound.
FHD or bust
Lenovo Legion 7i 15 display
Lenovo might offer only 1080p displays despite the available performance hardware, but at least they're rather high-end and will make the best of something like NVIDIA's RTX 2080 Super Max-Q. The review model's display has a 240Hz refresh rate for smooth visuals, Dolby Vision HDR400 support for more vivid color, NVIDIA G-Sync for less screen tearing, and excellent color and brightness.
Testing with a Datacolor SpyderX Pro colorimeter, I got back 100% sRGB, 79% AdobeRGB, and 82% DCI-P3 color reproduction. These are great results for a display intended for gaming, and games look fantastic despite the lower resolution. No 2K or 4K option here; for that, you'll have to go with a third-party monitor.
The display has an anti-glare finish, which, combined with up to around 490 nits of brightness, makes it easy to game just about anywhere. Of course, more brightness will cut down on battery life, but as we'll see, you're going to want to keep the AC adapter close by no matter what.
If you're looking to save some money, Lenovo offers two more affordable displays. One keeps most of the same specs (HDR, G-Sync, 500 nits, anti-glare) but drops down to a 144Hz refresh rate and instead hits 100% AdobeRGB color reproduction. This would be ideal for professional work. At the bottom is a display with a 144Hz refresh rate, 300 nits brightness, 100% sRGB color, and no HDR or G-Sync. This would be better for a model with Core i5 CPU and GTX 1660 Ti GPU.
TrueStrike strikes again
Lenovo Legion 7i 15 keyboard and touchpad
Image 1 of 2
The Legion 7i 15 has a full keyboard with a number pad, backlit with Corsair's iCUE lighting for customizable RGB. It's labeled under Lenovo's "TrueStrike" proprietary line, bringing 1.3mm of key travel and a soft hit when bottoming out. The keys do feel good while typing, and they're responsive while gaming, though you're getting less key travel than in the Legion 5i 15. Mechanical keyboards are always preferred for gaming, and at this price, Lenovo could definitely have included the option, if even at a slight premium.
I didn't get into it too much in the Legion 5i review, but physical buttons are again lacking below the touchpad. Lenovo had a good thing going in the Y-series laptops with physical buttons, especially useful for anyone who plays some games without an attached mouse. The Precision touchpad is big enough for productivity work, but like the keyboard, it seems Lenovo could have done a bit more.
Balancing power and heat
Lenovo Legion 7i 15 gaming
Lenovo has done a great job with its gaming laptops in terms of thermals and power balancing, and the Legion 7i 15 is no different. It has a "Q Control" feature that lets you quickly swap between performance profiles depending on the task at hand. The power button LED changes color depending on the profile: white for Balance, red for Performance, and blue for Quiet. There's also NVIDIA Optimus, which intelligently swaps between dedicated and integrated graphics to best preserve battery life.
Stress testing with AIDA64, results are as expected. Thanks to Dual Burn support, which allows the CPU and GPU to run together without throttling, you get a strong performance that doesn't melt your lap. Whereas some laptops allow CPU and GPU to run up until both are throttling due to heat, Lenovo balances the systems at lower clock and power. In all stress tests, there was no evident throttling.
The Performance power mode is what you'll no doubt be using while gaming with demanding titles, and under load, you will hear the fans. They're not egregiously loud, and the built-in speakers did a good job of drowning them out while in a game. The balanced mode is best for lighter indie games and keeps the laptop quieter and cooler, while the Quiet mode is great for late-night web browsing and music listening on the couch when the AC adapter is just a bit too far away.
I ran some synthetic benchmarks to see how gaming performance stacks up against other laptops we've recently tested. Note I used the Performance Lenovo plan for these tests, so what you see is the upper limit of its capabilities as configured.
Image 1 of 3
I played Cyberpunk 2077 on Ultra settings with Ray Tracing off, and DLSS set to Balanced for about 15 minutes, driving and engaging enemies in crowded areas to get a good idea of frame rates at 1080p. The Legion 7i 15 averaged 83 FPS in this case, with plenty of headroom when lowering in-game specs.
Next, I tried out Hell Let Loose, a relatively demanding game with enormous open areas and plenty of textures. With Epic settings, the game averaged 64 FPS. Again, plenty of headroom when lowering specs, and the game isn't as optimized as it could be. Finally, I tried another demanding game, Red Dead Redemption 2. Using the built-in benchmark tool with settings at Balanced (a mix of Ultra and Medium), it averaged 85 FPS.
These are all great results, and it's clear the Legion 7i 15 will be able to deliver quality AAA gaming. This laptop will also easily handle esports titles like League of Legends, Counter-Strike: Global Offensive, and Fortnite, even with the lower-end CPU and GPU options. And thanks to the displays with high refresh rates, you have the overhead to really push frame rates.
Upgrade after purchase
Lenovo Legion 7i 15 performance and battery
With all RGB accents disabled, the Legion 7i 15 could be mistaken for a chunky Ultrabook, thanks to the smart aluminum design. If you are using it for productivity work in a professional setting — especially if you opt for the display with accurate AdobeRGB color reproduction — the following benchmarks will matter to you. The review unit I tested is at the upper end of hardware, though there is a Core i9 CPU if you're really looking for top performance. In any case, the Core i7-10750H CPU and RTX 2080 Super Max-Q GPU performed admirably, as expected.
Image 1 of 3
The dual SSDs in a RAID 0 setup offers unreal performance, and you can always upgrade storage after purchase. The dual RAM slots can also be easily accessed; if you spec a laptop with top CPU and GPU, you will be able to keep supporting hardware up-to-date with relative ease. This is especially helpful if you're looking to save some money at checkout and wait for sales on individual hardware to upgrade later.
Battery life is essentially the same as it was in the Legion 5i 15. Testing with PCMark 10's Gaming rundown, the battery lasted just 44 minutes with the Balanced performance plan and screen brightness at about 50%. Keep in mind the performance hardware here is in the upper ranges, and a model with GTX 1660 Ti or RTX 2060, Core i5 CPU, and basic display will see far better results. As for general life, while not gaming, I could regularly get about four hours before needing a charge when I wasn't pushing the laptop. Quiet mode helps a lot in this regard.
Should you buy the Lenovo Legion 7i 15
Who it's for
Anyone who wants to spend more than $1,200 on a gaming laptop.
Anyone who wants many configuration options for CPU, GPU, and display
Anyone who wants a laptop they can upgrade after purchase
Anyone who wants to game on an FHD display
Who it isn't for
Anyone who wants AMD hardware
Anyone who wants a larger 17-inch display
Anyone who wants RTX 30-series hardware
Anyone who wants to spend less than $1,200
Lenovo's Legion 7i 15 is altogether an impressive gaming laptop that checks most of the right boxes. It would be nice to see a bit more effort on the keyboard and touchpad at this price level, but otherwise, there are few complaints that stick out. Having the option for a 2K or 4K display would be nice, but at least the FHD options here are high-end and varied for different areas of work or play. The dual SSD and RAM slots can all be upgraded after purchase, the chassis is all aluminum for a durable build, and the RGB accouterments are plentiful and customizable.
The Lenovo Vantage app and Q Control function make it easy to keep tabs on the laptop's performance, and Dual Burn technology prevents thermal throttling when all systems are under load. With the Core i7-10750H CPU and NVIDIA RTX 2080 Super Max-Q GPU I tested here, the Legion 7i 15 overcame even the mighty Razer Blade Pro 17 in synthetic gaming benchmarks. And if the hardware I tested isn't for you, there are plenty of customization options that peg the starting price around $1,200.
The camera is above average and includes a privacy shutter. The speakers along the top and bottom of the laptop pump out loud, clear audio, and the rear port selection makes cable management easy. If you're in the market for a top-tier gaming laptop, the Legion 7i 15 should definitely be taken into consideration. If it's not quite what you're looking for, be sure to have a look at our broader roundup of the best gaming laptops available today.
Killer Specs and Features
Bathed in RGB is an understated aluminum chassis that packs high-end performance and features. If you're shopping around for a premium gaming laptop, keep the Legion 7i 15 on your shortlist.
Get the Windows Central Newsletter
All the latest news, reviews, and guides for Windows and Xbox diehards.
Senior Editor, Laptop Reviews
Cale Hunt is formerly a Senior Editor at Windows Central. He focuses mainly on laptop reviews, news, and accessory coverage. He's been reviewing laptops and accessories full-time since 2016, with hundreds of reviews published for Windows Central. He is an avid PC gamer and multi-platform user, and spends most of his time either tinkering with or writing about tech.