HP shows off ENVY x2 in new Surface-like ad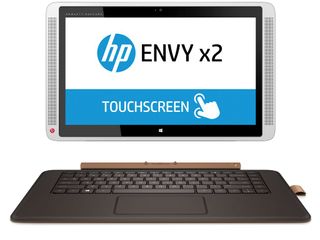 Remember the two HP ENVY x2 models that the company announced earlier this year? Well it looks like the duo of Windows 8.1 tablet/notebook hybrids got a new ad today, and it's a little...Surface-like — not that that's necessarily a bad thing.
Much like Surface ads before it, HP's ad stresses the versatility and amazing design of the ENVY x2 by highlighting the convertible nature of the notebook. The narrator details how the notebook has a 'mode for every mood,' from the all-in-one mode to the notebook and tablet modes.
No matter its similarities to the Surface, the ad is still fairly slick and does a pretty good job of hyping the different use-cases of the device. And if you're impressed by HP's efforts here, you can nab yourself an ENVY x2 in either a 13.3-inch or 15.6-inch version directly from the manufacturer here (opens in new tab).
What do you guys think of the ad? Let us know in the comments below.
Thanks to Ingiomar M. for the tip!
Windows Central Newsletter
Get the best of Windows Central in your inbox, every day!
Dan Thorp-Lancaster is the former Editor-in-Chief of Windows Central. He began working with Windows Central, Android Central, and iMore as a news writer in 2014 and is obsessed with tech of all sorts. You can follow Dan on Twitter @DthorpL and Instagram @heyitsdtl.
Perfect. I especially like how the trackpad is off to the side of the keyboard on the 15.6 inch model to avoid any accidental taps.

I hope there is a left-handed version ;)

Hey... They figured Microsoft won't sue them for it so they just take the design

Microsoft will make more money by selling windows 8.1 than selling the whole hardware

Actually, I think the point of the Surface Pro 3 is to encourage and urge OEMs to create these types of devices which inevitably showcase the ideology of Windows 8.xxx - 10 (All in one tablet and PC). The need to travel with a laptop and tablet will ultimately become a thing of the past, and Microsoft's OS will be at the forefront of such change. Microsoft has learned from their mistake with complacency. In due time the Redmond giant will no longer be perceived as late to the race (Windows phone 7,8, etc). Microsoft will lead this 100 meter dash. And as leaders they'll turn their journey into a marathon. I believe Microsoft has been pitching their idea to OEMs since Windows 8 was introduced, but HP, dell, and the like remained hesitant. Probably due to the biases of the tech press. Especially those whom are breaded from the iCult. With the introduction of the Surface Pro 3 Microsoft has converged many naysayers into believers. Time will tell if they will be successful. I am eager to see what innovations Sony, Lenovo, and Dell will bring to the tablet/pc form factor. Say what you will about HP, but you have to admit that the Bluetooth keyboard and the Beats audio feature is pretty awesome. Let us wait and see how things turn out in the future. As for me, I believe these are the exact devices Microsoft is pushing their OEM partners to build.

It's funny you say iCult when you aren't so different yourself. It seems the three major os players have their own cults that not everyone in them endorse nor are a part of Posted via the Windows Central App for Android

It sounded as if he was evangelizing. The surface pro 3 has one giant fault for me and that is that i find it too heavy for a tablet. these people just ignore problems like this and make it seem as if the tablet has no flaws. i still like my surface but not to the extent that this guy goes.

@3165dwayne... Actually, I do not own a SP3. I could not tell you about dealing with the weight on a daily basis. Having said that, Microsoft has set the standard (blueprint) for creating an exceptional work/play device. "I am eager to see what innovations Sony, Lenovo, and Dell will bring to the tablet/pc form factor." Depending on the willingness of OEMs, the possibilities are limitless.

@Pirate Arr.... Fair enough. However, I wasn't insinuating loyalty to any particular OS is a bad thing. I'm not a hypocrite. I simply used the term "iCult" to emphasize on the tech press' reluctant attitude towards Windows' OS as a viable option. The consumer was not in mind when I stated the above. It was my thoughts from my own observations. I'm a huge fan (Fanboy if you will) of Microsoft. As consumers, we all have our rights to preference and choice. I'm not here to dictate which operating system trumps all. You cannot deny the subpar, bias journalism against Microsoft unless WCentral is the only tech site you visit. I'm not sure which website you frequent, but tech sites such as Phone Arena, Engadget, and the Verge (To name a few) will prove there is validity in my comment. Hopefully, I have made myself more clear. :-)

100% agree. MS would not mind this. MS benefits most for the popularity of Windows 8.

I currently attend Baruch College in New York City. To my surprise, there are sizeable portions of students using Windows on many different devices. I've seen at least 30 people of whom own the surface pro 3. I always take the opportunity to ask them about their overall experience using the SP3 as a daily driver. For the most part, the receptions are usually positive. Cons include (SP3 i3 is too slow, i7 heats up after long-term use, and although portable and light weight, the i5 can feel overwhelmingly heavy when used as a tablet for long periods of time. We'll be hearing about the world's thinnest and lightest tablet/pc running Windows at some point in the future. Hopefully sooner rather than later.

Rip OFFF!!! But I like it. Now I understand y my girlfriend says "Stop it. I like it"

That's funny, she says the same thing to me!

No seriously this time: Stop it!

Not that I'd be interested in this device but Microsoft's goal was to motivate companies like HP by creating a tablet like the surface. HP can copy all they want as long as we see 2-in-1 devices spread and diversify the mobile PC market.

As i did say many times before. Microsoft set the bar for OEM'S to fly higher and this is an example

:D lol poor man surface pro 3 i guess

I actually like it, 15.6 would be an awesome all in one to have in house

Yeah. I like how they sell this computer as a laptop that you can move around with vs. a tablet that can act as an laptop. 15" screen is a bit big for tableting, but this would be great as a portable in the house.

So... A thicker, heavier, cheaper SP3 with speakers taped to the sides.

lol Don't forget the lower-spec'd Core M processor.

Also, it only has a 1366x768 resolution screen, which on the 13 inch would be pretty noticeable. And while it has a spot on the tablet's keyboard for a stylus, the website didn't list anything about whether it was just a capacitive type stylus or a wacom-style stylus. For the price, get the surface 3 pro. Oh wait, you already did. :)

Actually good speakers on the hp though (I assume, beats are good, not worth what they cost bit they are still above average), the surface 3 speakers are pretty horrible.

Good on them, and that Bluetooth feature of the keyboard, I don't think the surface can do that, at least I've never tried it. Sure its very similar to the surface but so what? The surface has literally nailed the tablet/laptop hybrid, why not utilise a design that works?

It does, but you need an adapter.
https://www.windowscentral.com/e?link=https2F%2Fclick.linksynergy.co...

99.99999% Surface Super Copy

Interesting HP still has a deal with Beats Audio to use on their computers.

remember HP used to OWN Beats. Part of the sale was they got to keep licensing for awhile

HP sucks at designing High-end hardware. Their designs always look really bulky and fat. This device would have looked amazing if it was just thinner. Also the color choice makes it even more hideous. The bezel around the screen is black and the one around the speakers is white. Why not all white or all black?

I disagree. A lot of their high end hardware is actually really good. For example: HP Spectre 13 http://www.pcworld.com/article/2082565/hp-spectre-13-review-an-exceeding...

I want this to succeed. But will I get one? IDK, as I've got enough HP burn scars...

This is ugly as fuck. But I still hope people will actually buy it.

Man, if I respected HP products (lots of personal experience), I think that would be a very nice piece of equipment!

Same boat as you. I have had a few not so good experiences with HP products. Though I will give the Stream 7 a try.

Did you view the video? It doesn't look like Windows! Looks bad?
Edit: oops. Well, I've never seen that odd last screen. That's not how Windows Phone handles alphabetical lists.

If it truly is 1366x768 that is a total deal breaker, and a big waste of a nice machine otherwise.

It does look pretty good. Other HP issues withsatnding.

Meh, I'd rather buy a high end Acer hybrid.

The music is certainly better than the Surface ads.

Nice... I have always liked Hp innovation. Some elements of the Surface sure, but detachable BT keyboard is nice.

Can't believe they would copy the future apple Mac-face

Wasn't the Surface originally made for OEM's to use as a reference for making Windows 8 devices?

No pen! Looks good, and I'm glad Microsoft has set the bar high for the OEMs to copied.

Interesting, I wonder what that thing is next to the keyboard that looks like a loop and is labeled "stylus holder"?

my bad. you are correct...tried to edit, but was distracted.

Uhhhh magnetic keyboard case?!? Sweeeet. The surface should have that, I never understood why they didn't. I still want an amazing tablet/laptop convertible....

The surface does have that.

.... What did you just say?!

well at least this device i know for sure its available worldwide unlike surface

Speaking of MS love check this out... http://jltechword.wordpress.com/2014/10/16/the-ipad-air-pro-an-apple-fan...

I had the first envy x2 and while it was a nice device, it was just that: Nice. Underpowered, buggy and lagging. I'm going with the full power of the SP3

I love my Envy X2. Yes, the Atom CPU is slow, but it lasts 14+ hours, and later updates fixed the bugs. For daily use (web browsing, powerpoint, email), it's perfect.

Ugly as hell. Hp is the last brand i have on my head.

I love the fact that I could have a massive 15.6in tablet on my hands... Amazing!

I don't know what to think... I don't like that HP copy the Microsft Surface design!

Looked at the HP when I bought the SP3. At that time, 4gb RAM was the max. on the HP. HP was also quite a bit heavier and thicker. Was a nice machine though. I think the convertible or 2-in-1 market will take off in late 2015 after W10 releases.

The display is 1920x1080 very nice. You could Miracast this to your tv then use the Bluetooth keyboard

Surface like is a bit dramatic. This is bad ass. If the keyboard makes the grade, sign me up.

Wow! What an original design! /s

Wow, Surface was clearly the inspiration here. Looks good!

Wow this is actually nice... THIS IS WHAT I'VE WANTED THE OEMs TO PUT OUT! Great job HP.. you have now entered the consideration zone...

If HP can copy the surface to this degree? Why can't apple? Next year when the 'iPad surf S' comes out there will be loong lines.. All on the back of MS's hard work.. Again.

Looks nice! I love my Envy X2 and its 14 hour battery life, and I think HP nailed the form factor for the 2 in 1 category. This looks like a nice follow up in a larger, more powerful form.