HP Star Wars Special Edition notebook will awaken the force starting at $700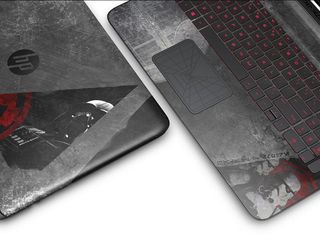 HP has officially revealed the hardware details of its upcoming Star Wars Special Edition notebook. The laptop, which will have Windows 10 pre-installed, will ship on November 8, but pre-orders will begin on October 8 for the starting price of $699.99.
HP says:
Buyers can select on whether they can have Intel's Core i5 or i7 processors in the 15.6-inch notebook, along with up to 2TB of hard drive storage and up to 12GB of RAM, with the option to add in a NVIDIA GeForce 940M graphics chips.
HP Star Wars Special Edition notebook will also come with a ton of pre-loaded digital content that should make any fan of the movie series happy:
The notebook also comes with a free one-year subscription to Fandor. The service, which normally costs $90 a year, offers a ton of independent movies that can be streamed to the notebook.
Pre-order the HP Star Wars Special Edition notebook starting at $699.99 (opens in new tab)
Source: HP (opens in new tab)
Windows Central Newsletter
Get the best of Windows Central in your inbox, every day!
Actually pretty detailed artwork. I'm impressed.

The company I work for should buy me this :P

@paliotti:
Add in a second one for me.

@paliotti. Lol. You living in the dream mate. Lol.

I'm a big Star Wars fan boy...I might buy this. God dammit.

Meh. Make one that looks like a TARDIS and we'll talk.

Great. Now I want a laptop. And I don't even like laptops. Damn you, Disney! Posted via the Windows Central App for Android

I suddenly feel the need for a laptop as well. Da fuq Disney???

Pretty sweet. While I understand the need for portability, I wish that PC manufacturers would realize that there is still a desire for 17" laptops.

I miss my old 17" laptop with not even full HD resolution, it was great!

1. Finally another 15.6" laptop with a number pad 2. As a Star Wars fanboy I found that video tacky 3. They missed the opportunity to do a blue or green one

Beautiful!! Now MS (or Mozo Accessories) should make matching back covers for the Lumia 950 & Lumia 950 XL!!

Would be impressive IF it were capable of running Battlefield which this machine most definitely cannot Posted via the Windows Central App for Android

With a GeForce 940M? Why not? Posted via my HTC One (M7)

If this was being marketed as a gaming system maybe you could complain. Since its not, take it for what it is, a tie in to the new movie not the game.

Anyone have a link to full prices and specs?

I would like to see a star trek version with LCARS all over (even special system icons and customized live tiles to fit the LCaRS theme).

I wish the Surface Book came with this design. Or at least the battle worn metal finish. I'm really not a fan of white / silver devices.

Wow.. Want..!!
But when opened, will the darth vader pic upside down..?

**HP Star Wars Special Edition notebook will awaken the force starting at $700 $699.99 only!** FTFY. LOL.