HP Z2 Mini G3 review: The workstation for shrinking workspaces
HP has built a workstation for designers who value their desk space.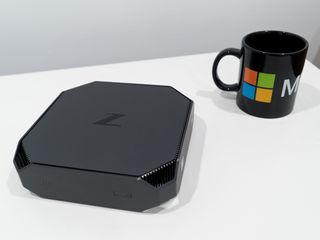 The HP Z2 Mini G3 packs the performance of a traditional business-class tower in a case that's a tenth of the size. University computer labs, co-working spaces, or creative professionals looking for workstations in a small form factor will be happy with the Z2 Mini. It couldn't possibly be perfect, but is it worth your wallet's attention?
HP Z2 Mini G3 Specifications
The HP Z2 Mini G3 starts at $699, but our review unit priced at about $2,000 came with these specifications:
Swipe to scroll horizontally
Category
Z2 Mini G3
Processor
Intel Core i7-6700 processor
Graphics
NVIDIA Quadro M620 Graphics
Storage
256GB Z Turbo Drive (OS image)
1TB SATA HDD (Data)
RAM
32GB non-ECC RAM
OS
Windows 10 Pro
There are plenty of ways to configure the HP Mini G3. HP lets you add 6th-generation Intel Core, 7th-generation Intel Core, or Intel Xeon E3 processors. You even have the option to get Windows 7 Professional or Linux. RAM options go up to 32GB, and you can get a combination of SSD or HDD for storage. While the entry Z2 Mini G3 includes integrated Intel HD Graphics, those who require more power can choose to add a dedicated NVIDIA Quadro M620 Graphics with 2GB video memory.
HP Z2 Mini G3 Hardware
The HP Z2 Mini G3 takes up a tiny space by measuring in at just 8.5 x 8.5 x 2.3 inches (21.6 x 21.6 x 5.8 cm). You can place it on your desk or get the optional VESA mount to attach it behind a monitor or under the desk. The design is simple and doesn't scream for attention. The black body with chrome accents make the hardware look attractive, yet professional. On the front of the box is a power button that glows white, while the left side holds two USB Type-A ports and headset jack. The back of the HP Z2 Mini G3 has plenty more ports: four DisplayPorts, two USB Type-C ports, two USB Type-A ports, Ethernet jack, serial port, security slot, and power input.
Even though there are plenty of ways to configure the HP Z2 Mini, it's easy to get inside the system if you need to upgrade or replace components. The cover latch is on the back, and it pops off the top cover. The two memory slots can be accessed by lifting the bigger fan with no tools required.
The Z2 Mini G3 includes a wireless keyboard and mouse, but they're nothing to be excited about. They're already configured out of the box, and you just need to insert the USB dongle to one of the USB Type-A slots on the workstation. You can certainly type with the keyboard without issues, but the keys are stiff to click. It doesn't look good either. I recommend getting the Surface Keyboard instead.
It's the same story with the included mouse from HP. It works fine, including the standard two buttons and scroll wheel, but the design is uninspiring. I think you'll be happier with a Logitech MX Master, which adds a few more options.
The included keyboard and mouse are serviceable, and will do well enough for the sort of bulk purchase corporate environments where the Z2 Mini G3 is likely to see deployment.
HP Z2 Mini G3 Software
Our review unit includes Windows 10 Pro, but you can also choose to get Windows 7 Professional or Linux. There are several pre-installed apss, but HP Performance Advisor stands out. It's an effective way to make sure your computer is always operating at its optimum potential. For example, it can tell you if your graphics card has the latest drivers and if it has been certified. Another interesting section of the application shows a report of the hardware sensors such as the CPU fan speed and chassis temperature.
The HP Z2 Mini G3 performs great with everyday tasks. With 32GB of RAM, opening and switching between multiple apps is snappy. Adobe Creative apps like Photoshop, Lightroom, and Premiere Pro are also smooth. There's no lag while editing a 4K sequence in Adobe Premiere Pro and it takes about 20 minutes to export a 10-minute 4K video.
Efficiency and productivity are very important to workstation users, so it's good to know that HP workstations are tested, proven, and certified by Independent Software Vendors (ISVs). The certification makes sure that HP's workstation hardware solution is compatible with the software products such as AutoCAD, SolidWorks, ArchiCAD, and Sketchup.
The fans on the HP Z2 Mini G3 are so quiet that I sometimes forget they exist. I'm reminded of them when they turn on during a video export, but they immediately go silent when the export is done.
HP Z2 Mini G3 Benchmarks
Swipe to scroll horizontally
Benchmark
Score
GeekBench CPU
16301
GeekBench CUDA
42607
CrystalDiskMark
1212 MB/s Read
1505 MB/s write
PCMark 8 Home
3827
The fast disk read and write speeds stand out thanks to the HP Z Turbo Drive, however, our review unit only has 256 GB capacity. The secondary 1TB SATA HDD is much slower at with 141 MB/s Read and 136.5 MB/s Write. For video editing, I'd store my media in a faster external SSD. But for most, the hard drive is good enough for storing documents, photos, and other files. The PCMark score also ranks the Z2 Mini G3 better than 79% of all results.
HP Z2 Mini G3 Bottom Line
Size, performance, reliability, and configurability are the four reasons why the HP Z2 Mini G3 will be purchased by those in the target segments. The size of the HP Z2 Mini allows users to deploy it almost anywhere and it's certified to run smoothly with several professional applications. This workstation can also be ideal for finance, digital signage, and surveillance because it can drive up to six displays natively. It's also great in a classroom because of its competitive price and the ability to mount it behind the display. For everyone else, no matter how you configure the Z2 Mini, there will certainly be less clutter on your desk. Just make sure to get a better mouse and keyboard.
Pros:
Lots of configurations available
Very quiet
Small size
Excellent build quality
Cons:
No built-in speakers
No Thunderbolt 3
Get the Windows Central Newsletter
All the latest news, reviews, and guides for Windows and Xbox diehards.