HTC HD7S for AT&T hitting 'in coming weeks'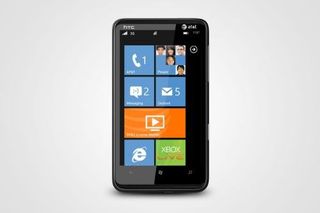 HTC and AT&T have taken the lid off the HTC HD7S, a Windows Phone 7 device sporting HTC's now-favorite 4.3 inch screen with Super LCD technology, a 1GHz processor, SRS WOW / Dolby Audio, and a 5MP camera 'round back capable of 720p HD video recording flanked by a dual-LED flash. NoDo / Copy/Pase will also be on board.
In other words, we seem to be looking at an AT&T version of the HD7, albeit loaded up with AT&T's "suite" of software like U-verse for TV and tha swanky Super LCD (which fixes the HD7's biggest problem, in our opinion). We're on the ground at CTIA Spring 2011 and we'll bring you more as we get it!
Full press release after the break
Windows Central Newsletter
Get the best of Windows Central in in your inbox, every day!
So is this exactly the same as tmobile hd7? Does tmobile hd7 have Super LCD?

No, the T-Mobile doesn't have a Super LCD, in fact the T-Mo HD7's screen is just terrible, one of the worst I've ever used. So Super LCD is pretty huge.

This is why I hate HTC, couldnt they have used the same screen tech for the T-mo version? I tried it for 2 weeks and as you said the screen was terrible, made even more evident when I foolishly compared it to a Samsung Focus. What a crappy company.

I knew it! The phone I really wanted was the HD7, but didn't want to go with T-Mobile (which is what I have for my work phone). I'm diggin' the Focus but I don't know if this build on this phone will hold up. I'd like to keep the phone for at least a few years.And Super LCD on top of that? Sweet! I've only had my new phone with AT&T since Friday. I wonder if I can get the HD7S instead?

Yeah, I'm in the same boat. I wanted the HD7 too. Lucky for you, you have 30 days to return the phone or exchange the phone. So if this hits within 30 days from the purchase of ur phone. You should be able to exchange. You luck dog!

Is it 30 days with AT&T? I thought it was 14 for some reason.

The last time I did it, it was 30 days. But that's been ages. You might want to call AT&T to verify.

AT&T is 30 days, Sprint 30 days, T-Mobile 14 days, and Verizon 14 days.

I have been reading the display on the HD7 wasn't very good so I'm hoping the Super LCD is a nice upgrade. It'll be tough to top the AMOLD display on the FOCUS.

Super LCD is comparable to Super AMOLED, but Super AMOLED Plus will beat Super LCD.

Yea, the Super LCD is a little more detailed looking but, the Super AMOLED will be brighter and better contrast.Still very comparable... SLCD is a very nice display, a big stepup from what the HD2/7 had...

Nice bit of news, but what we really need (besides updates for current WP7 devices) are some totally new phones. Hope we get to hear about the next batch soon, April is almost here.

Here's a question about HTC & Win7. Does it have the same issues with the SD Card like my Focus is having right now? Does installing the SD Card permanently lock it to the HD7?

That's not an issue but by design.

Well, true. The issue I was referring to is the reset issues on the Samsung Focus after an SD card is installed.

Since 3rd party SD cards are technically not sanctioned or supported by Samsung/Microsoft/AT&T, it's not really a bug. These devices require very specific cards to work "right".

So this phone isn't 4G though right?

Doesn't sound it. Then again, AT&T's "4G' really is a stretch anyways.

Why does everyone hate the HD7 screen, its not bad at all. Maybe its no super amoled but is the difference THAT mind blowing. Oh no if i turn the HD7 at an awkward angle the color fades, who cares. Its all about the OS anyways, I am perfectly content with the screen resolution and quality and it doesn't even make my list of complaints about the device/OS.

Nah, I'll do a video on it maybe this week. Have the dark theme on and scroll your app list (or rock it up and down very quickly), now watch the text. See the ghosting of the the words, the blurriness? That's *not* normal nor found on any other WP7 device. It's a unique "feature" of the HD7 and it looks terrible.Any other WP7 phone, when you scroll, text stays sharp and crisp. This is but one example but it demonstrates a key difference with the screen which will exhibit itself in other users of the phone.

I'm not saying the other screen aren't better but I never even noticed that blurry text thing. It simply doesn't bother me that much. Maybe its because I had this phone first and not another wp7 device but I have played with a focus and I can't say that I was thinking that I really wish I had that screen instead. Personally, I prefer the design of the HD7 over the focus so that beats it out in my opinion. Video is clear and thats the biggest thing for me about having a large screen device. Beats the **** out of my t-mobile mytouch 3g slide that I had before I picked this phone up so I am content. Even if the DVP looks better its had so many damn problems that I am glad I opted for the HD7.

I have to agree, I don't notice any blurring at all. But then I stare at screens all day. Even the best desktop displays blur during scrolling, but I only notice it when specifically looking for it. None of my desktops have Super AMOLED displays, so...Otherwise, I know my HD7 screen isn't the best. In fact, I made it even "worse" by putting a matte screen protector on it to kill the extremely annoying (to me) reflectivity. When I look at a display I want to see content; if I want to see my ugly mug, I'll look in a mirror.

It truly is a drastic difference tho onlywaytomo. The DVP & Focus look obviously better.

LIFE JUST GOT MORE COMPLICATED.eFF.....but......yeah!The race is on...will Verizon release the Trophy first? Or will AT&T officially be in North Dakota first?My life is in shambles.

buying my phone w/o a contract looks like it will pay off. I had to get the surround but really wanted this phone. Im excited.

Hay AT&T buying T-Mobile is already effecting AT&T 's phone selection in replicating their lineup. Sweet.

You have to believe that the two announcements were both part of the big picture that we mortals are not privy to. No time to worry about phone updates in these exciting times at AT&T.

So when will this bad boy be in AT&T's site? I'm a newb when it comes to cell phone annoucements when compared to the actual street date.

Why another HD7, they could have released one of the other windows phones from Europe like the Samsung Omina7, LG Optimus, HTC Mozart. I do think it is great that they are getting a version of the HD7, but I wish HTC would have updated more than the screen. They should have added more memory, faster processor, more ram, and made it the first 4G windows phone. If Samsung can update the Vibrant to 4G, and drop it as a new phone. So why couldn't do the same HTC?

I despise AT&T but they know how to hit that sweet spot, ahhhh ... Nice!What to do now .......

I don't know why everyone is saying AT&T is releasing an HD7 with an upgraded screen. The TMobile version has a super LCD as well, at least according to the reviews/specs, etc.Am I missing something?
Windows Central Newsletter
Thank you for signing up to Windows Central. You will receive a verification email shortly.
There was a problem. Please refresh the page and try again.