Hunger Games: Panem Run is a movie-based endless runner game for Windows Phone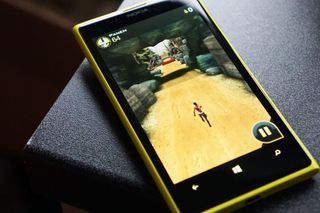 Fans of The Hunger Games movies can now run through the districts of the fictional nation of Panem in the newly launched free-to-play endless running game Hunger Games: Panem Run for Windows Phone devices.
Here's a quick description of the game, which comes to us from publisher Zapak Mobile Games:
The good news is that the game can also run on low-memory Windows Phones, so start running.
Via: Windowsphoneapps.es
Windows Central Newsletter
Get the best of Windows Central in your inbox, every day!
Another runner... Just what we need. Running man would be cooler.

Oh yeah...running man would be EPIC! 'Hey Christmas Tree'!!!

To early for promotion I guess..

Too many endless running games I guess..

I think there are more running games on iOS and Android. And there are more lame clones on their platform.

I've had enough of these mf running games on this mf phone. Luckily I don't take mobile gaming seriously, but some fresh ideas would be nice.

One could say there's too many First Person shooters on PC. It's all about how you design the game. Most do suck and just try to profit during the fad, but there are some unique ones. I found Despicable me minion rush to be a good one. It did however get boring after a while since they kept repeating the same worlds. The Sonic runner looks ok but I haven't really given it a chance since while it runs on the 520, it does slow down and not exactly fun with such a small screen. The PC version doesn't support gamepad so that's a shame. There's a bunch of good games that aren't runners like: "chronology: time changes everything", "Manuganu 2", "hopping penguin", "firefly runner", "Hexic rush" , etc... The store is a mess though so we probably don't end up finding a lot of good stuff. Heck even the search in the store is a huge mess. I told my bro to search for GymAce and he searched with 2 separate words and the app doesn't show up anywhere in the search. I mean come on. It finds things like "blackjack".

It's not about being named as " endless running game ", it's about how the game is done, for me the best runner game is Octagon, it's about the same idea of subway surfers, sonic, the hunger games or whatever, but it's just new with good music and it's really challenging and addictive!!

Better later than never. This game was released in 2013 for Catching Fire's promotion on iOS and Android.

Running game again what is wrong with human intelligence the idea is to change and progress improve not copy and stay the same

Runner games are boring now!! Find some new ideas or other people with imagination! No one plays runners anymore because they really do suck.

A Maze Runner movie game might be a nice idea...

There already is one on ios

No. It's not. That's a completely different game.

I don't play this kind of games. But more of these apps or games come to windows phone definitely is something good for the platform! We just don't want to run android apps on our Windows devices! Microsoft you hear us!!!!!

... after some error installed fine. will try.

Sadly not available here in Brazil. Please devs, you can use PEGI or ESRB certificates to publish in here.

Graphics r pathetic, a temple run ripoff, don't download nd waste data