Ice Age Avalanche promises puzzle game fun on Windows Phone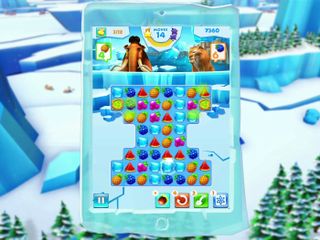 Fans of puzzle games like Candy Crush Saga might find something new to play with Gameloft's just-launched Ice Age Avalanche for Windows Phone. It's a free-to-play "match 3" puzzle game that's based on the popular animated movie series.
The game features the movie's main characters like Sid, the constantly talking sloth, Manny, the "ordinary guy" mammoth, Diego, the wise-cracking sabretooth tiger, and Scrat, the squirrel who just love to collect nuts. Here's what players can expect:
In a new match-3 twist, slide fruit in any direction!
Conquer puzzling challenges including Stockpile, Acorn Avalanche and Fruit Sculptor
Use incredible boosters to turn any stage to slush!
Experience an ALL-NEW, hilarious story featuring your favorite Ice Age characters
Explore new lands including the Prehistoric Jungle, vast Grasslands and gargantuan Glacier
Overcome obstacles by completing unique Scrat levels
Compete against Ice Age characters in epic boss battles in a race to reach the treasure!
Show your nice side and send gifts to other players...
...then beat them in real-time head-to-head ""snowdowns""!
Rise to the top of the leaderboards!
Participate in fun daily and weekly events!
Gameloft is launching the Windows Phone version of Ice Age Avalanche at the same time as the iOS and Android versions, which shows that the publisher is still a big support of Microsoft's mobile OS. The game is also compatible with 512MB devices. The game is slated to be released for Windows 8.1 but a link has yet to be published.
Download Ice Age Avalanche from the Windows Phone Store (Free)
Windows Central Newsletter
Get the best of Windows Central in in your inbox, every day!
How many "match 3" games do we need?


You mean disney match games

Actually some ice age fans my find this game more interesting than any other similar game

Dude, ppl only know to launch match 3 games... Really annoying ... Nothing new.. The alien is different but quite boring after 30 minutes ...

Glad to see that some devs support all ecosystems simultaneously than MS whose first priority is to create the apps for Android and iOS.

I prefer more Pastry Paradise. Come on Gameloft, make it a Xbox tile. :)

Inapp purchases and Ads? I think ill stick with candy crush

Me too! All gameloft games are freemium lol I don't play any of em.

I hope its more fun in the long run than Puzzle Pets. That Gameloft match three game lost me after a while. it didn't have the staying power of Candy Crush and Frozen Free Fall, imo

Not available for Lumia 1520 (wp8.1 denim) in Italy....why?

Windows phone is fuckerrrrrrrrrrrrr

Not same android....android phone is battle

Android phone so many game and app.....windows phone is fuckerrrrrr stupid os

Fuckinggggggg I'm windows 10 update my phone fuckerr so many error

Fucking gameloft maybe 10 games only 10game

Someone please get his medications

Sweet gameloft all the way

I'm in Italy and I can't download this game...It says that it's not available for my country...Anyone else having the same issues?
Windows Central Newsletter
Thank you for signing up to Windows Central. You will receive a verification email shortly.
There was a problem. Please refresh the page and try again.