If Microsoft doesn't kill at BUILD 2017, the Surface phone may be dead on arrival
Since Windows Phone 7's debut in 2010, Windows phone fans have been waiting for Microsoft's mobile efforts to take off. That never happened.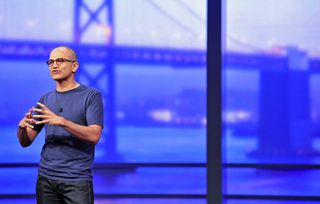 That reality hasn't stopped fans from hoping nor has it stopped Microsoft from trying. Microsoft's CEO Satya Nadella's faith, as well as that of a host of die-hard fans, rests in part on what Nadella calls an "ultimate mobile device" that is "beyond the curve." Fans call it the Surface phone.
A Microsoft Future Vision video showed us a foldable and modular "phone" that bears much in common with a recently revealed patent. Moreover, full Windows on ARM inspires visions of a telephony enabled, Continuum-powered ultramobile Surface. Still, there's no confirmation what this device will ultimately be. But we do know what it's supposed to do: Change the game.
I've already analyzed the critical role Microsoft's ecosystem plays in relation to the success of the Surface phone — the device is important, but the ecosystem is the other part of Redmond's ultimate mobile device strategy upon which Nadella's faith rests.
Since cellular PCs are due to arrive relatively soon (later in 2017), and a Surface phone by early 2018 (in light of a dearth of developer support that has plagued the platform) one is led to wonder if Microsoft's ecosystem will be ready for an ultimate mobile device.
Microsoft's BUILD developers conference this May will be the company's opportunity to make an 11th-hour appeal to developers in preparation for the company's "game-changing" move. Here are some areas that I think Redmond will or should address during BUILD 2017.
Project Centennial: From Win32 to UWP
Project Centennial is one of the three remaining app Bridges that were announced during BUILD 2015. IslandWood (iOS) and Westminister (Web) are the others. App Bridges provide developers with the tools needed to turn their existing apps into Universal Windows apps. Microsoft's Desktop Converter with Project Centennial begins the process of converting Win32 apps into full UWP apps.
A Continuum-powered device that can be navigated via a mobile-friendly adaptive shell one moment and project full PC apps to a larger display the next is indeed the ultimate mobile device. Win32 apps converted to full UWP apps via Project Centennial have great value in such a scenario.
For Microsoft to get the full value of Win32 apps in a mobile and app-focused personal computing world, making those apps mobile-friendly is essential. Project Centennial's Convert, Enhance, Migrate and Reach All process endows Win32 apps with the features, device agnosticism and XAML UI of full UWP apps.
Always-connected cellular PCs and the Surface phone will need legacy apps to be "modernized." In preparation for these devices, I predict that Microsoft will make a major appeal to developers at BUILD 2017 to win their support to Project Centennial. If a Surface phone with full Windows and Win32 apps is to succeed, they must.
Microsoft's Project Centennial app Bridge makes sense of Win32 apps on phone
Xamarin, one tool for "one" target
One of the significant barriers to Microsoft winning the type of developer support competitors Apple and Google have, is the way in which developers perceive mobile. Most developers "think" iOS and Android when they consider developing for "mobile." Windows is often an afterthought if it is considered at all.
With the acquisition of Xamarin, Microsoft has embraced the arduous task of changing the way developers think about developing for "mobile." The acquisition further positions Microsoft's ecosystem as a platform for developing cross-platform apps.
By providing developers with the tools to essentially write code once for all platforms (iOS, Android and Windows), Microsoft strategically elevates its platform to the same priority level as the two leading platforms. This single development platform that target's a single "mobile conglomerate" rather than individual platforms can help to change the way developers perceive mobile.
Given the brief window available to Microsoft between BUILD 2017 and the Surface phone Microsoft will need to use BUILD's platform to convince developers to embrace thinking of "mobile" as a single target that can be addressed via one development tool. If the Surface phone is to succeed changing how developers think, though difficult, is necessary.
Wand Labs: Who needs an app for that?
Last year Microsoft bought Wand Labs. This small start-up developed a messenger-based technology where a user could use an app that they didn't even have on their device. Wand breaks an app into components called "atoms." These atoms, (whether a song, movie, etc.) are recognized by Wand, and decoded information is converted into virtual apps stored as Wand plug-ins.
I presented an analysis of how Microsoft might incorporate this technology into its Conversation as a Canvas platform strategy:
If there was ever a time for Redmond to work some magic, and apply Wands unique tech, BUILD 2017 is the perfect stage for Microsoft to excite and wow developers.
What of the web
In my "The untold app gap story" series, I said that the mobile web is a more engaged platform than mobile apps.
Web properties are twice the size and growing twice as fast as app properties. Microsoft's AI and bots strategy seeks to optimize on this deference away from apps by utilizing highly engaged messaging platforms as the canvases for intelligent bots to facilitate certain tasks traditionally relegated to apps.
Could a Google's Instant Apps-like solution be another area for Microsoft to invest? Because Instant Apps use parts of existing apps Microsoft, given the app gap, cannot replicate it at the scope Google can facilitate it.
Still, given Microsoft's underdog position, Build 2017 is their opportunity to make a case for such a strategy in conjunction with an unprecedented push of its bots strategy.
Desperate times call for desperate measures
BUILD is Microsoft's annual stage where the company appeals to developers with keynotes and presentations expounding on the technical details of how they can be a part Microsoft's latest and greatest innovations.
That's practical. But it may not be as effective as what's needed as we approach the debut of the Surface phone. Especially since each year the presentations are great, but the developer support is still not where it needs to be.
The competition is brutal and Microsoft, as they make the intellectual appeal to developers by trying to sell them the benefits of developing for Windows, may find that developers investment in other ecosystems is a barrier to them investing in Windows. What Redmond may not be considering is that many developers, like all of us, are emotional beings.
They may need to see something drastic and unorthodox to cause them to really "see" the Windows ecosystem as something worth investing in. Desperate times call for desperate measures. Perhaps a permanent reduction in the percentage Microsoft requires from developers, or even a temporary elimination of that fee altogether, would be sufficient to get developers attention.
It would certainly communicate that Microsoft is serious about getting developers on board. They would, as the old saying goes, be putting their money where their mouth is.
I expect to see game-changing efforts from Microsoft at BUILD 2017 to engage developers as Redmond attempts to bolster its ecosystem for the debut of the Surface phone by 2018.
Microsoft, if you're listening, knock 'em dead.
What do you think Microsoft should do to win developer support?
Following the story
Windows phone isn't dead
Smartphones are dead
The untold app gap story
AIs, Bots and Canvases
Microsoft and the duo user
Windows Mobile and the enterprise
The Surface Phone
Get the Windows Central Newsletter
All the latest news, reviews, and guides for Windows and Xbox diehards.
Jason L Ward is a columnist at Windows Central. He provides unique big picture analysis of the complex world of Microsoft. Jason takes the small clues and gives you an insightful big picture perspective through storytelling that you won't find *anywhere* else. Seriously, this dude thinks outside the box. Follow him on Twitter at @JLTechWord. He's doing the "write" thing!