IFA 2015 preview
The last of the year's big trade shows is almost upon us as we pack our bags and head to Berlin, Germany for IFA 2015.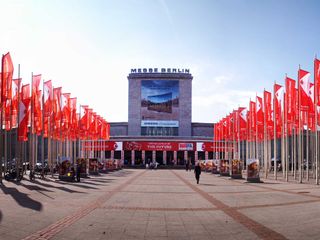 IFA is more like CES in the sense that it's a full-on consumer electronics show, where something like MWC is focused on mobile. That means that besides smartphones and tablets you'll find laptops and connected smart-devices nestled between the halls filled with toasters and washing machines.
In particular, IFA often has a large contingence of PCs. Perhaps not on the scale that you'd find at Computex, but nevertheless abundant. There's no Lumia event scheduled as was initially rumored, but Microsoft is an exhibitor this year and will be presenting an OEM partner focused keynote.
So, what are we expecting to see, hoping for or just taking a wild stab in the dark at? Here's our full show preview.
Microsoft is in town for 2015
Microsoft hasn't exhibited at IFA in years past, despite the sheer volume of Windows devices that usually appear. This year, that all changes. Microsoft has a booth (or two, as the show guide seems to imply) and will be presenting a keynote at the impressive Citycube facility on Friday, September 4. And we now know Microsoft will be livestreaming the whole thing.
Delivering it will be Nick Parker, CVP of the OEM division at Microsoft. The theme is of course, more Windows 10. Parker delivered what we would assume to be a similar style of event in June at Computex Taipei, and used it to show off some very exciting new Windows 10 devices. While we have no indication as to what could be unveiled in Berlin, Computex heralded the world debut of the new Dell XPS 15, a super-secretive tablet from HP and a stunning Ultrabook from Toshiba among others.
One thing we can pretty safely say is that this presentation will not discuss Surface or Lumia. Nick Parker handles third-party relationships at Microsoft, meaning the likes of Dell, ASUS, Toshiba, HP and so on. First-party hardware is not in his remit. The latest rumors point to a separate event in the U.S. in October for news of this variety.
The Windows 10 device ecosystem is going to be pretty huge, we know this from Parker's last presentation in Taipei. With companies like Dell and Toshiba already unveiling exciting new products with Microsoft's latest and greatest in mind, who knows what else is in store.
No Dell, plenty of Lenovo
Of all the companies making Windows laptops this year, Dell and Lenovo stand out as two that impressed us the most. With the likes of the XPS 13 (and soon the XPS 15) and the Thinkpad X1 Carbon, both have made substantial efforts to climb to the top of the tree.
In terms of IFA presence, we've been told Dell has no specific plans. That's not to say their devices might not be floating around, perhaps at the Microsoft booth, but we're not expecting any new announcements. Not unless Nick Parker drops a bomb like he did in Taipei with the XPS 15 during the Microsoft event.
Lenovo on the other hand will be there in force. With a press event planned for Wednesday, September 2, we're told to expect a whole bundle of new announcements. The kicker there, of course, is that Lenovo announcements will almost certainly be across both Windows 10 and Android.
Toshiba and HP could have something new
We've been told to expect something new, related to Windows 10, from both HP and Toshiba in Berlin. That's about all the information we've been given, but it's also not unexpected. HP is still to show in more detail the "revolutionary note taking tablet" that debuted (briefly) at Computex. Will we see more in Berlin? Who knows, but we're certainly hoping.
ASUS likes to announce things
Whenever there's an ASUS event going on you usually get two things: Entertainment and plenty of new devices. There is an event going down in Berlin, but beyond the Android Wear powered Zenwatch 2, we're not really sure what else to expect. Recent events have seen new tablets, laptops and desktops, and it wouldn't be too far fetched to anticipate seeing something with Windows 10 on it in Berlin.
The event takes place on Wednesday, September 2.
New Acer phones?
A rumor surfaced some weeks ago that Acer was going to take a grand total of 4 new Windows Phones to Berlin (or Windows 10 Mobile phones, as would probably be more accurate.) All has been quiet since, but one thing that is confirmed is that Acer will be in Berlin hosting a press event on September 2.
The invite is styled in such a way that it suggests Acer's Predator gaming line could be featured, or we could be reading more into that than is necessary. Again, we saw a couple of new launches from Acer at Computex in the summer, and as a pretty serious Windows partner we'd expect at least something with Windows 10 on it in Berlin.
Acer got back into the Windows Phone game at Mobile World Congress with a promise to update that phone, the M220, to Windows 10 Mobile. Whether that happens still remains to be seen, but it showed a renewed commitment. Will there be new phones in Berlin? We'll soon find out.
Everything else
IFA attracts manufacturers from all around the globe. For Microsoft, it's all about the partners, and there's always the chance that names we haven't mentioned here could spring a couple of announcements. There are smaller, locally focused Windows Phone makers that may have something either directly, or through Microsoft. There's also the likes of Samsung and LG that while not massive Windows partners these days, could always slip in some new announcements.
We're on the ground beginning September 1, with events starting on September 2. We'll be posting links to any liveblogs and livestreams closer to their respective times so keep it locked to Windows Central for the best from Berlin next week.
Windows Central Newsletter
Get the best of Windows Central in in your inbox, every day!
Managing Editor - Tech, Reviews
Richard Devine is a Managing Editor at Windows Central with over a decade of experience. A former Project Manager and long-term tech addict, he joined Mobile Nations in 2011 and has been found on Android Central and iMore as well as Windows Central. Currently, you'll find him steering the site's coverage of all manner of PC hardware and reviews. Find him on Mastodon at mstdn.social/@richdevine
4 things I am waiting for: 1. SP 4 2. hp spectre x 360 with windows hello 3. dell xps 13 with windows hello 4. asus aio

I am waiting for a 2in1 or tab in 10inch category with windows 10 as I am on the verge of purchasing one.. hope I get one to buy..

yes, new hp spectre please :)

They only recently released the Spectre 360, I can't imagine an upgrade on that so soon.

Yes...I'm wating to hear some news about the Asus AIO.

I'm waiting for W10M release date

Except that's not happening here. I mentioned that in at least two places in the post.

Hey Richard, whatever you do please don't take Brad Pitt with you. Cause he'll start killing those Germans. J.k.

don't expect it until after the launch of win10 mobile, MS is not going to lauch a budget device while launching the new OS, they are going to do it with a flagship or two..

No 730 successor coming. Only 4 phones are on the way. Successors of 830, 930 &1520 and surface

It's going to take a LOT of effort to drag me away from Microsoft first party products. OEMs have stuffed us for years and now Surface and Lumia are here. Only the mighty XPS13 has tempted me so far, but the SP3 won that battle in the end

and also spammy adwares (lenovo for example) that come with others, surface doesn't have those as far as I know.

Microsoft could do much better than their OEMs in the hardware front, but for the fear of losing OEMs they're limiting their devices and instead promote OEM's devices! For Windows 10 PC it makes sense but they should stop licensing the Windows 10 Mobile to OEMs and make their own Lumia/Surface phones and tablets.

Am not looking to expect anything from MS at the end of this year, especially with the awful leaked devices which they says high-end phones with plastic on it! they even sent the 830 to EOL! That was a pretty good phone with metallic frame. Huh..

The 830 was a very good phone but they killed it with the price they were asking for it. The 640 is not as good, but is selling well because of the price. I replaced my old 820 with one. But I kept the 820 as my backup ​

Metal != high end. Plastic phones can still be high end. Ya know, like the 1520 was.

It also means no wireless charging unless you have a plastic back. I don't understand why everyone automatically assumes you have to make a premium phone out of metal.

Exactly. Most metal phones (aluminium) are even less durable than plastic phones.

that's usually coming from iJUNK users, since the ""ONLY""thing iJUNK phn has and going for them. An aluminum foil that bends in iSHEEP pockets when they sit down(#bendgate). If you notice, iSHEEP will NOT EVER brag about iJUNK's garbage Camera, Screen, Battery, Limited NFC, after all the years finally copied big screen phns, NO MicroSD slot, NO 5 pix front camera,............................and so many features that iJUNK is lacking. oh no you will NEVER hear them bragging about those 4 years old technology iJUNK6/6+ has. Just garbage aluminum body that bends, its all they have. What a joke.

Mostly I prefer plastics to metal. Especially since wireless charging and metal case don't go so well together

yeah especially since there are many premium android phones that still use plastics so why not Windows Mobile?

Hmmm... Because they are android phones! Why apple didn't made iPhones built with plastic?! Even 5c is dead now, no body wants it. For me I want a phone feel premium just look at the S6 and S6 edge they are crazy. Imagine they are running w10.

Actually it's all but given that Apple will announce a 6c in a couple of weeks. I'll take my old plastic 920 & current 1520 over most metal phones thanks, their solid and sexy.

Why do you let Apple determine what looks "high end"? "They're not doing what Apple does so the phones look like crap." Bullshit. I far prefer high end durable plastics... iPhones need to be kept in a case hiding what they look like, or they only look like that for a week. Just one of many Apple shams that the sheep blindly follow.

I think you are right poddie! If you look on the street virtually all phones are used with a case, making the argument for metal phones mute. Of course, I use my lumia 635 without a case (just replaced the back with a bright green back and it looks great!

Wonder if we'll see anything more than the usual, thinner, lighter hype this year or something actually innovative.

Making a device thinner , lighter is a kind of innovation itself..

Expect Skylake galore, thinner and lighter is definitely a thing with Skylake devices (go check out our coverage of Computex to see Intel's reference devices.) HP still has its super secret note taker we haven't really seen yet, and who knows what else.

If we got an LG G4 flavored Windows 10 Mobile phone with the same robust manual mode that would be awesome. Also a Windows 10 Mobile styled Galaxy S 6/Edge/Note 5 would be welcomed cause Samsung actually made some beautiful devices this year.

Well the manufacturers need to see a profit and incentives to be able to make those phones with Windows 10 Mobile. Right now things are looking pretty slim, but probably will improve in 6-8 months

It hasn't improved in 4 years with Windows Phone 7/7.5/8/8.1, why would that change now? Windows 10 doesn't bring anything new to the platform, just more of the same. Posted via the Windows Central App for Android

I see you in the article, Shadow of Mordor's Nemesis. So cool, just wish that game had stepped up the difficulty. I hope Microsoft won't make us wait until that OCtober event to find out what this Lumia mess is all about. I've been waiting on this for, like, 2 years.

Will Asus announce a new version of it's tp300 convertible??

wish i could get there.. i am just a student so no way i could fly from India to Germany. :((( Got invite from ASUS.. missed it. GOOD LUCK to Showcase team and Mobile Nations Team

What if MS announce the real Flagship now? Those hideous renders and October event are just a ploy?

No Lumia event. The Microsoft event is nothing to do with first party

I always wished to have Asus zenphone running widows 10
Windows Central Newsletter
Thank you for signing up to Windows Central. You will receive a verification email shortly.
There was a problem. Please refresh the page and try again.