Imperia Online 'epic' real-time strategy for Xbox on Windows Phone (Update: Now for Windows 10 Mobile too)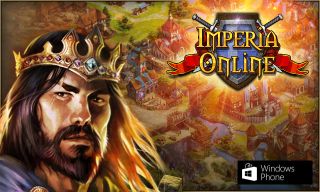 Update: Game Troopers has now informed us that Imperia Online is now available for Windows 10 Mobile too. Evidently there were some "delays in the store sync", which caused the game to initially be available only for Windows Phone 8.1 devices. This issue has now been resolved.
For those looking for the latest craze on mobile devices - epic real-time strategy – you have a new Xbox flavored title for Windows Phone with Imperia Online. Popular devs Game Troopers have released the free to play (with optional in-app purchases) for all Windows Phone 8.1 devices, including those with 512 MB of RAM.
Imperia Online has been around since 2005 as a web-based militarist strategy game with a medieval theme. With over 20 million players worldwide the game should be an immediate download for Windows Phone users around the planet. In 2014, Imperia Online launched on iOS and Android and now Windows Phone in 2015.
Cvetan Rusimov, COO at Imperia Online, note in their press release:
Bonus: "As a welcome pack, if you download and install the new app in the first 14 days of its launch, you'll be granted 48-hour income chest and 7 days of Premium membership!"
While Imperia Online does not quite match the popularity of some other strategy games, it should give fans of such titles something to look forward to playing. Watch the announcement preview trailer above or head to the Windows Phone Store to start playing!
Note: Currently the game is not showing on our Windows 10 Mobile device, only for Windows Phone 8.1
Download Imperia Online for Windows Phone 8.1
Daniel Rubino is the Editor-in-chief of Windows Central, head reviewer, podcast co-host, and analyst. He has been here covering Microsoft since 2007 when this site was called WMExperts (and later Windows Phone Central). His interests include Windows, Microsoft Surface, laptops, next-gen computing, and for some reason, watches. Before all this tech stuff, he worked on a Ph.D. in linguistics and ran the projectors at movie theaters, which has done absolutely nothing for his career.
So... Who said the game was named something with doors :D

I didn't say that but yeah, it's coming soon too, so I wouldn't blame the person for alleging that it would be the next game :)

I ain't blaming u, but I got ya ;)

Not for Windows 10 Mobile?

Doesn't look like it. Only showing for 8.1 at the moment. Could be just a Store hiccup though.

Lets hope just a store hiccup. Really want to try this game.

Hey Daniel, do you know anything about the Windows 10 Mobile Store error code "0x803F8001"? Been trying to update Whatsapp, but every time this error shows up.

It's a 'file already in use' error. Uninstall, and then reinstall.

I think it's related to temporary files in phone memory. I couldn't be erased. The previous installation temporary data maybe still there so the installation stuck in a loop, maybe?

So is this that secret one? Nice :) Gonna try later today.

No don't want online games

Please tell me strategy game, play without internet connection and less than 100 mb

If a little above 100mb would be ok , then I'd recommend kingdoms and lords.If not then It'd be Ice age village.

I don't know about playing without an Internet connection (unlikely, if it's an MMO), but it's only 83MB.

Game troopers ==> instant download !

After the dentist on my way to the nearest wifi. Thanx gametroopers

Game Troopers = Xbox Live Achievements

Is it like age of empires ? Coz if it is then don't want two games of same genre...

Seems like it - I'm sticking with AoE

What's the name of your alliance?

Thank you game troopers for this.....

What ass is downvoting people for liking Game Troopers? Reveal yourself!

Indeed. Everyone here should be writing Game Troopers love letters on a daily basis. They've done more for Windows Phone in the past 9 months than any other game developer.

Its not there on windows 10 mobile store or the problem is with my phone?

I want it for windows 10 mobile :(

Huh, weird that this comes out and isn't available on the day I decided to revert back to WP8.1. That said, I've enjoyed all the GameTroopers games I've played thus far (have yet to try Lines or Abyss) so looking forward to giving this one a shot.

Game Troopers = saving Windows Phone gaming since December 2014. <3

It has been available for some time.
Link:
http://www.windowsphone.com/en-us/store/app/imperia-online/4a7482e0-48e2... Posted via the Windows Central App for Android

Interesting. Is that the same game? Same original developer? It's been around that long? So, they just outsourced development for an already-published game to Game Troopers just so they can implement Xbox Live? If so, that's a good sign for future gaming development on WP.

Is that really the same game/server? It says I can't download it on my device. I was able to download the Xbox Live Imperia Online on my 1020 with no issues.

Haven't try it before, but I think YES. It was available til this game from game troopers released.

Yep no win10 support at least not on 640

Is this the secret game that Game Troopers were referring to in a previous article?

@Daniel Rubino Please inform people why it's not available in the Win10 store. It's due to the publishing takes way longer. All Game Trooper games has taken 1-2 full weeks until they've shown up in Win10 store.

"real-time strategy"?? If you mean the time it takes to build a structure in this type of games if you do not pay money to make it faster, than yes, it is real-time strategy.

How is this an RTS? It doesn't look/play/feel/work in any similar vein to any of the games that define the genre (and are sadly not really produced anymore). Total Annihilation
Supreme Commander
Command & Conquer
Warcraft
Starcraft

Is this game similar or just like MARCH OF EMPIRES by Gameloft??

I don't think win10m version of store is updated to include 'just released' games yet,we'll have to let Gabe know about this problem otherwise we'll have to wait around 2 weeks for store to update with the game.

I hope it's not toooo grindy and the future Windows 10 version needs to have cloud save / cross unlocking cheevos when released.

Nope... Not available to win10... Just tried and store gave the no page found error...

Right now just on WP, I think it's expected to be on Windows as usual.

Age of empire castle siege and march of empires are far more superior than this one... This game bored me to death. Just sayin'.

March of Empires is more enternaining

"Imperia Online is based on the worldwide hit real-time strategy game that is also available on iOS and Android." You mean "already" available on iOS and Android. "Also available" is used for Windows phones, not the other way around.

Who cares. We have the definitive version: Xbox integration. The iOS and Android versions are therefore comparably boring and inferior.

Yayyyy!its now available in windows 10 mobile store!!!!!

But it's not downloading.. :(

This game is not upto the mark worst game from game troopers

But anyhow thanks to game troopers for giving another Xbox title expecting more quality games from you

Royal Revolt 2 is better than this game . IMO but plus point is this game is Xbox achievement :) :p

Been try it. What I'm gonna say is "Throne Wars" from Flaregames and "March of Empire" are much better than this one.

This game is quite complicated for me...

Me too! Gonna try to stick with it until I figure it out but it definitely seems a bit overwhelming right now.

Looks like there's a few of these games I'm going to have to try out to replace Clash Of Clans, seeing as those jerks won't make a Windows version

Haha, I like how the word epic is between quotes. As if the author realizes that there is absolutely nothing epic or even interesting about yet another empire themed free-to-wait cowclicker.

Genreally speaking, 'epic' is one of the most misused words out there, so much so that it has lost its meaning.

2015? I started playing this game on my 1520 last year, 2014. But the game was a bit too heavy. I prefer throne wars, lately playing GL's MoE..

Cool. I love Game Troopers.
Windows Central Newsletter
Thank you for signing up to Windows Central. You will receive a verification email shortly.
There was a problem. Please refresh the page and try again.