What I'd like Xbox to improve in 2018
E3 2018 is coming up fast, and so is another Xbox news blowout.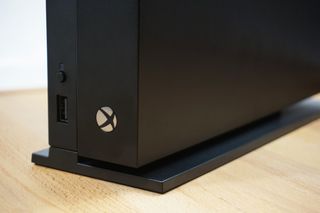 Every year at E3, the heavy weights of the gaming industry outline their plans for the remainder of the year, announcing new games, features, and hardware. With Microsoft enjoying some solid momentum on the back of the powerful Xbox One X, it'll be interesting to see how Redmond leverages its resources as it takes on Sony's PlayStation and a remarkably resurgent Nintendo.
Whether or not these are the smart choices is up for debate, but here are a few things I would like to see Microsoft improve in 2018, as we move through the year.
1. Games offering
I think first and foremost, Microsoft needs to move to reassure fans that it is capable of delivering "AAA" experiences that have become synonymous with Sony's PlayStation in recent years. Microsoft had a fairly strong start early on, but it hasn't had much luck with its first-party portfolio in general, save for the genre-dominating Forza series, and titles like Gears of War 4.
New IP like Quantum Break, RYSE, and Sunset Overdrive didn't seem to capture the audience's imagination in a way Microsoft likely wanted, despite being decent in their own rights.
Microsoft has found success licensing exclusivity rights over titles like PlayerUnknown's Battlegrounds and Cuphead, but when it comes to photorealistic action games that grab headlines and, presumably sell consoles and drive the perception of ecosystem value, Microsoft is coming up short.
Things are looking up already for Microsoft, with Sea of Thieves capturing remarkable mindshare on streaming sites, beating out titles like League of Legends and Overwatch for the top spot. Microsoft also plans to release Crackdown 3 and State of Decay 2 this year, with at least timed exclusivity for the intriguing Ashen.
Hopefully, Microsoft will begin to outline how it plans to win gamer's affections with its exclusive portfolio at E3. In previous years, Xbox lead Phil Spencer has noted how E3 is all about "games, games, games," and I doubt that sentiment is going to change this year. I just hope we see some big, bold, must-have titles that can slam home the idea that Xbox is the best place to be, without sacrificing the range and genre diversity Microsoft has put forward in more recent years.
2. Xbox Live communities, and that pesky Xbox app
As Xbox's platform team works to improve other areas, such as dashboard performance, other aspects that have been a tad neglected are becoming a little more obvious. The Xbox app for Windows 10 and other platforms is a pet peeve of mine, for it's unbearably slow speed, clumsiness, and generally poor usability.
Nowhere is this more apparent than Windows 10 itself, where the Xbox app is prone to crashing (particularly on the Game Clips page), while being miserably slow to navigate, as though you were struggling through a lake of treacle. Considering Microsoft uses engagement to illustrate Xbox's growth and success, Redmond could be doing a lot more in this area to provide a quality experience for Xbox gamers away from their consoles.
Discord has become the de-facto way to create and engage gaming communities online and mobile. Microsoft had both Skype and Xbox Live years before Discord even existed, which marks Discord's rise as a spectacular failure on Redmond's part. If Microsoft could fix the speed and usability of its Xbox Club systems, and its apps, it might have a shot at catching up. But as with many things Microsoft, it may be too late.
3. PC gaming and the Windows 10 Microsoft Store
Speaking of "too late," it would be nice if Microsoft at least attempted to make meaningful improvements to its oft-derided app and game store.
Many improvements to the Microsoft Store (previously known as the Windows Store) hinge on OS updates and platform features that simply aren't there yet. The app offering is an entirely different topic that I'm well aware Microsoft can't fix overnight (but, they are making steps, recently announcing PWA support). When it comes to games themselves, you only need to browse YouTube comments about Age of Empires Definitive Edition, which is a Microsoft Store exclusive, to get an idea about how people feel about this store. Gamers hate the Microsoft Store, and they have plenty of reasons to do so.
If Microsoft ever has a prayer of casting off any of the Win32 legacy that shackles Windows and prevents it from competing with more modern operating systems, getting gamers on board is an absolute must. Gamers drive PC growth, they represent some of Microsoft's most hardcore, savvy, and influential users, and Microsoft has pretty much done everything in its power to alienate them over the years. And it's a shame, because UWP as it pertains to PC gaming has some truly great features, such as Xbox Play Anywhere, Xbox cross-play, and more.
Hopefully, 2018 will mark at least some form of meaningful growth and development in this area, particularly if Microsoft has any desire to win over PC gamers.
4. Xbox hardware
With Kinect vanquished, I think we absolutely have to see some form of dedicated speaker play for Xbox One this year. For millions who purchased the OG Xbox One back in 2013, Microsoft made a promise that the Xbox One wasn't just a console, but the center of your home entertainment system. Without Kinect, that vision is a total bust.
The Xbox One picked up Cortana digital assistant support a couple of years ago, and her capabilities are practically non-existent without a microphone. You can use a headset microphone, of course, but sometimes when you're sitting in your living room playing games solo, you simply don't want to be wearing one.
Microsoft's failure to position Cortana has practically given the connected speaker market away to Amazon, who have come to dominate it with their Echo devices and their own digital assistant, Alexa. Alexa is even encroaching on Windows itself now, coming to PCs throughout 2018, and I wouldn't be surprised if it comes to Xbox too some day. Microsoft has all the tools and software features in place to make Xbox an incredible home automation center, hooking in Cortana to control IoT devices, your TV via the IR blaster on the Xbox One S and X, and beyond. The failure to capitalize on the Xbox's Cortana possibilities is staggering, and a continued point of perplexity for yours truly.
Beyond Cortana, we're likely going to see an updated Xbox One Elite controller this year, bringing in some much-needed refinements to the previous model. Hopefully Redmond can solve the quality issues with the original version, which suffered from wear and tear on the rubber grips and triggers.
Heading off into more speculative territory, it would be cool to see new Xbox One X SKUs this year as well, perhaps with expanded HDD space, or even a slimmed down version which omits the Blu-ray drive. However, to do that, they would need to improve the Microsoft Store for 4K content, which leads me onto my next point.
5. Movies & TV, where is the 4K goodness?!
Microsoft trumpeted "4K" with choral enthusiasm all throughout 2017, but when it comes to movies Microsoft's 4K offerings are, well, pathetic. Almost every new movie hitting the Microsoft Store is available in SD or HD versions, with only a handful coming in 4K. Apple, on the other hand, announced last year that they would be updating every HD movie purchase from iTunes to 4K for free as the higher resolution copies became available. Apple lists around 300 4K HDR movies in iTunes, Microsoft has maybe a dozen — what's the deal here?
Not only that, but Microsoft's maligned store was also left out of the Movies Anywhere party, which is a new consortium that aims to bring titles from Amazon, Google Play, iTunes, Vudu, and more, under a single roof. The very notion of investing in Microsoft's store for digital entertainment content might seem a risky proposition in general considering what happened to Groove Music, and Microsoft's (lack of) effort to improve the range of 4K titles available, combined with the Movies Anywhere fiasco, doesn't exactly bode well. Hopefully, Microsoft will work to improve things in 2018.
Wrapping up
On the whole I'm more than happy with my Xbox One, and the things it does well it does very well indeed. Third-party multiplatform games almost always look better on the Xbox One X, Xbox Live is arguably the most stable and user-friendly of all the major gaming platforms, and the features, from Xbox Backwards Compatibility, Play Anywhere, and now Xbox Game Pass, have just been getting better and better.
Where Xbox goes from here is anyone's guess, but I think 2018 will be an exciting one for Microsoft, as Gaming EVP Phil Spencer moves to implement his vision now as part of Microsoft's senior leadership team.
Where do you think Xbox is failing? Where would you like to see improvement? Let us know in the comments.
Get the Windows Central Newsletter
All the latest news, reviews, and guides for Windows and Xbox diehards.
Jez Corden a Managing Editor at Windows Central, focusing primarily on all things Xbox and gaming. Jez is known for breaking exclusive news and analysis as relates to the Microsoft ecosystem while being powered by caffeine. Follow on Twitter @JezCorden and listen to his Xbox Two podcast, all about, you guessed it, Xbox!