Inkscape makes its way to the Windows Store as a Centennial app
Inkscape, a leading vector graphics editing app, is now available in the Windows Store for Windows 10 desktop users. Check it out!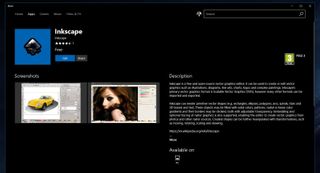 Inkscape is a free open-source vector graphics editor that's first debuted back in 2003, and over the years has gained a rather loyal following from vector graphic artists. Inkscape can be used to create or edit vector graphics like diagrams, charts, logos, paintings and more, and recently it was added to the Windows 10 Store as a Centennial app!
The Windows Store version of Inkscape appears to have been available for a short while at this point, and is listed on Inkscapes website as being a version of the app for users who may not be able to install apps from outside the Store, like on Windows 10 S for example. It works on all Windows 10 desktop editions, however.
It's worth noting that the Windows Store version of Inkscape is not compatible with "regular installations" of Inkscape, meaning any settings you have set on an already existing Inkscape installation will be lost if you make the transfer to the Windows Store version. Furthermore, Inkscape says they can only offer limited support for the Windows Store version, whatever that means.
Inkscape is in the Windows Store now as a free app, so if you're an Inkscape user definitely make sure you try it out.
Inkscape in the Windows Store (opens in new tab)
Windows Central Newsletter
Get the best of Windows Central in your inbox, every day!
Zac Bowden is a Senior Editor at Windows Central. Bringing you exclusive coverage into the world of Windows on PCs, tablets, phones, and more. Also an avid collector of rare Microsoft prototype devices! Keep in touch on Twitter: @zacbowden.
Great app, good news indeed :D

Bring VLC classic, Zune player, Internet Download Manager, utorrent and Adobe apps to the store soon.

Zune Looool, yeah bring Zune in mdl2 🐱‍👤

dexxx87 it wouldn't hurt to have Zune in the Windows store. Groove is great. I love it. Haven't used Zune since the launch of Windows 10 coz of Groove. But miss Zune.

Zune UI is frickin awesome even in 2017...maybe even in 2100.

Re: Rep Jeffi,
I use the great "modern" Zune player. Groove player is static and boring.

Other than Adobe apps none of that are needed. VLC is there in modern form - request more features instead of going back in time. Zune player is obsolete, replaced by Groove (same thing, request features in Groove if you find any missing). Internet Download Manager and uTorrent have good UWP alternatives in the Store.

VLC UWP has a lot of bugs and it is nowhere close to VLC classic. Hope the uwp one is as good as the old one. I mentioned Zune coz I am nostalgic about it. Use Groove now all the time. What are the good alternatives for IDM and utorrent in the store?

they keep coming. We need adobe apps next

And bring visual studio too if possible.

Have you tried any alternatives to those apps you mention?

Yes Groove and Movies app keep improving. Still having all apps in the Store would make our lives easier.

So basic shapes and no pen tool to draw your own shapes? As a professional graphic designer, that doesn't sound very promising as a pen tool or something to make your own lines and shapes is kind of essential. Still, I'll certainly check it out. My only information so far about this app is this article so I'll look further into it, however no mention of a pen tool or equivalent is an issue. Added:
Looking at the screenshots it seems to offer more than their description states as there seems to be many more tools available including lines and such.

It is Inkscape... As a professional graphics designer you should know about and and its abilities.

Since I have been using Photoshop, Illustrator, Premiere, etc. Since 1998 I haven't needed to, so no, I shouldn't know about it. I know of Corel and Affinity, hate both of them, but never heard of this app. Regardless, I am downloading it now and will still check it out. I wasn't saying this app is crap, I never tried it. My concerns were from the store description which seems to under-sell what it can do based on the screenshots. They simply should adjust their description so it doesn't come off as being so basic.

If you are proficient with Adobe CC (specifically Illustrator), then you will not have a need for Inkscape. I recommend Inkscape to people just starting out as its a fantastic way to learn vector graphics and nowhere near as intimidating as Illustrator is to beginners. I taught myself vector graphics using this tool and then moved on to Illustrator when I could finally afford it (or the company bought it for me, I should say!). For a while after college I used Gimp, Inkscape, and Scribus which pretty much gave me the core the CC as free open source software. But now that I have full access to the entire CC, then there is no need for these. They do their job well, but there is a reason free software doesn't make a dent in Adobe sales.

Just because YOU have heard of a particular program doesn't mean it's some sort of "industry standard". I've never heard that program mentioned among my friends who happen to be in a job that requires graphics work, and I've not seen it mentioned in web articles--unlike Photoshop, Draw or Illustrator, which I've seen plenty on.

I haven't used it since I don't work with graphics. But I told a few friends within marketing and they thought it was great.

I use it. You can make your own shapes too.

What is vector graphics? Is it technical, pro stuff, or for common people who use ms paint?

Vector graphics are drawing with paths and shapes, like lines, boxes, circles arcs, etc. Raster graphics (GIF, JPEG, PNG) are formed with pixels of color. Some advantages of vector graphics are the small file size and scalability. You can zoom in or out as much as you want with zero loss of quality. When you zoom in on raster graphics, it becomes pixellated and to create a large raster picture requires large file size.

Inkscape is published on the Windows Store from some week...the news of today is:
https://www.windowscentral.com/e?link=https2F%2Fclick.linksynergy.co...

Inkskape has been on the Windows Store for weeks. And it's known for being quite crashy. Not recommended for serious (prosumer, professional) use. Is Affinity Designer ported to Windows, yet?

yes. https://affinity.serif.com/en-us/designer/

That being said, the fact that it's there is great news. All these F/OSS projects should be rushing to put their products on the Windows Store. Would be the single biggest way to boost adoption. Same for Mac App Store. I'm not sure why these products haven't gotten on there. A lot of people have no clue these products exist, because they don't scour the web for "Alternatives." They just buy the cheap commercial offerings available to them (i.e. Paintshop Pro, Affinity Photo, or Cyberlink PhotoDirector instead of GIMP for example).

I've been using the Store version for a few weeks now. Great to have it here now!

It isn't leading, it can't be really compared to Adobe Illustrator or Corel Draw. Still if you need this type of the app for doing something fairly simple and then you have no reasons to pay for pro tools (and that includes me), it is great.

Would be nice to have on the SP4 icons in the app bigger so it will be more useful, now the whole UI is too small to use it without magnifying glass

Inkscape is awesome. I am amazed at what I can do when I combine Inkscape and Visio together. This is great news...

This is great news! It's a really solid app.