Insiders on Windows 10 Mobile build 10080 can now directly update to 10149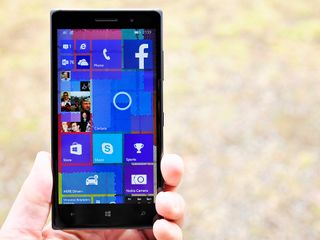 Last week, Microsoft released build 10136 of their Windows 10 Mobile OS. However, there was one catch: if you wanted it, you had to downgrade to 8.1 and then upgrade through the Insider program.
Today, Microsoft has released build 10149 and the good news is if you did not do the downgrade, you can now directly upgrade to 10149. Microsoft's Gabriel Aul states specifically:
So if you were waiting on the sidelines, Microsoft is on your side today, and you can go and grab that latest update!
Source: Windows Blog
Windows Central Newsletter
Get the best of Windows Central in in your inbox, every day!
Daniel Rubino is the Editor-in-chief of Windows Central, head reviewer, podcast co-host, and analyst. He has been covering Microsoft since 2007 when this site was called WMExperts (and later Windows Phone Central). His interests include Windows, laptops, next-gen computing, and for some reason, watches. Before all this tech stuff, he worked on a Ph.D. in linguistics, watched people sleep (for medical purposes!), and ran the projectors at movie theaters because it was fun.
Not.
For Microsoft's Lumias :) :) :)

And the M8! People forget that phone too much.

M8 should be able to update to Windows 10 preview since month ago..

My m8 hasn't gotten the latest build yetb

Same here. My M8 fails at even seeing the update. And trying to revert to 8.1 doesn't work either ... :-(

I wish :( I would love to update my Samsung Ativ .

Nice! About to update this to my spare L635. I'll once again wait for bugs to be reported before I take the plunge on my L1520 and use it as a daily driver. I really want to see how everything works on W10P and be able to send more feedback.

Funny lots of articles warning people that don't read articles just the title

I hope they add interactive tiles soon.

Super awesome. Didn't roll back, just because it would be annoying, and now it is fixed. Gotta have patience.

I will download it tonight on Lumia 930

I assume we'll still need to hard reset after installation and use no backups for it to be half decent.

I thinks it is mandatory atleast for me.. not resetting and using a backup is a mess on my experience

I didn't do hard reset after intall from 8.1 and everything is fine, no major issues. Love this build :)

got back to 8.1 just 30 mins ago.

Update not available yet in Australia

This is the error code i get on trying to upgrade my L1520 from build 10080, Error 0x80072f78. Damn I've missed this build again

Good riddance, restarted the phone reactivated fast ring, made 3 attempts and its now downloading updates. Can't wait to have an improved version

The same thing was happening to me earlier, but it's working now.

try again...i got that error..but its dwldg now

What about that migrating step? Is it still there? You have to leave your phone for sometime after updating if time and date don't appear? Recent build had this problem so i didn't updated.

Yes that is still there. It's not a major issue, in the past you'd see loading graphics sayin step 1/19 or step 8/19 or whatever. All that is going on behind the lock screen. I admit it's a bit unnerving but totally fine. Once you get the time and date back I means step 19 is finished and good too go :)

I'm on 10136 my phone downloaded this so now what?

Now you install it. I'm on 10136 as well and its here to download so I'm going to see what's up.

Sweet, I can finally get back to playing with 10 on the old 920.

Have you updated your 920 yet? If so, how does it run?

Bricked my 620 twice whilst trying to update from 8.1. Had to use WPRT to get 8.1 back so off to CEX tomorrow.

My 1520 bricked multiple times and then wouldn't download at all the last fast build

Interesting - I'm being offered 10.0.12648.133

Exactly Same My friend. . . i am on Lumia 730 and also download line on 0% did you got it

Yea no update available on m8 yet

Guys how much MB is this update?

I rolled back to 8.1, and stayed there, prior to the release of 10136. So if I go back and download Windows 10 now, will I get 10149 directly or will I still need to pass through 10136?!!

So far very happy with this build. Outlook app is working properly now.

Anybody know if app updates are working fine now in 10149? I was getting error code 0x8007003 on several important apps on 10136 which rendered them inaccessible and unfixable.

Nevermind, this was addressed in a previous article. This update should fix that issue apparently. Excellent news, considering that problem was making it unusable for me and I had to go back to 8.1.

I was on 10136 just updated it Os much more stable but Cortana dose not work

Damn proud to be a WP user.... walking step by step with the REVOLUTION ITSELF. Saluteee

I rate this build as 7/10. its getting closer to the final build.

Still not a single build on slow ring for 1520...

My 920 is in dead loop for 6 hours after upgrading from 10080.

Apart from same core nothing big has been changed ( that i know of), windows phone is still struggling at UI level and android is altogether at different level.( i am a wp user and i love it). Most of the wp user will bash me but tell me shouldn't a twitter link in a twitter official app open it in itself? And before anyone says this is not a app issue. If you go through the android M presentation, the OS is being made intuitive even to side load the links. Most of people ( including me) cherish the responsiveness of wp, but as OS grows in complexity it becomes resources hungry. So in ling term wp doesn't holds the responsiveness as its advantage.

930 @ 10080 -> no update -> not funny

Same here. Just says no update.

No update for me too, 930 Australia

Has anyone with this bug tried a reset first?

same here. was on 10080 yesterday and did hard reset. tried to check for updates but to no avail. Not funny also.

I am receiving this error (since yesterday) when I try do update from 10080:
0x80072f8f L920

When i download windows10 mobile, just show Error 0x80200059, please solve this error code.

Is the error solved for u?

Me 2 getting the same error 0x80200059...anyone plz help

Lumia 930 Australia no update yet

Windows 10 - Build 10149: http://www.windowsblogitalia.com/2015/06/video-tour-completo-di-windows-...

Whenever I try to download error 0x8020059 appears. Any solution for this?

I get the error too bt not the same code i ddid a hard reset n i was connected to a wifi but couldn't download this build

DId anyone got to update to this build without rolling back to win 8.1 in India and US.

did anyone updated their lumia 525.......!?

What about us that have 10136 is it safe to upgrade to the latest build. Is was there any info that i might of missed .

i have lumia 520.....after update i cant use cellular or wifi data......why u are not full testing update....what i do now my phone is not more than a toy now....

Build 10.0.12648.133 download stuck at 11% from after noon... Shows many error codes...

It breaks a lot of things at the start.. There were over 80 application updates that needed to happen, and it seems like the most important first step of that is "Aquiring license" Then downloading and installing. A lot of apps just don't want to run unless you update them. Like.. oh.. my alarm clock not going off this morning. Or text messages. Outlook ... downloads are still taking place. Hope they all work again, but a few are saying they had problems updating, "try again" (needs a snarky, "I'm *sure* it will work the 4th time). OneDrive, Windows Voice Recorder, Facebook Messenger....

Tried several times to install the update, without success. after the last try, now I'm stuck on " your device is up to date" tried soft reset twice already. Any clues?

Well now the phone is unusable. Lumia 1520. Lock screen picture after press the middle button. Just sits there, no password nothing. If I hit the home button the picture moves halfway down and if I hit it again it moves back. Cannot do anyting else. Basically a brick right now. Ideas anyone??

im having this same problem cant do nothing be recieve calls and it freezes

Did not work for me - ended into an endless loop of upgare then sad face on screen and back to update. L920 - Now I am using the recovery tool to rest the phone then I`ll give it antoher try. Cheers Jussi

I,can't update to this build i get an error message on my lumia 1320

This is a terrible build, stay away.

I have been using it on my spare Lumia 928. It's way more stable than 10080. Only have a few apps that refuse to update. Thinking about installing on my M8 daily driver.

will donwgrading to 8.1 from 10136 build lose my local files ? please help i am stuck with excel files, not able to update neither able to open the files and move them or send them

i am unable to get the build 10149. I am now having build 10136

I'm not beeing able to see any update from my Lumia 1020 on Argentina, i'm still on 10084. Anyone with the same problem?
Windows Central Newsletter
Thank you for signing up to Windows Central. You will receive a verification email shortly.
There was a problem. Please refresh the page and try again.