InstaBlurrr photo editor is currently free until Dec. 31 for Windows 10 PC and Mobile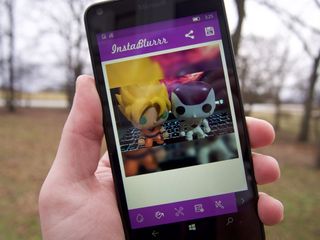 InstaBlurrr, a photo editor that launched first for the Windows Phone platform, has been updated recently to become a universal app for Windows 10 and Windows 10 Mobile.
We did an extensive review of InstaBlurrr in its Windows Phone incarnation, which allows users to add blurry edges to their photos. Here's a look at the features for InstaBlurrr for Windows 10:
New Interface with Lots of Editing Tools
Rotate, Re-size, Crop, Align, Flip and Pan
Background Brightness, Contrast & Saturation Adjustment
Photo Brightness, Contrast, Hue, Saturation, Temperature & Sharpness Adjustments
10 Cool Background Effects
22 Photo Effects
12 Cool Photo Filters
Background Solid Colors
Square Photo Support
InstaBlurr is also free to download and use from now until December 31.
Download InstaBlurrr for Windows 10 (opens in new tab)
This is a surprisingly cool app, although they could use better tool descriptors. Still, can't beat free.

Got it when it was available for free as the myAppFree deal before.. They just need to add more features.. :) still a 5 star app

Agree with the descriptors, but it wouldn't work with my gallery, it screwed it up, thenwhen trying to switch task it lost all theimages on there too! Had to soft reset...then uninstalled. On WP8.1

Thanks. Downloaded in my wp8.1.

All it needs is the Vegeta one.

I don't need this, but it's free, and even vinegar is sweet when it's free, so download.

But does the "free" functionality cease upon the 31st of December?

No, you get it free forever and you can download it on whatever phone/PC you want. Forever.

If I have it on 8.1 will it be free when I upgrade to 10 does anyone know?

Yup.. If you are using the same MS account

What, no wp version link? That's not very universal...

Download option not available,give me the link plz guys..

You will need to just visit the store and search for it, its there. Links no longer function at the moment.

Downloading it because why not?

This app only on win 8.1 only runs out of memory on 512 ram devices.

Wasn't it free all the time?
Windows Central Newsletter
Thank you for signing up to Windows Central. You will receive a verification email shortly.
There was a problem. Please refresh the page and try again.