Instagram beta update brings some translucency to the Live Tile and enables Facebook login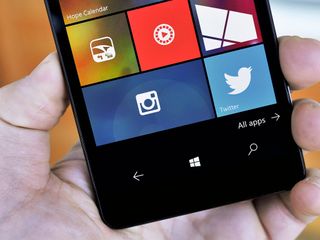 The Instagram beta for Windows 10 Mobile has been updated, bringing some translucency to the Live Tile, the ability to login to a Facebook account and a few other changes.
Improvements appear to have been made in using the camera, as you can now tap to focus different areas of the image.
These improvements make the app even better to use, even with it still being in early beta. You can grab the latest update from the Windows Store now!
Download Instagram beta from the Windows Store (opens in new tab)
Thanks for the tip, Ahmed!
Jared started off writing about mobile phones back when BlackBerry ruled the market, and Windows Mobile was kinda cool. Now, with a family, mortgage and other responsibilities he has no choice but to look for the best deals, and he's here to share them with you.
with the respect to Rudy Huyn, this app is better than 6tag!

are you serious? Sent from W10 PC

Its miles better. So good having all the extra filters as well as video filters

We are yet to see w10m 6tag. Anyways choice is a good thing.

We are yet to see w10m 6tag. Anyways choice is a good thing.

I have both installed but seem to still use 6tag more often for the moment. IGB won't even let me see the photos in my library when trying to upload anyway. Posted via the Windows Central App for Android

Ive moved to Instagram, the UI feels better, everything loads faster, direct msgs work better, multiple account notifications, hover view etc but I still use 6tag to upload photos from my library because for some reason it also doesnt load any images from my library. The things I still appreciate about 6tag is being able to download a post or repost without any effort. I appreciate Rudys hard work and effort to do an amazing job filling in the gap this whole time, so I will always keep 6tag pinned to start right next to the official app.
Thank you Rudy

Not to forget the instant notifications. On 6tag i never ever managed to get that.

Blame that Silverlight then ;)

I don't think most people posting comments have updated the app yet cos the app now drags when scrolling. It also generates some excessive heat on my 930. The update though fixed the double tap to like bug, it also introduced a few others. I'm sure they will fix this in coming weeks. Overall performance is okay for a beta app and the UI is beautiful Posted from my Lumia 930 W10 Mobile Device via the Windows Central App for Windows 10

I got it to work with my library, but I had to let it sit there on the library tab for like 3 minutes. Literally. It finally loaded. Its just stupid slow - probably depends on how many photos are in your library or something.

Why do ul prior like you feel like you have to belittle the developer of apps you used prior to an official app being released? Oriole like you are the reason developers either leave or don't bring their apps to WP, because all to do OS whine and complain no matter what they do! Why don't you just get an iPhone or Android so you can stop crying a river???? Posted via Windows Central app for Windows 10!
Proudly rocking my Lumia 1520!

How is stating a preference considered 'belittling' a developer? Were any insults thrown? No.
And that claim about it being the reason developers are leaving is the most idiotic thing I've read today...but not as idiotic as the habit of crying"go get an iPhone or Android" every time someone presents an opinion that doesn't measure up to some silly standard of high MSFT worship.

And why does he have to 'state his preference' in an article that simply talks about Instagram beta? Why bring Rudy into this at all? So he likes the new IG better than 6tag, good for him! No need to bring Rudy or 6tag into the discussion because it simply causes unnecessary distractions from the core message of the article. Everyone should simply use whatever app he prefers an not feel the need to 'state his preference' (which I believe does not have to state A is 'better' than B anyways that ends up in pointless arguments!)

Because it's normal to compare 3rd party apps to the official version.

Karelj, don't bother to explain. You and me are on the same page. It's useless to talk to them.

You both get a room, please LOL

You're the only one here I see arguing, mate...

I have bi problem with him using the app of his choice, but why belittle the developer and his app which played a roll in many people staying on WP because Rudy provided a need app until this one became available? In reference to making app developers hesitant or not come to WP at all, I only day this because there was one so which I can't remember the name of where the developer actually stated how hard he was working to provide us with an app, but disappointed with the criticism he was getting in this forum. He was on the brink of pulling the app rather than be shredded to pieces by us. Posted via Windows Central app for Windows 10!
Proudly rocking my Lumia 1520!

Rudy was NOT belittled. Maybe you should look up the meaning of belittle before you use it. And if you can't even remember the name of the developer or the app then it obviously wasn't that important in the grand scheme of things. To go even further, any developer worth his or her salt would not childlishly pull their app because of criticism. So please stop making statements that have no basis in fact and compounded by a complete lack of any logic. The poster stated a preference, he did not insult, demean or belittle anyone. Stop being a drama queen.

Honestly,I don't come into this forum to argue with anyone and won't begin now, but this article had nothing to do with 6tag, only instagram beta, therefore our comments should be specific to the app specified in the article. If you want to make positive or negative comments about an app do so on articles about 6tag specifically. I will not be commenting about 6tag or Rudy in this forum because it's related to instagram beta. Posted via Windows Central app for Windows 10!
Proudly rocking my Lumia 1520!

So just stop posting about this. Geez.

Your just being silly now. If I were to post on this something about the weather app needing a similarly transparent tile, there would be nothing wrong with that. It would have a connection to the article. Even if it didn't, common sense would come into what is and isn't suitable. In an article about the official instagram article, of course some people will compare it to a leading, well made 3rd party app for instagram. One does not have to post in some old post about 6tag. The two are undeniably linked. You're jumping to Rudy's defence when not only can be do that himself...but there would be no need to.

No one belittled anyone. Of course everyone is going to be comparing this app to 6tag. That doesn't belittle either dev.

Be had an opinion and he said it.. It's free speech he didn't belittle anyone

Have both installed in my phone. Use 6tag more, eagerly waiting for w10m 6tag. Posted from Windows Central for Windows 10

I'm happy to see this because its official and better that the old Instagram app on 8/8.1, but I still prefer Rudy's - if nothing else but for the dark theme. Double tap to like, non-square options, and more...

At least he cared to give something better on wp8.1!!

For exploring yes, but in 6tag you can "Regram" and even save post which you can't do in instagram Posted from Windows Central for Windows 10

Prefer 6tag for saving feed photos

Tiles should be Transparent...
Looking at you Twitter

how about you get to choose what your tile looks like?

So it will hurt you for others to have the option to use transparent tiles as opposed to colors that don't match what they're going for on their start screen? Posted via Windows Central app for Windows 10!
Proudly rocking my Lumia 1520!

Should be choice... Not just transparency

I agree with you, all tiles, even Microsoft's own should have the transparent option. Posted via Windows Central app for Windows 10!
Proudly rocking my Lumia 1520!

All apps should have the choice of being transparent or not. The start screen is a mess when 2/3 of the tiles are transparent and the others are solid blocks.

Yes, I agree. Especially Microsoft apps (i.e Skype, Bing News-Money-Sports). Transparent tile is something that MS tries to advertise as a differentiator and yet won't also apply to their own apps and it's unfortunate.

It is absolutely a personal view. I prefer solid tiles more than the transparent ones at some places. Esp, I love it when the Microsoft apps are solid and not transparent. It highlights them as the main apps.
You don't like it that way though.
So you know, it is just a personal opinion.
Also, if you arrange it properly, the mix of solid and transparent tiles looks amazing. Apart for this, as there is no solution, there are third party apps that offer transparent tiles. You can try them. :) they work pretty well. I don't remember the names, but there are apps that let you create your own tiles. With exact amount of transparency you want. :)

Except that half of the Microsoft tiles are transparent and half aren't.

I can't get used to the w10m transparent tile set up. I do like the 8.1 set up though.

Good thing we have the option to choose between the 8.1 setup and the current

We all agree that everyone has there own taste, but Microsoft should practice what they preach to developers by designing their apps with the ability to be made transparent within the apps settings itself. I shouldn't have to use a third party application like perfect tile to do this. It seems like laziness on their part by leaving it out ti begin with. Posted via Windows Central app for Windows 10!
Proudly rocking my Lumia 1520!

Maybe tiles should be half tranparent, like this Instagram app. Solid color and full transparent is such mess, transparents look great but maybe solid colors should colored transparent. Posted on Lumia 930 with
Windows 10 Mobile

I like that Instagram already got 2 updates. Like.

Don't jinx it. Lol. Posted from Bikini Bottom via my ShellPhone 950 XL

I updated but no transparency on the tile. How do I enable that? Posted from Windows Central for Windows 10

Nevermind, I see is transparent now :/ Posted from Windows Central for Windows 10

This is not a truly transparent tile. It's still big and blue, not fully transparent, so a boo go for me a sometimes I want my full background image to be viewable. Posted via Windows Central app for Windows 10!
Proudly rocking my Lumia 1520!

How is this still in 'early beta' lol

Cause this is the new Instagram app which has only been available a couple weeks..

Still not fluid, library/album doesnt load/show which makes it impossible to upload from phone., crashes. Although todays update definitely made it smoother and double tapping became much more responsive.

am I only one who can't upload videos?

my Instagram beta doesn't go wide app size nor do I see this transparency effect and I just dl and installed it. Sent from W10 PC

people whining about moving/not moving to the Instagram and leaving 6tag. what are you, 6 years old? it's called compition, it's a good thing, and eventually it's up to you to choose whatever you like and it's up to developers to add features and make their apps more appealing.

925 user here (8.1) no new instagram sad.

Then jump on the Insider bandwagon :P Even if you won't get the future builds, the current one will be supported for a while, you'll have access to the new apps, etc.

Ah. Is it possible for you to get a 640 (if you can't afford a flagship)? Trust me, the 640 is a great phone.

my 925 still perfect on 8.1 i dont need to upgrade my phone. and 640 not good against android phones in my country.

Microsoft played dirty with all Wp7.8,8,8.1 & 10 users. Lumia 925 is more than capable to have Instagram.Neing the app in Beta No Snapchat is all Bs by Microsoft side how can any company turn up on Microsoft. Personally i wouldn't bother updating to insider build on my 920 and wouldn't buy any windows phone yet even upgrade windows 7 to 10.

Wow!! Love this update!!!! :D Besides the Tile being translucent now and let me log in with Facebook, it fixed some bugs, like: when I have two accounts, the names now show properly in the blue bar; the scrolling is more fluid; I can now double tap to more easily; Library is working, now I can choose a picture I had taken or saved!

double tap to <3, I mean xD (I can't see the emoticon somehow)

The scrolling seams to stick now for me.

Still can't share to Facebook sadly, which is annoying because the only way I can share an existing photo is through the iOS app. Also video sharing from library keeps crashing. But apart from these and a few other niggles, a very impressive app for a beta.

Also unable to share to Facebook, but did test the login and got that working. I use 6tag in the meantime for pics I want on fb

Share to Facebook is something I need before I can leave 6tag

Shame, because in my opinion, in many ways shaping up to be better than the current 6tag, although I know it's a VERY early beta and still not even listed in search...so...

Are you saying that you cannot share any picture on Facebook through the app?

It's weird because it seems to be working fine for me...

Have you had to reset permissions or something since last

..update? I'm able to log in with Facebook, but not share an instagram image to Facebook... That's still a known issue as far as I'm aware.

No, I did not have to do it. However, maybe we are talking about different things. Let's say I see a good picture shared by one of my friends on Instagram. I tap those "3 dots", a menu with various options pops up, including the "Share to Facebook" option and when I press it, Edge opens and allows me to share the picture. If this is what you are talking about, then I assure you it works flawlessly.

Now I know what you mean. What you're talking about shares a link to their facebook picture on your timeline. That works fine. What I'm talking about is sharing my own pictures, which puts a copy of the image into an instagram folder on facebook, and looks and acts very much like posting a photo directly in Facebook itself. This is not yet working, but has been listed as a known issue by facebook. You can't share other people's images in that way because the poster owns copyright.

I can't even share others' photos as you mentioned above.. When Edge opens up, the message is "You have already authorised Instagram for WinPhone (Beta)". When I tap to agree, Edge closes and Instagram doesn't allow sharing to Facebook... Is there a setting I need to change?

Still no transparent tile, still cannot log in with Facebook on my 640with win10

It is transparent. Just barely. It's at about a 10 on the start screen transparency option. Kind of pointless.

Look better than Solid colors and transparents in my option. Its middle of them and awesome Posted on Lumia 930 with
Windows 10 Mobile

Look for a new update then, or wait if it's not available yet.

I'm just happy this beta is actually getting updated

That's actually a really cool effect, more apps should be like that.

You do know in w10m you can make most of your tiles transparent yeah?

Really quite pleased with that tile, it's how it should be done with branded apps - my background picture comes through, but my start screen retains a bit of a colour mix, and Instagram makes sure to retain it's distinctive brand colour. Surely a win all round? Would like them to fix the workings of the nav bar, though; the app can't decide whether to leave space for my nav bar or not, sometimes it extends all the way down, other times it doesn't.

and even all way down leaves a bit of black from the nav bar... the only thing I'd like is to have a live tile, counting the number of stuff not seen and the white icon a lil' bit bigger! other thing, the notification now vibrates, but it's lacking sound yet.

Hope they will redesign the ui

just some things though... I don't want it broken because of too much redesigning! it's almost perfect how it is, even being a iOS port!

6tag is still better all round, but this app is quickly getting good