We've changed @WindowsCentral and introduced @WC_Headlines — Here's why!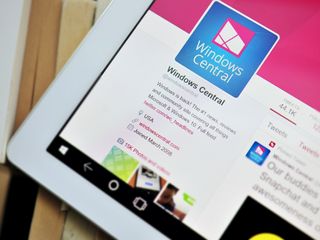 Starting later today, we are making changes to how Windows Central uses Twitter. The @WindowsCentral account is no longer going to tweet automatically every article we post. Instead, our editorial team is going to carefully, manually tweet only the stories we think are the most interesting and relevant to you, our readers and community. If you really want everything, just like RSS, you can follow the new @WC_Headlines account. Otherwise, your timeline is about to get less full. So, why the change?
In short, on some days, Windows Central can post over thirty articles in a 24-hour period. That is a lot of "stuff", but not all of it is necessarily appealing to the casual reader or those who want a more meta-view of the Microsoft and Windows ecosystem. The old saying is "Less is more", and that adage applies to social feeds as well. Too much "stuff" or low-level news could come across as spamming. Your time and attention are valuable, so maybe you don't need to know about that small app update or banal Microsoft announcements.
As a result, our updated Twitter feed will be more personal and reflect our increasing focus on original, in-depth content that you cannot find anywhere rather than a flood of small 'blog posts.'
Additionally, we're going to start to add author's Twitter handles to each Tweet too to make it more personal. After all, maybe you want to read something I wrote, Jez's views on the latest Xbox happenings, or Zac's Windows 10 build breakdowns. Now you will know that info in advanced without ever clicking a link.
In fact, you will always want to follow our top writers on Twitter like myself (@daniel_rubino), Zac Bowden (@ZacB_), Richard Devine (@ricker666), Jez Corden (@JezCorden) for the latest news and bits in specific Microsoft categories.
Remember, if you want to use Twitter like RSS, we're happy to provide @WC_Headlines for you. If you'd rather be alerted to what we think is the best of the best stuff, and then go and browse through the rest at your leisure, then that's what @WindowsCentral will give you.
Finally, if you use our free Windows 10 and Mobile app, you will, of course, continue to get all our news and notifications as always!
Windows Central Newsletter
Get the best of Windows Central in your inbox, every day!
Daniel Rubino is the Editor-in-chief of Windows Central, head reviewer, podcast co-host, and analyst. He has been covering Microsoft since 2007 when this site was called WMExperts (and later Windows Phone Central). His interests include Windows, laptops, next-gen computing, and for some reason, watches. Before all this tech stuff, he worked on a Ph.D. in linguistics, watched people sleep (for medical purposes!), and ran the projectors at movie theaters because it was fun.
Agreed Posted via the Windows Central App for Windows 10
Using the Alcatel OneTouch Fierce XL for Windows 10 (Redstone)

This article right here is spamming my inbox!!!! Somebody please HHHEEEEEEELLLLLPPP!

Even Windows Central are abandoning Windows Phone... (joke!)

Mobile Nations and Windows Central are getting better all the time! Thanks for being part of the community folks!:-) -------------------------------
Jason L Ward @JLTechWord

I like this. So if we follow @WC_Headlines we aren't missing anything from @WindowsCentral right? If we follow both we'll get multiple tweets about the same thing.

Thanks! I guess I'll keep following just @WindowsCentral and use the app notifications for everything else. Posted from Windows Central for Windows 10

Is Mauro still going to contribute?

Guess it just seems faster

*follows @WC_Headlines, unfollows @WindowsCentral*

Same here. No service can decide whether I want to read an article or not. I don't need a filter. We'll all get the same filter but our interests are different. But even then. Personalized filters are crappie too.

What do you mean, no service can decide whether I want to read an article or not. Of course they can't decide if you want to read it, they can change what you read though, which they did. You should've said, no service can change stuff and expect me to stay with it. Yes they can change what they want and you have no say in it. Just saying this because the way you phrased it seemed angry/****** with the service.

Yep unfollowing windows central Please downvote me. I'm aiming for the most.

Good stuff. As I recently moved away from Windows Phone and Windows to iPhone and Mac, I was pretty annoyed by every single WC article being tweeted to my timeline, but never cared enough to unfollow WC. With this move, I will happily keep WC in my timeline and look forward to the highest quality pieces coming through.

Perfect! Glad it'll help.

Are you a Trojan? :D Fight on!

Um..our top writers..and then you said Zac Bowden. Isn't he on WinBeta? Btw.. I like the idea of changes, nice.

He moved over to our place.. Welcome him.

Zac is joining Windows Central as of today.

Really? Like, for real? If its so then its awesome! Guess I missed some news. Zac is good, I like him. Welcome Zac! :D

Then don't unsubscribe...you won't miss any news. Posted from PornHub

I didn't unsubscribe. I got job you know, work to do.. I missed some stuff so what? Don't know why am I downvoted?! XD geez

Thanks for checking us out even during your busy work day BataBole.:-) Appreciate yours and everyone elses commitment to the site! -------------------------------
Jason L Ward @JLTechWord

Never subscribed to WC on Twitter, but hey, better late than never.

Nice change, I don't use twitter all that much but when I do sometimes it does feel a bit spammy!

This is a great idea. Specially if it decluters my Twitter feed from the US-only articles.

This is great. You guys rock. Posted from my Nexus 5X

I don't mind WPCentral in my timeline. It is my timeline.

So fudge the no name guy @windowscentral is what I got from the article. #coldasice Posted via the Windows Central App for Android

Great choice! So I use rss like rss so are there any changes coming to your rss feeds?

I love this idea, it would be much easier to filter out the Xbox articles I'm not interested in. Going to see how this goes with @WindowsCentral and from there, decide if I will also follow WC_Headlines too.

Cool. I don't use my Twitter for much, and I don't follow many. This site's feed was so bloated that I actually considered unfollowing it today. I already see it all in the app, so seeing it all again was annoying. I like this idea.

I'd be happy if the Windows Central app would simply work on my 1520. Its been months since this thing has worked properly.

@WC_headlines, for all your news about British toilets. Posted via the Windows Central App for Android

ROFL! That's a good one. Posted via my Moto X Pure Edition using the Windows Central App for Android

Because most of inspirations comes out in water closet, so they changed to WC Headlines, that's why.

You have a great point there. Posted via my Moto X Pure Edition using the Windows Central App for Android

'top writers on Twitter like myself..' - self attestation of greatness are always heart warming.

Haha.. I noticed that too

Great decision! I hope we'll have the same option in the app someday.

I guess I'll be using the Headlines feed. Hope the changes work out. Sounds like a great experiment in making a top notch twitter account. Just for me I have respect for all the authors and love all the information because I surely wouldn't expose myself to most of the information. I love this site because it forces me to learn and keep my mind open.

One of the strengths of our team is the diversity of writers and expertise. Add in a passion for what we do, a desire to grow and a great community and you've a winning mix!:-) -------------------------------
Jason L Ward @JLTechWord

Speaking of which, can we please please please get an RSS feed for Windows Phone/Windows 10 News ONLY? I am drowning in XBox articles on NextGen Reader!!