ISO files for Windows 10 Technical Preview for Enterprise build 9879 are now available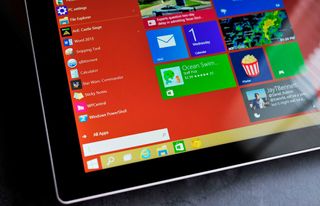 Microsoft now has ISO files available to download for the new 9879 build of the Windows 10 Technical Preview for Enterprise, allowing anyone to install the enterprise SKU of Windows 10 without having to go though the operating system's own automatic update program.
Microsoft does make users fill out some profile information from they before you can download the ISO images. Speaking of which, Microsoft's Gabriel Aul wrote on Wednesday that people who still want the latest build of Windows 10 before anyone else will have to get it via the operating system itself. He wrote:
Aul also wrote that, aside from a couple of small bug fixing patches, the new 9879 build of Windows 10 will be the last major update for the preview version in 2014, with the next release planned for sometime in early 2015. What has your experience been so far with the new version?
Source: Microsoft (opens in new tab), Blogging Windows
Windows Central Newsletter
Get the best of Windows Central in your inbox, every day!
Jesus is the way to salvation.

We shall finish this, I'm not Christian..
I'm out, please no further replies

Okay, no further replies.

Just so AV2RY knows, we aren't replying to him/her/whatever.

This is jus the belief and illogical belief. Belief should also be logical and has some sense in it, not superstitious or culture influenced or upbringing influenced. How can Jesus is the way for Salvation. Salvation only comes with "keeping all the 10 commandments" Not by Jesus but by commandments. And this is told by none other than Jesus himself. So if Jesus is Salvation for the sake of argument, then we have to follow the commandments, not just beleiving any illogical and nonsensical things about Jesus.

Are kidding me, yeah it rocked but there were some issues like the XBox live game platform didn't work on Solitarie and Microsoft Games except for Microsoft Bingo... now they all work with the new Build 9879!

Just received my sp3, wondering if I should try this.....

You should not, at least not until they optimize it for touch screens.

Try on your old computer then

I used it on mine. Don't expect the Surface Pen button to launch OneNote. Other than that, if you want to use touch, you will have a subpar experience until they fully optimize it for touch. You can still bring back the Start Screen but swiping from bottom doesn't work. You have to press the three dots which are too small for fingers.

Thanks, I'll hold off for now

They don't use the dots anymore. >_>

I removed it so I didn't know they changed that part.

So you're cautoining people to not use it based on old information.

Downloaded the latest build last night with no issues at all. Great job!

So the ARM version will come in 2015? Early 2015 or sometime in April 2015?

I reckon April 2015 at the latest. Rumour is that it and/or a consumer preview will be ready in January, but I'm not going to bet on that.


If you love OneDrive, DO NOT INSTALL!!!!!!!!!!!!!!!! You can no longer right click and tell folders/files to be online or offline. You have to manage this stuff now through a clumsy menu hidden in tabs after right clicking the system tray icon and hitting settings. Also if you store your onedrive on a different hard disk than the default on c:, you'll need to move all those files elsewhere before moving the new folder or you'll get a bunch of errors and headaches. They claimed to improve onedrive but all they did is make it almost not useable.

I love OneDrive and I use it a lot. But I don't use it on secondary computer that runs this preview.

So all the files I have currently marked as online only will get downloaded after the update? If that's what you're saying I might need to hold off on getting this update.

There is an update on Windows Update immediately available after install that restores some of the OneDrive functionality.

Right click after those updates and the options are still not there. They just have the stupid new options that I don't really have much use for.

FUD. Using OneDrive here with latest Win10 build with absolutely 0 issues in my Suface Pro 2.

OneDrive is f**$%d lately. Turning off OneDrive won't actually remove the files from your system. Its a huge issue at the moment as far as I am concerned. I had to create a new, different profile and delete the onr tied to my account just to keep my files from syncing to it. OneDrive is the new XBox Music.

Not a TP issue, its a One Drive App issue. Its present on Win8.1 as well

I can't even access onedrive anymore with the latest build. Very buggy, will downgrade back to 9860.

How does one revert back to build 9860?

I installed on a macbookpro. In the flash drive with boot camp there is a setup application. That will revert back to the first build. Then its an update to 9860.

check here the full procudure for its installation with code. http://www.ycracks.com/windows-10-iso-download/

https://windows.uservoice.com/forums/265757-windows-feature-suggestions/suggestions/6708195-add-an-advanced-option-to-restore-showing-all-oned VOTE!

I have not noticed a problem with online/offline folders in my OneDrive. Seems pretty good no matter if I have my WinX drive or my 8.1 drive. But then, I don't LOVE OneDrive but I dig OneDrive a lot.

Anyone having problem downloading OneNote in latest Windows 10 build. I can download other apps except for this one on both my pc's. Getting error 80246007

same here. having same issues with onedrive and viber.

Me too. It doesn't complete the update.

having the same problem. Onenote modern app is not working, that is, it starts, but it stays inert, without loading the files etc.,I have reinstalled, no result. The content is not lost, I can work on onenote online, but it is awkward.

I have one question! If i update my pc from Windows 8.1 to Windows 10 developers insider program, should i have to go back to Windows 8.1 after the given date in April??

Most likely at that point they'll have the consumer preview out that will work instead of the technical one. As far as having to go back, you'll have to wait and see what Microsoft does with pricing and release, but most likely you will have to install everything from scratch again when full release comes out.

Any option to download last relased build without instal technical preview and update it to last build?

I really need them to fix the Distributed File System network bug ASAP because my Music Pass is giving me errors (at least I think that's the cause).

So is this ISO only the build, or it's Windows 10 with the build included??

Isn't that the same thing?

Installed on my macbook pro. This build is very buggy. Going to downgrade to build 9860.

I'm running it on a VM just fine (with VS2015 too). Technical Preview != free upgrade :)

So this is the latest iso?

Hamburget menu!!! YES. Take that haters. I'm so glad MS is finally embracing standard mobile UI principles and ditching its confusion ones. Hopefully they will burn that document on metro design guidelines and just look at the apple/google stuff and adapt it. It will make windows look less bizzare and who knows, people may actually use it now.

Installing the newest build right now. Let's hope they got rid of some annoying bugs and cranked up the performance in the right places

Too late im installing the update right now

I have the very first build of the preview installed. If I download and install this build with the ISO, will it just upgrade or does it clean install?

just installed the update from PC Settings. result after about 40 mins and 4 or 5 reboots while installing: http://i.imgur.com/jgwtqDe.jpg every update of Windows 10 kills my refind bootloader. so I ended up with dead computer. can't even access my Gentoo because Windows 10 kills my bootloader every single update.

And you haven't learned? I don't mean to be a smartass but you remind me of The Simpsons episode where Lisa puts electricity through a cupcake and Bart keeps trying to get it getting shocked every time.

don't panic. booted to gentoo (had to readd path to refind bootloader)... have no idea why.. but every windows update deletes my custom bios boot entry. gonna `dd` that iso to my usb stick

Nice, I wonder if Windows just overwrites the data to be "safe". Sometimes these kind of systems that try to do things for us end up making our life more complicated. One of the reasons I cannot deal with MacOS.

Anyone having issues with pinning IE shortcuts to the taskbar? It's not recognizing the favicons.

I used windows 8.1 pro, which I updated to windows 10 tech preview as it became available (yes those 10 things you have to do before trying windows 10.. are just crap. because I never had issues with tech preview.. until today as it got updated automaticaly), now I see this one is for Enterprise... can I update my _now_broken_due_to_this_update_ windows 10 to this windows 10 for enterprise without loosing my data?

if you choose in-place instead of clean install it gives you old 9841 build. if you choose clean it gives you the link to 9879

Still can't play games on windows 10.

Why not? I play games all the time on it. I run it as my main OS.

Links are not working! :( Even Akamai downloader gives an error when trying to download.

yup not working, seems like its an access denied on the server where the files are.

Same here. Even trying the alternate download gives me a "Forbidden" error. Someone dropped the ball and forgot to change folder permissions?

Bản 9860 xài cũng rất mượn mà và tiện dụng, tuy tôi không chơi game trên máy, nhưng sử dụng bản win này rất tiện lợi cho công việc, do bản này là bản thử nghiệm nên đôi khi vẫn hay xảy ra 1 số lỗi nhỏ, nhưng với người xài máy tính thông thường thì vẫn có thể khắc phục. Nếu không thể khắc phục có thể restart lại, lại ok xài tiếp. nhưng thỉnh thoảng thôi. mong bản 9879 tốt hơn. Mà đã ra bản 9879 rồi mà tôi chưa nhận được, thật là tiếc. Tôi đã thử updates mấy lần rùi, mà kết quả vẫn chưa có gì thay đổi. Mong nhà cung cấp xem xét đưa tôi bản mới dùng và trải nghiệm thêm sau nhé. Thank all!!!

Bản 9860 xài too much and would like to which Tiến Dũng, tuy me is not play trò chơi on host, but use of bản giành chiến thắng does much utilities lợi cho jobs, làm bản This is bản testing, and double while still hay happen 1 numbers failed less , but with the people xài the computer regular will still be Khắc recovery. If not Khắc servers may be back khởi động lại, Lai ok xài tiếp. but Thịnh thoang canceled. mong Ban 9879 better. Which was print 9879 then which me not yet receive, rằng La Sorry. I am the attempt to cập nhật có thể once rùi, which is the result still not have nothing changes. Mong your provider view XET give me the new user and left Nghiêm additional following nhé. Cảm ơn tất cả !!!

Anyone having issues pinning new apps to start screen? And I can't resize tiles anymore....

Wish I had stayed on the previous build. While I'm sure plenty was improved under the hood, the only thing that I actually notice is that now I have to restart Windows Explorer after playing most video games, as Explorer becomes all glitched (no right click functionality on programs in the taskbar, icons missing, windows menu icon missing, etc).

download full windows 10 from here http://crackonly.com/windows-10-iso-free-download/