Jarvis review: Bringing Mac-style searching to Windows 10
Jarvis brings a popular feature from Mac over to Windows 10 while also helping replace a frustrating Windows 10 feature.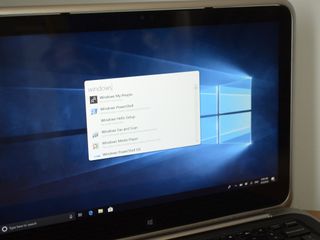 Windows search can be finicky at times. Instead, you can look towards a new era third-party app, Jarvis. It's a universal system search that lets you find files, apps, and search the web. It's inspired by Spotlight search on Mac, but brings that functionality to Windows 10.
It's available for free from Github. The app is in preview so you can expect some bugs and missing features, though in my testing I was impressed with it.
Universal search
Jarvis works with Win32 and UWP apps and also allows you to easily find files on your PC. By default, Jarvis only indexes a small set of folders on your PC, but you can tell it to index any part of your system to enable quick searching.
To open up Jarvis you press Alt+Tab. You'll see the white search box that will look very familiar if you've used Spotlight on a Mac before. In my testing, search results showed up quickly and any file or program I searched for appeared instantly.
It does a good job of showing results from anywhere that you've given it access to index and it does a good job of emulating Spotlight search on Mac.
Is it needed?
A question that pops to mind when looking at Jarvis is if it's really needed. Windows 10 already has a universal search function that can locate files and apps. While this feature does exist, I believe there either needs to be a significant upgrade with Windows 10's searching ability or a program like Jarvis to fill the gap.
While I've personally not had too many issues with Cortana when it comes to searching my PC, there are way too many examples of the feature failing to think there isn't room for improvement. At times, Cortana only finds things if you type the exact name you're looking for, but at other times it only shows the right result when you've typed a few letters of it because the right result gets overwritten by something else when you type a full word.
The fact that we have an entire guide to fix taskbar search issues should be all the evidence needed to show that Jarvis has a role on Windows 10.
Overall thoughts on Jarvis
Jarvis brings a simple search feature that's a fan-favorite on Macs to Windows 10. It pops up using an easy keyboard shortcut and searches through apps and files well. The app is only in preview so I won't give it a rating, but I'm extremely impressed with it. If you're looking for a way to Mac-ify your PC for searching your computer, Jarvis is the way to go.
As development continues, I'd like to see some more customization options for the UI. There are people who are unhappy with Windows search that I would think would enjoy Jarvis, but they might want it to fit in more when it comes to Windows 10's design language.
Overall, it's an impressive app that I recommend trying, especially since it's free.
Windows Central Newsletter
Get the best of Windows Central in in your inbox, every day!
News Writer and apps editor
Sean Endicott brings nearly a decade of experience covering Microsoft and Windows news to Windows Central. He joined our team in 2017 as an app reviewer and now heads up our day-to-day news coverage. If you have a news tip or an app to review, hit him up at sean.endicott@futurenet.com (opens in new tab).
Well, not having Cortana on my Windows (Dutch) and looking at what Jarvis does, in this instance, it adds zero to Windows. Non-Cortana search actually seems to be a better option on Windows than Cortana powered

Just like Mac - and every Linux distribution for years now. Seriously, search within Windows is pitifully bad. It can't even find some Win32 apps and even Store apps installed on my computer. Try hitting the Windows key and typing "Microsoft Mouse and Keyboard Center." It won't come up except as a web search. Ridiculous.

MS please fix your search! It's been very unreliable for YEARS!

Does Jarvis build an own index?

Install Classic Shell or its updated fork which is being maintained and be done with it.

I don't understand why Microsoft does not hire real designers to remake this ridiculous UI of Windows 10.

The mere thought of doing anything Apple on my devices disgusts me.

Yep. I would never try to mac'ify, my windows 10 devices. Mac is terrible.

Spotlight is amazing. You probably have never used a Mac, debt slave. Call us when you can afford one.

ha ha...I was waiting for the ******* peanut gallery to arrive. Like I said, I have own macs 3 times in the few years and their ****@! fucknut. BTW I can "afford" whatever I want dipshit! BTW there is a place called Imore...**** OFF over there SHEEP!

No. Just no. I have been an Apple user for more than 10 years, from 1999 to 2012.
OS X was, WAS, great.
OS X search was great.
Spotlight is disgusting. Call us when you use Windows 10 correctly. It is the best OS (mobile and desktop) today.

paquitoradioboy, I agree it is the best desktop, but mobile is done however...

I've installed it a while ago, but it doesn't show any results so far: it might need more time to index my apps and programmes. I'm currently using Wox to search for apps, together with Everything to search for files (in fact, you can set up Everything through Wox, but I prefer to use them separately). My only problem is that Wox doesn't index all settings features.

How is this not the same as WOX launcher

Windows search is terrible. I literally type "Shadowrun" into the search bar and it can't find the frigging folder called "Shadowrun" on my PC, I ended up just putting a shortcut on the desktop. But I guess, I get plenty of web search results, because THAT'S useful. Oh wait, Microsoft make money from web searches, of course that's going to be the focus.

The only thing Mac-Like with Jarvis is it's location on the screen. It is nothing like Spotlight. Anyone who uses macOS would know that. Windows Search is like Spotlight, but Microsoft really hasn't made the presentation good at all. It looks junky. Windows is also missing basic apps to tie into, like Dictionary and Thesaurus that's on macOS; and it doesn't seem to leverage resources like Wikipedia as well (or present them as well) as Spotlight. Honestly, an intern could probably fix these issues in 3-4 months.

Or just use Wox, which does exactly the same thing but has been around for ages, is really robust and is highly configurable. I love Wox.

"Everything" is very fast and accurate. Sure, it doesn't have much of a design, but that's because it's using Windows' basic-looking WinAPI UI.
And you can actually open a particular folder in File Explorer and search directly in the Search field. You can use wildcard characters too.
I think I've tried Wox once, but it was just a fancy mac-like app, that wasn't very fast or very helpful for me. I don't need to search for applications, I already have them pinned in the Start menu.
Usually these "apps" which attempt to build mac-like Windows equivalents focus too much on design and not enough on functionality, so you end up with some cute minimalistic design, but something that is not very practical, that doesn't bring much in terms of features.
Windows Central Newsletter
Thank you for signing up to Windows Central. You will receive a verification email shortly.
There was a problem. Please refresh the page and try again.