Jet Set Radio among latest Xbox One backwards compatible games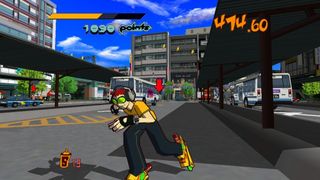 Jet Set Radio, MX vs. ATV Reflex and Texas Hold 'Em for the Xbox 360 can now be played on the Xbox One via its backwards compatibility feature.
The new additions were, as usual, first revealed on the Major Nelson Twitter account. Jet Set Radio, first released for the Xbox 360 by Sega in 2012, has a large cult following, thanks to its gameplay that combines tagging places with graffiti along with getting around on inline skates. MX vs ATV Reflex, released in 2009, is the off-road racing game from the now defunct publisher THQ. Finally, Texas Hold'em from Microsoft Studios offers poker players a chance to shuffle up and deal in single and online multiplayer matches without losing any real money.
Jet Set Radio was fun. Nice to see Sega is onboard with backwards compatibility.

This is the game Sunset Overdrive reminds me of. I love the art direction of both games.

Yeah, I just started playing Sunset... All I could think of was how fresh Jet Set Radio was back in the day... I now have it on my 360, PS3, Vita... I think the PC... Maybe if I get it on the one I will play it :)/

I had it on my sega dreamcast, the original platform it was released for! I love how the article says it was released first in 2012. This game is way older than that....although the DC version I believe was called Jet Grind Radio...but it was still the same game.

Dumb Question: this Jet Set Radio game, is it the Dreamcast game (originally called "Jet Grind Radio" here in the states), the original Jet Set Radio game, or is this the sequel on the original XBox ("Jet Set Radio Future")? If it's the old JGR, then I gotta have this! I still have a Dreamcast, but I've somehow been parted with the game. If it's JSRF, though, then I'll pass, because not only do I still have the original XBox, but I still actually have this game too, so it doesn't make sense to buy it again. Can anybody let me know? Thanks!

Yes it is the original JSR/JGR released on the Dreamcast.

Oh, sweet! That's what I thought, but I wanted to make sure. :-) Thanks!

Who gets money that is earned from thq games? Posted via the Windows Central App for Android

It depends on who bought the license to each game

Best news of the week. Posted via the Windows Central App for Android

isnt it jet set radio future?

That's the sequel to this game on the Original Xbox. This Xbox 360 version is actually just an HD port of the original Dreamcast version.

Wait so will they eventually bring back JSRF? I NEVER played this game!!! I may pick it up. I only Played jsrf, I didn't even realize it came out for original xbox

JSRF was an original Xbox exclusive. You might have it confused with Jet Set Radio. But anyways, I don't know if they'll bring it back. That all depends on whether or not they're going to add original xbox backwards compatibility to the Xbox One. However, I do believe JSRF is already backwards compatible on the Xbox 360.

I wonder if they've ever tried emulating the original Xbox inside the Xbox 360 emulator....I'm pretty sure the X360 supported a limited number of original xbox games, but I could be remembering incorrectly

Finally! Instant purchase. Jet Set Radio is one of the greatest video games ever. Sega Dreamcast is still the best video game console ever made. The amount of masterpieces Sega cranked out in that 2-year span is unparalleled in gaming history. Jet Set Radio was one of those masterpieces.

Personally, I'm hoping Re-Volt makes an appearance.... I can dream.

I loved that game. played it on pc.

1st person I met that has heard of it! Played so many hours on it.

You're not alone. Great game. Powerstone was my go to.

Sega Dreamcast forever!! the sonics, draconus, power stone 1 & 2 and moreeee!!

Doesn't anyone want to see Seaman come back? Seems a natural fit with Kinect...

There are actually quite a few Sega Dreamcast games that seem perfect for Kinect, such as Seaman, Space Channel 5, Samba de Amigo, and Rez. Microsoft should've worked with Sega to bring those franchises to Xbox One as Kinect 2 games. Huge missed opportunity for both Sega and Microsoft Studios there.

Is Kinect alive? Posted via the Windows Central App

Mmm, Power Stone. That was good stuff.

I'd still put Mega Drive/Genesis as my all time favourite console but Dreamcast would be a close second. So good. So underrated. And this is one of the best of them all.

I wonder, who owns the rights to THQ games if they're defunct? How does Microsoft get publisher permission for such games? If they were to ever add Original Xbox backwards compatibility, a lot of the games have defunct publishers now.

Their franchises were bought by different game companies. Posted via the Windows Central App

I would prefer Jet Set Radio Future. The controls of this game are clunky and difficult making the game frustrating. JSRF is way better.

Agreed. They improved controls quite a bit with JSRF.

Jet set radio, MY ALL TIME FAVORITE!

Dreamcast for life! Posted from Windows Central for Windows 10

Jet Set Radio was a freebie in a SEGA giveaway a couple of months back. I'm glad I got it, this reminded me that I can play it :)

Ahh Dreamcast still to this day it's the main reason I refuse to ever buy a playstation

It would be really cool if Microsoft did some big discounts on these games as they receive BC support. Say offer 50% off their current selling price for the first week they go BC, I'd definitely pick up a good selection of them. From what Phil Spencer has said and because the newer consoles are x86 it should mean that we can keep these games long term as the emulator should continue to run on future versions of Xbox. I also hold out hope that one day they might release the Xbox 360 Emulator for PC, even if it only works with DRM controlled digital copies of the 360 games on PC.
Windows Central Newsletter
Thank you for signing up to Windows Central. You will receive a verification email shortly.
There was a problem. Please refresh the page and try again.