July Patch Tuesday updates now rolling out to Windows 10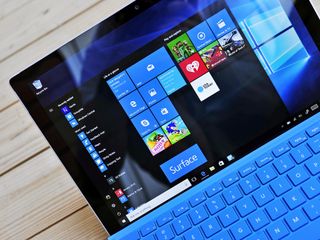 Microsoft has started rolling out its latest batch of monthly Patch Tuesday updates for Windows 10 and Windows 10 Mobile. July's update for Creators Update PCs pushes the build number up to 15063.483 and includes a number of fixes and security updates across the board.
Here's a look at look at what's new (opens in new tab), according to Microsoft's release notes:
Addressed issue introduced by KB4022716 where Internet Explorer 11 may close unexpectedly when you visit some websites.
Addressed issue to improve MediaCreationTool.exe support for Setup Tourniquet scenarios. Addressed issue with CoreMessaging.dll that may cause 32-bit apps to crash on the 64-bit version of the Windows OS.
Addressed an issue where Visual Studio or a WPF application may terminate unexpectedly (stops responding, followed by a crash) when running on a pen and/or touch enabled machine with Windows 10 Creators Update.
Addressed issue that causes the system to crash when certain USB devices are unplugged while the system is asleep.
Addressed issues with screen orientation that stops working after lid close and lid open transitions.
Addressed issue that causes .jpx and .jbig2 images to stop rendering in PDF files.
Addressed issue where users could not elevate to Administrator through the User Account Control (UAC) dialog when using a smart card.
Addressed issue where input using the Korean handwriting feature dropped the last character of a word or moved it to the next line incorrectly.
Addressed issue with a race condition between the App-V Catalog Manager and the Profile Roaming Service. A new registry key is available to control the waiting period for App-V Catalog Manager, which allows any third-party Profile Roaming Service to complete.
Security updates to Internet Explorer 11, Microsoft Edge, Windows Search, Windows kernel, Windows shell, Microsoft Scripting Engine, Windows Virtualization, Datacenter Networking, Windows Server, Windows Storage and File Systems, Microsoft Graphics Component, Windows kernel-mode drivers, ASP.NET, Microsoft PowerShell, and the .NET Framework.
Cumulative updates have also been released for prior release versions of Windows 10, release notes for which can be found on Microsoft's knowledge base site (opens in new tab). If you have yet to grab the latest updates, you should be able to start downloading them now through Windows Update.
Dan Thorp-Lancaster is the former Editor-in-Chief of Windows Central. He began working with Windows Central, Android Central, and iMore as a news writer in 2014 and is obsessed with tech of all sorts. You can follow Dan on Twitter @DthorpL and Instagram @heyitsdtl.
Downloading and installing on my Lumias and Surfaces. Hopefully the black pdf bug in Edge is fixed.

I think the update is only for pc

Nope, for Lumia available as well..

I'm in Belgium and received it on my custom PC tower, my SP4 and my Lumia 950.

Nope - I'm getting this on my 950XL now

Just started downloading it on my L730 after that is done I will do my L650. It's 10.0.14393.1480

Nope, got it on my HP Elite X3 too.

Could someone clarify something for me? It's July already and I'm still on version 1607 (Anniversary Update). Today I got the following updates: - 2017-07 Cumulative Update for Windows 10 Version 1607 for x64-based Systems (KB4025339) - 2017-07 Security Update for Adobe Flash Player for Windows 10 Version 1607 for x64-based Systems (KB4025376) - Windows Malicious Software Removal Tool for Windows 8, 8.1, 10 and Windows Server 2012, 2012 R2, 2016 x64 Edition - July 2017 (KB890830) I know some people have already moved on to the next version -- Version 1703 (Creators Update). Is this OK? Should I get concerned? -

The worst this could mean is that you'll have to manually install. Make sure devices on your device aren't said to be having problems that would affect whether or not the update is suitable, too. :)

You are getting all the normal updates. All supported W10 branches get updated today: TH2, RS1 and RS2.

no it it's rolling out in waves. they wanna make sure your experience is good before pushing update out to you. But if you wanted it now you can move to the release preview ring,

O ok. Just wanted to clarify. I was on Win 8 before that and remember I didn't get the opportunity to update to Win 10 when it first started rolling out. It took some time...1.5 - 2 months, I think. I know that I will eventually get to 1703.

I have the same issue. I have a Surface Pro 3 and still don't have the Creators update but am getting the cumulative updates for CU.

For the Anniversary Update*

I just got the notification on one of my older machines yesterday to update. Machines that I use more frequently I forced the update on day one, so if you really need it, you can manually update.

The odds are there is a potential incompatibiltiy with a driver or something on your system. At some point it should upgrade. You can run the upgrade assistant manually if you want to see if your system will upgrade: https://support.microsoft.com/en-us/help/3159635/windows-10-update-assis...

No, that's alright mate. As you said it should upgrade at some point!

I have a laptop at home that stated the CU was available, but I could get it early. Not sure if it is Spring/Fall CU... I clicked to start it early and it ran as it does. After restart, I am totally locked out of the touchpad, buttons and even the keyboard! WTH??? I'm stuck at the welcome screen to continue the install. How can I be locked out of a laptop keyboard? Ideas?

You have to boot your pc with any windows installation media preferably windows 8 or later. Then don't choose install now instead click on "Repair this pc". Then go to advanced options and restore your pc to last system restore point. It should solve the problem

As expected, my PC is already downloading this Cumulative Update...I'll apply this before upgrading my AMD Software and Drivers, then finally play a game! I'm always happy to get updates that improve the OS, as I don't really suffer from many issues due to Cumulative Updates.

hope it will fix the alarme syncronisation probleme, when I dismis an alarme on my windows phone, it continue to ring on my computer...

I have this same problem. It used to work. Cancelling alarm on computer also cancels on phone, but not the other way around. I don't know if phone or PC is at fault, or if it's even part of the OS vs. the Alarms app. I think the cross-device syncing is through Cortana, so I'm hopefully it can be fixed with an OS patch.

Hum... Error Code 0x80244007 on PC (Release Preview version 15063.447)

Same here, looks like update server problems. I'm in the UK

Thanks. I'm in France. That's what I thought too

Looks like server out in Europe, app updates aren't working either

12 hours later, not solved... But we're not alone.

Nope, same here this morning. No updates, not even Defender definitions, no app updates. The Cumulative update can be installed manually from the Windows update catalog but that won't solve everything

Problem reported in a MS Community thread and in Insiders Hub. Yes I know for the CU, have you installed it?

I got the cumulative update just after my previous reply.

I manually installed it this morning, but I got the monthly Malicious software update and some updates for Office earlier. Also just rebooted PC and got a Flash cumulative update and all my app updates.

I got all (CU, MSRT and Flash in one shot. Except for the last two, this was not displayed during the download and initialization of the installation. Then I saw them in the history. Usually the MSRT installation is quite long (the longest of all updates) and there, it was fast as never before. Quick to the point that I did not even see it.

I got all my app updates after running wsreset.exe

no rezult on bug - blank page after back (google search) in internet explorer -

Where would one find the changelog for Windows 10 Mobile ?

it's stuffed in change log windows kernel,Windows shell,edge same, likely

Still NO VOLTE, No flip To Silence, No Super Sensitive Touch, WINDOWS Hello Is Still In BETA , Here Is Lumia 950 XL Dual Sim

Seems my Surface Pro 4 is taking forever to restart

Seems my Surface Pro 4 is taking forever to restart

Still hasn't fixed the 0x80244007 Windows Update issues. Had to reinstall Windows on my SP4 and the issue is still there.

Where are you? I'm in UK and others in Europe are reporting the same problem. Not getting any app updates either, or more worrying, Defender definitions

Had also problems with the last 2 cumulativ updates, had to try 4-5 times until they went through.
After storage cleaning and WU troubleshooting at least it worked.

Tried that and ended up doing a repair install as Windows Update would constantly give that same error code.

That's interesting that it's seems isolated to the UK and Europe, I'm in the UK and that error seems to be showing intermittently

Why can't we just remove IE altogether?

Legacy website support And business still use it.

Control Panel/Add Remove programs/Turn Windows features on or off. Untick IE11 box.

Anyone noticed any difference for mobile?

You won't, it's not a new OS update :) just bug fixes and under the hood improvement.

How do you know if there are really bug fixes and improvements? Unless otherwise stated in the change logs.

This is not the first time Microsoft has mixed in mobile and pc into one changelog. Windows kernel, windows shell, Microsoft edge. If you're looking for mobile focused changelog, you'll have to go look at feature2 branch for that :)

This is exactly what i asked for, if anyone has noticed any bug fixes. Cause last two build have/had a Lot of problems, from notifications settings that open in 3 minutes to turning off background apps that caused system crash sometimes,. To phone gettin' hot for doing the most basic stuff. Now the notifications settings open faster but the turned off apps, appear on. This system is still a joke after more then a year.

wow If you're having that many problems you might wanna do a backup and than do a hard reset.

Yeah I had to reinstall Telegram and some games don't work too.

The light blue MS logo at start on mobile seems to me...a little bit shiny. Or did I not realized has it been changed many updates ago? Windows Central app for WP 8.1 not working, for me

No change log again for mobile again. This is bullshit. I suspect only the build number has change nothing else.

Windows kernel, windows shell improvements,edge :) Sounds about right.

No insider builds for Mobile. That prostitute Dona is more worried about fashion and cats...

Is she counting how many bounces can her juggies make in between build releases?

True she is a prostitute not serious about mobile that's why windows mobile is nowhere, and Satya Nadella is a bastar.d , bastar.d Indians

All good,two laptops and my L930 seems little old Jersey continues to get them ok. Touch wood 😃.

I am very disappointed in the lack of Windows Mobile bug fixing. I haven't been able to receive or initiate a phone call with my earphones plugged in. Outrageous, for more than two months it is not working. A smart phone lagging behind being smart is one thing, but for becoming useless for telephony reasons is simply inexplicable. Simple phone call functionality had been all over the place this year from bluetooth connectivity, ear phone behavior and Groove or Navigation preventing incoming phone calls. Assertion failed big time Microsoft.

I also got multiple firmware and driver updates for my Surface Book including Nvidia GPU and Intel 520 GPU along with the cumulative win 10 update.

Updated Lumia 640LTE to 15063.483 successfully OTA but now Store update for Apps all failed. Error code 0x8007000B "Something unexpected happened".

Same for my 640XL Dual SIM LTE

I discovered that this is due to the apps being installed on the SD card. I fixed it by uninstalling these apps and reinstalling them on internal memory and all the apps were successfully reinstalled. No more pending updates and cannot install.

I have the same problem so here is a workaround until the next update. Switch the default app install location to internal storage and then manually move them to your sd card. This is for WIN10 Mobile.

The stop/restart app does not work for the 640lte..do not wast your time.
Windows Central Newsletter
Thank you for signing up to Windows Central. You will receive a verification email shortly.
There was a problem. Please refresh the page and try again.